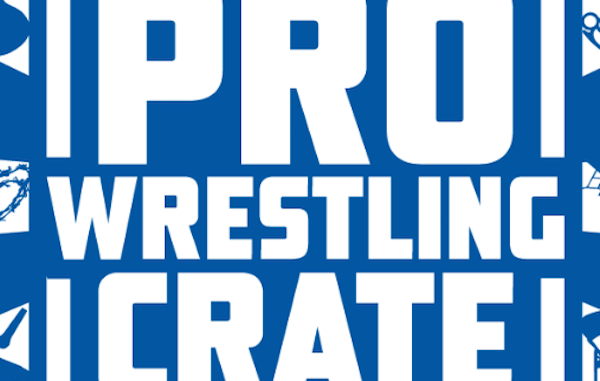 ---
SPOTLIGHTED PODCAST ALERT (YOUR ARTICLE BEGINS A FEW INCHES DOWN)...
---
The latest PWTorch.com monthly unboxing video for ProWrestlingCrate.com features an unboxing of their August 2017 crate. The theme this month is "Heels."
PWCrate has several options to fit your budget. There are three main options for subscribers. With the Original crate, you get one t-shirt. Another new option is the Tag Team box, which comes with two t-shirts. The third option is the Triple Threat, which comes with three t-shirts. These boxes will all come with a signed 8×10 from a wrestling legend or indie wrestler. They will also include other items such as DVDs, art prints, buttons, pins, stickers, and more. Depending on the length of your subscription, you can purchase these boxes for as low $14.95-$34.95 depending on which crate you choose plus shipping.
Keep in mind that if you get the Tag Team or Triple Threat crate, only the first shirt is tied into the monthly theme.
There is also a Cheap Heat box for $9.99 that includes an autographed 8×10 from a legend or indie wrestler and two of the collectibles from the regular boxes. Finally, PWCrate has introduced a new option called a Mid Card box for 14.95 plus shipping. This box will get you a shirt designed by Pro Wrestling Tees and a signed 8×10 from an indie or legend wrestler.
If you're a big wrestling fan, the Triple Threat tier is the way to way to go. PWCrate is really doing a fantastic job of generating different themes. This month the three shirts were all tied into the theme of the month and they knocked it out of the park, especially with the Mick Foley & Terry Funk Japanese death match shirt, which features an insanely great design.
PWCrate continues to be the gold standard of monthly subscription wrestling boxes, but that's not to say that there isn't suitable competition out there for them. The Million Dollar Man Ted Dibiase shirt is one of my favorite shirts that they've released so far. It has a cool sports-like look to it and the forest green color is a nice touch as well.
The C.M. Punk pipe bomb themed shirt is great as well. Punk's promo was certainly one of the most memorable promos of the modern era and it's hard to believe that it has been over six years since he cut that promo. I like that the shirt features the name of the venue where the pipe bomb promo was cut and the date as well under a cool graphic of Punk.
The collectibles in the box were one again very cool, although being as big as a fan as I am of NJPW, it was impossible for PWCrate to top the collectibles from the previous box. Vader was featured as the Micro Brawler figure of the month. The pin of the month was very cool and likely made subscribers very happy, as it featured The Elite of Kenny Omega, Matt Jackson, and Nick Jackson.
The autographs this month were hit and miss for me. I'm not a big fan of Jim Cornette, but he was included as a bonus autograph this month. The main autograph was Papa Shango and seeing his signature on a 8×10 brought back a lot of memories from watching WWE when I was younger.
There were some other cool items included in the box as well. I really enjoyed the Latino Heat oven mitt. PWCrate puts a lot of thought into their collectibles and this month I had to laugh when I saw Eddie Guerrero on the front of an oven mitt. The DVD of the month is Talk STeen Talk, which is a Highspots.com product. I watched the DVD several years ago and it's really good if you haven't seen it before. This box gets a big thumbs up from me this month.
And now to the unboxing video!
There are several pro wrestling mystery boxes on the market now. In my opinion PWCrate is the best. The shirts are fantastic and you get a ton of value for your money. These boxes sell out fast and the next box is nearly sold out, so act fast. The cutoff date for the next box, "Professions," is Sept 15. Do not hesitate to order your crate, as they sell out extremely fast.
ATTENTION: You can purchase a subscription to PWCrate by visiting ProWrestlingCrate.com. Also, You can save 20% off your first purchase at ProWrestlingCrate.com by using the code "PWTORCH."
***
Contact Sean at pwtorchsean@gmail.com. Follow Sean on twitter HERE. Follow and like Radican's Wrestling Community Facebook.com HERE