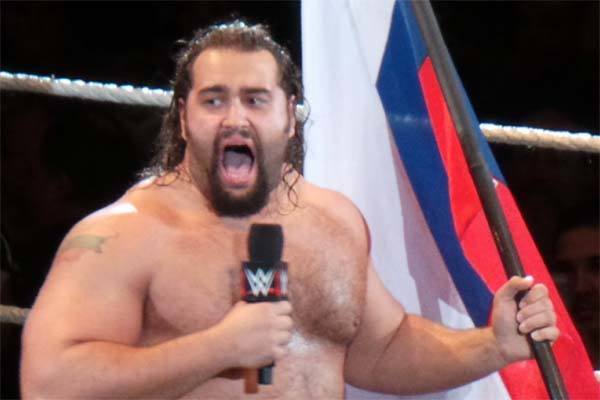 ---
SPOTLIGHTED PODCAST ALERT (YOUR ARTICLE BEGINS A FEW INCHES DOWN)...
---
SMACKDOWN HITS
Opening Segment: I really enjoyed this week's opener with Daniel Bryan and Sami Zayn. In the past, I have always felt that Sami was destined to be a face similar to Ricky Steamboat, so his heel turn has been impressive thus far. He was able to take his frustrations and make many of his points seem valid, without making it cheesy or fake. I also liked his lines about taking ownership, and working smarter. The tease for the main event was a nice touch.
Jinder Mahal-A.J. Styles: I felt that this was the strongest that Mahal has been on the mike since he became WWE Champion. He took himself seriously, which was sorely needed after the poor promos during the Nakamura feud. Using his return to India was a nice touch, and showcased him as more of a star. While I'm not terribly excited about a Lesnar/Mahal match, I did enjoy him having the confidence to make the challenge in the first place. Of course, it was still humorous when he refused to face Styles next week. Speaking of A.J., I felt he came across well, and even though some may question his challenger status after losing the U.S. Championship, I'm okay with it, since he is a former Champion. In addition, the matches have solid potential, and would provide a fresh matchup for Jinder.
Pulp Fashion: Another solid segment from the Fashion Police. The attention to detail on these segments alone should be commended. For those of you who don't notice, make sure to look through the background with little nods & jokes. Since Pulp Fiction was directed by Quentin Tarantino, there were nods to another one of his films, Reservoir Dogs, in the background. It's another great touch, and highly entertaining.
Ziggler vs. Roode: This was a nice match, and I felt that they worked at a higher intensity when comparing their previous match at Hell in a Cell. The right opponent won this round, and I have to commend the announcers for finally calling out Dolph with regards to winning. You can talk all you want about how great of a performance you'll have, but at the end of the day it should be about winning.
Rusev/English: I was glad to see the continuing partnership of Rusev & Aiden English. I love that Rusev Day is becoming a thing, and am eager to see where this will lead to. The end of the segment where Rusev stopped Aiden from singing was hilarious, and a good way to close it out.
Main Event: This was a good match between Orton/Nakamura & Owens/Zayn. It was good back and forth action, and I was happy to see Sami get the win for the team. The use of a low blow was a great finisher as Zayn continues his path to the dark side. Owens is always a treat when he shouts at someone, and him yelling at Sami to "hold him tight" was great. The tease of Shane for next week was a nice hook as well.
SMACKDOWN MISSES
Baron Corbin vs. Sin Cara: At the opening of this segment, it was on the fast track to being a hit, and then about a minute later, it took a 180. I'm okay with Baron being the cowardly heel, and not doing the Open Challenge. When the match first began, I thought it would be a squash match to get over Corbin's championship run. However, he got minimal offense, and lost by count out in a short time. Obviously this is just Chapter 1 in that story, but it doesn't get me excited, and I feel that this should've been a one-time match with a decisive victory for Corbin.
Usos-Benjamin & Gable: While I think that their eventual matches have great potential, I was not thrilled with this segment. Firstly, and I could be wrong, but after last week & this week, The Usos may be turning face. If so, I don't agree with it, as I feel that they have really been hitting their stride as heels. Secondly, I didn't care for how Gable was acting, and if The Usos do turn face, that means that Benjamin & Gable are going heel, which is also the wrong direction. Even if I am wrong on those assumptions, the segment overall was poor and forgettable.
---
NOW CHECK OUT LAST WEEK'S COLUMN: WWE SMACKDOWN HITS & MISSES 10/10: Ziggler-Roode, Corbin vs. Styles main event, Harper & Rowan return, Sami and Owens react to HIAC
---
Jeff Indelicato has been a fan of professional wrestling since he was knee high to a grasshopper (little kid), after coming across the Wrestling Challenge episode after WrestleMania 7, and has not looked back. His passion has led him to winning wrestling trivia contests in his city, and even won him his Senior Talent Show by dancing to Shawn Michaels theme song. When not annoying others with wrestling talk, he loves spending time with his family and friends, and focuses on his other passion: movies. Follow him on Twitter @the_Indel or send him an email at indelpw@gmail.com.
---