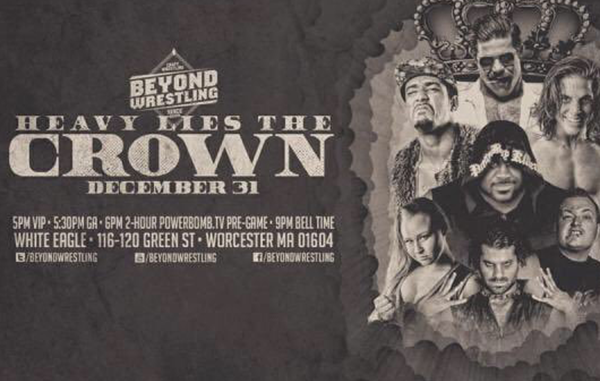 ---
SPOTLIGHTED PODCAST ALERT (YOUR ARTICLE BEGINS A FEW INCHES DOWN)...
---
RADICAN'S BEYOND WRESTLING HEAVY LIES THE CROWN LIVE STREAM REPORT
DEC. 31, 2017
WORCESTER, MASS
AIRED LIVE ON POWERBOMB.TV
(1) Jordynne Grace vs. John Silver. Silver wrestled with a heel edge during the match often resorting to big MMA style elbows and strikes that Denver Colorado seemed to think was taking it too far. Grace made some great comeback and the crowd was behind her, but Silver got her in a one arm strangle hold. She wouldn't tap so he got some big MMA style knees to the temple and the ref dove in for the TKO. Colorado said he though the ref's decision was questionable.
After the match, the fans booed Silver. He teased hitting a punt kick, but stopped short and ended up helping Grace up and raising her hand. He then turned on her with a huge clothesline. He then hit the punt and the fans booed.
Winner: John Silver
Star rating: (***1/4) – Good storytelling with Silver and a hot start to the show.
(2) Aminityville Project (Dan Barry & Mike Verna & Rex Lawless & Ryan Galeone) vs. The Pull It Club (Joey Ryan & Johnny Cockstrong & Massage NV (Dorian Graves & VSK). Every time the match got exciting, it seemed to slow down. Cockstrong got in some fun spots. He countered an avalanche piledriver off the top from Barry into a kryptonite crunch into the top turnbuckle at one point. They built to a spot where Ryan hit his groinplex on Barry only for Verna to roll him up for the three count right after.
Winners: Dan Barry & Ryan Galeone & Rex Lawless & Mike Verna
Star rating: (**) – If they had condensed this match a bit, I think it would have been better.
(3) Wheeler Yuta vs. Flip Gordon. Good match between the hot up and coming talents. Yuta mocked Gordon for flipping around early. He took control and went for a leg submission at one point, but Gordon flipped out of it. Later in the match, both guys got in track with their flying offense. Yuta got an Indian deathlock late with a front facelock, but Gordon got to the ropes. Gordon went for a 450 later in the match, but Wheeler got his knees up and held onto Gordon for a pinning combination for the win.
After the match, they shook hands and Gordon held up Yuta's arm. Colorado said on commentary he was going to book Gordon for all Beyond Wrestling events in 2018.
Winner: Wheeler Yuta
Star rating: (***1/4)
(4) Doom Patrol (Jaka & Chris Dickinson) vs. EFBYO (Angel Ortiz & Mike Draztik) in a TLC match. The story here is that Dan Barry has driven a wedge between Doom Patrol and this is the results This was crazy and the cameras didn't do a great job of catching the action on the outside during the first part of the match. Ortiz took a pair of brutal looking chairshots to the head. This is something that needs to be done away with in wrestling. The action really heated up after Dickinson was climbing a later and Ortiz pushed him and the ladder through a table. Later in the match after a ton of crazy spots, Ortiz was set up in the middle of the ring. Dickinson and Jaka set up on opposite sides of the ring. Jaka must have landed before Dickinson, as the table broke in a way where Dickinson, who was going for a leg drop at the same time, landed back-first on the edge of the table. Jaka made the cover and it was good for the win.
Winners: Chris Dickinson & Jaka
Star rating: (***3/4) – The action was chaotic and crazy, but also hard to watch at times.
After the match, it looked like both teams might shake hands, but Draztik and Dickinson argued. Jaka got upset and left the ring with Dickson. Suddenly, Amityniville Project hit the ring and attacked EFBYO. They beat them down and stood tall as the fans booed. Barry got on the mic and wished the crowd a happy new year to some boos.
(5) Matt Riddle vs. Matt Tremont. Riddle was supposed to face Jimmy Jacobs, but he was pulled from the card due to injury. Riddle had beaten Tremont in two death matches previously in Beyond, so he told him he wanted a Wrestling match and it was on. Both guys went back and forth trading blows early. They then began trading big moves. Tremont hit a Canadian destroyer at one point and then a DVD. Riddle fired back and went for a big running knee, but Tremont blocked it and got a roll up for the win. Riddle was mad at first, but ended up shaking Tremont's hand.
Winner: Matt Riddle
Star rating: (***) – this was good, but short.
(6) Josh Briggs vs. Keith Lee. Keep an eye out for Briggs, as he's out of the NEPW trained by Brian Fury. This was a war between two big, strong, and powerful men. Lee hit a release German early and didn't go down with Briggs. Briggs returned the favor by just dumping Lee on a suplex without going down with him. They built up to a spot that was crazy where Lee hit a pounce and the bottom rope broke when Briggs hit it. Later in the match, Lee went for a spirit bomb, but Briggs turned it into a poison rana. Lee fired back finally and hit the spirit bomb and ground zero for the win.
Winner: Keith Lee
Star rating: (****1/4) – great match between two big men.
(7) CZW Champion Ricky Shane Page vs. A.R. Fox in a Non-Title match. Fox hit Page with two suicide dives and he wouldn't go down. He then hit a flip dive over the top to the floor and Page finally went down. Page blocked a slingshot dive that the cameras missed and Page hit a choke slam on the apron on Fox. Page got hung up over the middle rope and Fox hit him with a slingshot cutter for a 2 count. Fox went up for a coast to coast dropkick and Page rolled to the floor. He argued with the ref, so Fox bailed him with a coast to coast baseball dropkick. Wow! Fox hit 2 ace crushers and a 450 and Page kicked out at 1 and flipped Fox off. Page blocked a big boot and hit a choke breaker over his knee for a 2 count. Page hit a stalling superplex a short time later. He rolled over on top of Fox with one arm, but Fox kicked out at 2. Page caught Fox with a roaring elbow and then a powerbomb off the top, but Fox kicked out and rolled him up for the win.
Winner: A.R. Fox
Star rating: (***1/2) – This was a fun match, but they did too much before the main event.
(8) Joey Janela (w/Penelope Ford) vs. David Starr in a Fans Bring the Weapons match. They began the match at midnight and both men drank a glass of champagne and went at it as the fans chanted happy new year. There are all sorts of weapons in the ring including a keg and some party hats. This is the match to prove who is the better man and the best in Beyond Wrestling. Starr kept going after Ford, but it backfired multiple times. Janela put Starr a figure four and hit him with a tack bat. Starr fired back with a paddle and a Singapore cane. Starr came up bleeding heavily from the head. Starr made Janela give Ford a code red. He then hit product placement for a near fall. Starr tried to pick some tacks out of his head, but Janela hit a low blow and suplexed him onto some wine glasses taped to a board. Starr fired back and nailed Janela with some floor tile. The refs ran in to check on Janela. Janela came up bleeding.
Both men faced off after rolling to the floor from opposite sides of the ring. It looked like they were going to have a chair duel, but instead they traced big moves onto a pile of chairs. Janela hit a superplex onto a pile of chairs, but Starr kicked out at he last second. Janela set Starr up on a keg and went up top, but Starr powered up and slammed him off the top onto the top of the keg. OUCH! Starr set up a chair with glass, salt, and legos. Janela eventually took a suplex through the chair structure, but Janela kicked out at the last second! The fans went nuts and chanted Beyond Wrestling. Janela reversed a tombstone and hit a tombstone of his own onto a board with glass cups taped to it. Janela hit several chairshots to Starr's back and then chest. He then set up another chair structure. Star got a bunch of wooden stakes. He blew a kiss to the hard cam and then put them into Janela's Head. He followed up with a brainbuster, but Janela kicked out. They battled up top and Janela hit a package piledriver off the top through the chair structure for a near fall. Janela theN got a crossface. He used several weapons for leverage and Starr got the ropes, but there were no rope breaks. Janela used a chair for leverage to get the win.
Winner: Joey Janela – This was a crazy match that was uncomfortable to watch at times. They didn't do anything super crazy and it was a really well-built match, but the blood and some of the bumps made it hard to watch.
Overall score: (7.5) – This was a really solid show from top to bottom with a lot of good to great matches. The production was a little rough in spots, especially during the EFBYO vs. Doom Patrol TLC match and the main event between David Starr and Joey Janela.
The TLC and Fans Bring the Weapons matches saw the risk factor turned up big time. I'm not a huge fan of matches like this and the cameras had a hard time of catching the action on the floor in both matches, but the stories for both matches at least justified the stipulations.
The TLC match was a crazy brawl that went all over the venue. I wasn't a fan of Ortiz taking unprotected chairshots to the head and Dickinson nearly got impaled on the finish. Overall, the match was really intense, but the risks taken made it hard to watch at times.
The same can be said of the crazy main event between David Starr and Joey Janela in a Fans Bring the Weapons match. This match had some crazy action from start to finish with some very unusual weapons. I thought the near falls were a bit much down the stretch and both guys bleeding all over the place was something that was hard to watch, but this match was fitting of their feud. Janela has talent, but I worry about him taking bumps like he did onto the top of a keg. There's no way to do that safely.
Overall, this was a really fun show to ring in the new year and it's easy to see why it got fans talking. I have concerns about the risks the wrestlers took in the big stipulation matches, but there was so much enjoyable stuff on this card that it is definitely worth checking out on powerbomb.tv.
ATTENTION: You can watch this show with a monthly subscription at POWERBOMB.TV
***
Contact Sean at pwtorchsean@gmail.com. Follow Sean on twitter HERE. Follow and like Radican's Wrestling Community Facebook.com HERE