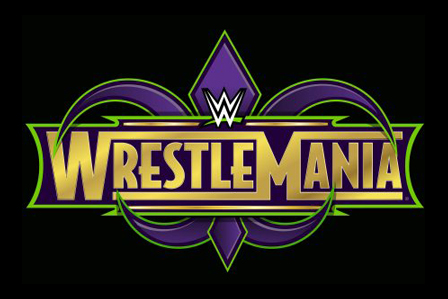 ---
SPOTLIGHTED PODCAST ALERT (YOUR ARTICLE BEGINS A FEW INCHES DOWN)...
---
Art is the creation of something from nothing that elicits a reaction. Pro wrestling embodies that definition. In wrestling, men and women step inside the squared circle and create with their actions, expressions, words, and bodies to garner a specific and distinct reaction from their audience. In turn, the audience responds to, engages with, and affects the work. No other art form in the world carries that uniqueness. In this column, we explore that art form inside real and relevant examples. Enjoy.
---
When WrestleMania season rolls around in the WWE, all eyes are watching. It's an addiction that even the most ardent WWE doubter can't escape. The biggest stars come out, the flashiest angles unfold, and the WWE as a whole faces a firing squad of fans on a weekly basis. The time of year is a melting pot of intense opinions on whether the match card stacks up, which match should go on last, and most importantly how's the build been? That's where the art comes into play. With corporate sponsors and thousands of extra eyes on the product, WWE writers and performers must be on their "A" game or forever be shunned by the WWE fan elite. That "A" game is rooted in the pageantry and artistry of the business.
So, which feud gets a passing grade? Who flourished and who floundered? Let's find out …
Roman Reigns vs. Brock Lesnar – WWE Universal Championship
Overall Grade – B+
From an artistic perspective, the build for Reigns vs. Lesnar deserves an A. The feud was centered around the reality of Lesnar's part-time status and Roman Reigns shined more than ever before while in possession of a microphone. He was passionate in his delivery to a point where you could feel the disdain and disrespect that he had for someone like Lesnar. Reigns fired up at the right times and made the part-timer vs. full-timer story believable because of that fire. From a physical standpoint, Lesnar and Reigns get A's as well. In the two destructive beatings that Reigns took he conveyed the pain well and was able to garner extra sympathy from the audience in doing so. On the flip side, Lesnar was presented as a monster heel which further helped illicit sympathy for Reigns. The overall build gets a B+ for the inconsistent content that Reigns in particular was scripted to say and do. Calling Lesnar "Vince's boy" and being needlessly dismissive of Renee Young and Kurt Angle allowed Reigns to fall back into old habits which fueled fan contempt for him in the first place. This set the build back and prevented Reigns from taking as many steps forward as he could as the top babyface in the WWE.
Shinsuke Nakamura vs. AJ Styles – WWE Championship
Overall Grade – C+
The build for a match can't alone stand on the fact that some fans in the universe believe it to be a dream match. If "dream match" was going to be the story, the WWE needed to showcase why it's a dream match and why the WWE Universe needs to watch it. That narrative was missing from this build. It's safe to assume that the majority of fans understand that Nakamura and Styles are the two biggest stars on the SmackDown brand. That said, if you aren't aware of their history together, dream match doesn't make sense. Nakamura has been a lackluster addition to the roster and while he is in fact one of the show's stars, he doesn't give off a dream match vibe. Not yet anyway. That's where the history comes into play and the WWE left it on the back burner. In doing so, they left opportunity on the table to not only advance the feud, but Nakamura's career as well. What they did do worked great. AJ presented himself as the brand's go to superstar and Nakamura successfully presented himself as a pillar of emotional control compared to AJ's recklessness. That foundation is good enough, but not great. The "great" lies in the history which was nowhere to be found.
Ronda Rousey & Kurt Angle vs. Stephanie McMahon & Triple H
Overall Grade – A-
Let's get this out of the way. Bottom line – Ronda Rousey is green as grass. Once that's taken into consideration and addressed up front, the build to her in-ring debut was masterful. Yes, she doesn't fully understand how to control her emotions to truly be her character in front of a live crowd, but that will come. What has worked is the fact that she has come across as a big star. A round of applause for Stephanie and Triple H on that one. In all promo segments, they were able to tell a precise story that built Rousey up and chopped her down simultaneously. Their delivery of those words was a key factor to success as they were able to speak in a way that built her up with legitimacy, while tearing her down with nonsensical heel antics. It was a very fine line, but they walked it well. For as green as Rousey was, Stephanie and Triple H knew who the star was and made her shine like a million bucks. In addition, the payoff between these four at WrestleMania should be massive with Rousey finally getting her hands (and her armbar) on Stephanie. In what should have been an A grade, points had to be taken off for the invisible Kurt Angle who also happens to be involved in the match. Rousey is certainly a star, but this is Angle's return to WrestleMania and not enough has been made of it.
Daniel Bryan & Shane McMahon vs. Kevin Owens & Sami Zayn
Overall Grade – A
The minute Daniel Bryan became an active wrestler again, this program went from an F to an A. For months, the story between Bryan, Shane, Owens, and Zayn dragged on in convoluted ways that appeared impossible to tie up correctly. Bryan cleared changed it all. It gave the story direction and a proper ending to build toward. The success mainly falls on the shoulders of Bryan. He has an unprecedented artistic connection with the audience that allows him to tell his stories with meaning. Further, Bryan brilliantly uses and abuses that connection to achieve the emotional reaction he desires. His promos were passionate and clear, and the physical assault he took at the hands of Owens and Zayn intensified that passion. Instantly, Owens and Zayn were the biggest heels in the company and it was all because of Bryan. Again, just like four years ago, Bryan saved the WWE. His skill and involvement changed the course of a story that was destined for failure on the biggest stage.
John Cena vs. The Undertaker
Overall Grade – C
I'll just file this entire thing under the category of "what were they thinking?" I understand the thought process in trying something new and am willing to hold off on full criticism until the story is completed on Sunday. That said, it will take quite a segment at WrestleMania to justify not officially announcing arguably the biggest match on the card. John Cena does deserve credit in his attempt to execute this tomfoolery. For the last month, he's been able to make audiences around the country eat out of the palm of his hand. With his emotions and words he's been able to get crowds to cheer him and boo the Undertaker. Who would have thought that was a possibility six months ago. I don't agree with this idea at all, but Cena's success in working with it can't go understated. We'll see if it pays off on Sunday.
Charlotte vs. Asuka – SmackDown Women's Championship
Overall Grade – D
Did these two even interact in the build to WrestleMania? Yes, they did and I'm being sarcastic, but the fact that you can reasonably ask that tells you they certainly didn't interact enough. Much like the Styles/Nakamura program, this feud was left alone simply because the match spoke for itself. Within that, the build was fine, but it needed to be so much more. On the surface, this is the biggest women's match to ever take place at a WrestleMania. Charlotte and Asuka have been presented as pillars and alphas in the women's division and they are colliding head on Sunday night. That's all we've heard from them though. Both women should be seething at the opportunity to win this match to solidify themselves as the best in the world. That attitude hasn't been showcased at all. Charlotte's promos have fallen flat and Asuka has presented herself as a silly bystander instead of a looming threat. Like Nakamura and Styles, this build left a lot to be desired and a lot on the table. Both women are simply too good not to have done more.
Alexa Bliss vs. Nia Jax – Raw Women's Championship
Overall Grade – B+
This program could have fallen into fourth grade bathroom humor territory very quickly. Instead, Bliss and Jax told a very solid story of a friendship gone bad with shades of bullying woven within it. Bliss consistently protected herself as the arrogant queen and Nia beautifully played off that as the bullied babyface. Jax shined within this build as she was able to convey her insecurities while also displaying aggression and anger that told the audience she wasn't a pushover and wasn't going to let Bliss's bullying get to her. That set the foundation for the story. Jax worked week in and week out to get her hands on her former best friend but missed at every turn. On Sunday, Jax will get her opportunity and the audience is primed and ready for it to happen.
The Miz vs. Seth Rollins vs. Finn Balor – WWE Intercontinental Championship
Overall Grade – C+
This could be a hidden match of the night contender, but the build was off kilter. The two babyfaces vs. one heel dynamic is tough to overcome and as good of a heel that Miz is, even he couldn't prop this up to make sense. Plus, Miz becoming a Dad, talking about it so preciously on commentary during Raw, and posting pictures of his newborn daughter make him more likeable than ever. Miz has sympathy. On the microphone, he's tried to be conniving, but it hasn't been successful enough to merit what amounts to a two on one handicap match. WWE could have offset that two on one scenario had they planted seeds and fanned the historical flames between Rollins and Balor, but they didn't go there. This match could easily deliver, but the build has not helped its cause.
Braun Strowman & ? vs. The Bar – Raw Tag Team Championship
Overall Grade – B-
It's hard to get behind a match that will essentially bury an entire division. Add that to the fact that this match seems beneath Braun Strowman given the year he's had and you get a touch scenario pretty quick. That said, in their roles, The Bar and Strowman have delivered. The Bar has accurately portrayed themselves as dismissive heel champions who laugh at the notion that one man could beat them and Strowman has continued to position himself as a monster who could do just that. Strowman's confidence that he will do just that paired with The Bar's denial has made for entertaining segments that have gotten this story over. Brains Strowman was a mistake, but the partner reveal on Sunday will be a fun moment for fans that want to see Braun Strowman be destructive. WWE will have to answer for the sacrifice of their Raw tag team division at some point, but for better or worse, Sunday will be about Strowman and he'll get his WrestleMania moment.
Randy Orton vs. Bobby Roode vs. Jinder Mahal vs. Rusev – WWE United States Championship
Overall Grade – F
It's hard to give a grade for nothing. The build for this match consisted of a few RKO's out of nowhere and stare downs traded between Orton, Roode, and Mahal. Not exactly the art or pageantry needed to get a story over. But wait! There is no story. Rusev being added to the match gives it intrigue and is the right call, but the match build still falls in the category of a failure. Without Randy Orton, it would certainly be relegated to the WrestleMania pre-show. This should be a wake-up call for all four guys, but especially Bobby Roode. He consistently under delivers and is lost as a babyface.
The Usos vs. The Bludgeon Brothers vs. The New Day – SmackDown Tag Team Championship
Overall Grade – B+
There is a seriousness to this feud that is palpable. Yes, the Bludgeon Brothers look cartoonish in their presentation, but their opponents in this match have done a nice job in selling the danger that comes along with them. The beat downs were effective in showing that danger as well. With just the use of their facial expressions, The Usos and The New Day have been able to convince the audience that they're worried but courageous babyfaces that are willing to do what it takes to get the job done against a heel team that has terrorized them for weeks. This match has an added layer in that Jimmy and Jey have been entangled in year-long feud with The New Day. Unlike the triple threat storyline in the Intercontinental Championship match, the babyfaces having a history was a story that the WWE went with here.
Cedric Alexander vs. Mustafa Ali – WWE Cruiserweight Championship
Overall Grade – A
The 205 Live cruiserweight championship tournament was well done and well received on all levels. It successfully rebranded and relaunched the show while also indirectly picking out top stars moving forward. Cedric Alexander was a benefactor of this as was his WrestleMania opponent, Mustafa Ali. Up until this tournament, neither guy was given the proper amount of time to showcase who they were as a wrestler or a character. The tournament changed everything. Not only were both guys able to show who they were, they also got to talk about who they were in protected promo segments. Alexander clearly still has work to do in this regard, but Ali has thrived. He's produced his own promos which he's released on social media accounts and they've given incredible insight into who Ali is as a man. The hype videos out of the 205 Live go-home show were stellar and included pieces of many of the promos that were so successful along the way in making both guys appear as real as possible. A face to face would have been effective in furthering the "real" of both guys, but what WWE did worked in every way. Pre-show or not, this match Sunday is without a doubt the biggest cruiserweight match in the history of the WWE and it has been presented as such.
The Andre The Giant Memorial Battle Royal
Overall Grade – F
Right, this is happening. WWE presents this as a launching pad of potential for superstars involved, but the match is an afterthought in every sense of the word. This year has been no different and maybe even worse than in years past.
The WrestleMania Women's Battle Royal
Overall Grade – C+
Unlike the Andre Battle Royal, the WrestleMania Women's Battle Royal actually has some star power. Becky Lynch, Sasha Banks, and Bayley are anchors of the match and have each been featured in WrestleMania title matches in years past. The biggest thing this match has going for it over the men's match is that it has a major story weaving right through it. Banks and Bayley have been embroiled in a feud for months that is certain to carry over into this match. The program hasn't had an effective go-home promo or action to solidify a direction from a character perspective for either performer, but they've had time on a weekly basis to plant the seeds for something big. With this, Bayley and Banks are victims of a loaded card and are treading water until their program can be kicked into a higher gear with a match after WrestleMania. That said, they've setup enough where its more than worthwhile to tune in and see if that go-home action takes place inside this match on Sunday.
---
NOW CHECK OUT LAST WEEK'S COLUMN: ARTISTRY OF WRESTLING: Shinsuke Nakamura breaks out of his lackluster shell and enhances his WrestleMania dream match against AJ Styles