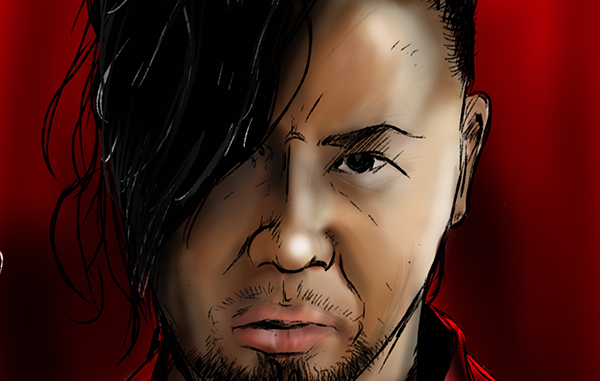 ---
SPOTLIGHTED PODCAST ALERT (YOUR ARTICLE BEGINS A FEW INCHES DOWN)...
---
Art is the creation of something from nothing that elicits a reaction. Pro wrestling embodies that definition. In wrestling, men and women step inside the squared circle and create with their actions, expressions, words, and bodies to garner a specific and distinct reaction from their audience. In turn, the audience responds to, engages with, and affects the work. No other art form in the world carries that uniqueness. In this column, we explore that art form inside real and relevant examples. Enjoy.
---
One year ago, using Shinsuke Nakamura and the word lackluster in the same sentence would have been sheer blasphemy. When Nakamura debuted at NXT Takeover Dallas in a match of the year candidate against Sami Zayn, the collective opinion of wrestling fans and analysts around the world was that he was a sure bet, mainstream star in the making. From the moment his music hit in 2016, Nakamura brought a sense of freshness to the WWE product. His mannerisms, flow, body maneuvers, and strong style moves in the ring set him apart from his peers. Plain and simple: He was unique.
That uniqueness was supposed to equal superstar. Sadly, Nakamura's arrival on the main roster was met with confusion, misunderstanding, and laziness. Rather than let his charisma and uniqueness speak for itself, the WWE doubled down on his quirks in the wrong way and presented him as a silly outsider instead of a lethal competitor. Because of this, Nakamura's time on the main roster has been spent treading water. WWE lazily booked feuds with the likes of Jinder Mahal and Dolph Ziggler and Nakamura lazily executed them. He's a 'star", but to date, has not had a performance in the WWE that merits the praise die-hard fans bestow upon him.
That all can change at WrestleMania. In a dream match, Shinsuke Nakamura will take on AJ Styles for the WWE Championship in what should be an all-time classic. Nakamura and Styles have stolen the show on a big stage before and given the proper time and story, the pieces would be in place for them to do it again. Unfortunately, like Nakamura's main roster tenure, their story has been lackluster at best. There's that word again. The feud has revolved around "knee to face." Not exactly a premise that screams dream match.
On SmackDown Live Tuesday night, Nakamura finally lit the fuse to launch this match where it needed to go and it's important that he was the guy to do it. He came across as confident and accurately conveyed his unique, charismatic, quirks in a way that wasn't forced or over produced. By making the right choices in his performance, Nakamura broke out of his shell and directly enhanced his WrestleMania title match.
The interaction between Nakamura and Styles early in the show set the tone for their main event segment. In a backstage encounter, Nakamura confronted Styles and asked him if he was ok. He said he was worried about him and that he lost his confidence. From there Nakamura said that they both wanted each other at their best at WrestleMania and invited AJ to be in his corner for his main event match. AJ agreed and the two went their separate ways. Utilizing his uniqueness, Nakamura made this segment click. He said all of lines in a very consistent tone of voice with an even keel volume. His hands were crossed in front of his body and that coupled with the look in eyes conveyed calmness. Each of those elements played well off of a fired up AJ Styles and allowed Nakamura to contrast him perfectly. Nakamura didn't say the word calm, but his actions showed it which made them more impactful.
Later in the night, after his win, Nakamura invited AJ into the ring and continued to build on the story he started earlier in the show. He thanked AJ for being in his corner, but said that he didn't need AJ's help. He said he just wanted to show AJ how he'd beat him at WrestleMania. Just like before, Nakamura delivered his lines in a very calm tone and with a calm glow in his eyes. Again, that contrasted well when AJ yelled aggressively back at him. From there, Nakamura responded in the same calm tone he'd been speaking in the entire show. He said that he would win at WrestleMania because AJ was too emotional. As Nakamura spoke the word "emotional," he did so in a unique and charming way that synced with his character. Again, he didn't have to say he was calm and contrasting his opponent because his actions did so for him.
From there, Styles was attacked from behind by Shelton Benjamin and Chad Gable. Nakamura shined here due to the fact that he was able to make the save while still maintaining the levelheadedness that he claimed Styles was missing. His body language displayed in his run back to the ring portrayed that, as did his succinct offensive moves while clearing the ring. From there, Nakamura flipped on a dime and aggressively tuned himself up to crush AJ with a Kinshasa. As he went for the move aggressively, he pulled up short and simply smiled at Styles. As Styles looked stunned, Nakamura further tapped into his charismatic roots and patted AJ on the head in a way that only Nakamura could make work. This was well executed as it showed Nakamura actively not embracing AJ's emotional aggressive style in favor of his calm style. By almost decimating AJ Styles with a "knee to face, " Nakamura made the case that his calm demeanor was superior and would be the difference maker at WrestleMania.
The key contributing factor to Nakamura's success in these segments was his ability to utilize his charisma and character to tell the story he set up with AJ. This is something he hasn't succeeded with in the past. In the backstage segment, his eyes helped paint a picture of a calm competitor which contrasted with the aggression of AJ Styles. At the same time, he delivered his words with his quirky persona that remained consistent with his character. During the Styles beat down at the end of the show, the artistry on Nakamura's part to not aggressively run back into the ring for the save was important. Instead, he utilized his eyes once again to convey his confidence in having to help Styles and his jog back to the ring was delivered as if he were a parent heading to a bedroom to break up a random fight between two toddlers. Again, Nakamura looked calm and collected which played well off of AJ's aggression as he got beat up. The story from the beginning of the night was that Nakamura would win the WrestleMania match because he was the calm, collected, and controlled competitor. The beauty of his performance was he never said it, he simply showed it.
In the short term, this breakthrough will greatly benefit the WWE Championship match at WrestleMania 34. Nakamura laid the calm vs. aggressive story on the table for the world to see which adds a second layer of stakes to his main event match-up that desperately needed something more than "knee to face." In addition, WWE has the option to follow this up with AJ giving in to his emotions next week by getting physical with Nakamura in an effort to truly contrast the two babyfaces.
Long term, the breakthrough benefits Nakamura significantly. Since his debut, he's been confined to a shell and Tuesday night he broke through it. The world finally saw layers to his character and for the first time he was able to harness his quirks and charisma for the greater good of drawing money and making his stories interesting. He'll need that side of him to grow, especially within a run as WWE Champion.
This performance should show the WWE that Nakamura has "it" and that "it" is all that's necessary with him. His quirks and uniqueness sell themselves. If allowed to utilize them freely in the moment, Nakamura will cut the word lackluster from sentences involving his name moving forward and realize his full potential as a prominent, money drawing, main event talent in the WWE.
---
NOW CHECK OUT LAST WEEK'S COLUMN: ARTISTRY OF WRESTLING: The personal return of Daniel Bryan lays the foundation for business and plants him as WWE's top babyface