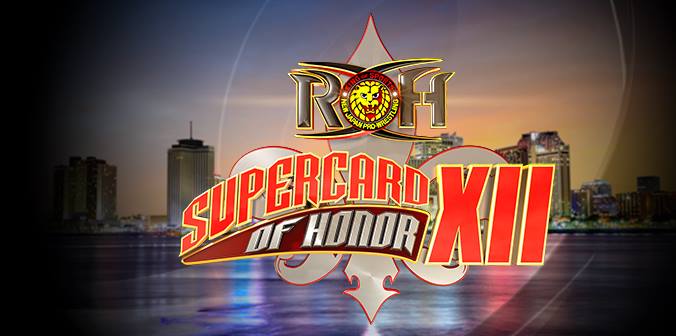 ---
SPOTLIGHTED PODCAST ALERT (YOUR ARTICLE BEGINS A FEW INCHES DOWN)...
---
ROH SUPERCARD OF HONOR XII
APRIL 7, 2018
NEW ORLEANS, LA AT UNO LAKEFRONT ARENA
AIRED LIVE ON ROH HONOR CLUB
REPORT BY HARLEY R. PAGEOT, PWTORCH CONTRIBUTOR
Commentary: Ian Riccaboni, Colt Cabana
PRE-SHOW
It doesn't appear that the pre-show is being played on Honor Club so I missed the first five minutes by switching over to ROH's Facebook page.
(A) "THE GATEKEEPER" KELLY KLEIN vs. MAYU IWATANI – WOMEN OF HONOR CHAMPIONSHIP TOURNAMENT SEMI-FINAL
Iwatani fought out of a choke attempt and rolled into the ropes early.  Iwatani ducked a kick and swept Klein's legs.  Dropkick to the back of Klein's head.  They fought in the ropes with Klein hitting a knee to the head.  Clothesline in the corner and a running boot to Iwatani's chest.  Riccaboni tried to defend a few fans chanting for the heel Klein by saying she's more of a "known quantity" to ROH fans.  Klein with a cravate and more knees.  Iwatani tried to escape a guillotine choke attempt but Klein held her in the corner until the referee made her break the count.  Iwatani hit a top rope frankensteiner to take control for the first time in a while.  She followed with a dropkick from the second rope and immediately went back up top.  Klein avoided a double stomp but Iwatani hit a superkick and went back up top again.  This time she nailed the double stomp to Klein's stomach.  Iwatani dragged her into position and went up top yet again for a frog-splash this time.  It got a two count.  Klein tried to block another frankensteiner but Iwatani countered into a reverse hurricanrana.  She lifted Klein for the bridging dragon suplex but Klein powered out with a front face DDT.  Klein hit a fireman's carry slam but Iwatani kicked out at two.  Iwatani got a northern lights suplex for two of her own.  Iwatani looked for her finisher again but Klein again powered out and rolled into End Of The Match in the center of the ring.  Iwatani blacked out.
WINNER: Kelly Klein in 9:02.
(Pageot's Perspective:  Strong, decisive win for Klein, which was a nice change from her cheating in the last round.  She's definitely the top heel in Women Of Honor at the moment.  The Japanese women and Iwatani in particular, though, in general have appeared to be on a totally different level than most of the American women in this tournament.  Just incredibly smooth, quick, and impressive.  Klein faces the winner of the next match in the finals later tonight.)
(B) SUMIE SAKAI vs. TENILLE DASHWOOD – WOMEN OF HONOR CHAMPIONSHIP TOURNAMENT SEMI-FINAL
Sakai went for a quick pin right out of the gate, then another after a twisting fisherwoman's neckbreaker.  No room to breathe here with quick moves one after another.  Dashwood hit a high crossbody off the top rope onto Sakai on the floor.  She rolled Sakai into the ring for a two count.  Dashwood locked in a deathlock.  Dashwood wound up in a cross armbreaker of Sakai's own.  Sakai transitioned into a crossface.  Dashwood with a roll-up for two and a drop toehold into the corner, followed by The Taste Of Tenille.  Dashwood sat Sakai on the top rope but she fought out and hit Dashwood with a missile dropkick for two.  Saito suplex with a bridge got another two.  Dashwood with a sit-out power bomb for two.  Sakai hit her finishing move (apparently) out of nowhere but it only got two.  Dashwood hit a release German suplex off the second rope but only got two as well.  Sakai side-stepped The Spotlight and got a crucifix pin for the shocking win.
WINNER: Sumie Sakai in 7:57.
-Post-match Sakai had an ice pack on the back of her neck and offered the code of honor.  Dashwood reluctantly shook and then left.
(Pageot's Perspective:  Wait, really?  I paused over the keyboard at first, thinking that my eyes were wrong and waiting for the twist.  No twist.  It's nice to see the 46 year-old veteran and very first women's competitor in ROH pick up the win but I'm in disbelief that neither Deonna Purrazzo nor Tenille Dashwood are in the finals.)
-Ian Riccaboni entered the ring and Kelly Klein came out for a photo op with the two tournament finalists. He held up the title and requested the code of honor between the two.  Sakai offered first and Klein shook, only to then clock Sakai in the head with her free fist.
-Once the women left, Riccaboni and Cabana talked on camera about tonight's two main events as well as Honor Club and various Festival Of Honor happenings from earlier in the afternoon.  That's it for the pre-show.  The main card begins at 8:30 EST.
MAIN CARD
We opened with a video package featuring promos from many of the competitors on tonight's card.  This is the largest attendance in Ring Of Honor history tonight at nearly 6000 people.
-In the locker room Cody cut another promo on Omega, reiterating some of the comments he made on TV last weekend.
(1) CHUCKIE T (w/Beretta) vs. JONATHAN GRESHAM
Gresham hurt his knee at Honor Reigns Supreme in February but is returning to action here.  Scientific wrestling exchanges through the first couple minutes.  Chuck Taylor hit a tilt-a-whirl backbreaker.  Taylor with another backbreaker.  Gresham went for a suicide dive and basically flew right over Taylor, turned in the air, and essentially landed on his head on the floor.  Taylor went to Irish whip Gresham into the ring post, Gresham reversed it, and Taylor ended up being whipped right into a hug from Beretta.  Beretta's left arm is in a cast due to an injury of his own.  The commentators acknowledged that Taylor's finisher (the piledriver) is banned in Louisiana and wondered what that would mean for his strategy.  Gresham caught Taylor with an ankle lock but Taylor made it to the ropes.  Knee to Gresham's head and a falcon arrow got two for Taylor.  They traded punches.  Gresham with an enziguiri and stomped on Taylor's knee.  Soul Food from Taylor.  Gresham with a springboard into a DDT.  Taylor with an inside cradle.
WINNER:  Chuckie T in 8:33.
(Pageot's Perspective: I'm beta-testing the new Honor Club channel for Roku but it would not let me log into the channel for this event due to the fact that I had previously been logged into Honor Club on ROHwrestling.com on my laptop earlier today.  Hopefully that's a bug they address, which should be as simple as noticing that the location is the same for both devices.  Luckily I was able to log back into my account on my laptop and that loaded effortlessly with no streaming or quality problems.
As for our opening contest, another surprising outcome in my books.  Gresham seemed to be getting the start of a push before he went down with his injury whereas Chuckie's done nothing since Beretta got injured.  Maybe this is the start of something for him, though.  He's certainly popular in other promotions and treated like a bigger deal there than ROH has ever treated him.)
-As Riccaboni and Cabana discussed the next mach a man in white makeup and luchador gear approached them from behind.  He sprinkled something on their desk as they jumped back and were creeped out.  The stranger skittered off.  In a possibly related development, the lights went out, Martinez's music played, and he stepped out of a coffin that was propped up on the stage while wearing a leather mask.
(2) PUNISHMENT MARTINEZ vs. RPW BRITISH HEAVYWEIGHT CHAMPION TOMOHIRO ISHII – NON-TITLE MATCH
The two men ran into each other with Martinez getting the better of it.  Ishii hit a vertical suplex to applause.  Ishii ended up at ringside and Martinez hit Journey Into Darkness that wiped out Ishii on the floor.  Like Gresham Martinez also nearly landed on his head but he followed up with a springboard somersault onto Ishii.  Back in the ring Martinez hit a spinning heel kick off the top rope for two.  Martinez with a hurricanrana off the rope for another two.  Ishii hit a German suplex.  He landed a big super vertical suplex on Martinez sitting on the top rope.  Ishii ran through Martinez with a clothesline for two.  Martinez fought out of a brainbuster attempt.  Ishii fought out of the chokeslam.  Ripcord kick from Martinez and South of Heaven chokeslam.
WINNER:  Punishment Martinez in 8:12.
(Pageot's Perspective:  Hard-hitting match.  Ishii coming out with his title planted doubt in my mind that he would lose but they went with my original prediction of giving Martinez a big win to help rebuild him following his loss to Castle.  I didn't know what to make of the man at the commentary table after the previous match but I suspect now that he was related to Martinez.  Possibly a new stable for Punishment?)
(3) HANGMAN PAGE vs. KOTA IBUSHI
Fast-paced action with each man avoiding kicks.  Page with a neckbreaker across the middle rope.  He mounted Ibushi and unloaded with punches to loud boos.  Riccaboni read my mind by pointing out how rare it is that he gets booed these days.  Page with a flapjack and a fallaway slam into a bridging pin.  Ibushi kicked out.  Page ran the ropes and Ibushi caught him with a dropkick.  Ibushi jumped onto Page's shoulders for a frankensteiner that sent Page to the floor.  Ibushi went for a springboard moonsault but Page cut him off and tossed him to the floor.  Ibushi avoided a running shooting star press.  Page ran Ibushi back first into the barricade.  Page went for a moonsault off the barricade but Ibushi grabbed him off of the barricade and hit a snap German suplex on the floor.  Page did a full rotation and basically landed on his face.  That was nuts.  But Ibushi followed it up with a huge running top rope moonsault that took out Page again on the floor.  Ibushi rolled him into the ring for two.  Page caught him with a package tombstone piledriver for two.  Ibushi grabbed onto the ropes to avoid a Rite Of Passage.  Ibushi went for a piledriver on the apron but Page countered into a back body drop.  Page hit a big moonsault onto Ibushi on the floor and followed with his buckshot lariat in the ring for two.  Series of roll-up exchanges for two-counts.  Ibushi into a gutwrench German suplex for two.  "Fight forever" chant from the crowd.  They traded punches.  Ibushi with the sit-out power bomb but Page barely kicked out.  Golden Trigger for the win.
WINNER:  Kota Ibushi in 14:36.
(Pageot's Perspective:  Hot, hot match as expected.  Multiple big moments and a testament to Page and Cody's recent work that Page was actually soundly booed here.  I thought it would be much closer to a fifty-fifty split.  Ibushi's just such a popular star, though, and this was his first ROH match in nine and a half years.  The reaction certainly bodes well for tonight's main event.)
-"The Scream Queen" Daffney (who you may remember from ROH, WCW, and TNA) was seated ringside to witness the crowning of the first ROH woman's champion ever.
(4) "THE GATEKEEPER" KELLY KLEIN vs. SUMIE SAKAI – WOMEN OF HONOR CHAMPIONSHIP
Riccaboni dubbed Klein the favorite here.  Sakai attacked Klein before the match as retribution for Klein's actions on the pre-show.  She unloaded with a flurry of punches but Klein cut her off with a German suplex.  Sakai got a roll-up for one.  Klein dropped her throat-first across the rope.  Klein threw Sakai into the barricade.  Snap suplex from Klein on the floor and she locked in End Of The Match until referee Todd Sinclair forced her to break the hold.  Klein tried for a fallaway slam from the top rope but Sakai escaped and hit a schoolgirl power bomb.  Fallaway slam from Klein.  Fisherwoman's neckbreaker from Sakai.  Another German from Klein.  Tenille Dashwood, Stella Grey, Mandy Leon, Deonna Purrazzo, Karen Q, and other members of the WOH division made their way to ringside and joined Daffney to pound on the mat to encourage Sakai.  She rallied against Klein but Klein put her down again with a kick.  Klein with a northern lights suplex for two.  Sakai with a fisherwoman's suplex.  Sakai missed a top rope moonsault but hit a DDT for the win.
WINNER:  Sumie Sakai in 7:38 to become the first Women Of Honor Champion.
-The faces of the division entered the ring and hugged Sakai after the match as she held up her championship.
(Pageot's Perspective:  The awkward finish deflated things considerably but, aside from that, this was a very shocking feel good victory.  At 46 years old, wrestling for 21 years, the winner of the very first women's match in ROH history way back in 2002, Sakai looks as good as any of the other women in the division and held her own throughout the tournament.   You would not believe that she was wrestling competitively when women like Purrazzo were still toddlers.  They didn't make as big of a deal about Klein being pinned for the first time in two years but maybe that's something they'll explore more on TV going forward.  Assuming the women will finally be featured regularly on TV going forward, which is a big assumption.)
-Shane Taylor joined the commentary booth for the next match.
(5) SOCAL UNCENSORED (Christopher Daniels, Frankie Kazarian, & Scorpio Sky) vs. FLIP GORDON & THE YOUNG BUCKS (Matt Jackson & Nick Jackson) – LADDER MATCH FOR THE ROH WORLD SIX-MAN TAG TEAM CHAMPIONSHIP
I suspect I'll have to resign myself to just calling a handful of big moments here as the pace is predictably intense.  Sky went for a big flip over the ropes onto the Bucks but they held up a ladder for him to land back-first across to his dismay.  Nick ran across the apron and kicked Matt by mistake.  Daniels scaled the ladder but Matt cut him off.  Matt was punched off but Nick took out Daniels.  Sky entered and took out Nick.  Gordon took out Sky.  Kaz arrived , ran up the ladder, but was cut off by Gordon.  Matt and Daniels climbed the ladder and brawled up top.  Matt was thrown off.  Gordon springboarded onto the ladder and tossed off Daniels.  Kaz met Gordon up top.  Kaz grabbed Gordon for a cutter off the top of the ladder.  Sky got rid of the ladder.  He and Daniels targeted Gordon.  The Bucks made the save.  Drop toehold sent Kaz into a ladder.  Daniels ended up laying across a ladder that was hung up on the ropes in the corner.  The Bucks threw Gordon into a 450 onto Daniels on the ladder.  Kaz threw a ladder at both Bucks.  Kaz had a ladder around his neck and took a triple superkick.  Sky was laid across a ladder and Nick gave him a swanton.  Matt tried to climb a ladder for the belts but the heels stopped him.  Daniels tried to climb a ladder that was standing over Gordon.  Matt saved Gordon.  Matt took an Irish whip onto a ladder, landing on his bad back.  Celebrity Rehab on Nick on a ladder.  Gordon with a springboard blockbuster on Daniels but Kaz and Sky pounced on him immediately, beating him down.    Gordon fought back and monkey flipped Kaz onto a ladder in the corner.  The Bucks hit some signature offense on Kaz and Daniels.  Matt sold the long-standing back injury that's afflicted him since January.  Sky took a hip toss onto a ladder.  Daniels took a wheelbarrow cutter onto a ladder himself.  Nick started to climb.  Sky grabbed his foot.  Matt threw Sky to the floor and started to climb but Sky returned.  Sharpshooter from Matt on Sky.  He tried to escape by crawling through the ladder but Nick caught him with a crossface in between the legs.  Gordon ran up the ladder but Daniels batted him off with a ladder of his own.  Nick climbed but Kaz threw a ladder at him that knocked him off.  There were two referees watching the action but they were both safely far away from danger on the floor.  Gordon with a springboard onto the ring post into a flip on the heels.  Nick hopped from one ladder to another to another in the ring onto the ropes and onto the heels.  The Bucks both climbed to the top of the ladder but were distracted by a bouquet of red balloons floating past them.
The Kingdom appeared and beat down the Bucks.  Gordon tried to make the save but took Rockstar Supernova.  SoCal Uncensored hit the ring and faced off with The Kingdom.  Taven seemed to gesture for Daniels to climb the ladder but The Kingdom turned on them as well.  Taven flipped over the top rope onto Daniels on the floor.  TK O'Ryan climbed the ladder for the belts.  Kaz, Sky, and the Bucks teamed up to lift the ladder with him on it and dump him over the ropes onto Vinny Marseglia on the floor.  "Get the fuck out" chant from the crowd toward The Kingdom.  Superkicks from the Bucks to Kaz and Sky.  Stereo cutters from Kaz and Sky on the Bucks.  Cabana wondered where Bully Ray was.
Four ladders were reintroduced to the empty ring.  All six legal men climbed the ladders and fought up top.  Gordon leapt to the top rung and hit a Kinder Surprise that knocked Sky off.  Gordon took a hard bump of his own.  Matt superkicked Kaz off.  Everybody ended up back on the ground.  Ladders were cleared with one left set up in the center of the ring.  Gordon started to climb.  Kaz hit a springboard frontstabber that pulled Gordon off the ladder to the mat.  Nick with a springboard corkscrew onto The Kingdom on the floor.  Nick took out Kaz.  Sky took out Nick.  Gordon with a springboard blockbuster onto The Addiction on the apron onto The Kingdom on the floor.  Nick and Gordon set up two tables on the floor.  Daniels set up a third around the corner.  Again the commentators questioned where enforcer Bully Ray was.  Nick and Gordon with stereo 450 splashes off the top rope onto Sky and one Kingdom member.  Daniels noticed nobody was around and climbed the ladder in the ring.  Matt raced up to stop him.  Matt took of his weight-lifting belt to whip Daniels with it.  Daniels tried for a suplex over the ladder.  Daniels' head hit the ladder and he fell.  Matt's back injury slowed him down.  Daniels tipped over the ladder, sending Matt flying over the top rope and through Marseglia on a table on the floor.  Daniels climbed back up and pulled down the belts.
WINNERS:  SoCal Uncensored in 24:08 to retain the six-man titles.
-Taven grabbed the belts and clocked Daniels with one.  He rounded up Marseglia and O'Ryan and they scurried off through the crowd with the belts.  Kaz and Daniels sold their beatings in the ring while Sky couldn't even stand on the floor.  Nick and Gordon helped Matt to his feet.  The crowd applauded all six men.
(Pageot's Perspective:  The insane crazy spotfest that you wanted.  I won't get to watch NXT's ladder match until tomorrow but I'll be very impressed if they were able to top this one.  The absence of Bully Ray was noteworthy as the commentators addressed it.  The Kingdom showing up wasn't a surprise but I like that they ran off with the titles.  The post-match seemed to tease a face turn for SoCal Uncensored or maybe that was just due to the fact that the crowd was respectfully applauding all six men.)
-Intermission time in the arena.  We were presented with tonight's dark match taped before we went live.  Caprice Coleman was a guest on commentary as Beer City Bruiser & Brian Milonas defeated Motor City Machine Guns and Luke & PJ Hawx in a tag team triple threat match.  Milonas pinned one of the Future Of Honor rookies following he and Bruiser's superplex/frog-splash combination.
(6) THE BRISCOES (Jay Briscoe & Mark Briscoe) vs. JAY LETHAL & HIROSHI TANAHASHI – ROH WORLD TAG TEAM CHAMPIONSHIP

The Jays started things off.  When Briscoe took Lethal into his corner Mark tagged in and Lethal escaped to tag in Tanahashi.  Tanahashi mocked Mark's redneck kung fu so Mark spit in his face.  Lethal worked over Mark dropkicks.  Things broke down with The Briscoes going after both men on the floor.  Jay Briscoe worked over Lethal.  Jay eventually took a suicide dive from Lethal on the floor.  Tanahashi with a body slam and jumping elbow on Jay.  The Briscoes worked over Tanahashi for a bit.  Lethal made the hot tag.  Top rope elbow drop was blocked by Jay.  Figure four from Lethal on Jay.  Tanahashi skinned the cat and tossed Mark to the floor.  With Jay still in the figure four, Tanahashi went up top but Mark shoved him off.  Froggy-bow to break up Lethal's figure four.  Fisherman buster from Mark on Lethal but Tanahashi broke it up.  Slingblade on Jay.  Caterpault splash on Jay on the floor.  Lethal Injection on Mark but he kicked out at a believable two-count.  "That was three" chant from the crowd.  Lethal set up Jay for the Doomsday Device but Tanahashi was knocked off the top rope again.  Lethal Injection countered into a German suplex from Jay.  Doomsday Device from The Briscoes on Lethal.
WINNERS:  The Briscoes in 19:39 to retain the tag team titles.
(Pageot's Perspective:  The crowd became more invested as it went along but this was still probably the weakest match of the night.  That might sound ludicrous with the names involved but this always just felt like an excuse to get Lethal and the Briscoes onto the card.  There may also have been some residual bad feelings towards the Briscoes following Jay's actions at the Fight Club: PRO event last week.
I feel inclined to add that, including the pre-show, we are currently three and a half hours and nine matches into the show so far with another three matches still to go.  We'll be going past midnight on the east coast for certain at this point.)
-Following a video package on the next match, Austin Aries walked out with a microphone and a bounty of championship belts on his arms.  He reminded us that he expressed his interested in the ROH TV title at 16th Anniversary last month.  He claimed nobody ever responded to him so he's reiterating his intent to the winner of this match.  He headed over to join the commentary table.
-Young carried two trash cans to the ring with him and immediately set up a folding table at ringside.  King danced down to the ring empty-handed.
(7) KENNY KING vs. "THE LAST REAL MAN" SILAS YOUNG – LAST MAN STANDING MATCH FOR THE ROH WORLD TELEVISION CHAMPIONSHIP
Cabana was somewhat hostile toward Aries on commentary, seemingly being insulted on behalf of ROH that anyone would consider their prestigious television title just another belt to be collected.  King locked in a submission on Young.  He eventually broke it.  As they fought near the ropes Young suddenly hoisted King up and back body dropped him over the ropes and through the table he'd set up on the floor earlier.  Young whipped King into three barricades and told referee Todd Sinclair to begin counting.  Interesting that it's a 20-count count out in ROH but still a 10-count count down to win this match.  Young manhandled King at ringside.  He jawed with some fans in the front row.  King hit a sidewalk slam on Young on the top turnbuckle.  Blockbuster on the floor that took down Young but hurt King's back in the process.  Back rake from Young.  Spinebuster from King.  King looked for the Royal Flush but his back gave out.  Young hit Misery on the apron and both men went down on the floor but stood up at 8.  Young threw his two garbage cans into the ring along with a steel chair.  He opened the chair and looked to suplex King across the seat but King blocked.  King looked to hit Young with the folded-up chair but Young cut him off with trash can lid shots to the head.  Young wedged the chair in the turnbuckles.  King grabbed it and threw it to Young, who caught it, and then ate a kick to the chair.  King hit a Royal Flush on Young onto a trash can.  at a count of 9 Young rolled out of the ring, landing on his feet to break the count, before collapsing again.  King went under the ring to find another table.  He yelled at some cameramen to get out of his way.  King set up the table, then stopped to play with the fans.  King lay Young across the table on the floor and went up top.  Beer City Bruiser ran out to stop him.
King hit Bruiser with a trash can three times.  Young returned to take out King.  The commentators mentioned that they weren't sure if King's friends Coast 2 Coast were here tonight.  They also still didn't know where Bully Ray was.  Aries swore he wasn't leaving the commentary table.  King pulled out a ladder and gave Young a belly to back suplex onto the ladder.  Young wound up on the table at ringside again.  King went up top again and landed a shooting star press on Young through the table.  The commentators pointed out that we have never seen King pull out that move before.  The crowd responded accordingly.  King rolled off Young and ended up with his legs under the ring apron.  Both men tried to get back to their feet.  Young was dead but slowly pulled himself to a crouching position using the barricade.  King struggled and kicked with his legs under the ring.  He finally managed to pull his legs out but he had been zip-tied around the ankles by a grinning Bruiser who popped his head out from the apron.  King couldn't stand but Young did as Sinclair counted 10.
WINNER:  Silas Young in 16:04 to capture the TV title.
-Post-match Bruiser and Young put the boots to King.  Aries agreed that since the match was now over…  He ran down to ringside and took out Bruiser and Young.  Aries grabbed a chair in one hand and the ROH TV title in his other.  He threw the belt at Young who stormed off with Bruiser in a fit.
(Pageot's Perspective:  They were in a tough position being on the same card as the similar-style six-man match but Young and King did a nice job of standing out in their own right.  It was one of those goofy finishes that some fans hated but I don't mind it.  Young as champion defending against people like Aries, Gordon, and Page could be a very promising summer for the TV title.)
-We were scheduled to get a bonus tag match with Cheeseburger and Eli Isom teaming to take on The Dawgs (Rhett Titus & Will Ferrara) but they jumped Burger and Isom before the bell and beat them both down including a ring post low blow to Isom and a chair shot to the leg.  Bully Ray stormed the ring for his first appearance of the night.  Cabana questioned Ray coming to save Eli Isom but not showing up at all during the rest of the card.  Ray told off The Dawgs, then apologized to Cheesseburger.  If Isom can't compete and Cheeseburger can't find another partner, the match will have to be off.  Burger asked Ray to be his partner.  "Last night you had your final moment, tonight have your final fight here."  Burger pointed out this is the biggest ROH crowd in history and pleaded that he needs this opportunity.  Ray was hesitant.  "One final fight!" Cheeseburger begged.  Ray took off his jacket and hat and threw them to the floor.
(8)  THE DAWGS (Rhett Titus & Will Ferrara) vs. CHEESEBURGER & BULLY RAY
The bell rang and Ray unloaded with punches on Titus.  Little Willy wound up in the ring and took the Dudley shuffle punch.  Cheeseburger hit the shotei palm strike on Ferrara.  Titus took a body slam from Ray and Burger went up top.  "Whasssuuuuup??"  Cheeseburger hit the diving headbutt.  Ray shoved Cheeseburger.  "Get the tables!"  Instead Ray suddenly chokeslammed Cheeseburger.  Groan.
WINNERS:  No contest in 2:10.
-Ray grabbed a mic.  "Who the hell do you think you are?  How dare you, little pissant, put me on the spot?  You are what's wrong with the wrestling business, you and all of your kind.  Your entire generation.  You're selfish, you're spoiled, you're entitled.  You think this is all about you.  Guys like you, guys like Will Ospreay, guys like Flip Gordon, guys like that nobody Ricochet.  You're all the same.  You have destroyed the wrestling industry.  You don't belong here."  ROH COO Joe Koff walked down to the ring.  Ray goaded him and asked what he was going to do.  "You put me in this position.  This is the reason the wrestling business sucks.  Because you sign guys like this."  Ray said Koff wasn't going to do anything.  Flip Gordon ran down.  Ray set up Cheeseburger for a piledriver and threatened Gordon not to set foot in the ring.  Ray said he would break Cheeseburger's neck and the Louisiana State Commission would shut down the show immediately.  "I'm a veteran, you're a nobody!"  He held up his WWE Hall Of Fame ring in the face of Koff and Gordon.  "Do you know who I am?  I'm a WWE Hall Of Famer.  I don't need you."  He power bombed Cheeseburger and took off up the ramp.
(Pageot's Perspective:  A lot to unpack there.  I predicted Ray turning heel in my preview column but I thought it would be a light heel authority figure turn.  This was much more significant.  He tore into the young "spot monkeys", told off his boss Joe Koff, and potentially set up a series of feuds with young talent if he intends to continue wrestling, which I guess he does as it would make zero sense for Koff to let him stay as enforcer after this.  A very unexpected development, potentially positive depending on how this plays out.)
-Cody vs. Omega is not the final match in another surprising development.  Cody wore a gold eye patch and black and gold ensemble.  Brandi was dressed in all gold.  They were accompanied by Bury's replacement bear.
(9) CODY (w/Brandi Rhodes & Bernard The Business Bear) vs. "THE CLEANER" KENNY OMEGA
As soon as the bell rang the fans chanted "holy shit!"  Everyone was on their feet.  They just stared at each other for the first minute and a half.  Cody with a shoulder block.  Omega with a running boot that sent Cody to the floor.  Omega with a dropkick to knock Cody off the apron.  Rise Of The Terminator but Bernard tripped Omega as he ran the ropes.  A huge dropkick through the ropes took out Bernard and knocked his head off but we couldn't get a look at who was in the mascot costume.  The referee sent the unidentified man to the back.  Cody jumped Omega and threw him back in the ring.  Cody with a release suplex to Omega.  Cody did push-ups while Omega winced on the mat.  Cody with a cartwheel and a body shot to Omega in the corner.  He set Omega up for his brother's Shattered Dreams and even did the Goldust chest rub only to stop and give the fans the finger instead.  Cody caught a hurricanrana attempt from Omega with a power bomb.  Indian deathlock on Omega.  Omega made it to the ropes right in front of Brandi, who slapped him.  Cody kicked out Omega's knee and hit a chop block.  Brandi threw a foreign object to Cody right in front of the ref.  As the ref grabbed it and threw it to ringside, Cody kicked Omega between the legs.  As Cody and the ref bickered, Brandi punted Omega in the stomach on the floor.  She followed up by walking across Omega's back but the referee saw it and threatened to send her to the back too.
Cody ran Omega into the guard rail.  Body slam on the floor.  A fan asked for a too sweet so Cody gave him the finger.  Omega tried to fight back but got ran head first into a chair.  Cody bickered with some obnoxious fans, stole one of their drinks, took a sip, and spit it on them.  The rest of the arena chanted "Cody" in appreciation.  Cody and Omega traded blows in the ring.  Omega unloaded with chops.  Cody pulled out his brother's drop to the mat uppercut.  Omega with a top rope crossbody but Cody rolled through for two.  Ax handles from Omega.  Moonsault but Cody got his knees up.  Jumping frankensteiner took down Cody and sent him to the floor.  The Terminator Rises again and a jumping flip over the ropes that took out Cody.  Leapfrog bulldog in the ring.  Crosslegged brainbuster on Cody.  V-Trigger to Cody.  Cody escaped the one-winged angel.  Dragon Rush to Cody.  And a second.  Cody blocked a third and hit a Beautiful Disaster kick for two.  Omega blocked a CrossRhodes attempt.  Jumping knee on Cody in the corner.  He lifted Cody up on his shoulders but Cody escaped and turned it into a figure four.  Omega struggled in the hold for a long, long time.  He eventually rolled over and Cody immediately broke the hold.
Cody hit a dragon-screw leg whip around the second rope.  He pulled a table out from under the ring and set it up at the foot of the entrance ramp.  Omega was on the apron when Cody looked for a CrossRhodes through the table.  Omega fought out.  Cody tried for a piledriver instead.  Omega fought back again.  Omega looked for Dragon Rush and hit it on the apron, avoiding the table.  Both men were down on the floor but Omega reached his feet first.  With the table set up on its side, Cody dropped Omega ribs first across the sharp side.  Cody kicked the ring announcer and time keeper out of their table and cleared it.  He threw Omega into the ring again and hit a springboard dropkick.  Alabama Slam care of his former tag partner Hardcore Holly.  Brandi helped him relocate the second table to the foot of the entrance ramp again.  It gave Omega time to recover slightly.  They traded chops.  Cody caught Omega with a Dragon Rush of his own.  Omega came right back with a v-trigger on the ropes.  Inverted hurricanrana planted Cody on his head.  Brandi climbed on the apron for a distraction.  Cody attempted to capitalize, Omega took over, v-trigger attempt, Cody moved, and Brandi was v-triggered off the apron and through the table on the floor.
Omega checked on Brandi in despair at the accident.  Cody took advantage to hit CrossRhodes.  Omega kicked out at two and three-quarters.  Flip Gordon came out to help carry Brandi to the back.  (He's just a good guy, okay?  That's all.  He helped Cheeseburger too!  It doesn't mean anything.)  Cody and Omega wound up on the top rope with Omega taking a standing superplex.  "This is awesome" chant.  Cody took off his belt and whipped Omega with it.  Cody with a top rope moonsault but Omega moved.  Omega fired up in the corner.  V-Trigger point blank.  And another.  Finger guns but Cody shoved the referee in Omega's path.  Cody went for an eye rake but Omega blocked.  Third v-trigger and a running fourth.  Cody kicked out just before three.  V-trigger again with Cody in the ropes.  Cody up for one-winged angel but he countered into a vertebreaker for two.  Cody did a throat slash and looked for CrossRhodes again.  Omega countered and referee Paul Turner got sandwiched in the corner and went down.  Both men ran the ropes and went for a crossbody at the same time.  Cody and Omega collided in the air and all three men were down.
The Young Bucks made their way down to the ring with a Being The Elite camera man following behind.  They entered the ring and talked quietly to each other before looking at Cody and Omega.  They sized up both men for superkicks.  They decided to go after Cody but he ducked and Matt and Nick took out Omega by accident.  Cody with CrossRhodes while they watched in anguish.  The referee slowly came to and groggily counted one… two… three.
WINNER:  Cody in 37:15.
-Post-match Cody celebrated and left.  The Bucks apologized to Omega and tried to explain what happened.  He was enraged and blew them off as the fans chanted "you fucked up."  Omega staggered off through the crowd with the aid of a crew member as Matt and Nick looked heartbroken with themselves.
(Pageot's Perspective:  Whew.  That was exhausting in the best way possible.  If Cody's not the top heel in all of wrestling I'm open to suggestions as to who is but no one else comes to mind.  He pulled out every single trick he could think of here tonight and the 37 minutes actually flew by.  Of course Omega is one of the best wrestlers on the planet.  Nothing new I can add there.  The final finish was fun.  After months of uncertainty Matt and Nick finally chose a side, only for another misunderstanding to plague them.  None of this really had anything to do with the kissing/queerbaiting layers that were added in the last month and a half but maybe they're trying to forget about that aspect of it due to the overwhelmingly negative response from fans.  Also no resolution as to who the leader of Bullet Club is but we're not done yet.)
-Castle received pyro and extra boys in addition to Brandon and Brent for his ramp entrance.  The others stayed behind but the usual two accompanied him to the ring.  NWA World Heavyweight Champion Nick Aldis was shown sitting in the front row.
(10) DALTON CASTLE (w/The Boys) vs. "THE VILLAIN" MARTY SCURLL – ROH WORLD CHAMPIONSHIP
Lock-up.  Castle driven into the corner.   Castle reached into his trunks, felt around, and pulled out a middle finger for Scurll.  Scurll grabbed a gold umbrella from ringside and jumped into the ring in a rage but he let referee Todd Sinclair talk him out of using it.  Castle with a take down.  They ended up at ringside and Castle took a body slam on the floor, which gave him a nosebleed.  Scurll chased away the boys.  In the ring they fought back and forth.  Castle eventually found his arm yanked down and across the top rope.  Castle caught Scurll with a back elbow, a knee, and a hip toss.  Judo throws from Castle.  Scurll dumped him to the floor but Castle pulled him out of the ring and hit a deadlift German suplex on the floor.  Scurll shoved Castle into the barricade and hit a tilt-a-whirl DDT on the floor.  He tried another in the ring but Castle countered into bang-a-rang position, which Scurll countered into a pin attempt.  Castle with a series of high knees.  Scurll with a superplex.  Kick to the face off the apron.  They fought up the entrance ramp and Castle took a back body drop onto the entrance steps.  Scurll with a Ghostbuster back in the ring for two.  They fought on the floor again and wound up right in front of Aldis, who moved back to a chair in the second row.  In the process he dropped some sort of pliers or scissors to Scurll.
Scurll re-entered the ring with the tool and cut off a turnbuckle behind Todd Sinclair's back.  The camera cut to Aldis multiple times as he looked on.  Scurll tried to run Castle into the exposed turnbuckle but Castle fought back.  Castle with another deadlift German suplex for two.  They wound up in the corner with the exposed turnbuckle.  Castle tried for a German superplex but Scurll low blowed Castle and hit another kick to the back of the head.  Castle kicked out at two.  Scurll went to the floor and fidgeted under the ring for a long time, looking for something.  He couldn't find it and appeared frustrated.  Castle cut him off and threw Scurll into the guard rail.  Scurll threw him back in the ring and kept looking under the ring.  He finally found his bag of flour and brought it into the ring.  Castle kicked his fists of flour into his own face.  A blinded Scurll grabbed referee Sinclair, thinking it was Castle, and snapped his fingers.  Castle hit bang-a-rang.  Sinclair counted one and screamed in pain at his injured hands hitting the mat.  He couldn't finish the count and rolled to the floor.  Scurll grabbed his gold umbrella and unloaded with multiple strikes on Castle and both Boys.  Scurll with a brainbuster but there was no referee.  Referee Paul Turner ran out and counted two (despite presumably seeing everything that just happened from backstage).  Castle kicked out.
Scurll called for the chicken-wing.  Castle peacocked.  Back elbow, forearm, saito suplex.  Scurll with an uppercut and the chicken-wing in the middle of the ring.  Castle rolled through, got to his feet, and dropped back onto Scurll to break the hold.  Scurll sat up and locked in the chicken-wing again.  Castle fought to the ropes.  Scurll broke the hold and snapped Castle's hand.  Scurll stomped on Castle's hand, head, and shoulder.  He jumped up and down on Castle's head, went for the chicken-wing again, but Castle rolled through for two.  Superkicks from Scurll but he then ran right into bang-a-rang from a pissed off Castle.
WINNER:  Dalton Castle in 31:37 to retain the world title.
(Pageot's Perspective:  I'm not sure why but I hated all of the heel tactics here whereas I really appreciated Cody's work in the previous match.  Maybe it's just the stupidity of the flour being everywhere and a second referee coming out and being allowed to count the pinfall.  Cody's low blows and Brandi involvement were believable because they happened behind the referee's back and there was no evidence.  Scurll's tactics were blatant and right in everyone's sight-line so it just makes ROH management and their referees look incompetent for running out to count a pin fall following multiple umbrella shots that every person in the building saw.
I'm normally always in favor of the top championship going on last but I have to admit Cody/Omega was the hotter of these two matches tonight and probably should have headlined.  There just wasn't much backstory or interaction between Castle and Scurll prior to this match, certainly not enough to get people as heated and invested as they were in the aforementioned match.  This is two big events in a row where Castle's entered with a flat feud and his title reign is hurting because of it.
I don't know.  Maybe I'm being unfairly harsh because I'm so tired.  We went off the air at 1:12 a.m. EST after nearly six hours and 13 matches.  On the night before WrestleMania.  I understand wanting to showcase your entire roster on a weekend like this, especially in front of the largest crowd in ROH history, but there's a limit.  I'm a pretty huge ROH fan (hence my writing this report) and I found myself aching by the intermission and wishing this show was an hour or two shorter.  Instead of being excited and pumped to see Castle vs. Scurll all I was feeling was restless by that point.  Also, it may have been unfair expectations, but I think with the long build to Cody vs. Omega and with it being WrestleMania weekend a lot of people were expecting a big Bullet Club development and a defining start to the next chapter.  Alas there were no answers provided about who's in charge now, new members, exits, or where we go from here.  In fact Aries-Young and SoCal-Kingdom are the only clear feuds coming out of tonight.)
---
Find Harley on Twitter @talkinghonor and PWTorch VIP members can listen to he and Lola Bradbury discuss all things ROH every Monday on their podcast, "Talking Honor."