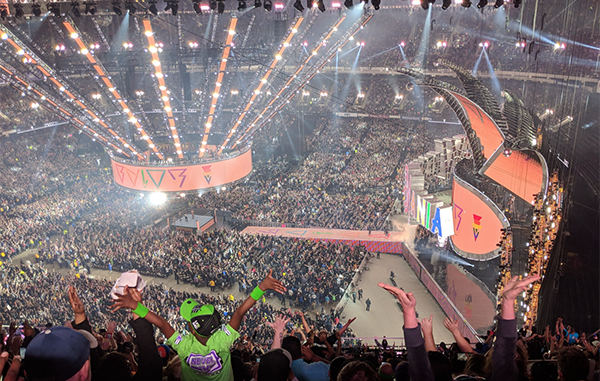 ---
SPOTLIGHTED PODCAST ALERT (YOUR ARTICLE BEGINS A FEW INCHES DOWN)...
---
KELLER'S WWE WRESTLEMANIA 34 REPORT
APRIL 8, 2018
NEW ORLEANS, LA.
AIRED LIVE ON WWE NETWORK
---
Check out the WrestleMania 34 Post-Show, the "Wrestling Night in America" Sunday night podcast hosted by Greg Parks with 2.5 hours of analysis with live callers.
---
TOMORROW NIGHT AFTER RAW, BE SURE TO CHECK OUT THE WADE KELLER PRO WRESTLING POST-SHOW! You can search "Wade Keller" in Apple Podcasts, Stitcher, or any podcast app you use. Subscribe to both of our red brand (Post-Shows after Raw and Smackdown each week) and our blue brand (Podcast One feature shows later in the week – the Thursday Flagship and Interview Friday).
---
KICKOFF SHOW
NOTE: For a detailed report on the first hour of the Kickoff Show, check out our alternative WrestleMania  34 Kickoff Show by Jeff Vandrew Jr. (author of the week "Top Three Developments" columns after Raw and Smackdown each week) HERE.
Panel: Renee Young, Booker T, JBL, David Otunga, Peter Rosenberg. Roving Reporter (not Journalist!): Sam Roberts
(A)  ANDRE THE GIANT MEMORIAL BATTLE ROYAL
It came down to Mojo Rawley and Baron Corbin arrogantly double-teaming Matt when the lights went out. When they came back on, Bray appeared in the ring and helped Matt win. Matt and Bray hugged. During the match, they showed John Cena sitting in the front row with a beer reacting like a fan.
WINNER: Matt Hardy.
(B) CEDRIC ALEXANDER vs. MUSTAFA ALI – Cruiserweight Championship Tournament Final
Drake Maverick was shown at ringside. When the bell rang, Nigel said, "Drink it in, boys, this is a moment you will never forget." They squared off, smiled, acknowledged it's WrestleMania and they were ready to put on a great effort. Nice smooth athleticism beginning. They cut to an early break. [c] They showed Cena in the crowd again reacting to the match. After Cedric knocked Ali off the top rope, they went to split screen and showed an ad for the Ronda Rousey match later.
Back in the ring, Ali landed his 054 for a near fall, but Cedric put his foot on the bottom rope. Ali reacted with disbelief, then stomped away at Cedric. Cedric landed two spinning elbows. Ali stood. Cedric told him to stop and said it's enough, but hit a third back elbow. Then he hit the Lumbar Check for the clean win. Cedric moved in and cradle's
WINNER: Cedric to capture the Cruisrweight Title.
-Charlie Caruso interviewed Cena from the front row. She said it's unfortunate he's not "competing" tonight, but at least he's having fun. Cena acted like that obnoxious drunk you're fearful you'll end up sitting next to. He talked up the fans he was sitting near. Peter Rosenberg said Cena seems "crazed" being a fan and it really is eating him up inside.
-Renee threw to a video package on the Intercontinental Title match.
(C) WOMEN'S BATTLE ROYAL
Paige and Beth Phoenix did guest commentary with Michael Cole and Corey Graves. The women surrounded and eliminated Carmella early and eliminated her first. It came down to Sasha and Bayley. Sasha got that look in her eyes that said their friendship was more important than anything they've disagreed about. She moved in with a smile. Bayley promptly threw her over the top rope and eliminated her. She celebrated like she won, but instead Naomi re-entered the ring – having not been officially eliminated earlier – and gave a hip attack to Bayley and then tossed her out. Naomi celebrated with her Cervix Trophy.
WINNER: Naomi.
-The announcers hyped that WrestleMania is free. Rosenberg said if he could tell his mother back in 1987 that he could have watched WM3 for free, it would have changed his whole life from that point on. Booker said if it was free, he'd have been able to afford it. Renee said it's such a treat.
-A video package aired on the Roman Reigns challenge of Brock Lesnar. The panel discussed the match next. Rosenberg said when the pressure is on, Reigns put on a great performance. Booker T said he's like the  mailman, he delivers. Rosenberg said they're going to see Daniel Bryan wrestle again. A "Yes!" chant started behind them. Renee broke the news that WrestleMania is free.
---
MAIN SHOW
Announcers: Michael Cole/Tom Phillips, Jonathan Coachman/Byron Saxton, Corey Graves
-Jo Jo stood mid-ring and introduced Chloe & Halle who sang "America the Beautiful." Fans chanted "USA!" and applauded their beautiful renditions. They have a beautiful and appropriately gaudy WrestleMania sign on the stage with a Mardi Gras theme.
-A video package introducing WrestleMania 34 with scenes of New Orleans then played.
(1) THE MIZ vs. SETH ROLLINS vs. FINN BALOR
They all came out with new ring jackets and ring gear. Balor had rainbow colored accents on his black boots and trunks. Rollins had blue contact lenses. Miz had red gear with gold accents. Miz sent Curtis Axel and Bo Dallas to the back. Cole said fatherhood has changed him. This was a good match to start the main part of the show. Cole said this was a pick 'em match with three equal wrestlers. Seth hit some dives on both sides of the ring rapid-fire five minutes in. They showed Sean in the crowd. Miz put Balor in a figure-four, prompting Cole to mention that odd pairing of Miz as Ric Flair's protege years ago. The hold was broken up by a big Seth splash. Balor landed a Pelé kick, which Cole called an "overhead kick," leading to a near fall. Miz launched Seth out of air toward the mat with a variation of the Skull Crushing Finale. He made the cover, but Balor leaped off the top rope with a Coup de Grace and broke it up. Balor lived afterward. A "Let's Go Balor" chant started. Balor hit Miz with a sling blade and a running dropkick. Balor leaped off the top rope and hit the Coup de Grave, but Seth gave him the Stomp as he went for the cover. Seth then stomped the mat and moved for another Stomp on Miz, driving his face into the mat for the three count.
WINNER: Seth Rollins in 16:00 to capture the Intercontinental Title. (***1/2)
(Keller's Analysis: Good match, exactly what you'd expect from these three in an opening match high-energy but not exhausting match. The only surprise is they didn't do anything with Miz and whether he really has become a good sportsman because fatherhood changed him.)
-A commercial aired for the Andre the Giant documentary on HBO.
-They showed Cena in the crowd again.
-They went to Tom Phillips, Byron Saxton, and Corey Graves at ringside. 
(2) CHARLOTTE vs. ASUKA – WWE Smackdown Women's Title match
Back and forth healthy methodical pace early, with Asuka on offense at first and then Charlotte taking over. Charlotte went for a top rope moonsault, but Asuka spread her legs and caught her in a leg triangle. Graves called it a Venus Flytrap. Charlotte shifted into a Boston Crab. They leveraged each other in near falls. The crowd applauded as the match was about to shift into second gear. Asuka suplexed Charlotte off the ring apron onto the floor. Both were down and slow to get up. (I bet Phillips almost reflexively threw to a commercial break.)
Charlotte gave Asuka a Spanish Fly off the top rope. Both were slow to recover. Asuka caught Charlotte in a twisting torquing submission. Charlotte escaped and set up a figure-four, but Asuka kicked out and the match hit third gear. Asuka kicked. Charlotte chopped. Asuka went for an Asuka lock. Charlotte resisted. Charlotte speared Asuka for a two count at 12:00. Charlotte then put Asuka into the Figure-Eight. She couldn't put weight on her right arm and bridged on two legs and one arm. Asuka rather quickly tapped out.
WINNER: Charlotte in 13:00. (***)
(Keller's Analysis: Wow. Surprising finish in that it wasn't much of an end to the streak in terms of Asuka having a chance to really showcase her signature spots before losing. It almost felt like a downgrade in Vince McMahon's faith in her not that she lost, but how she lost.)
-After the match Asuka asked for a mic. She said, "Charlotte! Was! Ready! For Asuka!" She congratulated her and hugged her.
-A referee whispered something to Cena. "I swear!" he said. Cena listened, jumped the railing, and ran to the back right past Charlotte.
(Keller's Analysis: Did the ref tell Cena that donuts had finally arrived in catering? Obviously a teaser that Undertaker has shown up or sent a message of some kind.)
(3) RANDY ORTON vs. BOBBY ROODE vs. JINDER MAHAL (w/Samil Singh) vs. RUSEV (w/Aiden English)
They went to a parade of announce teams from around the world. Big pop for Rusev and a "Rusev Day" chant as he came out. English introduced him. Jinder blocked a Rusev dive through the ropes early. Everybody got spots in early. At 6:00 Orton gave an RKO to English as he interfered. Then he gave Rusev an RKO. The crowd booed. He then gave an RKO to Jinder. Roode broke up the in attempt (well, not really, since Roode piled on top of Orton who was still covering Jinder whose shoulders were still down).R Roode tossed Rusev out of the ring, then blocked an RKO attempt by Orton and hit a sudden Glorious DDT. Jinder broke up the pin (and Orton actually lifted his shoulder). Rusev entered with a Machka Kick on Roode and then Jinder. He looked around as the crowd loudly chanted "Rusev Day!" He stomped on Jinder and then went for the Accolade. Samil distracted Rusev. Jinder then gave him his Khalas Kick for the win.
WINNER: Jinder Mahal in 9:00 to capture the U.S. Title. (**1/2)
(Keller's Analysis: This wasn't designed to be a show-stealer. Some matches have to be kept short to keep the show from running way too long, and this was a good choice. I suppose in a way this title change frees up everyone else to be part of a Superstar Shake-up and switch brands without affecting the title. It also puts a belt on Smackdown on a heel to even things out with the other two major titles on babyfaces, no matter which way A.J. Styles vs. Shinsuke Nakamura goes later – barring a turn.)
-A Snickers ad aired with Mick Foley and Breezango.
-The announcers thanked Kid Rock for "Celebrate," a theme song for WrestleMania 34.
-A video package aired on Ronda Rousey, beginning with her saying, "More than being liked, I've always wanted to be respected." (Well, then don't be such a sore loser.)
---
VIP MEMBERS, send questions and comments about WrestleMania 34 for tonight's VIP Wade Keller Hotline "WrestleMania 34 Mailbag" edition to: askwadekeller@gmail.com.
---
(4) RONDA ROUSEY & KURT ANGLE vs. TRIPLE H & STEPHANIE MCMAHON
Triple H and Stephanie came out on three wheel motorcycles. That likely means no Biker Taker tonight. The announcers just gushed about the ring entrance and talked up the career of Triple H like their jobs depended on it. Then Angle came out to his music. Finally Rousey in a kilt and a Roddy Piper jacket. She was wearing her Facil Expression #2 – her smile. (Cole said only two people have transitioned from "starting in UFC" to WWE – Ken Shamrock and now Ronda Rousey. Shamrock was a pro wrestler before UFC existed, so if you include him, then you include Brock Lesnar, unless he's talking strictly WWE and UFC as brands.)
A loud "Ronda Rousey" chant broke out early. Steph and Hunter entered the ring to boos. Stephanie pie-faced Rousey pre-match. She ran up behind Rousey and yanked her down by her hair. The ref separated them and then the bell rang. Angle began against Triple H. Cole said Hunter and Steph told the referee before the match, "Remember who signs your paychecks." (I half-expected Cole to say, "They usually only tell us that.") Stephanie pulled the top rope down so Angle tumbled over the top rope and crashed at ringside. Hunter then whipped Angle into the ringside steps. Hunter walked over and trash-talked Rousey. (Foreshadowing that Rousey taps out Hunter to end the match?)
Hunter was calling spots pretty loud as he carried Angle through the early minutes one laborious move at a time. Hunter charged at Angle, but Angle ducked and Hunter almost hit Stephanie. They froze in place. When Angle reached for a tag to Ronda, Stephanie ran over and yanked her off the ring apron. Cole said: "It is completely manipulation of rules tonight by Triple H and Stephanie." (That phrase doesn't sound accidental or impromptu.) Steph smiled. Angle locked a Pedigree attempt and threw Hunter into the corner and Hunter bumped to the floor. Steph called out, "Hunter! Hunter!" Angle crawled over milked it but tagged in Rousey. Rousey yanked Steph into the ring  by her hair, flipping her over the top rope. She had a great intense look. She ducked a clothesline and then clotheslined Steph, flipping over herself afterward. Then she one-arm slammed her. Rousey punched away at Steph in the corner. The crowd ate it up. Intense heat. Fans were standing. She whipped Steph across the ring by her hair.
Rousey grounded Steph and set up an armbar. Stephanie blocked it by holding her hands together and pulling back. Take notes, MMA students. "Ronda might get pinned!" said Graves. Steph raked Ronda's eyes, then crawled over for a tag. Hunter hadn't returned to the ring apron yet. Steph turned and kicked Rousey and then DDT'd her for a two count. Coach said he was surprised at how good Rousey has looked, but Stephanie has surprised her too. Stephanie applied a standing surfboard. Rousey cried out in pain and then stood and poured out, but Steph yanked her down hard by her hair.
Steph charged, but Rousey grabbed her by her throat. She got her intense look, then lifted Stephanie on her shoulders and gave her a spinning Samoan drop for a two count. Hunter yanked the ref out as he was about to try for a third slap. Rousey yelled at Hunter and said she's going to go back to beating up his wife. Hunter yanked Rousey out of the ring by her leg. Angle ran over and attacked Hunter. He set up a back suplex on the announce table. Hunter blocked it and threw Angle onto the next table.
Rousey re-entered the ring and looked ready to fight. Hunter stood up and looked around. Rousey looked ready to fight him. The ref told him he had to leave. Rousey said she wanted him. Hunter pushed the referee into the corner as if to signal that he signs the checks. Hunter turned around and smiled and said, sure, if that's what you want. Rousey punched away at Hunter's face and body rapid-fire.
Ronda then lifted Hunter for a Samoan slam, but Steph saved him and yanked him down, then slapped Rousey. Rousey turned and stared at her. Steph bailed out and ran. Rousey chased after her and caught her. (She'd have never caught Braun Strowman.) Rousey lifted Steph, but Steph slipped free and shoved Rousey into the ringpost face-first. Angle came up behind Hunter and gave him two belly-to-belly suplexes. Hunter came back with a knee to the face, but Angle then went into his unreleased German suplex sequence – three in a row. Hunter tried for a Pedigree, but Angle went for an Anklelock. Hunter blocked it and again went for a Pedigree. Angle catapulted Hunter into the top turnbuckle and then hit an Angle Slam for a near fall that popped the crowd.
Stephanie entered the ring and yelled at Angle, saying this whole thing is his fault. She tried to kick him, but he grabbed her leg and held it. The ref told Angle to let go. The crowd chanted "Yes!" Angle put her in the Anklelock. Hunter made the save and gave Angle a Pedigree. Rousey broke up the pin. Hunter stood and stared down Rousey. Fan chanted "This is awesome!" Cole said fans were chanting it for Rousey. Hunter then set up a Pedigree, but instead set up a powerbomb. Rousey countered with a a huracanrana and applied her armbar with a leg scissors. Steph made the save and put Rousey in a rear naked choke. "Rousey could fade here!" Cole said.
Rousey stood and flailed to escape and eventually flipped out and put an armbar on Stephanie. Angle put Hunter in an ankle lock to stop him from breaking it up. It looked like a possible finish, but Hunter escaped and flung Angle into Rousey and he clotheslined her. Oops.
Cole called it an incredible match. Hunter shoved Angle into the corner ringpost shoulder-first. Stephanie got up and checked for a plan with Hunter. They set up stereo Pedigrees. Angle backdropped Hunter out of the ring. Rousey then broke free and went for her armbar. Stephanie blocked it and yelled, "Please, no! No! No!" Then she made her tap. They cut to Dana White in the front row applauding the win. Cole said he was very impressed with Rousey "as she embarks on her career here in WWE." Angle hugged her.
WINNER: Rousey & Angle when Rousey tapped out Stephanie.
(Keller's Analysis: That went about as well as anyone could have hoped. If there were concerns about Rousey – and there were – adapting to pro wrestling, this allieviated many of them. She still has to do a singles match, but I thought her selling and her general sense of timing was 9 out of 10 for the range that was possible here with so little evidence.)
---
PWTORCH VIP SALE
$3.40 for a full month… Over 60 percent off our monthly rate. Sign up in time for tonight's post-WrestleMania Roundtable Podcast w/Keller & Mitchell & Martin, PLUS our podcasts from our team on site in NOLA and our post-Takeover and post-ROH PPV Roundtable Podcasts.
---
(5) THE USOS vs. THE NEW DAY (Kofi Kingston & Big E w/Xavier Woods) vs. THE BLUDGEON BROTHERS
The New Day came out to a virtual giant stack of pancakes on both sides of the entrance stage. Phillips stressed that New Day were inspired to bring pancakes to the ring because of the lumberjack match way back (it wasn't based on a century-long stereotype, in other words!). They were joined by seven little people wearing pancake body suits. New Day tossed real pancakes to the crowd on their way to the ring. Byron: "This is a parade of pancakes!"
The Bludgeon Brothers came out and immediately took it to the Usos and New Day at ringside. They threw Xavier into the ringpost and then threw Kofi into the ring. When the Usos dove at Erick Rowan at ringside a few minutes in, Rowan caught them. They still managed to slam him. Back in the ring, Big E lifted Luke Harper for a slam, then tagged in Kofi. Harper ducked and then slammed Kofi in a slightly botched spot as he didn't get any lift.
The Usos set up a double suplex of Harper, but Down broke it up. Kofi kicked Rowan over the top rope. Kofi charged at Harper, but got head butted. Rowan then powerbombed Kofi. That set up a double powerbomb off the top rope for the win.
WINNERS: The Bludgeon Brothers in 5:00 to capture the Smackdown Tag Team Titles.
(Keller's Analysis: That worked fine. It put over the Bludgeon Brothers strong and didn't overstay it's welcome. This isn't the show for a tag team classic.)
-A commercial aired for WWE Network.
-John Cena came out to his entrance music. "It's about to get interesting," he said. "Welcome to WrestleMania" Then suddenly Jo Jo introduced him for an unnamed match. Cole said he just heard Cena say, "He is here." He said he must be talking about Undertaker.
A referee ran out and told Cena something. Cena didn't seem to like what he heard. He looked dejected again. Fans chanted "Un-der-taker!" Cena left the ring and slapped fans' hands. The lights went out. The crowd popped. Then Elias strummed his guitar and walked onto the stage. (Psych!)
Elias asked if they were expecting someone else. He said that somebody else doesn't have his unmatched charisma and athleticism, nor does he have the unlimited talent he carries in his soul. Fans chanted "You suck!" at him. He said if they thought it'd be another walk in the park, "not with me." Cena left and sat back at ringside, but eventually had enough of Elias's lyrics and attacked him. Elias bailed out after his diving shoulder tackles, side slam, fist drop, and Attitude Adjustment. Elias rolled out of the ring. Cena looked discouraged as fans began chanting "Un-der-taker!" again. Cole asked if that counts as a WrestleMania Moment for Cena. Coach said this isn't the night Cena wanted to have. "I've never seen him more not into something than he is right now," Coach said. (He didn't watch his Summerslam match against Baron Corbin last year, then.)
Cena's music stopped halfway up the ramp. He stopped. The lights went out. The crowd cheered. And then inside the ring was the Undertaker "Dead Man" hat and robe. Then lighting struck and the lights went dark again. Then when they came back on, the ring was empty again. Cena looked a little wide-eyed. The lights went out yet again. Then came the "Dong!" and a huge pop. Pyro began blasting and the anticipation built. Undertaker's music played. And then he appeared on the stage – as the Dead Man, not Biker Taker. Long hair. Cena's jaw dropped. "The Dead Man has risen!" said Cole, starting to get hoarse. Cole called Taker the "most prolific" WWE performer in history. Graves said he knew all along he'd answer. Coach said everyone is in disbelief. "This is surreal," said Graves. He added the old adage, "Be careful what you wish for because you just might get it." Cena kneeled in a corner of the ring. Coach said Cena brought Taker back, nobody else. Taker stared a hole in Cena. Cena hyperventilated a bit.
(6) JOHN CENA vs. THE UNDERTAKER
Taker took it to Cena as soon as the bell rang wit punches and a flying clothesline. Then he walked the top rope and came off with a forearm to Cena's back. Cole said Taker is focused and in a zone. A fan held up an "RIP Cena" sign. Graves said Cena just be regretting callout The Dead Man. Coach said surely Cena got under the skin of Undertaker. Taker gave Cena snake eyes. He gave Cena a big boot, which showed a lot of light (blame Cena). Taker legdropped him. Cena back suplexed Taker. The crowd booed. Cena began his You Can't See Me routine, but Taker sat up. Taker then gave Cena a chokeslam. Taker lowered his straps and signaled for a chokeslam. Then he picked up Cena and gave him a Tombstone for the three count. Cole said Taker didn't just beat Cena, he routed Cena.
Taker walked to the stage and turned to look at the audience, seemed to maybe show some emotion, then turned back to the stage exit, raised his arm, and left.
WINNER: Undertaker in 3:00.
(Keller's Analysis: That was crowd pleasing. The psychology, now in retrospect, makes sense. Have Cena be a jerk about it and lower expectations so when fans get Undertaker and the match lasts just three minutes and Taker wins decisively, fans feel they got more than was actually promised and the right guy lost decisively. Not the classic once hoped for, but taking into consideration Taker's physical condition at his age, that was a special bonus chapter of his career, but to be judged differently than the rest. If that's really it for Taker, he ended with a win over the other top star that overlapped his career whom people would have always wanted him to wrestle on a WrestleMania.)
-They cut to the announcers. Cole said they wanted to take a moment to let what just happened sink it. Coach said, "It's about surprises, it's about moments, and that was one of the great WrestleMania Moments that we have ever seen." Cole said they are sure-fire Hall of Famers. He threw to a video recap.
-The Hall of Famers walked onto the stage one at a time.
(7) SHANE MCMAHON & DANIEL BRYAN vs. KEVIN OWENS & SAMI ZAYN
Shane came out first. Graves said backstage Shane hugged Pat Patterson and he winced. He said he is clearly not recovered from his medical issues, but he's going to "try to play the part." Interesting choice of words. Then a video aired on the "Yes"! chant going viral. Bryan then stepped onto the stage as the crowd chanted "Yes!" Loudest ovation of the night, it seemed. Bryan was teared up and bubbling over with emotions. Fans chanted "Daniel Bryan!"
KO and Sami came out next. But they attacked Bryan and Shane from behind. There had to be a reason the babyfaces came out first. Sami threw Shane into the front row where his wife and kids were. His kids yelled back at Sami angrily. KO threw Bryan into the barricade seconds later. Sami then delivered a Helluva Kick. Then they powerbombed him onto the edge of the ring apron again. Graves said Bryan was removed from the equation. Shane came out to check on Bryan, who was on the ground. He called for somebody, while also clutching his own abdomen. Two referees and a medic came out. Shane looked concerned. He stood on the ring apron and yelled at KO and Sami for a cheap shot. He entered the ring and yelled for the bell to be rung.
The match was officially on. Graves called it ill-advised. Shane punched Sami off the ring apron, then punched away at KO. They cut to a camera angle that didn't actually show the punches but showed Shane's back. Good move after the close-up exposed their awfulness. He kicked way at Sami and then hit a spinning elbow. He pump kicked KO and then grabbed at his abdomen. KO kicked him there. He stomped awayat him in the corner. KO leaped onto him. He clutched his abdomen. They continued to beat on him for several minutes. Graves said an umbilical hernia would keep anyone else bed ridden. The background showed medics and refs still checking on Bryan at ringside.
Graves said Shane shouldn't worry about losing because the problems he'll have if he keeps fighting will be way worse than having a couple guys on the roster he doesn't like. Shane was winded, but made a comeback and knocked KO out of the ring. Sami was hanging upside down in the corner. Shane thought about it and then climbed to the top rope. Graves said there is no way in his condition he can do it. Shane leaped and landed it. The crowd gasped more than popped. "Shane connected, but at what cost?" Graves said. Shane crawled over to make the cover but KO brake it up with a senton. Shane clutched his abdomen. KO landed a frog splash. Bryan broke up the pin. The crowd cheered and chanted "Yes!"
Shane avoided a cannonball in the corner. Shane crawled over officially tag in Bryan. Owens held onto his boot, then tagged in Sami, who cut off Shane and applied a chinlock. The crowd seemed deflated, like they were fearing they weren't going to see Bryan wrestle and maybe concerned for Shane legitimately. Shane stood and walked over, with Sami on his back, to try to make the tag. Sami held him back, though. Shane back suplexed Sami and then crawled over and finally made the tag. The pop wasn't what you'd have expected.
Bryan entered the ring and then the crowd began to finally roar. He punched Sami over and over, and also took a shot at KO on the ring apron. Bryan turned it up full speed and took down Sami with a flying clothesline. Bryan slidekicked KO off the ring apron to the floor and then hit a running flying knee off the ring apron. He climbed to the top rope and hit a flying dropkick. Bryan kipped up. KO came up behind, but Bryan suplexed him onto his head. Bryan gave Sami a running dropkick in the corner. Then one to KO. Then Sami. Then KO. He smiled and looked around. Saxton said Bryan hasn't missed a beat. Bryan gave Sami a top rope huracanrana. Owens held Bryan's foot, and then Sami gave him a Helluva Kick for a two count.
Owens superkicked Shane off the ring apron and he bumped into the ringside barrier. Owens yelled at Bryan that he should have stayed retired. He hit a Pop-Up Powerbomb for a near fall. Owens tagged in Sami, but when he charged at Shane, Shane pulled the top rope down and then clotheslined KO. He grabbed his abdomen again (so you hope he's milking this all along). Sami stood over Bryan as he struggled to recover from the Pop-up Powerbomb. Bryan rallied and hit Sami with his signature running knee and then a Yes Lock for the tapout win.
Bryan hugged and kissed his wife Brie at ringside. They went to a wide shot of fans doing the "Yes!" gesture/ Shane entered the ring and held up Bryan's arms. Bryan celebrated some more as his music played. Graves said it was 77,000 in unison. Shane kept holding his abdomen.
WINNERS: Bryan & Shane in 15:00.
(Keller's Analysis: Bryan got in his signature spots and KO and Sami played their parts well. I just hope Shane was embellishing his abdominal pain because otherwise that was too risky. Either way, the crowd seemed at times uncomfortable with cheering on Shane because he seemed so rough. The best is yet to come with Bryan. They didn't even tease any dissension with Bryan and Shane. I hope you enjoyed KO and Sami's WWE career. ROH fans, get ready!!!)
-Graves said he underestimated the crowd, because it's 78,133. Cole said they broke the record for the SuperDome's highest grossing entertainment event. He said 50 states and 67 countries are represented.
-They went to the announcers at ringside.
(8) ALEXA BLISS (w/Mickie James) vs. NIA JAX – WWE Raw Women's Title match
Jax took it to Micke at ringside. She beat up Alexa early. Alexa took over and worked over Jax's legs. When Jax made a comeback and charged at Bliss, Bliss moved and Jax crashed shoulder-first into the ringpost and then fell to the floor. Bliss pretended she was so sorry as she set up an inverted DDT, then viciously slammed her down for a near fall. Jax hear enough and yelled for her to "shut the hell up!" Then she tossed her around some more and splashed her in the corner. Cole said the Challenger was on a different level now.
Jax flung Bliss over her back by her legs so the back of her head hit the top turnbuckle. Jax dragged Bliss back into the ring but she pulled the ring apron up with her. The ref went to fix it and then Bliss raked her eyes. Bliss kicked her and then gave her a flapjack slam. Jax gave Bliss a second rope Samoan drop for the clean win.
Jax sobbed in appreciation of the moment. She held up the title. Coach said this is a win for anyone who has ever been bullied or called a rotten name or ever not felt good about themselves or been body shamed. Jax hugged family at ringside. Bliss sat up and cried.
WINNER: Jax in 10:00 to capture the Raw Women's Championship.
(Keller's Analysis: This felt like a breather for the most part for the audience. It was a good effort from those involved.)
-An ad aired for Backlash with both Raw and Smackdown rosters.
-A video package set the stage for Styles vs. Nakamura, including some cover photos of Japanese magazines with Styles and Nakamura.
-A live band / orchestra performed Nakamura's ring entrance with an electric guitar blended with twenty violin players.A no-frills ring entrance for Styles.
(9) A.J. STYLES vs. SHINSUKE NAKAMURA – WWE Title match
They locked up mid-ring and there was a palpable buzz in the crowd. Phillips noted Styles seems really emotional and that's something Nakamura believes he can take advantage of that. First gear pace for the next six minutes after some intensity early. The crowd seemed to welcome the rest as it's now six hours since the Kickoff Show began.
At 11:00 Nakamura caught Styles on a springboard and turned into a "landslide" sitout cradle slam out of a Samoan drop position. Nakamura put Styles on the top rope and then high kicked him. Styles escaped and then worked over Nakamura's knee. Nakamura trapped Styles in a head triangle. Styles lifted and then dropped Nakamura on his head. The crowd gasped at the impact. Both were down and slow to get up.
At 16:00 Nakamura kicked Styles, but clutched his left knee in pain afterward. Styles hit the Phenomenal Forearm for a near fall. Styles misfired on a springboard flip splash, landing Nakamura's knees. He scored a two count. Styles head butted Nakamura as soon as both stood. They exchanged blows mid-ring. Styles landed a Pelé kick. Nakamura fired back with a knee to the back of his head for a near fall. Next he signaled for his finisher, but Styles moved and hit the Styles Clash for the clean win.
WINNER: Styles in 21:00. (***1/2)
(Keller's Analysis: It was good, no doubt, but considering expectations, it felt like a letdown.)
-Styles helped Nakamura up and they hugged. He kneeled and presented Styles with the belt. Then he delivered a low blow. Nakamura began mocking Styles and he kicked at him and shoved him out of the ring. He beat him up some more including a Kinshasa Kick. The crowd booed as Nakamura walked up the ramp.
(Keller's Analysis: Had Nakamura's push gone better, I'd be against this. I think this is a potentially invigorating change for him in WWE. I wonder if he'll end up with a manager, though?)
-The announcers recapped the Kickoff Show happenings including Matt Hardy's battle royal win, the return of Bray Wyatt, Cedric Alexander's Cruiserweight Title win, and Naomi's win.
-Sheamus and Cesaro came out on a Mardi Gras float with a bunch of parade characters. When Strowman came out, the parade float characters scurried away. Coach informed us it was really funny. It was, but he seemed to hard sell it unnecessarily. Braun then shoved the Parade Float off the stage. Cole said he doesn't get along well with vehicles.
-Braun said everyone wants to know who his partner is. He said it's one of the fans. They showed fans volunteering. Strowman circled ringside and scanned the crowd. He then walked into the crowd and kept looking. Graves said he has 78,000 options, so this could take a while. He picked out a boy in the crowd. Strowman asked him his name. It's Nicholas.
(10) SHEAMUS & CESARO vs. BRAUN STROWMAN & A KID NAMED NICHOLAS
Strowman beat up Cesaro at first and made the cover. Sheamus broke up the pin. Strowman chased him out of the ring. Graves criticized Nicholas for not tripping Sheamus. The heel duel took over with a double-team. Nicholas watched nervously. Nicholas reached for a tag. Nicholas entered the ring. He looked scared and tagged right back out. Strowman caught Cesaro and gave him a running powerslam or the three count.
Strowman and Nicholas celebrated mid-ring, holding up the belts. Graves said he hopes Nicholas doesn't get first class tickets before he does. Strowman led a smiling Nicholas up the ramp.
WINNER: Strowman & Nicholas in 5:00 to capture the WWE Raw Tag Team Titles.
(Keller's Analysis: Cute, I suppose. It's one of those Pure Sports Entertainment Moments that will get some mainstream media play and certain type of fan will like, but another big portion won't at all.)
-Video package aired for Brock Lesnar vs. Roman Reigns.
-Reigns came out to a chorus of loud boos. No comments from the announcers about it. Cole touted Lesnar's third-longest title reign in WWE of the last 30 years. ("Yeah, but how many title defenses," says the WWE Universe.)
(11) BROCK LESNAR vs. ROMAN REIGNS – WWE Title match
More boos for Reigns during formal ring introductions. Heyman stopped Jo Jo from introducing Lesnar. He took over. The crowd talked along with him.
Lesnar took it to Reigns early with some suplexes. Reigns followed with Superman Punches, which drew boos. He knocked Lesnar over the top rope with a clothesline. Lesnar took it too Reigns at ringside and suplexed him on top of his head. He hit his head hard. The crowd began chanting "C.M. Punk." Lesnar then threw Reigns hard and awkwardly into the announce table. Back in the ring, he gave Reigns a released German suplex. More suplexes. Lesnar jogged in place.
Lesnar overhead suplexed Reigns onto his shoulder. They replayed it in slo-mo. Lesnar whipped Reigns hard into the barricade a minute later. Reigns came back by slipped out of Lesnar's grip and shoved Lesnar hard into the ringpost. Reigns struggled to stay standing. Reigns charged and speared Lesnar onto the announce table, which switched
(Cole's mic to be heard in the entire arena briefly. That was quite a visual. Reigns threw Lesnar back into the ring. A beach ball broke out in the crowd. Reigns signaled for the Superman Punch and hit it. Then he hit a spear. Then he hit a second spear. Two count.
Reigns went for a spear, but Lesnar kneed him out of mid-air and scored a very near three count. Then an F5 for a near fall. Another F5 and another kickout. Lesnar yelled out in frustration. The crowd didn't care either way. Then a third F5 and Reigns kicked out again. "Boring!" chanted the crowd. Lesnar then gave Reigns an F5 onto the table. Not much of a reaction. Tired and disinterested crowd. Lesnar hit a fifth F5. "This is awful!" chants the crowd. Lesnar not sure what to do with this. Reigns came up bleeding heavily, perhaps hard-way from a vicious elbow. That's a lot of blood. Wow.
Reigns slipped out of another F5, speared Lesnar twice and got a near fall. His face was covered in red blood. Lesnar lifted Reigns and gave him another F5 and scored the pin. Big pop.
WINNER: Lesnar to retain the WWE Title.
(Keller's Analysis: Disaster.)
---
PWTORCH VIP SALE
$3.40 for a full month… Over 60 percent off our monthly rate. Sign up in time for tonight's post-WrestleMania Roundtable Podcast w/Keller & Mitchell & Martin, PLUS our podcasts from our team on site in NOLA and our post-Takeover and post-ROH PPV Roundtable Podcasts.
---
Check out the WrestleMania 34 Post-Show, the "Wrestling Night in America" Sunday night podcast hosted by Greg Parks with 2.5 hours of analysis with live callers.
---
TOMORROW NIGHT AFTER RAW, BE SURE TO CHECK OUT THE WADE KELLER PRO WRESTLING POST-SHOW! You can search "Wade Keller" in Apple Podcasts, Stitcher, or any podcast app you use. Subscribe to both of our red brand (Post-Shows after Raw and Smackdown each week) and our blue brand (Podcast One feature shows later in the week – the Thursday Flagship and Interview Friday).
---