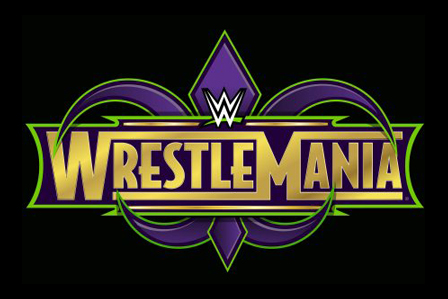 ---
SPOTLIGHTED PODCAST ALERT (YOUR ARTICLE BEGINS A FEW INCHES DOWN)...
---
VANDREW'S WWE WRESTLEMANIA KICKOFF SHOW REPORT
APRIL 8, 2018
NEW ORLEANS, LA AT THE SUPERDOME
AIRED LIVE ON WWE NETWORK
Panel: Renee Young, Booker T, JBL, David Otunga
The show opened with overwhelming Rusev Day chants. The commentators mentioned that every day is Rusev Day.
(Jeff's Analysis: If they were considering not booking Rusev as a face tonight, hopefully the open had them reconsider.)
A video package for Daniel Bryan aired, recapping the Bryan-Shane-Owens-Zayn feud.
Returning from the package, the panel emphasized that Owens and Zayn would attempt to put Bryan back on the shelf. Booker and JBL agreed that choosing such a large stage for his return could backfire. JBL and Booker also bet on Owens and Zayn for the match, due to needing to fight for their careers.
The camera cuts to Sam Roberts outside with fans, who chanted about WrestleMania being free on WWE Network.
(Jeff's Analysis: Theme of the kickoff show: WrestleMania is free.)
John Cena was then shown in street clothes sitting in the crowd with fans. JBL and Booker discussed how painful it must be for him to not have a match.
A Styles-Nakamura recap video package then aired, followed by generic panel discussion of the feud. Booker T commented that Otunga preferred Nakamura due to their similar style of dress.
A recap video package then aired for the Rousey match. It was basically a remix of clips from prior packages that have aired on Raw.
Continuing with recap video packages, we continued to the SmackDown Women's Title. Carmella then interrupted the panel with her MIB briefcase. Renee asked about her failed cash-ins, which she claimed are part of her grand plan. She refused to indicate whether or not she is cashing in tonight. When asked to pick a winner, Carmella responded "Renee, you're boring me."
(Jeff's Analysis: Good heel promo by Carmella. Personality-wise, I love her act. The comment about being bored by Renee's questions was perfect cocky heel.)
The panel then threw to JR, Jerry Lawler, and Byron Saxton for the Andrew the Giant Battle Royal.
(1) ANDRE THE GIANT MEMORIAL BATTLE ROYAL
The ring was so full that it was impossible to follow, as usual for this match. Aiden English was the first elimination. Ziggler skinned the cat multiple times. Hawkins also went out early. Benjamin knocked out Tyler Breeze with a V-trigger. The crowd popped for Ryder's "woo", who was blindsided by Rawley and knocked out of the ring. There was a commercial in the middle of the match.
Eliminations accelerated after the break. The camera cut to Cena cheering as a fan. Slater was hyped as having been in every Andre BR, right before being eliminated.
After the ring thinned out, Kane and Corbin faced off, but were attacked by the remaining crowd before any contact. Ziggler escaped a gorilla press by Titus and superkicked him out of the ring. Goldust hit multiple powerslams on various competitors, followed by Shattered Dreams to Dilligner before being eliminated by Ziggler.
Hardy and Dillinger faced off the dueling chants. Hardy then eliminated Dillinger.
Final three were Corbin, Hardy, and Rawley. Rawley and Corbin teamed up and Rawley hit a flapjack to Hardy.
Bray Wyatt then appeared, and teamed up with Matt Hardy. Corbin and Rawley were eliminated, leaving Hardy as the winner.
After the match, Wyatt and Hardy embraced.
Winner: Bray Wyatt
(Jeff's Analysis: As I expected Bray emerged from the Lake of Reincarnation tonight to team with Matt. Winning this Battle Royal is usually worthless, but at least Hardy can use it for some funny promos.)
We then cut to Vic Joseph and Nigel McGuinness for the Cruiserweight Title.
(2) CEDRIC ALEXANDER VS. MUSTAFA ALI (FINALS OF CRUISERWEIGHT TITLE TOURNAMENT)
Ali entered the ring with an LED mask looking like Sub Zero from Mortal Kombat.
The match began with an amicable hand slap.. It was mostly mat wrestling until a head scissor takedown by Ali.
The match was billed as "heart vs soul", with Alexander asking Ali to show his heart, and Ali asking Alexander to show his soul.
Alexander hit a somersault senton to the outside for a two count. Alexander continued to try and wear down Ali on the mat and with blows to the midsection.
Ali made a comeback with chops, followed by a facebuster, and a two count.
Alexander then hit a Spanish Fly and caught a Tornado DDT attempt by Ali. Ali recovered to hit a Spanish fly from the top rope, followed by a two count and a shocked crowd reaction from John Cena.
Ali attempted a 054, but Alexander knocked him outside. Drake Maverick checked on him, and the break was used to show a split screen package for the Rousey match.
The lumbar check was reversed into a reverse Frankensteiner from Ali, followed by a Tornado DDT and 054, but Alexander's foot was on the rope A second 054 missed.
Alexander then reluctantly hit a back elbow, then lumbar check for victory.
Winner: Alexander
(Jeff's Analysis: The match was good, but I've seen better stuff on 205 Live. The crowd was predictably totally dead, as they were still settling in.)
Charley Caruso then interviewed John Cena, who was enthused to be in the crowd as a spectator.
(Jeff's Analysis: Cena kept pausing expecting Caruso to cut away, but I guess they had more time to fill, as she lingered until he said more.)
Beth Phoenix and Paige joined Graves and Cole on commentary. Paige promoted her new movie.
(3) WOMEN'S BATTLE ROYAL
Becky Lynch, Bayley, and Sasha Banks  got her own entrances and music, but the other women came out in a group to the event music.
(Jeff's Analysis: Bizarre, but certainly puts over those three.)
Carmella trash talked everyone and was jumped by everyone, eliminated first. Everyone then ganged up and eliminated Dana Brooke. The NXT women then formed a faction and teamed up, starting an NXT chant.
Bianca BelAir hit a 450 as the show went to commercial.
Riott Squad also teamed up, turning the match largely into an NXT vs Riott Squad affair. Eventually all NXT women went out, leaving Riott Squad, Natalya, Bayley, and Sasha. Bayley and Sahsa teamed up and eliminated Natalya and Riott Squad.
Sasha extended a hand to Bayley, but Baykey double crossed her, throwing her out of the ring. Bayley believed that she won, however apparently Naomi never went over the top rope, and re-entered. She hit the Rear View and tossed Bayley.
Winner: Naomi
(Jeff's Analysis: I'm not a huge Naomi fan, as her moves look like gymnastics rather than fighting, but at least they set up a Bayley heel turn.)