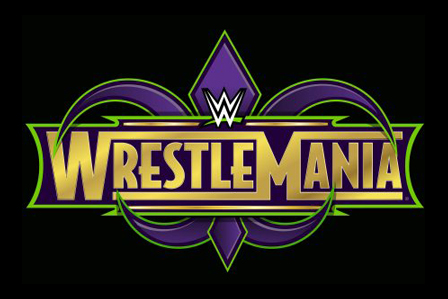 ---
SPOTLIGHTED PODCAST ALERT (YOUR ARTICLE BEGINS A FEW INCHES DOWN)...
---
Art is the creation of something from nothing that elicits a reaction. Pro wrestling embodies that definition. In wrestling, men and women step inside the squared circle and create with their actions, expressions, words, and bodies to garner a specific and distinct reaction from their audience. In turn, the audience responds to, engages with, and affects the work. No other art form in the world carries that uniqueness. In this column, we explore that art form inside real and relevant examples. Enjoy.
---
WrestleMania weekend from New Orleans is in the rearview mirror and what a weekend it was. WrestleMania and the city its hosted in has become a mecca for pro wrestling enthusiasts from around the world. This year, fans descended onto the streets of New Orleans and the city became a melting pot of wrestling tastes. If you wanted comedic wrestling, it was available for you. If you wanted blood and guts mixed with your gumbo, hardcore shows were there for the taking. European wrestling? Check. Progress was in town to appease the thirst for that style. Of course, traditional American wrestling was all around as well. Nothing was bigger than WrestleMania or NXT TakeOver, but Ring Of Honor and a slew of other American independents were featured in the Big Easy too.
The art of wrestling was all around. Some was good and some was bad, but with so many styles represented and camaraderie present throughout the weekend among fans, all was respected. That said, certain pieces of work stood out from others. What were the best? Let's dive in.
5. Cody accompanied by a police escort on the way to the ring at Supercard Of Honor
In the past 18 months, Cody Rhodes has developed quite the character for himself. He dresses in flashy suits and coats while displaying a maniacal side when he talks or interacts on the microphone. Those qualities seem to be on different ends of the personality spectrum, but Cody has been able to merge them together to become something of a Joker-esque, arrogant lunatic. Is there anything that screams "arrogant" and "lunatic" more than hiring an police escort for a ring entrance? Cody certainly didn't think so and executed that feat for his match against Kenny Omega at Supercard Of Honor. In one of the biggest matches of Cody's life, he doubled down on the character he's built to showcase it on the biggest level and in the biggest way possible. The escort lined up perfectly with the psyche and personality of the man he's becoming. It displayed Cody's arrogance and insecurity at the exact same time.
4. Tommaso Ciampa enters the ring at NXT TakeOver: New Orleans without music
Since Tommaso Ciampa did the unthinkable and turned on his best friend, Johnny Gargano, he's done everything in his power to be the most hated man in the wrestling world. In addition to ruining Gargano's shot at the NXT Championship on two separate occasions, he's enhanced his heel behavior by extending his character outside of the ring. On Twitter, he trolled Gargano and his wife, Candice LeRae, by mocking photos of their wedding. In addition, he's talked trash to legends of the business and has incited followers with despicable rhetoric that only a true heel could provide. Simply put, he's publicly lived his gimmick to get it over in the biggest way possible. That commitment was made in order to receive a shockingly negative reaction from the audience on all fronts and at all times. At NXT TV shows, Ciampa began showing up to the ring to thunderous boos and he did so without entrance music. The lack of music gave the audience the opportunity and platform to react to Ciampa in the loudest and most effective way possible. On the biggest NXT show of the year and in the biggest match of his career, Ciampa deserved a major entrance with significant fanfare. Instead, he stayed the course on his quest for heat. Just like on NXT TV, he walked to the ring without music and with a disgusted look on his face as the crowd gave him the reaction he craved. The negative reaction he got put a cherry on top of nearly a years worth of true heel work. In the match, he'd cash in on those reactions to tell and complete his story with Gargano.
3. Daniel Bryan gets the hot tag against Kevin Owens and Sami Zayn
Daniel Bryan getting the hot tag in his match with Shane McMahon against Kevin Owens and Sami Zayn may have been WrestleMania's biggest artistic moment. Throughout the entire match, Bryan looked like a kid in a candy store as he stood on the turnbuckle and held onto the white tag rope. After getting laid out by Zayn and Owens to start the match, Bryan patiently waited for his opportunity as Shane got beat down in the ring. Then, Shane finally made the hot tag and Daniel Bryan went to work. His hot tag into the match was brilliant. As Shane's hand slapped his, Bryan slowly bent his body forward and leaned through the ropes to enter the match. Bryan was careful not to smile to avoid ruining the moment that was built up, but his eyes conveyed how happy he was. The slow entry into the match was artistically significant for a variety of reasons. One, it emphatically put a stamp on a momentous moment that Bryan and his fans had been waiting years for. Two, it provided an incredible backdrop for his ensuing offensive onslaught on Zayn and Owens. It conveyed excitement while also highlighting a sense of inevitable defeat toward his opponents.
2. Ronda Rousey and Stephanie McMahon at WrestleMania
Throughout their entire match at WrestleMania, Stephanie McMahon and Ronda Rousey worked wonderfully together. McMahon shined Ronda as babyface in ways that we hadn't seen from her in years and it was an effective reminder of just how good Stephanie is and can be when she wants to work. Her facial expressions when selling pain and arrogance contrasted each other perfectly and had a direct impact on how the match flowed. Rousey was equally as good. For the first time in her short WWE career, it was apparent that she was feeling the emotions of the match instead of going through scripted steps in her mind. She fired up at the right time, had some incredible reactions, and looked the part of a mixed martial arts superstar that could dismantle another human in seconds. Rousey and McMahon were at their best in the closing breaths of the match. Stephanie was lying down on the mat with Ronda on top of her working to lock in her arm bar submission. Ronda was calm, cool, and collected as she slowly and meticulously manipulated Stephanie's arm. In contrast, Stephanie was panicking, screaming, begging, and squirming within Ronda's grasp. Then, with Ronda still on top, she stopped Stephanie from moving and casually popped her shoulder to the left so that Stephanie's hand could no longer prevent the arm bar from being executed. In this beautiful but aggressive moment, there was a strange calming sense of finality in the ring. When Rousey moved that shoulder, Stephanie stopped squirming and just looked Ronda dead in the eyes as if to beg for the torture to end before it started. With her eyes, Stephanie conveyed that the match was soon to be over, but also that her control over her big free agent was over as well. From there, Rousey masterfully and viciously wrenched Stephanie's arm out of its socket in a way that equaled the fear in McMahon's eyes. This piece of work ended the match with a resounding Rousey victory, but also enhanced the foundation of her feud with Stephanie should it continue in the coming months.
1. Johnny Gargano finishes Tommaso Ciampa
If psychology is your thing inside of a wrestling match, this one is a can't miss endeavor. Over the course of nearly a year, Gargano and Ciampa told a story of friendship, jealousy, and betrayal that culminated in an unsanctioned match at NXT TakeOver: New Orleans. The match mirrored the feud, but the art and psychology in its final seconds made it a masterpiece. In the final moments of the match, Gargano demolished the surgically repaired knee of Ciampa with the knee brace that he's used for months. In doing so, Gargano showed a very vicious side of his character that hadn't been seen up to that point in NXT. After, with the brace in hand, Gargano appeared to be on the verge of striking again, but held himself back. He held back because Ciampa was cowering on the mat with a puppy dog look in his eye. Gargano saw this and gave a look to Ciampa and the audience that conveyed sadness and anger. Sad because he didn't want to be doing what he was doing to his friend and anger because he had to. Ciampa's return look appeared to be understanding of those emotions and conveyed an apology. As Gargano almost sat down next to his former friend to finally bury the hatchet, Ciampa turned again to try and pin Gargano. In the end, Gargano countered the turn and made Ciampa tap out. The final seconds of this match, brilliantly encapsulated the psychology of the year-long feud between these two. The story was about their intense friendship and the jealousy behind it that led to betrayal. Gargano and Ciampa found that in their final interaction in the match. Gargano saw their friendship flash before his eyes as he looked down upon his fallen friend and like before, Ciampa fell victim to his jealousy and attempted to betray him again after luring Gargano into a false sense of security. This time though, Gargano was able to overcome and put his friend down. This match was the epitome of successful storytelling in a wrestling ring and proves what can be done with a babyface that is universally over with the audience.
---
NOW CHECK OUT LAST WEEK'S COLUMN: ARTISTRY OF WRESTLING: The build to WrestleMania 34 – artistic grades and analysis on every match