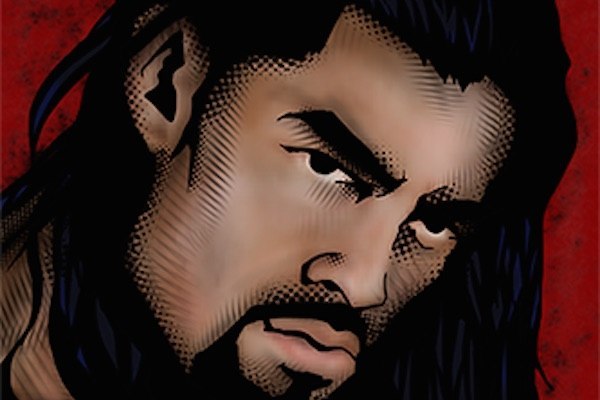 ---
SPOTLIGHTED PODCAST ALERT (YOUR ARTICLE BEGINS A FEW INCHES DOWN)...
---
Roman Reigns is one of the most divisive and talked about WWE performers in history. The company makes desperate play after desperate play to make him their number one star – with limited success. How do they do it? What do they do?
I'm Tom Colohue and this is the Monday Night Reigns-o-Meter.
---
Monday Night Reigns-o-Meter
You know what sucks? This feud. You know what else sucks? Even if Roman wins on Friday, Lesnar is contractually entitled to a rematch.
Last season for WWE Raw I really loved the slow burn Lesnar vs. Reigns storyline. I loved what it did to establish guys like Samoa Joe and Braun Strowman. I loved the intensity any time Brock stopped in the ring, with tables being broken, F5s being properly protected and AJ Styles looking like the absolute godsend that he is. Unfortunately, it was supposed to be over by now and it isn't.
No Samoa Joe this week meant that Roman didn't have much to play off of. Even though Lesnar and Heyman were in the ring, what was the point? We've all heard it all before. We've all seen it all before. Even the most die hard Roman hating non-planted fan is bored of seeing Reigns get beaten up now, surely?
Maybe this time in two weeks we'll be looking at a Roman Reigns who has beaten Brock Lesnar for the Universal championship and then the next week beats new Intercontinental champion Samoa Joe or something. He needs it.
While everyone else seems to be getting thrown into tag teams, Roman Reigns continues to stand alone, waiting patiently for the return of his Shield brethren from injury and having cooler friends with abs respectively. Is there anyone else who can realistically defeat Brock Lesnar?
Other than Braun Strowman, Seth Rollins, Bobby Lashley and maybe Kevin Owens of course. Forget them.
No! It's Roman all the way and this time he has to get it done. Otherwise I really don't see much future for your legendary Reignsometer lads and lasses, got to be honest. If Roman Reigns doesn't beat the odds, does he Roman Reigns?
Come on lad, sort yourself out.
Have a topless Braun Strowman while you wait for this to be interesting again.
Odds Counter
– None
Did Roman Reigns beat the odds?
No.
How the mighty have fallen.
---
Follow Tom Colohue on Facebook and Twitter for updates.
---
NOW CHECK OUT LAST WEEK'S COLUMN: MONDAY NIGHT REIGNS-O-METER #58: Tracking Roman Reigns's ability to beat the odds and come out on top
AND CHECK OUT THE WADE KELLER PRO WRESTLING POST-SHOW COVERING THIS WEEK'S EPISODE OF RAW…