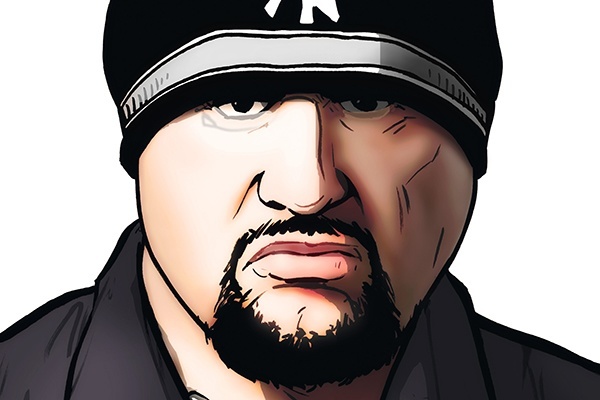 ---
SPOTLIGHTED PODCAST ALERT (YOUR ARTICLE BEGINS A FEW INCHES DOWN)...
---
The following report was published five years ago this week on PWTorch.com…
---
TNA Impact Results
April 25, 2013
Live in Indiana, Pa.
Episode #17 of 2013 airing on Spike TV
Report by James Caldwell, PWTorch assistant editor
First Hour Results
Impact opened with a video package documenting Bully Ray taking out all of Hulk Hogan's Heroes while A.J. Styles simply walked away from an opportunity to help out James Storm. What will happen when Ray and Hogan go face-to-face tonight?
Earlier Today: Security tried to prevent Aces & Eights from entering the building, amusing Bully Ray. Ray gave them three seconds to get out of the way and the spineless security obliged, paving the way for A&E to enter the building.
In-ring: James Storm's music played to begin the show. Storm marched to the ring as Mike Tenay recapped A.J. Styles using his new "Calfkiller" submission last week on Impact to defeat Storm. In the ring, Storm said he asked Styles for a fight last week, and he brought it. TNA then cut to a shot of Styles standing in the arena with his hands in his pockets. Storm said he doesn't know what Styles calls that move, but it sure hurt. He said he won't sit here and cry over spilled milk, though, because he's a beer-drinker.
Storm said what he did sign up for was the Aces & Idiots that jumped him from behind. Storm called them out, saying all they had to do was call, text, or tweet him if they wanted to fight. Storm looked down at Teflon Taz at the announce table to send him a message, then Storm noted this is quite simple. If he calls out one of them, then six or seven of them are going to show up. Storm vowed to take "those dumbasses out," but Bad Influence's music interrupted.
Daniels and Kazarian walked out on-stage pleading for time. Daniels noted they have something to say. He said last week, they were victims of Aces & Eights and Hulk Hogan doesn't have the answer to the A&E problem. B.I. hit the ring and Daniels noted he has the answer to the problem. Daniels looked into the camera and said A&E has been playing a numbers game, and they have four. Not just any four, but Fortune, which drew a light reaction.
Kazarian said he can make Styles's life better by inviting him to their group. Kaz said he just needs to walk down these steps and get away from the "fartknockers" in the audience, hit the ring, and re-form Fortune right here, right now. Kaz said over light boos that it's the right thing to do. In the crowd, Styles just smirked at this.
Storm responded that these people don't want to see Kaz throw anything up, but shut up. Kaz told "Travis Tritt" that he doesn't care what these people think. He said they're irrelevant, just like Storm. Apparently that was enough to push Storm over the line, as he punched Daniels in the face, but the numbers game overcame him. Kaz kicked Storm in the crotch, then Daniels and Kaz left the ring.
As Styles continued to watch in the crowd, Aces & Eights hit the ring to attack Storm. Mr. Anderson was ready to powerbomb Storm, but he opted to wait for a table delivered by the other members. Anderson waited and waited and waited some more as Styles continued to watch. Suddenly, Joseph Park came out and awkwardly ran over people on the entranceramp. Park made it down to the ring and A&E beat him down in the corner. A&E was set to powerbomb Park through a table, but Bully Ray hit the ring and told them to back off. Ray and Devon then combined for a 3D on Park through the table. As A&E stood tall in the ring, Impact cut to break.
[Commercial Break]
[Q2] Moments Ago: Joseph Park took a 3D through a table.
Back in the arena, Joseph Park was shown being taken away from the ring on a stretcher. On the mic, Bully Ray continued that he told everyone that they aren't screwing around. Bully said they are responsible for all of the carnage in TNA and taking out every hero in TNA. No Samoa Joe, no Magnus, no James Storm, no Joseph Park, no…body. Bully said he called out one man last week. That's right, dear old dad Hulk Hogan. Bully gave Hogan until the end of the show to answer his challenge. Ray then stood tall center-ring as A&E's music played.
Ringside: Todd Keneley, Mike Tenay, and Taz reset the show. Keneley said there are no heroes left, and Ray has called out Hogan. Tenay then said that about an hour before the start of the show, Hogan left the building and there is no word on whether he is coming back. Taz sarcastically said he figures Hogan is trying to gather himself and he's sure Hogan will be back, even if he shouldn't come back.
Still to come: Mickie James challenges Velvet Sky for the Knockouts Title. Keneley then threw to a video package on Mickie.
In-ring: Christy Hemme was standing by to introduce the opening match. Out came Taryn Terrell as Keneley plugged the new Knockouts website. Keneley said it's double the Knockouts action tonight. Up next, Taryn faces Tara.
[Commercial Break]
Backstage: Hulk Hogan was shown returning to the building. The roving cameraman tried to get word from Hogan on why he left and why he came back, but Hogan blew him off and kept walking down the hallway.
In-ring: Tara was introduced the ring sans Jessie Godderz.
1 — TARYN TERRELL vs. TARA — ODB referee
As the match started, Taz tried to figure out what Hogan is up to tonight. In the ring, Tara quickly took control of the match, asserting herself as the veteran here.
[Q3] Tara retained the advantage for four minutes, but she couldn't put away Taryn. Taryn made her comeback, then climbed to the top rope and airballed a flying splash. Tara waited too long to try to put away Taryn, though, allowing Taryn to roll her up for a quick three count.
WINNER: Taryn at 6:31. That was the longest match ever.
Locker Room: Robbie E. sent someone a text message. Robbie then brought in Jessie, who apparently ditched Tara. Robbie put words in Jessie's ear about Rob Terry talking trash about him, then told him to make himself a star, bro.
[Commercial Break]
In-ring: Christy Hemme was standing by to introduce the next music. Loud, crashing music mixed with an electric noise played to bring out Rob Terry. Robbie E.'s music then played to bring out Robbie on-stage. Robbie said he's here to introduce the man who will beat Rob Terry tonight, Mr. Pectacular Jessie Godderz. Knock-off "Narcissist" Lex Luger music played to bring out Jessie with a big smile on his face to face Terry.
2 — ROB TERRY vs. JESSIE GODDERZ (w/Robbie E.)
Terry dismantled Jessie early on, then Robbie hopped on the ring apron to distract the easily-distractible Terry. This allowed Pecs to begin working on Terry. After an awkward exchange, Terry had it won with a powerslam, but Robbie interjected himself into the match. Terry tracked down Robbie on the floor, then knocked down both heels and, of course, posed. Back in the ring, Terry delivered a one-hand pumpslam for the pin and the win.
WINNER: Terry at 3:06. Rough match. Odd selection for the first two matches of the show.
Still to come: Chavo Guerrero & Hernandez vs. Austin Aries & Bobby Roode for the Tag Titles. Plus, Velvet Sky vs. Mickie James for the Knockouts Title.
[Q4] [Commercial Break]
Locker Room: Daniels and Kaz walked up to Bobby Roode, who was getting dressed for his Tag Title match tonight. Kaz asked Roode to reconsider getting Fortune back together, reminding Roode that it was taken away from them. He said it's their best way to take out Aces & Eights. Daniels then pitched the three of them standing together to attract A.J. Styles. Roode said it was good time, then said they should add Austin Aries. Roode and Kaz didn't agree, then Roode thought things over. The camera then pulled back to reveal Austin Aries eavesdropping.
Impact Two Weeks Ago: Tenay, Taz, and Keneley were shown getting their cue from the floor manager on the next talking points. The trio went back to two weeks ago when Jeff Hardy was ambulanced away from the arena after losing to Bully Ray for the TNA World Title. On commentary, Tenay said the rumor is Jeff Hardy walking away from wrestling. Taz laughed and called him a quitter.
Video Package: Chris Sabin is returning. They cut back to April 2011 and June 2012 when Sabin injured each knee. The video then spotlighted Sabin, trying to refresh his character. Hail Sabin is returning.
In-ring: Christy Hemme was standing by to introduce the Tag Title match slotted at the end of the first hour and beginning of the second hour. Out first were tag champions Chavo & Hernandez.
[Commercial Break]
Hallway: Bobby Roode was shown warming up, then Austin Aries walked in and asked him how he's doing. Aries asked if he's getting ready for the Tag Title match or putting Fortune back together. Aries said if Roode wants to ride with Kaz and Daniels, that's cool, but he wants to know if Roode really wants to re-form a group that faded away. Aries told Roode just to make sure they're on the same page tonight.
Ringside: Daniels and Kazarian joined the announcers for commentary on the Tag Title match. Mike Tenay was booted from commentary, making it a four-man booth with Keneley and Taz.
In-ring: Aries & Roode were introduced to the ring, with the two wrestlers not quite on the same page. On commentary, Taz tipped his cap to Daniels and Kaz for screwing with the challengers's minds before challenging for the Tag Titles.
Second Hour Results
[Q5]
3 — TNA tag champions CHAVO GUERRERO & HERNANDEZ vs. AUSTIN ARIES & BOBBY ROODE — TNA Tag Title match
As the bell sounded, Daniels told Taz that they can be on the same page and have peace if he will just tell Aces & Eights not to attack them. Taz said that's cool. Daniels & Kaz have been all over the place the last two shows with TNA trying to balance the intra-brand and inter-brand feuds. In the ring, the tag champs began working on Aries, but Aries regained control. Aries wanted to tag in Roode, but Roode was distracted. Roode then tagged in and walked into a bodyslam from Chavo.
Hernandez tagged in and wanted his trademark flying bodysplash, but both heels moved and AirMex crashed to the mat. The heels then began working on Hernandez. Roode and Aries temporarily put their issues aside to maintain control as the announce team discussed whether Aries is holding down Roode in the tag team. Daniels blamed Aries for the heels losing control, then Chavo cleaned house upon receiving a tag from Hernandez.
At 7:00, Roode re-asserted himself, but then walked into a DDT from Chavo for a close two count. All four men in the ring, then Hernandez clotheslined Aries to the outside. Suddenly, Daniels and Kaz hit the ring apron to create chaos. But, it back-fired, as Aries landed hard on the outside. Kaz again tried to create chaos, then Daniels entered the ring. Daniels tried to STO Hernandez, but Hernandez ducked and Roode ate the STO. Chavo then tagged in and frog-splashed Roode for the pin and the win.
WINNERS: Chavo & Hernandez at 8:50 to retain the Tag Titles. A lot of chaos in this one. It will be interesting to see how this plays out with Aries and Roode apparently going their separate ways.
Still to come: Mickie vs. Sky for the Knockouts Title.
Weight Room: The roving cameraman found Matt Morgan trying to get a pump on. The man asked Morgan for his thoughts on Hulk Hogan facing Bully Ray in the ring tonight. Morgan instead said he has a solution for Hogan's problems and invited him to hear what he has to say next.
[Commercial Break]
[Q6] Earlier This Week: Hulk Hogan held a press conference in Tampa, Fla. to promote Impact coming to Tampa next month.
Video package: Sting. TNA recapped Sting convincing Hulk Hogan to trust Bully Ray, who turned on everyone, then Hogan blamed Sting for everything going wrong in his life.
Morgan-Hogan segment
In-ring: Matt Morgan's music played to bring out Morgan with a bottle of water in-hand. Morgan took a swig, then slid into the ring and took a mic in exchange for the water. Morgan said that over the past year or so, his issues with TNA have all centered on one simple thing: mistakes made by one man, Hulk Hogan. After recapping all of Hogan's mistakes, Morgan paused for a "Hogan, Hogan" chant. Morgan said they can chant his name all night because he wants to talk to him right now. Morgan then called down Hogan to hear the ultimate solution to all of his problems.
After a pause, Hogan's music played to bring out Hulk Hogan on-stage to loud cheers. Hogan stopped to listen to the crowd before slowly making his way to the ring. Once Hogan hit the ring, Morgan said the reason why he called him out here is because Hogan is out of horses in the race. He said Hogan's ultimate solution is him, The Blueprint Matt Morgan. He said no one on this roster has been waiting for this shot more than him.
Morgan said no one else on the roster can do what needs to be done – eliminating Aces & Eights. He called himself Hogan's seven-foot knight in shining armor. And, if given the opportunity tonight, he will take Ray's baseball-sized head and Carbon-footprint it into the fifth row. … For a small price, of course, Morgan added. Morgan said he will handle Hogan's problem, but only if he names Morgan the #1 contender and hands him a TNA Title shot at Slammiversary. The crowd seemed to like this, or they were just cheering Hogan. It wasn't clear what they were cheering for.
Hogan responded by saying Morgan brought him right up to the edge. He said Morgan probably could get the job done, but with his hopes at an all-time high, he thought Morgan would do the right thing. Hogan said he thought after all their back-and-forth, Morgan would finally get it and be ready to be The Guy, but Morgan is still trying to do it for the wrong reasons. Hogan said he knows TNA is in a lot of trouble, and he had a lot to do with it, but at the end of the day, he's going to step into the ring with Bully and take what needs to be taken. He said he's going to do it by himself.
Hogan added that Morgan isn't getting what he wants, prompting Morgan to rant and rave. Hogan then told Morgan that he never heard Andre the Giant come out here and whine like "a little b—–." Hogan emphatically dropped the mic and left the ring, leaving Morgan to be even more upset with Hogan.
Up Next: Mickie James challenges Sky for the Knockouts Title.
[Commercial Break]
[Q7] Backstage: Aces & Eights were shown celebrating taking out Joseph Park at the start of the show. Bully Ray then turned his attention to Hulk Hogan, asking how he's going to go out there by himself with him. Ray asked them to give him their word that they will not come to the ring while he handles family business with "father-in-law" Hulk.
Graphic: Keneley plugged TNA's "On the Clock" X Division deal. The names on the screen were (A) Rashad Cameron, (B) Rockstar Spud, or (C) Suicide, which if viewers did not have the audio on, would be very jarring. Keneley said one will be a future X Division Title contender.
In-ring: Mickie James, then Velvet Sky were introduced to the ring for the Knockouts Title match. The crowd sounded fired up as Keneley recapped Sky's recent knee injury before the bell sounded.
4 — Knockouts champion VELVET SKY vs. MICKIE JAMES — Knockouts Title match — ODB referee
The Knockouts adhered to the Code of Honor before locking up. Mickie quickly targeted the knee, though, and worked it over leading to commercial.
[Commercial Break]
Back from break, Mickie was still in control of the action and in control of Velvet's knee. Sky tried to make a comeback, but her knee "buckled." Mickie wanted to follow up, but ODB kept holding her back to make sure Sky could continue. Sky then inside-cradled Mickie for the pin and the win.
WINNER: Sky at 10:58 to retain the Knockouts Title. Good set-up for Mickie to eventually turn by saying she's tired of playing nice because it got her nowhere and cost her the title match.
[Q8] TNA abruptly cut backstage to Bully Ray talking to Devon. Ray talked about Brooke Hogan, then said Jeff Hardy might be done, and said he will put the final nail in Hulk Hogan's coffin. "We can't be stopped," Ray declared twice.
Hogan's Office: Hulk Hogan was about to tape his wrists, but Brooke Hogan walked in and took the tape away. Hogan said he loves her, but he has to deal with the mess he put them all in. He said it's up to him to fix it. Hogan then asked for the tape back and told her not to worry. "I'll be right back," Hogan said as Brooke cried. They hugged, Brooke walked off, and Hogan talked to himself about being unsure of what he's doing.
[Commercial Break]
Back from break 8 minutes before the top of the hour, Aces & Eights's music played to bring out TNA World champ Bully Ray, who promptly hit the ring and rattled off the list of A&E's victims. He said there is only one victim left: Hulk Hogan. Ray demanded Hogan come down to the ring right now.
Hogan's music played to bring out Hogan with taped fists and purpose in his steps. Hogan came face-to-face with Bully Ray center-ring, then Ray asked "dad" how his knee is doing. Pause for "Hogan, Hogan" chant. Ray dressed down Hogan, mocking him that he can't wait to get with the big boot and legdrop. Ray said it ain't going to happen, though, because Hogan will never fool him like he did all these people. Hogan said he sees one thing and one thing only looking into his eyes: pure fear. "Hulk Hogan fears Bully Ray," Ray declared. He said it's because he reminds Hogan of himself. Pause for another "Hogan, Hogan" chant.
Bully got back in Hogan's face and said he is the last of Hogan's dying breed. Bully asked if he knows who he is, then listed his accomplishments. "I am your son-in-law!" Ray said. "I'm the guy who's going to put an end to Hulkamania."
Hogan responded that Ray can't put an end to Hulkamania because it will never die, brother. Hogan dropped the mic and got in a fighting stance, then Ray tossed aside his mic. "Hogan's crazy," Taz said on commentary before telling him to go after the knee. Ray turned his cap around, then spit in Hogan's face. Hogan wiped it off, turned around and looked down to the mat, then ripped off his shirt. Hogan started to Hulk Up, then Hogan did the Youuuu point, but Ray wasn't intimidated. Ray pointed back at Hogan, but Hogan delivered a few right hands. Ray sold, then hit the ring ropes and bailed from the ring.
In the ring, Hogan bounced around in the ring, his flabby skin visible, as Ray retreated to the outside with help from Aces & Eights. A&E then surrounded the ring to attack Hogan, but the lights went down and the crowd freaked. The lights came back on and Sting was in the middle of the ring with bat in-hand. Sting silently pointed his bat at Hogan as Ray celebrated next to Sting. Sting then pointed the bat at Ray and knocked his cap off before easily clearing the ring of Aces & Eights, flashing back to the pre-Bully Ray Aces & Eights era.
Sting and Hogan were left alone in the ring for an uneasy moment. Sting pointed his bat at Hogan in 1997 flashback, then Sting's music played and Sting bailed from the ring. The announcers said things are still uneasy between Hogan and Sting, who kept on walking. Hogan was left alone in the ring trying to sort through what happened as Impact signed off.
---
NOW CHECK OUT THIS PREVIOUS FLASHBACK: 5 YRS AGO – TNA Impact Wrestling TV Report: Kurt Angle, Hulk Hogan, Mickie James, Samoa Joe, A.J. Styles, Jeff Hardy, Bully Ray