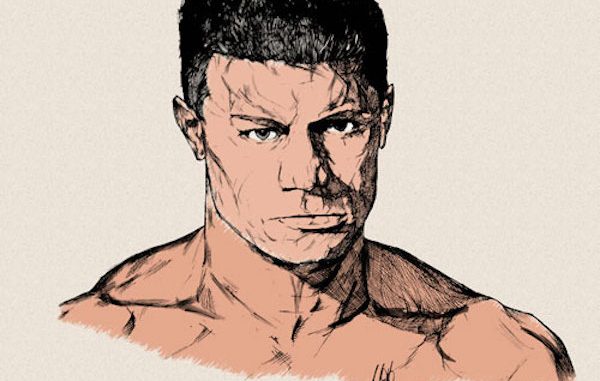 ---
SPOTLIGHTED PODCAST ALERT (YOUR ARTICLE BEGINS A FEW INCHES DOWN)...
---
ROH BOUND BY HONOR (NIGHT 1)
APRIL 27, 2018
PALM BEACH , FLA. AT PALM BEACH COUNTY CONVENTION CENTERWEST
STREAMING LIVE FOR HONOR CLUB
REPORT BY URSIN DEROCHE, PWTORCH CONTRIBUTOR
Announcers: Ian Riccaboni & Colt Cabana
(1) Scorpio Sky vs. Jay Lethal. Scorpio attacked before the bell. Lethal made a quick comeback and hit three topes. Lethal hit a cartwheel and then a basement drop kick for 2. Jay hit a shinbreaker. Scorpio went to the outside and then onto offense with stomps and punches. Lethal fought back with chops. Scorpio hit a big backdrop for two. They traded punches until Scorpio hit a dropkick for two and then put Lethal in a front face lock. Scorpio went to the eyes before locking in a nerve hold. Lethal fought out. They battled for a suplex. Lethal won and hit the suplex. Lethal hit Lethal Combination. Lethal went for Hail To The King. Scorpio tried to get a boot up but Lethal Locked in a Figure Four. Scorpio made it to the ropes. Lethal went for another Figure Four but Scorpio countered into a roll up for two. Scorpio went for a springboard but Lethal cut it off and hit Lethal Injection for the pin
WINNER: Jay Lethal over Scorpio Sky at 11:08.
(2) Shane Taylor vs. Josh "The Goods" Woods (accompanied by King Mo). Pre-match Shane cuts a promo on King Mo calling him a "fake ass Rampage Jackson"Shane put the boots to Woods. Woods fought back with chops but got taken down quick by Shane. Outside the ring they traded punches and chops. Shane backdropped Woods on the apron and then hit the apron leg drop. Always looks fantastic. Woods tried to toss Shane into the guardrail but Shane reversed it. Shane broke the 20 count and threw Woods into the railing. In the ring they traded chops. Woods tried to get a triangle choke but they were too close to the ropes. Woods hit a springboard knee and fired up with strikes before hitting a German suplex for 2. Two knee strikes by Woods but Shane kicked out at two. Shane hit a slam and splash that got two. Shane went outside to get a chair. King Mo got in his face and then King Mo started to talk to the ref. Shane was going for the chair shot behind the ref's back but got hit with a knee strike and pinned.
WINNER: Josh Woods over Shane Taylor in 6:51.
After the match, Shane teased going after King Mo but flipped him off and bailed.
Mandy Leon in on commentary with Ian and Colt for the Women of Honor Match.
(3) Kelly Klein vs. Deonna Purrazzo. Kelly cut a pre-match promo outside the ring acting like she didn't know Deonna's name. It was weak. Deonna took control early. She tossed Klein into the rail and then into the apron. Klein fought back with forearms and a boot off the ropes. Klein hit a big knee sending Deonna out to the floor. Klein tossed Deonna into the guardrail again before a suplex on the floor. Deonna tried to fight back but then both women went down after a double clothesline. Both women traded forearms. Klein hit a suplex and tried to lock in a guillotine choke but Deonna reversed for the pin.
WINNER: Deonna Purrazzo over Kelly Klein at 5:26.
After the match they did a pullapart.
(4) Kenny King vs Marty Scurll. Crowd started a loud "Marty" chant. This guy is way over all around the world. They locked up and went through a series of reversals and exchanges. Kenny King went to work on the arm. King hit a nice dropkick for a 1 count. Slam and then guillotine leg drop by King only rreceived a two count. Scurll superkicked King and then backdropped him onto the apron. The crowd was super hot for Scurll. Scurll drove boots into the shoulder of King. King fought back with punches and a clothesline then a spinning heel kick. King hit a spinebuster. Kenny King hit a flying spinning plancha to the floor. Back in the ring Scurll hit a reverse suplex and then a piledriver. Scurll delivered an inside out clothesline. Scurll kept teasing the breaking fingers spot but King fought out. King tried for a sunset flip but Scurll dropped down and hung onto the ropes. The ref was not in position to see Scurll holding the ropes and Scurll gets the pinfall victory.
WINNER: Scurll over King in 10:00.
After the match, The Kingdom ran down and attacked Scurll. Young Bucks with Page make the save.
(5) The Young Bucks & Adam Page vs. The Kingdom. The Kingdom did the Omega Terminator Clap to loud boos from the fans and then got hit with superkicks. The Bucks and Page did the Kenny Omega Rise of The Terminator spot to The Kingdom. Page hit a standing shooting star for 2. Young Bucks hit a double drop basement drop kick. Matt Jackson hit double boots to TKO Ryan. Matt went for a sharpshooter but Taven broke it up. The Kingdom isolates Matt Jackson. They went to work on Matt's injured back. Matt Taven hit a spinebuster followed by a headbutt from Vinny. Matt Taven stretched out Matt Jackson's back to boos from the live crowd. Matt was pulled outside by The Kingdom and they tossed him back first into the apron. Taven locked in a Boston crab. Matt tried to fight off all The Kingdom members. Taven stopped Matt from tagging. Matt went for a tag but The Kingdom pulled Page and Nick off of the apron. Taven frog splashed Matt for a two count. Taven tagged TK O'Ryan who tried to double team Matt with Vinny but Matt hit a double clothesline and finally tagged Adam Page. Page hit a cradlepiledriver on Taven but the pin was broken up. Nick ran in to deliver superkicks and a facebuster. Springboard "I believe I can fly" by Nick Jackson got a two count on O'Ryan. Matt Jackson was tagged in. O'Ryan was hit with some double team offense. Page tried to get Taven in a sharpshooter but Taven kicked out and everyone went down. Match reset. Matt and Nick superkick3ed Taven and then Vinny. They tried for a Meltzer driver but Taven stopped it. Vinny hit Matt in the back with a bat. Scurll ran down with the umbrella. Page hits rite of passage on O'Ryan and got the pin.
WINNERS: Young Bucks & Page over The Kingdom in 15:00.
(6) Serpentico vs ???. Riccaboni mentions showing off the local talent. Serpentico made his entrance. Bully Ray came out and powerbombed Serpentico. Bully then chewed out Bobby Cruise for not having the mic ready. Bully finally got on the mic. He made a joke about talking slow since they are in the South (Florida). Cheeseburger ran down and grabbed the mic and called Bully an asshole. Bully went for a choke slam but Cheese slipped out and delivered some shots before Bully stopped the Shotei palmstrike with a low blow. Bully then made his way back up the isle leaving Cheeseburger lying in the ring.
(7) Silas Young & The Beer City Bruiser vs. The Dawgs vs. Coast To Coast vs. SoCal Uncensored – Four Corners Survival Match
Ali started with Daniels. They traded tackles, strikes and dropkicks before Daniels tagged out to Kaz. Kaz got an advantage but Ali blind tagged Silas. Silas and Kaz were now legal. Kaz hit a fireman's carry takedown for 2. Silas delivered a backslide for 2. They traded cradles for 2. Both were down after a double high cross. The Dawgs accidentally blind tagged themselves in. They pushed each other until Titus tagged in BCB. BCB was in with Will. Will tried to take down BCB but couldn't. Will tagg in LSG. A springboard took down BCB. Daniels was in but he and LSG were taken down by BCB. All 8 men got into the ring. Daniels hit an Arabian Press on Ali. BCB cannonballed off the apron and took out Kaz, Daniels, and Ali. Ali did a plancha that took out BCB and Will. BCB was in the ring with LSG biting him on the head. Bcb delivered shoulders. Silas hit a neck breaker on LSG. Titus came in and hit a bottom drop kick to LSG. Titus slingshot Will who clotheslined LSG for a 2 count. Rhett and Will continued to double team LSG. Silas and Daniels delivered offense to LSG who finally made the tag to Ali and delivered shots to Daniels and Silas. Daniels tagged in Will. Will was taken down by Daniels and tagged in Titus. The match broke down again with Silas and Kaz and BCB and Daniels outside. Titus flipped to the outside and took everyone out. LSG took Titus down and staggered Will. They hit the Coast to Coast on Will and Ali pinned for the win.
WINNERS: Coast To Coast in 15:00.
(8) Punishment Martinez vs. Cody (w/Burnard The Business Bear). Punishment went after Cody early. Cody took the match to the outside. Punishment chokeslammed Burnard. Cody grabbed a wooden chair and hit Punishment three times with it. Cody pushed Punishment into the post but they both got back into the ring and the bell finally rang to officially start the match. Cody hit a Disaster Kick. Martinez wasn't phased. He stomped on Cody's neck. Punishment hit a forearm shot then tossed Cody outside and threw Cody into the guardrail face first. Cody was tossed back into the ring. Punishment hit a spinning heel kick from the top rope for 2. Another spinning heel kick sent Cody to the floor. Punishment slammed Cody's head into the announce table and then tossed Cody back into the ring. Cody fought back with a dragon screw and a dropkick. Cody caught Martinez in the American Deathlock. Martinez made it to the ropes. Cody pulled off the top turnbuckle pad. Martinez delivered a Falcon Arrow to Cody. Cody slid out of a psychodriver attempt. Cody hit the exposed turnbuckle. Punishment hit the psychodriver but Cody kicked out at 2. Cody slipped out of the south of heaven chokeslam and tried for Cross Rhodes. They exchange another set of reversals and then Cody hits Cross Rhodes for the win.
WINNER: Cody over Punishment Martinez in 8:00.
(9) ROH World Champion Dalton Castle vs. Flip Gordon – Proving Ground Match. They started with a feeling out process. Flip did his hand spring spot. Dalton threw a headlock. Dalton hit a shoulder tackle. Flip ducked a clothesline into a handstand. Dalton went outside the ring to re-group. Back inside, Dalton called The boys into the ring. The boys performed a series of cartwheels. Flip rolled Dalton up for 2. Flip deliverd a kick and standing moonsault for 2. Dalton went on offense. Dalton pulled flip to the mat and puts the boots to flip in the corner. Dalton hit a suplex for 1. Flip fought back with forearms but Dalton got Flip in a body scissors. Flip fought out but Castle went back on the offense and tossed flip out of the corner by the head. Castle went back to a grounded submission hold but Flip fought back again. Flip hit a springboard drop kick. Flip hit a dropkick and nthen a springboard spear which got a 2 count. Castle caught Flip with a clothesline. Flip kicked Castle to the outside. Dive by Flip took out The Boys. Flip pushed Dalton into the post. Flip hit a tope. Flip missed a 450 but hit a standing moonsault for 2. Flip came at Dalton with chops but Dalton fought back with a saito suplex and The Bang-A-Rang for the win.
WINNER: Dalton Castle over Flip Gordon in 15:00
(10) Briscoe Brothers (c) vs The Motor City Machine Guns – ROH Tag Team Championship. MCMG cut a promo saying if they lose they may break up. But The Briscoes are Bully Ray's bitches. Bell rings and both teams went to brawling. Then things got sorted out. Mark started with Shelley. Shelley tossed Mark outside and Sabin hit a kick to Mark. Double kick by MCMG to Mark. Shelley in the ring with Mark but the match broke down. Mark delivered a neckbreaker to Shelley on the floor. Mark tagged Jay. Jay took his shirt off and choked Shelley with the shirt. The Briscoes hit a double team shoulder tackle. Mark came in to suplex Alex Shelley. Mark choked Shelley wit h the rope. Sabin waved his arm, desperate for a tag, but the Briscoes had the ring cut off and had Shelley double teamed. Mark accidentally dropkicked Jay allowing Shelley to tag Sabin. Sabin suplexed Mark off the rail onto the floor. Shelley tossed Jay into the railing. Mark reversed and Sabin went into the railing. Jay dragged Shelley up the isle. Shelley backdropped Jay on the stage. Mark threw a chair into the ring. Sabin executed a dragon screw to Jay. Mark dished out chops to Sabin then a crucifix cutter by Jay and Mark only received a 2 count. Jay and Sabin were legal. A double series of kicks by MCMG followed by The Dream sequence by MCMG to Mark. MCMG attempted Made in Detroit to Jay but were stopped by Mark. Jay hit the Jay Driller on Sabin for the win.
WINNERS: Briscoes over MCMG in 13:00.
Overall Reaction: This was a better show than the recent Masters Of The Craft. It's still only a house show and that is how these shows are going to have to be judged. Based on that, it wasn't terrible if you are a fan of the product. Dalton Castle as Champion is tired. And his match with Flip didn't help anything. It was very silly. The crowd was super hot most of the night, especially for Scurll vs Kenny King and of course The Young Bucks. Shane Taylor looked good in defeat. Punishment Martinez no sold most of Cody's offense and looks more like the type of guy who needs to just drive to Orlando and stay there since he's already in Florida. Burnard The Business Bear is incredible. Nuff said. The women's match was a disaster. Bully Ray beating up Cheeseburger is already old. C2C got a win in an attempt to try and strengthen a weakened tag division. Scorpio Sky and Lethal kind of got lost in the shuffle but it was a good match to open the show. The main event was great until it ended. Wish we could have gotten five or six more minutes. All in all a good ROH house show with zero HonorClub streaming problems on my end. If you enjoy the product and want to see more TV quality matches, and you aren't expecting PPV quality, then this is for you. None of this jumped out at me as exceptional professional wrestling but, as I said, it was a glorified house show. Viewed through that lense it could have been a lot worse. Having said that, this is not for the fan looking to see PPV quality matches.
---
NOW CHECK OUT THIS REPORT: 4/22 NXT in Johnstown, Pa.: Aleister & Ricochet vs. Black & Dream, Kairi & Nikki Cross vs. Baszler & Evans, plus Ciampa, No Way Jose, EC3