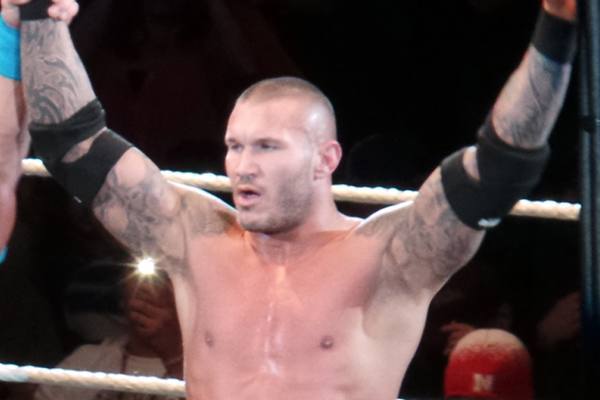 ---
SPOTLIGHTED PODCAST ALERT (YOUR ARTICLE BEGINS A FEW INCHES DOWN)...
---
The following report was published PWTorch.com's VIP website ten years ago this week…
---
KELLER'S WWE RAW REPORT
APRIL 28, 2008
LIVE FROM EAST RUTHERFORD, N.J.
[HOUR ONE]
-The show opened with a highlight package of the Fatal Four-way match from Backlash the night before including Triple H celebrating his title win. The regular Raw opening then aired followed by pyro blasting as the camera panned the crowd. Jim Ross and Jerry Lawler introduced the show. Ross touted the 17,000-plus in attendance at the IZOD Center.
-Triple H's music played and he walked out to celebrate his big win. He wore the belt onto the stage and brought it to the ring. He stepped into the ring at the seven minute mark of the show. Yes, the ring intro was very long. Triple H said he has an announcement to make. He hung his head and said he hates to bring people down, but "as of right now, the Age of Orton is officially dead!" He said eight months ago he returned from injury and didn't know if he could ever be the best again, but now he can say "The Game is back!" Before he could go any further, Randy Orton interrupted. Ross said, "You talk about audacity."
Orton made his way to the ring quickly and said, "No, no, you don't get a victory speech." He asked if he was actually proud of what he accomplished last night. Orton said the odds were stacked against him. Triple H said he was so confident last night he walked up to him before the match and boasted that he'd leave with the belt, but now he's claiming to be the victim. Orton said that he is a victim of his own success. He said he was so good, they couldn't put him against anyone one-on-one. Triple H said he liked the three and four person matches because it let him sit back and let someone else do all of the work before he'd slip in and win. Orton said it was because nobody was at his level, not even him. Orton said he'd prove in three short weeks at Judgment Day. He said he was using his rematch clause to get back was is his.
Triple H said for six months Orton ran his mouth about how great he was. He said there's nothing wrong with that since he's made a career of that himself, but the difference is, when he told people he was great, he was telling the truth. He said with Orton, that's not the case. He asked him for a favor and told him to "get the hell out of my ring." Orton leaned in to Hunter's face and said he's not going anywhere because "this is my ring, and that is my title." He said no one will tell him any different. Hunter bashed Orton in the skull with the mic. Orton at ringside yelled, "Forget Judgment Day! I can't wait that long!" He said the Age of Orton has only just begun. He said his last title reign didn't last even 24 hours, and neither is this one, because he'll be using his rematch clause tonight. The crowd of course, liked that. Hunter grinned and nodded from center ring as Orton stared him down from ringside. Hunter held the belt in the ring and challenged him to come get the belt. Ross said it was an explosive way to start Raw. He said they'd have more info on the title match becoming official after the break.
[Commercial Break]
1 — ASHLEY & MICHELLE MCCOOL & KELLY KELLY & MARIA & MICKIE JAMES & CHERRY vs. BETH PHOENIX & MELINA & JILLIAN & VICTORIA & NATALYA & LEYLA
A brawl broke out to start, leaving Kelly and Phoenix in the ring together one-on-one. Phoenix got the early advantage. After random, rapid action, Mickie scored a pin out of nowhere on Hall.
WINNERS: Mickie's Team in 3:00.
STAR RATING: 1/2* — They flew all 12 of them in for that? That's didn't accomplish much positive, but it did establish that if there's a match on PPV you want to see, there's a pretty good chance you can wait and see a rematch on Raw the next night.
[Commercial Break]
2 — JBL vs. ROBBIE MCALLISTER (w/Rory)
JBL arrived in his white limo with a serious look on his face. Ross noted JBL tapped out to John Cena's STFU last night. He said JBL's expression was like the stock market crashed. Lawler said JBL's stock market did crash last night at Backlash. JBL won quickly with what Ross called the "Lariat from Hell" (formerly "Clothesline from Hell," apparently).
WINNER: JBL in 1:00.
-Afterward, JBL walked over to the announce table and put on a mic headset. He said that should have been Cena. He said he cheated him out of what means more than anything to him – the WWE Title. He challenged the winner of Triple H vs. Orton. He said he will destroy Cena and "get my damn torch back." He said he's prepared to do whatever has to do to get it back, and closed with "now commentate on that." He threw down the headset and walked away.
-Ross announced that the one-on-one match was official – Triple H vs. Orton.
[Commercial Break]
-Video clips aired of the latest argument between Lance Cade and Trevor Murdoch.
3 — BRIAN KENDRICK & PAUL LONDON vs. LANCE CADE & TREVOR MURDOCH
London took an early beating as some fans chanted "boring" (uncalled for), but hot tagged Kendrick at 2:00 who went on a flurry of offense. Cade clotheslined Kendrick from behind to stop him, then tagged in Murdoch. Kendrick rolled up Murdoch with a leverage pin out of nowhere. The ref actually stopped the count mid-way when Murdoch's shoulders lifted inadvertently, but then restarted once Kendrick reapplied leverage.
WINNERS: Kendrick & London in 2:00.
-Cade wasn't happy with Murdoch once again. Murdoch bailed out to ringside and grabbed the mic from Lilian Garcia. He then stood on the announce table. Ross, staring Murdoch's rear end, said, "Not the greatest view." It was funny. Murdoch began signing that he doesn't belong, but he'll just say good night and show himself to the door – the lyrics to "Friends in Low Places" by Garth Brooks. I think he'd make it past Simon and get a ticket to Hollywood with that performance. Cade didn't know what to think. Nobody did. Cade just jumped out of the ring and strode to the back.
-Ross transitioned to commenting on Shawn Michaels tweaking his knee at Backlash as freeze-frames aired of his comeback win. Lawler plugged that Michaels would be the guest of Chris Jericho on "The Highlight Reel" later.
[Commercial Break]
4 — PAUL BURCHILL & KATIE LEA vs. SUPER CRAZY
Lea said William Regal, at their request, made it a two-on-one match with Lea involved. Super Crazy threw off of him when she jumped him from behind. Burchill then took control and applied a chinlock with a knee to Crazy's back, then Lea gave him a running boot to the face. Crazy came back with some weak low kicks between Burchill's legs. Burchill whipped Lea toward Crazy in the corner. Crazy moved and then took control of Burchill. Crazy missed with a moonsault attempt when Burchill missed. Lea leaped off the top rope with a dropkick to Crazy as Burchill held him. Burchill finished Crazy with the Curb Stomp and then Lea scored the pin.
WINNERS: Burchill & Lea in 2:00. Odd match.
-Todd Grisham interviewed Orton. He asked if he had any second thoughts on demanding his rematch later with Triple H. Orton said, "No!"
-Lawler plugged that the coronation of William Regal was up next.
[Commercial Break]
-Lilian Garcia introduced William Regal for his coronation. He sat mid-ring in a royal throne. He said he wanted to first end speculation about his future as G.M. He said he earned both the G.M. position and King of the Ring and won't give up either. He said that makes him the most powerful entity in the entire WWE. He said, "Your natural xenophobia and jealousy won't allow you to like me, but you the audience and all the WWE superstars will have no choice but to respect me and fear me." He said from this day forward he is their ruler and their better and their superior. Mr. Kennedy interrupted. The crowd popped. Lawler said, "Now this is audacity."
[HOUR TWO]
Mr. Kennedy walked out to the ring with a new ring outfit – a sleeveless black jacket and long black warm-up pants. He said he'd love to be the first to congratulate him for becoming King of the Ring. He said, "I'd love to, but I just can't do that." He asked who is the biggest superstar who wasn't even invited to participate in the King of the Ring tournament. He said had he been invited, he would have won it. He said he'd love nothing more than to challenge him one-on-one and find out who the real King is. "Got anything? Got anything? Huh? Huh? Huh? I'll give you a clue. Misss-teeerrrr!…" Regal said no one talks to him unless they've been granted an appointment, so he suggested he utter "I apologize" to him. Kennedy wore a face of fake regret and then broke into a loud, "I… am… Misterrrr Kennnedddyyy!" Regal jumpedhim and knocked him to the floor. Kennedy charged back into the ring and pounded at Regal. The had a brief brawl before four referees pulled them apart. Kennedy appeared to be cut on the forehead and bleeding from his lip after that stiff brief brawl. They stared each other down as referees escorted Regal out of the ring.
-A commercial aired for "Twist of Fate: The Matt & Jeff Hardy Story." They aired a clip of Lita on Byte This. The narrator said it was one disc dedicated to the Matt Hardy Story and another dedicated to Jeff Hardy, who admitted to getting involved in "the demonic atmosphere of drugs." Oh, the bad timing of his supension.
[Commercial Break]
-A clip aired of Cody Rhodes and Hardcore Holly throwing Carlito & Santino Marella out of the ring on Raw last week.
5 — SANTINO MARELLA (w/Carlito) vs. CODY RHODES (w/Hardcore Holly)
Santino declared before the match he doesn't like New Jersey or The Sopranos. "Those fake Italian stereotypes and those fake stupid fake Italians with those fake accents make-a-me crazy!" Cody's ring intro interrupted. Santino applied a camel clutch. Cody escaped and gave Santino an electric chair drop. Cody then finished him with a DDT.
WINNER: Rhodes in 3:00.
-Afterward, Cody called for a mic and began cutting a promo on Santino. Carlito snuck into the ring and gave Cody a Back Stabber from behind. Holly chased Carlito away from the ring right afterward.
-They showed a tuxedo wearing Jericho backstage heading toward the entrance tunnel. Lawler said it's either a very special Highlight Reel coming up or Jericho is going to the prom after Raw.
[Commercial Break]
-The Highlight Reel with Chris Jericho: Jericho made his full ring intro with Lilian Garcia introducing him. He stood in front of the obscenely expensive Highlight Reel Tron and behind a podium. He said he was there to give an award out to the Best Actor in Sports Entertainment. He nominated Magnificent Muraco and Mr. Fuji for "Fuji General." A clip aired from the 1950s when that skit first aired on "Tuesday Night Titans" back when cable TV had higher standards. There was actually a guy in the crowd wearing an "NWO" t-shirt. Do they still make those or does he not change out his t-shirts more than every two decades? They showed a clip of Heidenreich "raping" Michael Cole backstage on Sept. 16, 2004's Smackdown in what he called "Michael Cole's Deliverance." Jericho called it "Creepy but masterful." Jericho said, "Finally, Shawn Michaels for pretending to have a knee injury Sunday at Backlash." A clip aired of that. He opened an envelope and announced the winner was Michaels. Out came Shawn Michaels to his intro music. He limped his way to the ring.
Jericho said he deserves the award and he should give the fans the speech they want. Michaels said, "Look, Chris, I'm hurt." Jericho said, "Shawn, this is me you're looking at. The charade is over." He pointed out that he said he'd do whatever it took to win the match. He said he did that and it was a masterful performance. "That's who you are. Nobody goes from pious creature to backstabbing bastard faster than you do," he said. He told him to look into the camera and tell Batista, "Gotcha!" He said even if he won't talk, no matter what, he's the Daniel Day Lewis of WWE. Michaels's music played. Jericho applauded and left the ring. Michaels just stood there leaning on the podium looking kind of sorry and pathetic. Odd segment.
-They showed Triple H backstage pacing in anticipation of his first title defense.
[Commercial Break]
-Backstage, Santino walked up to Roddy Piper from behind. He mistook him for a Diva with "junk in his trunk" (mistaking a kilt for a skirt). Piper turned around to a modest crowd pop. He took some digs at him including a "Goonies" reference. Piper slapped him across the face. Piper asked, "Does that boy have a death wish or is he just special?"
-A video recap aired of the Fatal Four-way from Backlash. Then Orton's full ring intro took place.
[Commercial Break]
6 — TRIPLE H vs. RANDY ORTON – WWE Title match
Orton had to stand in the ring for three or four minutes during the break. Then Triple H's full ring entrance aired. Lilian Garcia then did formal ring intros for the big match. Ross said this like the seventh game of the Stanley Cup or the Super Bowl. The match began at 10:42 p.m., giving them about the same stretch of time as Joe and Angle had in their title rematch on Impact last week. After a lock-up, Orton knocked Hunter to the mat. Hunter slowly got up, staring a hole into Orton as he stood. Orton applied a standing side headlock. Hunter powered out and turned it into a hammerlock and then a headlock of his own. Hunter checked Orton to the mat and gave him a crotch chop. Hunter then scored the first two count of the match after a clothesline. Hunter side-stepped an Orton charge into the corner, so Orton hit the ringpost. Ross noted that Cena was not at Raw this week. Hunter threw Orton shoulder-first into the ringpost. They fought to ringside briefly. Hunter tossed Orton into the ring. As Hunter entered the ring, Orton kicked him, then DDT'd him onto the mat. They cut to a break at 6:00.
[Commercial Break]
Back from the break, Orton responded to a series of Hunter punches with a standing high dropkick, then scored a two count. Shortly after the break, Orton applied his obligatory chinlock. Hunter eventually escaped, but Orton continued a methodical beating that eventually moved to ringside. Back in the ring Orton applied another chinlock. Ross said, "As the old saying goes, control the head and the body will follow." rose to his feet at 15:00 and back suplexed Orton to escape. Hunter charged Orton in the corner. Orton fired back with an extended boot to drop Hunter. Hunter blocked an RKO attempt a minute later by shoving Orton into the corner. He followed with a series of punches, a knee driver, and clothesline. Orton countered with a snap powerslam. Ross was doing his best to make this seem exciting, but the two chinlocks took the crowd out of the match and they were just half-heartedly responding at this point to the average action in the ring. Orton ducked a clothesline, but Hunter came right back with a high knee for a two count. Orton came back with a backbreaker as the ref was talking to Triple H leading to a near fall. Orton climbed to the top rope. Hunter met him there and knocked him off balance. Hunter gave Orton a superplex, then draped his arm over Orton for a near fall for a small pop. Orton gave Hunter a thumb to the eye out of desperation, then an European uppercut. He went for an RKO, but Hunter blocked it and went for a Pedigree. Orton blocked it and catapulted Hunter into the top turnbuckle. He followed with a drop toe hold into a crossface. They went to the production truck where Regal was shown watching. He walked up to Kerwin and asked if he saw how Mr. Kennedy disrespected him. Regal said nobody is going to disrespect him again, so the people don't deserves to see the conclusion of the match. He asked him to take it off the air. When the director ignored him, Regal grabbed him by his throat and ordered them to go to black. Ross's commentary could be heard. He said, "The Game is punishing Randy Orton." Lawler said he was nowhere near the ropes. Ross said Orton can't last much longer. The show ended and they went to the opening of "Law & Order."
WINNER: Unknown.
STAR RATING: ** — Take off a half star for one of the worst endings to a wrestling show of all time. It was original, but seriously a terrible, terrible ending that could lead to a backlash among viewers who are just pissed off for investing in a match for 22 minutes only to have that happen. Where is David Crockett when you need him to yell, "Oh no, Tony! We're out of time! We've got to go." Needless to say, if you attended Raw in person, please send us a report with off-air happenings for our HOLT report. (This request is for every week, but especially so this week.)
---
NOW CHECK OUT THE PREVIOUS 5 YRS AGO FLASHBACK: 10 YRS AGO – KELLER'S WWE RAW REPORT (4-21-08): Jericho, Cena, Undertaker, Punk, Michaels, Batista, Sen. John McCain video, Obama and Hillary impersonators