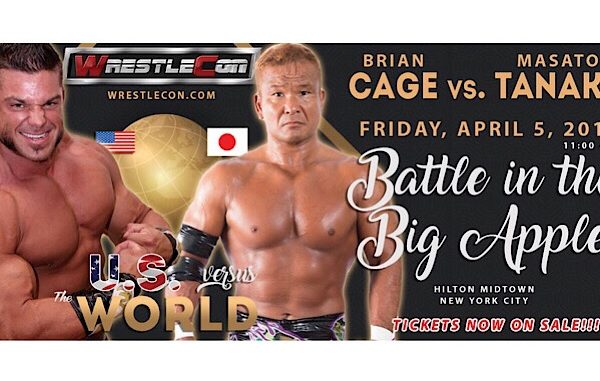 ---
SPOTLIGHTED PODCAST ALERT (YOUR ARTICLE BEGINS A FEW INCHES DOWN)...
---
LEAHY'S WRESTLECON: USA vs. THE WORLD REPORT
APRIL 5, 2019
NEW YORK, N.Y.
AIRED LIVE ON HIGHSPOTS WRESTLING NETWORK AND FITE TV
Using the tried and tired format of USA vs literally every other country, and landed smack dab in the middle of the WrestleCon conference, we kick off late on Friday morning with what must be the 20th show of the weekend thus far.
Dan Barry and Excalibur are our commentators.
(1) EMIL SITOCI vs. BRIAN PILLMAN JR.
Emil Sitoci and Bryan Pillman Jr. open the show. Sitoci defended his wXw Shotgun title on Friday afternoon's card in a match I found interminably boring due to the lack of emoting. And while he was similarly mechanical here, Pillman brought at least some fire and selling to this otherwise forgettable affair. After some fine but empty action, Pillman hits his cross armed neck breaker for the finish. USA 1 – Everyone Else 0
WINNER: Brian Pillman Jr.
(2) ETHAN PAGE vs. MJF
Two men who could never be accused of not involving the audience were up next. Ethan Page opened his match with MJF by touring the ringside with mic in hand, leading various front row patrons (at least those who knew the song) in a rendition of "You Are my Sunshine". Original to say the least. MJF attempted to throw water on the fire, working the hand and arm of Page while Page got the crowd to rally him using the childhood ditty. Before the match really had a chance to get going, MJF put All Ego on the mat with a piledriver and gave himself some huge leverage on the second rope to pick up the win and put USA 2-up.
WINNER: MJF
(3) DAVID STARR vs. DAGA
The ever reliable David Starr repped the red, white and blue against Mexico's Daga in the third bout. Daga took the early offence, using his lucha style to rock Starr at least for a moment. Star, slowing things down to catch himself, focused then on some quick and stiff strikes to level the field before they jumped to the latter parts of a 30 minute clash, some 5 minutes into their bout. Both men hit some trademark offence before what looked like a botched finish as Daga's shoulder slightly lifted off a powerbomb rolling bridge. Starr immediately locked in a version of a standing leg grapevine resulting in a quick tap. Nobody on this card was being paid by the hour. USA 3 The World 0
WINNER: David Starr
(4) DARBY ALLIN vs. BLACK TAURUS
Darby Allin verses Black Taurus (who, unsurprisingly looks like a humanoid bull) was our fourth bout. Allin used his stick-and-move early, while Taurus showed some surprising speed and agility considering his size. A full-tilt shining wizard from the bovine brought a convincing 2-count, before Allin rallied with a twisting press and a code red for believeable pin attempts of his own. A big Rainmaker and Bitter End seemed to have the writing on the wall for a Taurus win, but instead he found himself backdropped to the floor and catching a Coffin-Dropping Allin. An in-ring Coffin-Drop from Allin was met on the way down with some knees, before the Bull hit a thematic gore and spinning Michinoku Driver to push Mantaur off the top spot on my Favourite Cow-Gimmick Wrestlers list. This was great fun while it lasted. USA 3 The World 1
WINNER: Black Taurus
(5) JIRO IKEMAN vs. RICH SWANN
Jiro Ikeman faced off with Impact X-Division Champion Rich Swann, as we tired to jam as many matches as possible into an hour. Once the pre-match dancing was done, the action was fast and fluid, with Swann establishing himself as heel with some cheap shots. Following a nice tope, Jiro worked submissions and strikes back in the ring, targeting the leg of Swann. Briefly selling the leg, Swann rallied to hit high flying offence culminating in a jump-up rana to Jiro sitting on the top rope. Reverting to the leg, Jiro locked in a figure 4 before landing a big moonsault for the win. USA 3 – RoW 2 after just 60 minutes.
WINNER: Jiro Ikeman
(6) THE RASCALZ vs. ROBBIE EAGLES & ADAM BROOKS & AUSTRALIAN SUICIDE 
Six-man action was up next as The Rascalz took on Robbie Eagles, Adam Brooks & Australian Suicide. Contested apparently under scramble rules, it was virtually impossible to call, and definitely impossible to type. Highlights included a series of destroyers from Brooks which STARTED with one on the apron, triple simultaneous dives from the Rascalz and an insane SSP to the floor from Suicide. A top rope footstomp into an inverted Death Valley Driver was an appropriate end to a bonkers match. USA reclaim a 2 match lead with 3 matches to go. USA 4 – The World 2
WINNERS: The Raszalz
(7) LAX (Santana & Ortiz) vs. THE HART FOUNDATION (Davey Boy Smith Jr. & Teddy Hart)
"How can you hope to follow that insanity?" I pondered. Well, up next was LAX vs. The New Hart Foundation. The Harts took an early advantage, tying up Santana in a ring-post figure 4, then dominating Ortiz for a period that seemed longer than most matches on this card. The eventual hot tag came, but it was for nothing as shortly afterwards an assisted Destroyer by Hart on Ortiz brought this to a conclusion. Afterwards, on brand, Teddy Hart said a few words on the mic, most of which had the crowd and Barry/Excalibur in hysterics, though the laughter was maybe "at" rather than "with" Teddy. USA 4 – The World 3
WINNERS: Teddy Hart & Davey Boy Smith Jr.
(8) PUMA KING vs. SAMMY GUEVARA
Puma King and Sammy Guevara was up next. Sammy was Sammy – athletic jerk, and Puma was Puma – sloppy but rolly, so the action flowed as well as you could have hoped. Mid-match, Puma took to the mic to advertise his YouTube channel, which gave Guevara the opportunity to seize the advantage and get his own plug in. Puma attempted a top rope pendulum powerbomb, but took a rana for his troubles. Back on the mat, Puma fared better without the additional elevation, and leveled the scores at 4 apiece. USA 4 – The World 4
WINNER: Puma King
(9) MASATO TANAKA vs. BRIAN CAGE
One couldnt help but draw immediate comparisons between Tanaka vs. Cage and the legendary Tanaka vs. Awesome matches from ECW. Take one huge and athletic American and face him off against the Master of the Roaring Elbow and you're almost there anyway. This was just two beasts hitting all their spots as hard as they could and as often as they could. It's not sustainable, but god is it enjoyable to watch once in a while. After eating a Sliding D from Tanaka, Cage shrugged it off to finish Tanaka with an Adrenaline Spike piledriver to take the series for the good ol' USA. USA 5 – The World 4 (USA Wins)
WINNER: Brian Cage
Overall thoughts: (7.0) – All things considered, USA vs The World was an enjoyable affair. Assisted by the brisk pace, and few objectively bad matches, this felt like a tidy refreshing card which wont have left anyone unhappy or exhausted.
Notable Matches
Allin vs. Black Taurus ***1/4
Six Man Tag ***3/4
LAX vs. New Hart Foundation ***
Cage vs. Tanaka ***1/2
Contact Brian at codyhectic@gmail.com. Follow him on Twitter at twitter.com/cobyhectic