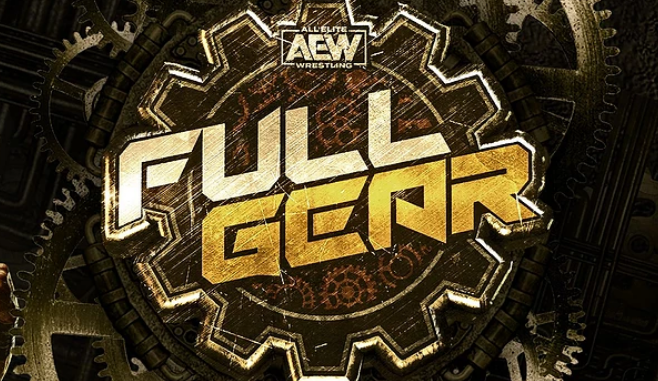 ---
SPOTLIGHTED PODCAST ALERT (YOUR ARTICLE BEGINS A FEW INCHES DOWN)...
---
KELLER'S AEW FULL GEAR PPV REPORT
NOVEMBER 7, 2020
JACKSONVILLE, FLA. AT DAILY'S PLACE
AIRED LIVE ON PAY-PER-VIEW
Commentators: Jim Ross, Tony Schiavone, Excalibur
---
PRE-SHOW: "BUY IN"
-Video packages aired on the top matches. About 40 minutes into the show, YouTube indicated 32,000 were watching.
(Keller's Analysis: They were tremendous, and there is absolutely time to sprinkle shorter version of these – like ranging from 20 seconds to 180 seconds – throughout Dynamite more. This adds such a level of class and polish to the presentation of the wrestlers that pointing camera at the ring as they wrestle 12-16 minutes matches alone can't. The video package on FTR vs. The Young Bucks painted the Bucks as egomaniac pricks bragging about their drawing power who will superkick staff and crew because "they need their edge back." I can't wrap my head around who thought this was a good idea. FTR attacking them seemed more like avenging the inexcusable attacks on Tony Schiavone, Alex Marvez, and AEW crew members than a heel tactic.)
(A) SERENA DEEB vs. ALLYSIN KAY – NWA Women's Title match

During the match, Excalibur plugged the PPV. Schiavone called it their best PPV line-up yet.
WINNER: Serena Deeb via tapout to retain the NWA Women's Title.
-After the match, Thunder Rosa showed up on the stage as her music played. She entered the ring to have a staredown with Deeb.
(Keller's Analysis: I'm not a fan at all of having two women's titles in AEW. Either sign the women to fight for the AEW Title or not, but having two titles including one from an outside organization just doesn't make sense; it diminishes the value of the AEW Women's Title significantly.)
---
MAIN PPV CARD
-The announcers introduced and previewed the show.
(1) KENNY OMEGA vs. "HANGMAN" ADAM PAGE
Don Callis joined the broadcast team for this match. Justin Roberts, the ring announcer, listed a ton of accolades about Omega. Then women came onto the stage with brooms. Ross asked Callis to explain the nickname "The Cleaner." Excalibur said something about video games that didn't really explain anything. He mentioned it being something he was called in Japan. (Well, 'nuff said! I love it!) Excalibur said Omega has heard the critics and he's here to shut them up tonight. As Page made his ring entrance, Ross said Page looked like a long-tailed cat in a room full of rocking chairs, a little on edge.
Omega offered a handshake mid-ring. Page had some intense words for him and did not accept the handshake. A minute in, Omaga took Page down with a snap rana, so Page rolled to ringside. When Omega ran the ropes, Page met him with a boot to the face and then landed a fallaway slam and a kip up. They took it to ringside where Omega landed a springboard moonsault onto Page at ringside off the barricade. Omega controlled in the ring for a while. He slipped a little on a standing moonsault, then indicated a sore knee afterward. Omega flipped onto Page at ringside. Callis talked about Omega's history of long, high-pressure matches in Japan and he doesn't panic. Back in the ring, he hit a top rope dropkick and scored a two count.
A couple minutes later, as they fought on the ramp, Page caught Omega mid-air and powerbombed him. Back in the ring, he landed a pop-up powerbomb for a near fall. Those two bumps cannot be good for Omega's brain. His head bounced off the ramp and the mat each time. Callis said this is the best he's ever seen Page look. We got our weather update from Ross, who noted it's 79 degrees and "perfect." Omega hit Page with a Tiger Driver '98 that looked nasty, leading to a near fall. Omega went for a V-Trigger, but Page ducked and hit a spinning forearm. Omega came back with a discus elbow and Snap Dragon. Page fired back with a quick hard lariat. Then a Dead Eye for a very near fall. Page sat down on an Omega crucifix attempt for a near fall. After a few more minutes of exchanges, Omega finished Page with the One-Winged Angel for the three count.
WINNER: Omega in 17:00. (****)
(Keller's Analysis: Really good match start to finish. I still have no idea how viewers are being steered to feel about Omega and Page at this point. The match lost something in that regard as the fans who were there, and probably viewers are home, were rooting for moves and drama, but not really a particular outcome, I suspect.)
(2) ORANGE CASSIDY vs. JOHN SILVER
Chucky T and Trent came onto the stage with Cassidy, then returned to the back. Cassidy outmaneuvered and then taunted Silver, frustrating Silver. They stood face-to-face mid-ring where Cassidy threw soft slow kicks to Silver's legs as the crowd cheered. Cassidy put his hands in his pocket, hit a dropkick, and then casually posed for the hard cam. Silver then hit Cassidy from behind and yanked the pockets off of Cassidy's jeans. He put them in his mouth and then threw them out of the ring. Silver dominated methodically for a couple minutes. Cassidy caught him charging with a boot to the face and then went for a tornado DDT, but Silver blocked it and turned it into a brainbuster suplex for a two count.
A few minutes later, after some back and forth, Cassidy landed a Michinoku Driver for a near fall. Silver came back and got a two count a minute later. Cassidy came back and with Orange Punch for the three count. Chuck and Trent celebrated with Cassidy afterward.
WINNER: Cassidy in 10:00. (**3/4)
(Keller's Analysis: Good match. Really credible hard-hitting action, with a good ebb and flow and just enough and not too much of the Orange Cassidy gimmick style weaved into it.)
(3) CODY vs. DARBY ALLIN – TNT Title match
Before the match, a video package recapped the backstory. Darby smashed a windshield of an old beater car on the side of the stage with his skateboard. Ross said Darby is the clear favorite here. Cody came out next, accompanied by Brandi Rhodes, Dustin, Arn Anderson, the Gunn Club, Lee Johnson, and Q.T. Marshall. They began with a staredown. When Cody offered a hand after taking Darby down, Darby rolled back and leaped to his feet. Cody then cartwheeled. After Darby outmaneuvered Cody a little early, Cody had a conference with Arn at ringside. Arn told him to muscle him down. Ross said Cody has to become an in-ring bully to take control of the match. He too Darby down another time and again offered his hand. Darby accepted, then used it as leverage to take Cody down for a two count after a sequence of acrobatics. When Cody retreated to ringside with his back turned, Darby dove through the ropes and tackled him down.
Cody caught Darby on the top rope and lifted and tossed him over the top rope onto the ramp. Cody went on to dominate for several minutes with matwork. Darby teased a comeback, but Cody cut it off with a kick to the jaw. He set up a Crossroads, but Darby escaped and yanked off a turnbuckle pad in the process. He sent Cody into the exposed buckle for a two count. Both were slow to get up. Cody landed a top rope Avalanche Crossroads for a two count. Darby's arm was under the bottom rope during the cover, but otherwise he was out cold.
Cody showed some frustration as Darby continued to survive. He took off his weight-lifter's belt. Ross asked what kind of logical sense that makes. Schiavone said he's letting the heat of the moment get to him. Darby yanked on it and tripped Cody, then scored a quick two count with a jackknife cover. Darby scored a leverage two count, then hit a float over stunner followed by a Coffin Drop for a believable near fall. Darby sat up, emotional at how close he came. Cody was out face-down on the mat. Darby lifted him and threw an elbow to the side of his head. Cody set up a move, but Darby countered and they reversed leverage on each other four times, with Darby getting the three count. Cody sat up in disbelief. Ross said the fans were in shock. Arn looked up in disbelief.
Cody took the TNT Title belt from the ref and walked over to Cody. Arn turned his back to Cody at ringside in disappointment. Darby's music stopped playing as Cody walked up to him. Darby was emotionally overcome and staggered over to Cody. Cody kneeled and presented him with the belt. Excalibur said, "Look at the new Face of TNT." (I'll believe it when the Dynamite logo advertising the show on channel guides switching from Cody to Darby!)
WINNER: Darby in 17:00 to capture the TNT Title. (****)
-Taz walked out, having had enough of Cody congratulating Darby magnanimously. He said he needs a vomit bag. He told Darby to act like he's been there before, but he never has. He told them to get their "bitch asses" to the back. "You heard me, executive man," he said. Ricky Starks and Brian Cage attacked Cody and Darby. They attacked Arn, too.  They put Darby on hood of the car and then put his arm in the door. Will Hobbs ran out with a chair to stop them from slamming Darby's arm in the door.
(Keller's Analysis: Super effective closing minutes of that match, which was really good overall. They played off of cliches and expectations for how match finishes went, and countered them with an effective surprisingly alternative final sequence. The post-match teased a Cody heel turn, too, but played out otherwise, with Taz and his guys setting up what's next for both Cody and Darby, including presumably a big tag match.)
-Dasha interviewed Q.T. Marshall and Dustin Rhodes. They focused on Ally. Dustin said there are many successful women who have come through this sport, but she is not one of them. He then asked for a Bunkhouse match against Butcher & Blade on Dynamite.
(Keller's Analysis: Dustin showed how underutilized he is. Strong, right-to-the-point promo from him there.)
-The announcers hyped that tag match, plus Penta El Zero Miedo vs. Rey Fenix and Tay Conti vs. Red Velvet.
(4) HIKARU SHIDA vs. NYLA ROSE (w/Vickie Guerrero) – AEW Women's Title match
Shida took it to Rose early at ringside, including a running knee that sent Rose through the barricade. Vickie Guerrero clipped Shida with a chair from behind on her left knee. Rose then took over. She beat down Shida for several minutes. Shida landed a suplex for a soft two count in a show of impressive strength. Shida went for a running knee, but Rose blocked it. Shida landed a crossbody block and went for another suplex. Rose blocked it and lifted Shida onto her shoulders. She then threw her overhead and slammed her for a two count.Rose's cover wasn't firm and intense, so Shida was able to leverage her shoulder up. Schiavone said Vickie was frustrated at ringside that Rose didn't seem to be taking this as seriously as she should be. Ross said if you can't take a title match seriously, what can you do.
Rose put Shida belly-first over the top rope, then leaped off the top rope with a flying knee to the back of Shida's knee. She continued to work over Shida's leg. When she slowly climbed to the top rope, Shida met her there. She favored her leg. Rose shoved her down. Shida rammed Rose's head into the top turnbuckle a few times, then gave her a boot to knock her to the ramp. Shida came back and landed a top rope dropkick for a believable near fall.
Shida landed an Avalanche Falcon Arrow for a two count. She lifted Rose's shoulders at two by her hair. She then smiled as if to say, "I've got this." She was going to go for her running knee, but Vickie tried to trip her up. She botched the trip badly, completing whiffing, but Shida stopped and turned around to yell at her. Rose knocked Shida off the ring apron. Vickie wound up a kendo stick, but the ref yanked it away from her. Shida then shoved Rose into Vickie, then threw Rose into the barricade at ringside. She tossed Rose into the ring and gave her a Falcon Arrow for two count. Rose lifted her shoulder. The kickout looked sloppy on both women's part. Shida landed her running knee for a near fall. Another sloppy awkward kickout. Schiavone said Shida might have pulled up on the cover because her knee was hurting. Shida landed a running knee to the back of Rose, then some kneelifts to Rose's chin. She then covered her for the three count.
Vickie chewed out Rose after the match with screeching noises. Ross said it was uncomfortable to watch.
WINNER: Shida in 14:00 to retain the AEW Women's Title. (**1/4)
(Keller's Analysis: Sloppiness at the end undercut what ended up otherwise being a solid women's title match.)
(5) FTR (Cash Wheeler & Dax Hardwood) vs. THE YOUNG BUCKS (Matt & Nick Jackson) – AEW Tag Team Title match
Excalibur said Matt received a cortisone shot for his knee injury at the ends of FTR. Ross asked why Tully was banned from ringside. Excalibur explained it was due to being involved in the match against Jurassic Express and taking part in the attack on the Bucks. Ross, oddly, said that's what wrestling managers do. FTR controlled early. The Bucks took over. Harwood's hand bled after he punched the ringpost when Matt ducked. The Bucks held his hand and kicked it. Dax yanked Matt into the middle rope. Dax went to the floor to get his hand wrapped. He looked to be in a lot of pain. Cash chopped away at Matt at ringside, then elbowdropped his leg.
Back in the ring a few minutes later, Dax superplexed Matt off the top rope. Cash went for a top rope splash, but Matt lifted his knees. Matt surprised Dax with a small package for a near fall. Dax popped up and threw Matt to the floor. He continued to favor his right hand. He tagged in Cash, who leaped at Matt on the floor, but Matt moved, so Dax landed against the ringside barricade. Dax threw cash back into the ring to tag him in. Dax kept Matt from tagging Nick, grabbed his leg. Matt landed a DDT on Dax to stop Dax's momentum. Both were down and slow to get up. Nick got the crowd clapping, old-school style. Matt made an emphatic tag.
Nick took on both Dax and Cash in the ring, and then at ringside. Back in the ring, FTR took over. Dax went for a superoplex, but Nick slipped free and avoided Cash who tagged himself in. Matt speared Cash after a misdirect by Nick, then Matt scored a two count. Nice rapid-fire sequence, playing off of cliched spots and adding counter-moves and unexpected twists. FTR came back again with a flying bulldog by Dax off of Cash's shoulders. Cash leaped through the ropes and tackled Nick off the ring apron.
The Bucks rallied next, knocked Cash out of the ring, then landed a Twist of Fate and Swanton rapid-fire for a near fall on Dax. Matt scored a dramatic near fall on a crucifix after a flurry of moves. Matt superkicked Dax's hand, which was bleeding through his bandages. FTR surrounded Matt, then charged with a combo kick for a two count. Nick shoved Cash off the top rope, then Matt catapulted Dax into a roundkick by Nick. Nick flip dove onto Cash on the ramp. Matt then applied a sharpshooter on Dax mid-ring. Nick put Cash in the sharpshooter on the stage. The ref didn't force a break, even when Dash and Cash briefly held hands. Ross said that should've called for a break. (He's right, so either he's not supposed to say that or it's set up to a talking point after FTR lose.)
The Bucks took it to Dax in the ring. Matt yanked on Dax's injured hand. Then they gave him the BTE Trigger for a near fall, with Cash diving in to break up the cover. Nick clotheslined Cash out of the ring, then officially tagged in. He landed a twisting corkscrew dive onto Cash on the floor. Matt slid a chair into the ring. Excalibur said they can't afford a DQ. Dax dared him to hit him. Ross said he wouldn't do that, he's not that naive. Nick told him not to. Matt threw the chair down. Cash grabbed Nick off the ring apron and powerbombed him over the announce table. Dax lifted Matt for a piledriver. Cash tagged in and spiked him down off the second rope. Cash made the cover, but Matt's foot was draped over the bottom rope
Cash dragged Matt over to their corner. They isolated his leg. Dax wrapped it up as Cash leaped off the ropes with a stomp. Dax applied an inverted figure-four with an anklelock. Cash dove at Nick on the ring apron, but Nick ducked. Nick then landed a 450 splash Dax to break up his leg submission. Matt then scored a near fall. Cash landed a superkick on Nick, knocking him to the floor. Cash then kicked Matt mid-ring. He was out on his back. Cas went for a springboard 450, but Matt moved. Matt managed a superkick, despite a bum knee, and got the three count.
Omega came out to celebrate with the Bucks. He presented them with the tag title belts at FTR recovered on the ramp. Ross said that's FTR's only loss in AEW. Excalibur said without Tully at ringside, FTR deviated from their gameplan with that Cash attempt as a top rope 450, and it cost them the titles. Ross said the Bucks showed it pays to always bet on yourself. Excalibur called it "easily an instant classic."
WINNERS: The Young Bucks in 29:00 to capture the AEW Tag Team Titles. (****3/4)
(Keller's Analysis: That lived up to lofty expectations.)
(6) MATT HARDY vs. SAMMY GUEVARA – Elite Deletion
Sammy drove up in a golf cart that said "Spanish God." Matt appeared in a beam of light and welcomed "Samuel" to the Hardy Compound. "Welcome to your demise." Hardy turned off of the power to Sammy's golf cart. Then Broken Matt appeared, laughing manically, in a monster truck. He drove over the golf cart. He said that was orgasmic. Hardy dropped out of the monster truck and said, "Now that is a squash job." Sammy bashed Matt in the head with a trash can. The bell rang to start the match.
Sammy leaped off the hood of the monster truck with a moonsault for a two count. He continued the attack on Hardy with a trash can. Ross said he'd say falls count anywhere, but that'd be redundant. Sammy suplexed Matt on the lawn for another two count. They fought to Matt's fountain. Matt fought back with a scepter. They fought into a ring with ropes only on three sides. Sammy springboarded at Hardy, but Hardy caught him and landed a Side Effect. Matt slid a table into the ring as Sammy writhed in pain. Hardy powerbombed Sammy through a table, but Ortiz ran in and broke up the cover. Santana then beat up Hardy at ringside. Private Party were shown in their vehicle. Hardy, meanwhile, began to fight back. They gave him an inverted double-suplex. Private Party then got out of their vehicle to help out. Sammy gave Hardy a Twist of Fate. Private Party ran into the ring to even the odds.
Hardy pulled fireworks out from under the ring. He ran away with them and lit them. Then he fired fireworks at the ring as the wrestler ducked and took cover. Guevara lit one of them from a tiki torch and also blasted Hardy with them. Hardy ducked in the trenches, then charged at Sammy in the woods. Private Party and Ortiz & Santana battled in the ring, meanwhile. Hardy blasted Sammy in the back with the fireworks coming out of the blaster. "Scalded Sammy," said Excalibur. Sammy slipped and rolled around in mud. Hardy gave Sammy a Twist of Fate onto the grass. "I think your corrupt vessel needs a cleanse."
Suddenly a man in a black trench coat and mask showed up with Hurricane Helms. It was Gangrel. Helms asked what took him so long, it's been two years. Hardy apologized and said, "It's long term storytelling." Hardy said he had to convince AEW to let him finish this. Sammy made a comeback and said, "What's a hero to a god, a Spanish God." Sammy kicked Hardy. Helms showed up as a reporter asking Sammy a question. Sammy superkicked him and threw him into a nearby pond. Back to the ring, Private Party battled Gangrel. Helms joined in, dressed as Hurricane again. Ross said he was always a great swimmer. Helms battled Gangrel. Santana then bashed Hardy with a bat at ringside. Matt collapsed at ringside. Ross wondered if Private Party even knows who Gangrel is. Ross said Gangrel hasn't changed a bit.
Sammy showed up with a mallet and said this is where he ends. Sammy staggered into a storage garage. The door shut. Hardy was inside where there was the white grand piano and another wrestling ring. Sammy jabbed Hardy with a chair to the back. He rammed him into the ringpost next. Sammy untied a turnbuckle and rammed it into Hardy's gut. Sammy wrapped the bottom rope around Hardy's neck. The ref asked if Hardy was going to tap. He didn't.
Sammy put Hardy on a table next. Then he climbed a tall ladder and leaped off of it with a flip splash onto Hardy on the table for a near fall. Hardy came back with a Twist of Fate. Hardy speared Sammy off the ring apron and right through a table. Sammy was bleeding from the back of his head onto the pavement of the garage. Hardy jabbed Sammy in the eye socket with a chair. Hardy took Sammy's lifeless body and set up him for a chairshot to the back of his head. Then he smashed him with the chair. He rolled him over and scored the three count.
Private Party loaded Sammy into a trash can and closed the lid on him. Hardy rolled him out of the garage. After a camera cutaway to outside, Hardy continued to roll the trash bin into the back of his pick-up truck. Señor Benjamin drove him away. It closed with Hardy's wife playing the grand piano as Hardy, Private Party, and Helms celebrated together.
WINNER: Hardy.
(Keller's Analysis: For what they were going for, I think that largely worked although it felt like it lasted longer than it could sustain. This cinematic type of match is going to be polarizing, and not for everyone, but the Helms and Gangrel appearances were fun. The violence including some stiff shots to the head with the trash and chair felt excessive, even under controlled circumstances. I think this type of match has lost the novelty factor and now has to sustain itself on its own. I'm not sure the break from the narrative structure is worth it from a pure cost/benefit ratio at this point.)

-Lance Archer beat up someone against a brick wall. Jake Roberts said he has to feed this man, and he wants people, not food. He said someone has to step up and serve him something he can have. Archer said everyone can weep and moan, and their time of slaughter is coming. "You will shatter beneath my boot like a fragile vase, because your egos are like a glass house," he said. "They say you should never throw rocks at glass houses, but I'm throwing boulders." (That's not what they say, actually.) He closed with, "Everybody dies." Then he laughed.
(7) MJF (w/Wardlow) vs. CHRIS JERICHO
MJF made his ring entrance and gave the crowd two middle fingers. The crowd sang Jericho's song for his ring entrance. MJF played to the crowd and was booed. He asked for silence, and then came more boos. Jericho played babyface from the start. A handshake offer turned into a swing-fest. Ross said we'll find out if MJF is soft. MJF got cocky after some early offense. As he postured, Jericho yanked him to the floor and threw him into the barricade. Schiavone said his arrogance ran amuck. Jericho took a camera and pointed it at MJF and filmed himself giving MJF a middle finger.
Jericho whipped MJF into the ringpost. When Jericho went for a Judas Effect, MJF ducked and thus Jericho hit the ringpost. MJF threw Jericho arm-first into the ringpost. Ross said he doesn't think Jericho can win with one arm. Jericho went for a forearm on MJF on the ring apron, MJF yanked his arm over the top rope and went back to work on his arm.
Jericho came back with a top rope double axe handle and then a Lionsault. They went into a sequence of methodical back-and-forth action and some mat wrestling. Jericho eventually applied a Walls of Jericho mid-ring. MJF yelled in pain. MJF lunged to the bottom rope to force a break. MJF blocked a Code Breaker and then hit a Heat Seeker piledriver for a two count. MJF went for a wristlock submission. Jericho reached the bottom rope.
Wardlow ran out and gave MJF his Dynamite Diamond Ring. He was going to use it as a weapon. Jericho ducked. Jake Hager tossed Jericho a baseball bat. MJF collapsed and pretended Jericho hit him. The ref turned around, after yelling at Wardlow, and Jericho dropped the bat. MJF then rolled up Jericho from behind for the three count, with help from a yank of the tights.
WINNER: MJF in 16:00. (**1/2)
-Afterward, MJF's music played, but Jericho called for them to cut the music. The announcers said the Inner Circle just got a lot better. Hager and Wardlow stood in the ring with MJF and Jericho. MJF offered a handshake. Jericho shook his hand and pulled him in for a hug. He welcomed MJF and Wardlow into the Inner Circle. Excalibur called it a "two for one." All four left together.
(Keller's Analysis: The match was in a good spot on the card as it wasn't highly athletic by any means, but the two strong personalities carried the match that had sparks of action, but some other slower methodical parts. The finish worked for the personalities involved; that type of clever finish is something Jericho would admire. So onward with MJF trying to take over Inner Circle from within.)
-They went to the announcers to react to the match.
-An ad aired for Revolution coming February 27, 2021.
-Dasha interviewed Cassidy with the Best Friends backstage. She asked for his thoughts on his big win. He said he has no thoughts. Kip Sabian, Penelope Ford, and Miro interrupted. Sabian demanded an apology for almost injuring his fiance. Kip slapped him. Cassidy didn't react and said it's cool. He led the Best Friends away. Kip was perplexed how Cassidy took it in stride.
(8) JON MOXLEY vs. EDDIE KINGSTON – I Quit match for the AEW World Title
They exchanged blows at the bell. They brawled at ringside. Mox threw Kingston around ringside and threw a chair at him. Mox snapped Eddie's finger. Mox suplexed Eddie on the floor near the stage. The ref asked, but Eddie didn't want to quit. Mox used a barbed wire baseball bat. Kingston made a comeback and took control in the ring. Mox was bleeding. Mox countered Kingston and suplexed Kingston onto two chairs set up in the ring. He ended up hitting only one of them, though. Kingston got up first and clotheslined Mox hard. Kingston overhead-slammed Mox onto thumbtacks. Kingston stomped Mox's crotch twice. Excalbur said it's legal. Then he ground his heel onto Mox's crotch. Mox gave him a middle finger.
Kingston picked up a bottle of rubbing alcohol and poured it on Mox's back, which was spiked with thumb tacks. (Why do I fear they didn't even put water in there instead?) Kingston punched Mox in the face with a wad of thumb tacks in his hand. Kingston applied a bulldog choke mid-ring. Tacks were stuck all over Mox's arms and back. Kingston stood and forearmed him. Mox surprised Kingston with a sleeper, then gave him a piledriver into a bulldog choke. He then shifted into a Paradigm Shift. Mox then applied another bulldog choke, but with his forearm wrapped with barbed wire. The ref pleaded with Kingston to quit. The ref called for the bell. It wasn't clear immediately if Kingston said, "I quit." The ref presented Mox with the AEW Title belt.
WINNER: Moxley in 18:00 to retain the AEW Title. (**3/4)
-After the match, Omega came out and stood on the ramp outside the ring and signaled to Moxley he'll see him soon. Ross touted Moxley as the fightingest champion in pro wrestling. Moxley celebrated in the ring to close out the show.
(Keller's Analysis: I'm eager to see Moxley move on to a regular match without leaning so hard on weapons, brawling, and special stips. Omega should be that guy. The Kingston match didn't ultimately live up to the placement as the main event, although not for lack of Mox and Kingston doing everything they could to bring it. Kingston looked out of shape in those wrestling tights and visually it was so unflattering, it just made him seem like he not only wasn't a serious athlete, but he also lacked judgment in wearing that. For people who crave this, AEW gives you a dose of it, but I'd rather this not be an AEW World Title program, and instead move Mox to mid-card grudge hardcore brawls without slotting it last with the belt.)