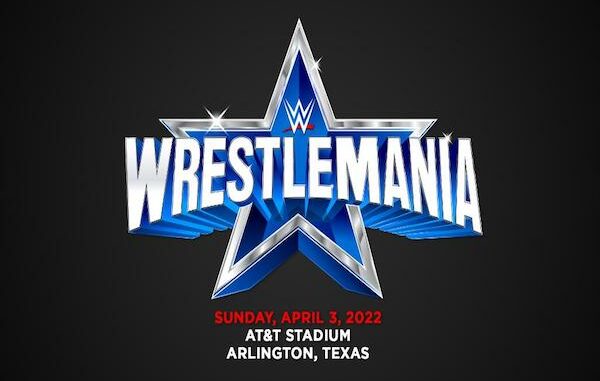 ---
SPOTLIGHTED PODCAST ALERT (YOUR ARTICLE BEGINS A FEW INCHES DOWN)...
---
KELLER'S WWE WRESTLEMANIA 38 REPORT – NIGHT 2
APRIL, 3, 2022
DALLAS, TEX. AT AT&T STADIUM
AIRED LIVE ON PEACOCK & PPV
Smackdown Commentators: Michael Cole, Pat McAfee
Raw Commentators: Jimmy Smith, Byron Saxton, Corey Graves
Ring Announcers: Mike Rome
---
-They opened with "America the Beautiful."
-Then a video package aired on the previous night's WrestleMania happenings. Then Mark Wahlberg previewed night two, and suggested the sequel could be as good as the original. "This sequel is not edge of your seat, it's out of your seat. I'm not crying, you're crying."
-Jimmy Smith introduced tonight's event as the camera showed the stadium crowd.
-Triple H's music played and he walked out to a big ovation. He made his way to the ring and stood on the ring apron. He was wearing a suit. Fans chanted "Triple H! Triple H!" He left his boots and the mic in the ring, then stepped to ringside and hugged his daughters who were crying for him. Graves clarified that they recently found out his in-ring career came to an end. He also thanked Triple H.
-Mike Rome introduced Gable Steveson at ringside.
(1) RK-BRO (Riddle & Randy Orton) vs. THE STREET PROFITS (Angelo Dawkins & Montez Ford) vs. THE ALPHA ACADEMY (Chad Gable & Otis)
As RK-Bro came out, they went to the announcers at ringside. Smith said RK-Bro was "the team that wasn't supposed to last." When Gable "shoosh'd" everyone, Ford slapped him. A brawl broke out. Otis cleared the ring. Ford did a leaping flip dive onto a crowd at ringside, and then landed on his feet. Gable climbed to the top rope next and landed a moonsault onto a crowd at ringside. Otis took control against Riddle in the ring. Ford re-entered the ring eventually. Dawkins tagged in. Riddle knocked Otis out of the ring, then gave a GTS to Dawkins. Riddle crawled and hot-tagged in Orton for a big pop. He landed a powerslam on Ford and then played to the crowd. Ford yanked Orton to ringside and tried to ram him into the announce desk, but Orton blocked it and slammed him on the desk. He did the same to Gable. Orton rolled back into the ring. Orton and Riddle gave stereo draping DDTs to Dawkins and Ford. They signaled for RKOs, but Otis and Gable yanked them out of the ring.
Otis lifted Ford onto his shoulders. Gable then leaped off the top rope with a bulldog for a near fall. Ford landed on his feet after an Otis catapult. The Profits then gave a top rope blockbuster combo to Gable for a near fall. Chaos broke out. Ford climbed to the top rope, but Riddle gave him an RKO off the top rope. "You have got to be kidding me!" exclaimed Graves. Gable leaped off the top rope, but Orton caught him mid-air with an RKO for the win. Orton was bleeding from above his right eye.
WINNERS: RK-Bro in 12:00. (**3/4)
(Keller's Analysis: An energetic crowd-pleasing opening tag match. Essentially a spotfest, but they managed to give every big spot a chance to breathe. How many predicted a break-up between Orton and Riddle before this night or on this night, but it doesn't feel like a tag team partnership that should end anytime soon.)
-Riddle and Orton hugged during their celebration. The Profits entered with red Solo cups for themselves and Orton and Riddle. They called Gable Stevenson into the ring. He stood on the ring apron to a polite reaction. They gave him a red Solo cup, also. Gable entered and slapped the cup away. Steveson yanked off his shirt and stared down Gable. As Chad began to talk, Steveson yanked the mic away from him. Chad yanked it back. He told Steveson he's new and has a lot to learn. He told him to shoosh when he's in his presence. Steveson gave Chad a bearhug into an overhead suplex. Steveson eyed the hard camera afterward as the announcers gushed about him. He then joined the Profits and RK-Bro at ringside for the red Solo cup toast the Chad interrupted. [c]
(2) OMOS vs. BOBBY LASHLEY
Omos came out first. Then a video recap aired of the set-up for this match. Lashley then made his entrance. He was without MVP and he played to the crowd. Lashley went for a kick right after the bell, but Omos swatted him away. He got in a few blows on Lashley. Lashley's comeback attempt was thwarted right away. He clawed Lashley's face with two hands. Lashley powered the arms off of his face. "Oh my god!" exclaimed Graves. Omos then knocked Lashley down with a forearm to his chest. Lashley got up and slapped him. Omos fired back with Diesel-style elbows in the corner. Lashley avoided a charging Omos and then hit him with a forearm. Lashley rolled to the floor and was nearly counted out. Lashley got up and clotheslined Omos on the ring apron. He leaped off the second rope, but Omos caught him and lifted him onto his shoulders. He lifted and dropped him to the mat.
Omos lifted Lashley into a bearhug and then rammed Lashley in the corner turnbuckles. Lashley faded, but eventually broke free. He landed a running forearm and then managed to suplex Omos. He stood and played to the crowd, pumping his arms. He then speared Omos from behind and then another spear from the front for the clean win.
WINNER: Lashley in 7:00. (*1/4)
(Keller's Analysis: Omos is very limited, but they got the most out of what he can do with a pretty dramatic battle between two powerful opponents. It wasn't obvious to me who they'd give the win to, and this is a big endorsement of Lashley and indicates plans for him in main events for the rest of the year. I'm curious what this portends for Omos going forward.)

-A video package aired on the Sami Zayn-Johnny Knoxville storyline.
(3) SAMI ZAYN vs. JOHNNY KNOXVILLE
Sami came out first. Knoxville came out second, wearing a white cape and full red and white body suit with a cape. Sami charged and nailed him at the bell in the face with a Helluva kick. Sami threw Knoxville around ringside and then taunted his Jackass buddies in the front row. He shoved one of them. Knoxville sprayed Sami with a fire extinguisher. He then pulled a garbage can with crutches in it out from under the ring. Sami recovered and kicked Knoxville and threw him into the ring. Sami limped around on the crutch, then bashed Knoxville with it. Cole cited Fred Sanford "for those of you from the '70s." McAfee said, "Nobody's from the '70s watching this." (That's like 60 percent of WWE's current demographic!) Sami reached under the ring, but pulled his hand out and acted like he was hurt. He pulled up the ring apron and there was a table covered in mouse traps. He told Knoxville he was crazy for putting that under the ring. He set up the table at ringside, the re-entered the ring. Knoxville bashed Sami on his ears with two trash can lids, using them like cymbals.
Knoxville propped a table in the corner and then tried to suplex Sami. Sami blocked it and gave Knoxville an exploder through the table. When Sami charged Knoxville, Knoxville held up an air horn and stopped him. One of Knoxville's crew, "Party Boy,"
entered the ring and shoved Sami while dancing around. He stripped off his shirt and pants. Knoxville said he's seen most of that guys bodyparts than any other man, and he has been in a lot of locker rooms. Sami threw him out of the ring. Knoxville rolled up Sami from behind for a near fall. Sami took Johnny down with a forearm, then stomped away at "Naked Boy" ("Party Boy") at ringside. Another Knoxville crew guy, "We Man," attacked Sami. He's a little person. He bodyslammed Sami. "Are you kidding me?!" exclaimed an excited Cole. Knoxville gave Sami a tornado DDT for a two count. "We Man" pulled a metal stand with an attached lower leg prosthetic. Sami fought off Knoxville, then gave We Man a kick to the head. Fans booed.
Sami climbed to the top rope, but Knoxville set off pyro from the ringpost. Sami fell down in the corner. Knoxville then bowled a bowling ball into Sami's spread legs. "That was a ballsy move by Knoxville!" said Cole. Knoxville then used that contraption to kick Sami between his legs. At ringside, Sami tried to run, but then he walked into a gigantic hand that Knoxville swung into his face. Back in the ring, Sami suplexed Knoxville. Cole said Sami might be done playing games. Sami climbed to the top rope. Knoxville zapped him in the balls area. Cole said he won't be able to have kids after tonight. Knoxville then slammed Sami onto the table full of mouse traps at ringside. The Jackass crew pulled a gigantic human-sized mouse trap out from under the ring and then slid it into the ring. Knoxville zapped Sami again. Sami landed on his back on the mouse trap. Knoxville set off the trap. It didn't work at first when he pulled a string and the string broke, but Knoxville set off the trap manually and it snapped onto Sami's chest. He then scored a three count.
WINNER: Knoxville in 15:00.
(Keller's Analysis: That was rather excruciating, but that was the point. I can't believe the mouse trap prop broke when Knoxville tried to trigger it. Of all things to go wrong. The crowd seemed to eat it up, I think. If you haven't watched the "Jackass" movies, this likely felt like unwelcome sideshow of slapstick zaniness. But Knoxville played his part well and Sami was a delightful foil and spot on with his tone and mannerisms throughout. One might call it stupid fun.) [c]

(4) CARMELLA & QUEEN ZELINA vs. NAOMI & SASHA BANKS vs. LIV MORGAN & RHEA RIPLEY – Women's Tag Team Title match
This played out as you'd expect with everyone taking turns in the ring for brief flurries and hig spots. Sasha did a moonsault press off the second rope not Ripley at ringside. The landing was pretty rough. Sasha then tagged in officially. They set up dual tower of doom spots out of each corner. Everyone was down and slow to get up. Natalya went for a Hart Attack finisher on Naoi,m but Zelina at ringside yanked Natalya by her legs to stop her mid-stride. Carmella then superkicked Naomi for a near fall. They cut to Graves reacting with dismay. Sasha landed a frog splash on Carmella a minute later for a convincing near fall. She applied a Bank Statement. Zelina yanked Carmella to safety at ringside. Sasha landed a Meteora on Zelina at ringside. Back in the ring, Naomi tagged in and kicked Carmella in the head. Naomi and Sasha executed a double-team finisher for the win.
WINNERS: Sasha & Naomi in 11:00 to capture the Women's Tag Team Titles. (*3/4) [c]
-They showed Dallas Cowboys players Micah Parsons and Ezekiel Elliot at ringside.
-A video package aired on the build for A.J. Styles vs. Edge.
(5) A.J. STYLES vs. EDGE
Styles came out bleeding from his right cheek. What the heck? Graves said they're try to get more information on what happened to his face before the match. Was it caused by the pyro? A few minutes in, Styles ran the ring apron and nailed Edge on the chin with his knee. He then rammed Edge into the ringside steps. When Styles went for a springboard 450 splash, Edge lifted his knees. Edge controlled the action for a few minutes of methodical action. Graves called them two of the greatest era-defining Superstars ever. Styles slid at Edge in the corner, but Edge moved and Styles crashed into the corner. Edge went for a suplex, but Styles blocked it and suplexed Edge into the turnbuckles. Both were slow to get up. Edge gave Styles a shoulder-breaker. Styles went for a Pelé, but Edge moved. Styles set up a Styles Clash, but Edge blocked it and then applied an STF. Styles put his boot over the bottom rope to force a break. Styles caught Edge with a DDT a minute later, but both were down and slow to get up. Styles scored a near fall on a torture rack into a released powerbomb.
They eventually stood and exchanged strikes. Styles landed a Pelé kick into a Calf Crusher. Edge countered with a LeBell Lock. Edge dropped Styles across the top rope and then turned and powerbombed him to the mat for a near fall. Edge climbed to the top rope, but Styles knocked him off balance. Styles suplexed Edge off the top rope onto the ring apron. Both tumbled all the way to the floor. The ref began counting. Styles landed a 450 splash onto the back of Edge a minute later and scored a two count. Styles signaled for a Phenomenal Forearm, then went for it, but Edge ducked. Edge went for a spear, but Styles leapfrogged him. Styles then gave Edge a Styles Clash for a near fall. Styles signaled for a Phenomenal Forearm, but Damien Priest suddenly was standing at ringside. Styles was briefly DISTRACTED. Then when he springboarded at Edge, Edge speared him out of mid-air and got the three count.
WINNER: Edge in 24:00. (***1/4)
(Keller's Analysis: I think some are going to think I'm underrating this by a lot, but it just never really felt like it left second gear. It came across as needlessly long at 24 minutes, an attempt to have an epic match without the juice to justify it. For long stretches it was methodical and laborious and just not that exciting.)
-After the match, Priest entered the ring and approached Edge. Edge looked leery briefly, but then broke into a smile. They stood side-by-side and raised their arms. "What sort of unholy union is this?" asked Graves.
(6) SHEAMUS & RIDGE HOLLAND (w/Butch) vs. NEW DAY (Kofi Kingston & Xavier Woods)
They brawled before the bell. Kofi hit a Trouble in Paradise at the bell and made the cover on Holland. Sheamus yanked Kofi out of the ring. Xavier swing kicked Sheamus and Butch. Kofi officially tagged Woods in. Woods dropped his straps and flexed, then charged at Holland with a sitting DDT. Kofi leaped off the ringside steps at Sheamus, but Sheamus kicked him out of mid-air. Xavier kicked Holland in the ring, but as the Butch distracted the ref, Sheamus snuck in and gave Xavier a Brogue Kick. Holland then gave Xavier his Northern Grit finisher for the win.
WINNERS: Holland & Sheamus in 2:00.
(Keller's Analysis: There wasn't a lot to that, and that certainly seemed like something they could have wedged into last night's show.)
-Afterward, Butch attacked Xavier. "What is wrong with this guy?" asked Cole. Saxton said Butch is out of his mind. [c]
-Sxaton thanked The Weeknd for "Sacrifice," an official theme of WrestleMania this year.
-They went to Cole and Saxton at ringside.
-Rome introduced the 2022 Hall of Fame class. Undertaker walked out again and received cheers for quite a while. [c]
---
Check out my first PWTorch YouTube video proposing a completely different WrestleMania 38 line-up using the same WWE roster. Also, check out other new shows on our channel including the weekly "Fireside Chat" with Zack Heydorn and Tyler Sage and our new PWTorch Daily Newswire with all the latest breaking stories and rumors. SUBSCRIBE
---
-A video package aired on the built to Pat McAfee vs. Austin Theory.
(7) AUSTIN THEORY vs. PAT MCAFEE
Vince McMahon's music played and he swaggered to the ring. He introduced Theory. Cole said he's the man who "created sports entertainment." Theory's ring entrance includes augmented reality images of the selfies he has taken floating above the entrance ramp. Theory took a selfie of himself with Vince in the ring. Vince was into it. Then McAfee made his entrance, accompanied by Dallas Cowboys Cheerleaders. He came out to "Seven Nation Army" by The White Stripes. Cole said McAfee was pumped and living his dream. McAfee punted a football deep into the crowd.
McAfee got in a few spirited punches at the start, but Theory took over shortly thereafter. He whipped McAFee across the ring, but McAfee avoided a charging Theory and then landed a flying elbow. He played to the crowd and then took Theory down with a huracanrana for a two count. They cut to McMahon reactions at ringside. Cole was cheerleading McAfee. Theory recovered and gave McAfee a backbreaker. He mounted him and punched away at him. He looked down at McMahon before suplexing McAfee. He jogged around the ring and flexed. McMahon smiled and nodded. Cole said McAfee is beginning to understand this is reality and it's difficult. McAfee reversed a Theory suplex attempt. Theory rolled to the ring apron and sold the suplex more than any suplex has been sold in years. McAfee knocked Theory off the ring apron into the announce desk near McMahon. McAfee put on his headset and began calling his own match. He mentioned his parents and said they're watching him beat up a douche bag. He slammed Theory's head into the desk a few times, then threw him back into the ring. They showed McMahon looking displeased.
McAfee climbed to the top rope. Cole said he's one of his best friends in the world, but he's off his knocker. McAfee leaped off the top rope with a Swanton attmept. Theory moved. McMahon smiled. Theory gave McAfee a released back suplex for a two count. McAfee knocked Theory off the top rope and set up a superplex. Theory blocked it and shoved McAfee. McAfee landed on his feet after flipping over. McAfee then leaped to the top rope and superplexed Theory. That was impressive. The crowd popped; some were on their feet, jumping up and down. Theory draped his arm over Theory's chest for a two count. Saxton said he thought McAfee was going to win.
McAfee stood and let out a big yell as he waited for Theory to stand. He went for a punt kick, but Theory avoided it and then swept McAfee to the mat. He looked down at McMahon and nodded encouragement. Theory trash-talked McAfee, but McAfee slapped him. Theory punched him and then set up the ATL, but McAfee slipped free and rolled up Theory for the three count. A breathless Cole said he couldn't believe it. The crowd went bonkers.
WINNER: McAfee in 10:00.
-As McAfee celebrated, McMahon walked over to Theory and expressed disappointment to him. He scolded him. McAfee taunted McMahon. Cole told him to be careful. McMahon teased taking off his jacket, but then smiled and began to walk away. McMahon then did take off his jacket and removed his tie. He unbuttoned his sleeves. McAfee waved him into the ring. Then he yanked off his shirt and he had a black sleeveless shirt underneath. He crowd popped. He entered the ring. Cole asked, "Why in the hell is there an official in the ring?" McMahon stared down McAfee. Theory then attacked McAfee from behind. McMahon strutted. The ref called for a bell.
(8) VINCE MCMAHON vs. PAT MCAFEE
McMahon clotheslined McAfee as he charged at him. McAfee took a hard bump. McMahon threw McAfee into the corner turnbuckle. Cole said McMahon was jacked. He told Saxton he looked better than him. Saxton didn't disagree. McMahon threw another clothesline. They were awful looking. Fans chanted, "You still got it!" McMahon threw McAfee into the turnbuckle again. Then he wiped his hands. Theory was smiling at ringside. McAfee stood and turned to look at McMahon and pointed at him. McMahon gulped. Theory tripped McAfee from behind and yanked his legs so he crotched the ringpost. McMahon smiled and strutted some more. McMahon taunted McAfee with soft Orange Cassidy-style kicks. McAfee brought a football to McMahon. McMahon pretended he was going to punt the football, but stopped. That could've been hilarious. He then kicked the football into the ribs of McMahon and covered him. The ref counted to three.
WINNER: McMahon in 4:00.
(Keller's Analysis: Well, then. Was McMahon inspired by Steve Austin's performance last night? McAfee did what he could to make that passable action, but nobody was holding McMahon to usual standards, of course. McMahon hammed it up.)
-McMahon encouraged Theory to celebrate. Theory went to each of the corners and stood on the second rope and saluted the booing fans. Theory asked for a hug. McMahon extended his arms and hugged him. Cole said it was one of the most despicable things he's ever witnessed. McMahon then raised Theory's arms. Suddenly the glass broke and out came "Stone Cold" Steve Austin. The crowd went absolutely bonkers. Cole could barely speak. Saxton said it's 1999 all over again. Austin entered and got in McMahon's face. McMahon looked around and then had a few words for Austin. Theory went after Austin, but Austin gave him a Stunner. Theory took a six foot high bump off the stunner. Austin then eyed McMahon. "Come on, Mr. McMahon! Flex your muscles now," said Cole.
McMahon looked nervous and tried to talk Austin out of doing anything to him. He called for a beer. Austin caught two cans. He handed McMahon one. Cole wondered if they'd let bygones be bygones after all these years. McMahon opened his can and took a sip. He smiled. Austin smiled and laughed. McMahon asked for a toast. They toasted and swigged beer. Austin went for a Stunner, but McMahon bumped early and dropped to his knees too soon. Then he staggered backwards and into the ropes. Austin then grabbed him again and hit the Stunner as McMahon fell backwards. That was hilariously awful, but totally on brand for McMahon. Austin celebrated and reacted to how awful Vince's bump was, then stomped McMahon a few times until McMahon fell out of the ring. Austin invited McAfee into the ring. They drank beers together as Austin's music played again. Cole said McAfee has wanted to drink beers with McAfee his whole life. Austin then gave McAfee a stunner. Austin laughed and seemed to be having the time of his life as he saluted the crowd from the corners. They cut to McAfee on his back and he poured beer into his mouth to try to revive himself. Austin made his way to the stage, saluted the fans again, and then returned to the back.
(Keller's Analysis: That whole thing was a ton of fun. I'm not sure how prudent it was for McMahon to be doing anything physical. He is so athletically inept, it makes his character more charming overall. Austin appeared to be having the time of his life. I just glad Austin's finisher isn't the Styles Clash. Yikes.) [c]
-A video package aired on the Brock Lesnar-Roman Reigns feud.
(9) ROMAN REIGNS (w/Paul Heyman) vs. BROCK LESNAR
Reigns made his entrance first with Heyman. Then Lesnar came out. The ring announcer Mike Rome introduced it as the biggest WrestleMania main event of all time. Heyman took the mic from him and introduced Reigns. Lesnar smiled and laughed. As Rome began introducing Lesnar, Lesnar yanked the mic away and introduced himself with vigor. Cole said, "This is the biggest fight feel!" Graves joined Cole on the call of this Raw vs. Smackdown match. The bell rang 32 minutes into the fourth hour. Lesnar laughed. Reigns looked stern and serious. Lesnar removed his gloves and threw them out of the ring. "Bare knuckle time," said Cole. Cole said Brock looked looser than Reigns. Lesnar took early control. He lifted Reigns and drove him hard into the corner. Lesnar clotheslined Reigns over the top rope to the floor. Lesnar then walked over toward Heyman. Heyman yelled, "Oh my God! Wait a second! Wait a second! I love you! I love you! Please take me back. It was all Roman's idea. It was never my idea. I love you!" Reigns then speared Lesnar through the ringside barricade. Reigns returned to the ring, favoring his left arm. Lesnar was gasping for breath and struggling to stand as the ref reached a count of five. Lesnar made it back at nine.
When Lesnar stood, Reigns speared him for a near fall. Reigns waited for Lesnar to stand, then connected with a Superman Punch. Reigns hit a second Superman Punch, then verbally boasted about being the greatest of all time. Lesnar stood, but was actually smiling. He grabbed a charging Reigns and gave him a German suplex. And another. Reigns gasped and tried to leave the ring, but Lesnar gave him a third and fourth and fifth German suplex at 6:00. Cole said Lesnar seems to be getting stronger. Graves said he's just getting warmed up. Reigns slipped out of an F5 attempt and shoved Lesnar into the turnbuckles. Then he dropped Lesnar with another Superman Punch. Reigns set up for a Spear. He let out the yell. As he charged, Lesnar picked up him and delivered an F5. Graves said, "That's gotta do it!" Reigns kicked out. They cut to a reaction shot of the crowd.
Lesnar lifted Reigns for another F5, but Reigns raked his eyes. Reigns then speared Lesnar into the ref in the corner, the hit a low-blow. Heyman handed Reigns the Universal Title belt. He hit Lesnar in the skull with it for a near fall. Reigns yelled to the crowd that he's the best and number one. He then looked over at Lesnar who was still on the mat, suffering from the low blow and belt shot. Reigns leaped onto Brock's back and tried to drive him into the mat. It looked weird. Graves said it might've been an attempted spear to the back like Lashley did earlier. Reigns then speared Lesnar, but Lesnar countered immediately with Kimura lock. Reigns yelled in agony and reached for the bottom rope. He eventually grabbed the rope. Lesnar released the hold. Heyman gave Reigns his best pep talk. "My Tribal Chief, this is your moment," he said with a tone of desperation. Reigns said his arm was out of socket. Reigns caught Lesnar with another sudden spear for the three count. Cole said he was in absolute shock over the sudden way Reigns just beat Lesnar. Lesnar remained on his back as Reigns celebrated.
They replayed Reigns reaching the bottom rope to break the Kimura lock, and they noted that Heyman pushed the rope toward Reigns's hand. Cole said he didn't see that the first time. As Heyman presented Reigns with both belts, Lesnar sat up and looked at Reigns as he raised both belts above his head. Fans booed as the event ended.
WINNER: Reigns in 13:00 to retain the Universal Title and win the WWE Title. (****)
(Keller's Analysis: That finish did seem to come out nowhere. It was a dramatic match that had an epic feel. It didn't amount to an all-time classic, but the story it told was done really effectively and felt like a really big deal every minute of the way. Heyman was tremendous in his role, too. Will the story be Lesnar was just too happy-to-lucky and it made him a little soft.)