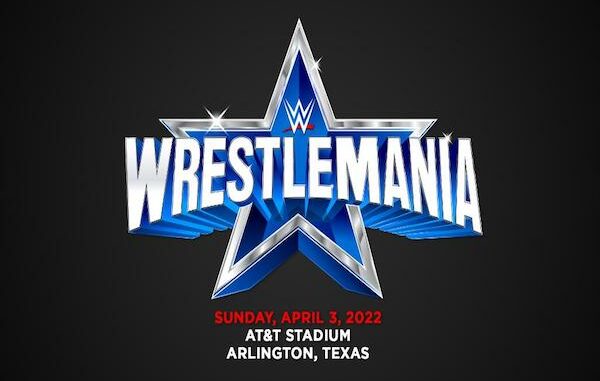 ---
SPOTLIGHTED PODCAST ALERT (YOUR ARTICLE BEGINS A FEW INCHES DOWN)...
---
LECLAIR'S WWE WRESTLEMANIA 38 (NIGHT 2) REPORT
APRIL 3, 2022
ARLINGTON, TX AT AT&T STADIUM
AIRED LIVE ON PEACOCK (U.S.), WWE NETWORK (Int.)
Announcers: Michael Cole & Pat McAfee (Smackdown), Jimmy Smith & Corey Graves & Byron Saxton (Raw)
-The show opened cold on a wide stadium shot from the balcony, pointed toward the entrance. Mike Rome welcomed Jessie James Decker to sing "America the Beautiful."
-WWE aired a video package containing major highlights from Night 1. The recap video faded into another introduction from Mark Wahlberg, talking about running it back. They tframed Night 2 as the "sequel" that could potentially outdo the original.
-Jimmy Smith welcomed the audience to night 2 over a sweeping wide shot from the upper deck. He said there's over 70,000 in attendance still recovering from a "stupendous" night 1.
-"Time to play the game…" rang out and the crowd popped big. Triple H emerged from the back, water bottle in hand. Corey Graves said that Triple H has walked the WrestleMania ramp countless times, and there couldn't be a more fitting way to kick off the show. Triple H embraced his three daughters at ringside, took a sip of his water, and hopped onto the apron for his signature pose.He worked the crowd with every motion, and they bought in completely.
Hunter grabbed a microphone and a pair of wrestling boots as his music faded out. He looked around at the crowd. A "thank you Hunter" crowd broke out. H put his boots down in the center of the ring. "I just wanted to come out here to say 'thank you'," Triple H said. He said he wanted to show his love in the best way he knows how. He welcomed the fans to WrestleMania. Pyro shot all the way up the ramp and from the stage. Triple H left the ring. The camera focused in on Hunter's boots in the ring as he left ringside.
-Mike Rome introduced Gable Steveson, who was seated in the front row.
-RK-Bro's music hit and the Raw Tag Team Champions entered. Orton and Riddle shared a fist bump on their way to the ring. At the announcers desk, Jimmy Smith & Corey Graves & Byron Saxton set the stage and talked up the history between the three teams in the match. The Street Profits entered next. Jimmy Smith said they've got a bit of an edge lately. Graves and Saxton talked about them creating their own opportunity to have a WrestleMania moment. Alpha Academy entered last, kicking Solo cups from the ramp as the approached. Jimmy Smith tossed to some quick clips of the match coming together.
(1) RK-BRO (c, Randy Orton & Riddle) vs. THE STREET PROFITS (Montez Ford & Angelo Dawkins) vs. ALPHA ACADEMY (Chad Gable & Otis) – Raw Tag Team Championship match
Montez Ford, Riddle, and Chad Gable began the match. Gable told his opponents to "shoosh." Riddle kicked him in the head. Ford rolled Riddle up for a quick one count. Ford dropped Riddle with a clothesline, but immediately took a German Suplex from Gable. The action got chaotic quickly, with guys throwing each other to the outside in rapid succession. All six competitors re-entered the ring at the same time and a brawl ensued.
Chad Gable was left alone in the ring with Montez Ford. He leapt clear over Gable and took out everyone else in the match on the outside. Gable climbed the top rope and hit a moonsault to the outside on everyone. A pile of bodies were left spread out near the announcers desk. Gable and Riddle stood first, returning to the ring. Otis tagged himself in. He gave Riddle a clothesline into a snap German Suplex from Gable.
Otis huffed and puffed, taunting the crowd. He gave Riddle a pair of short-arm clotheslines, then a big standing splash. He slapped Riddle in the face. Graves said he's savoring the moment. Saxton said it could be a mistake. The crowd started getting antsy for Randy Orton. Riddle tried to reach him, but Otis kept cutting him off. He dragged him to the corner and tagged in Gable. Chad hit a bridging Northern Lights Suplex for a two count. Gable began working over the left leg of Riddle. Montez Ford returned to deliver a big dropkick to Gable. Chad recovered and worked Ford to the corner, connecting with a great looking monkey flip. Ford did a complete rotation and landed on his stomach. Ford managed to reach Angelo Dawkins for a tag.
Dawkins delivered Capture Suplexes to both Gable and Riddle. He covered Riddle, but Otis hopped in the ring and splashed both men to break the cover. Gable recovered and applied the Ankle Lock to Riddle. Riddle managed to spin around and catch Gable with a knee to the face. Riddle hit a Bro-2-Sleep on Dawkins, then reached Randy Orton for a tag. The crowd came alive. Dawkins tagged in Montez Ford. Ford fed the hot tag, eating several quick clotheslines from Randy. Orton set up for the draping DDT, but Ford fought free and slipped to the outside. Orton followed. He backdropped Ford on the announcers desk, then did the same to Chad Gable.
Orton returned to the ring, joined by Riddle. They grabbed both Street Profits and draped them on the ropes for tandem draping DDTs. They pounded the mat simultaneously, but Alpha Academy pulled them to the outside as the match passed 8:30. Otis hoisted Ford into an Electric Chair position. Gable came off the top rope with a bulldog. They covered for a two count. Gable dragged Ford into position for Otis. Otis looked for a splash, but RK-Bro returned to break things up. Gable tried to give Ford another Monkey Flip, but Ford rolled through it. Dawkins hoisted Gable into the Electric Chair. Ford leapt to the top rope and hit a Blockbuster. He covered for a believable near fall.
The crowd chanted "this is awesome" as Riddle and Dawkins pulled themselves up in the ring. Riddle kicked Otis off the apron. Dawkins got spun around for an RKO, but he blocked it. He hit Orton with a Spinebuster. Dawkins tagged in Ford. Angelo dove over the top rope onto bodies on the outside. Ford climbed to the top rope for a splash on Orton, but Riddle appeared out of nowhere and hit a springboard RKO off the top rope. Ford immediately rolled out of the ring to save himself. Chad Gable climbed the opposing turnbuckle. He leaped into an out-of-the-air RKO from Randy Orton for a cover and three count.
WINNERS: RK-Bro in 11:32 to retain the Raw Tag Team Championship
After the match, the Street Profits returned to the ring to hand RK-Bro some Solo cups. They poured some drink from their own cups. Orton and Riddle prepared to take sips, but the Street Profits stopped them to invite Gable Steveson into the ring. They poured some for him as well. The five men prepared to toast, but Chad Gable stepped in front of them all and knocked the cup out of Steveson's hand. Steveson took his shirt off and the Profits and RK-Bro left the ring.
Gable got a mic and told Steveson to "shoosh." Steveson gave Gable a great looking overhead belly-to-belly.
(LeClair's Analysis: Good, chaotic and fun opener. I quickly lost track of the legal man in the match, but they're usually pretty good about handling the rapid tags. Everyone here works incredibly well together. The crowd continues to go nuts for Randy Orton in this role. Some cool RKO spots to bring on the finish, with some great back and forth tag fodder throughout. This wasn't all that different from your standard multi-team WWE match, but it was the right length featuring over acts in the proper spot on the card. I thought they'd try to do a little bit more with the Street Profits and their new "edgy" attitudes tonight, but it appears they may be saving that for another night in favor of getting the moment with Steveson tonight. It worked. The crowd popped for Steveson before the match, and seemed to really enjoy his involvement here. They certainly have a potential star on their hands.)
-After a break, Omos headed to the ring. Smith talked about his handicap win over the Viking Raiders, then tossed to a clip of how the match with Bobby Lashley came together. Bobby Lashley got a new, extended intro with him standing on a podium on the stage. The camera filmed him from a low angle and moved up as he posed. Omos looked on menacingly. Graves said Lashley is no mortal man. Smith ran through a list of the opponents Omos has beat so far.
(2) OMOS vs. BOBBY LASHLEY
Bobby Lashley and Omos circled each other to begin the match. Omos delivered a quick clubbing blow, dropping Lashley. "Get up!" he yelled. Omos dropped Lashley again. He went for a clothesline, Lashley ducked him and delivered a kick to the gut. Bobby tried to suplex Omos, but the big man blocked him. Omos grabbed Lashley by the head and clubbed him across the chest. Lashley shrugged it off and stood up, slapping Omos in the face.
Omos delivered a big boot and drove Bobby into the corner. He hit a running elbow, then prepared for a second. Lashley moved and Omos awkwardly tripped into the corner. Bobby clubbed at Omos' back. He set up for the Hurt Lock, but couldn't clasp his hands. Omos pulled his hands far apart and broke free with ease. He gave Bobby another clothesline. Omos grabbed Lashley by the face and shoved him over the top rope to the floor.
Lashley leapt back onto the apron to stand face to face with Omos. He climbed the ropes and jumped right into Omos' waiting arms. Omos gave Lashley an awkward looking military press. Bobby struggled to his feet, but delivered a quick elbow. He leapt at Omos again, getting caught in a bear-hug. A small "Bobby" chant followed. Omos drove Lashley into the corner at a dangerously high angle, causing Bobby's head to whip back violently and hit the ring post. Lashley seemed to shake it off. He tried for another suplex on Omos, this time succeeding. Omos stood up, dazed. Lashley gave him a spear to the back and kidneys. Omos dragged himself to his feet. Lashley speared him again, then covered him for three.
WINNER: Bobby Lashley in 6:33
(LeClair's Analysis: This wasn't good. Omos struggled from the get-go, unable to do much of anything outside of basic clotheslines and knockdowns. Lashley did his best to create movement, but Omos is too clunky and awkward to really accomplish any major spots. The crux of the match was built around Lashley being able to suplex Omos, rather than simply get him off his feet. He finally succeeded, and that led to the double spear to end it. Lashley's head bouncing off the ring post was a scary scene, but he appeared to be just fine. Putting Lashley over strong here was the right move. Over a year into the Omos experiment, we've seen next to no improvement or indication that he can be anymore than he is right now. They don't have time to wait forever for this guy.)
-After a promo break, Michael Cole and Pat McAfee took the desk for the first time tonight. Cole said McAfee will become the only the third person to commentate on the same WrestleMania they compete on. McAfee said first, he wants to see what happens with Johnny Knoxville and Sami Zayn. Cole tossed to a video package hyping their match.
Sami Zayn's music hit and he stomped and danced his way to the ring. Cole said he thinks Johnny Knoxville is in Sami's head. "And is phone," McAfee astutely added. The crowd booed Sami Zayn loudly. McAfee said you should never get into a prank war with someone much more wealthy than you. Johnny Knoxville entered in his superhero get up. Samantha Irvin said he's "two cheeseburgers away from 175."
(3) SAMI ZAYN vs. JOHNNY KNOXVILLE – "Anything Goes" match
Sami Zayn dropped Johnny Knoxville with a Heluva Kick as soon as the bell rang. Instead of covering, he booted Knoxville to the outside. He tossed Johnny into the barricade, right in front of Knoxville's fellow Jackass cast members. Sami argued with the Jackass cast. When he turned around, Knoxville unloaded a fire extinguisher in his face. Sami stumbled into the announcers desk. Knoxville retrieved a trash can loaded with weapons from underneath the ring.
Zayn cut Johnny off with a kick to the stomach. He emptied the trash can and found a cookie sheet, bending it over Knoxville's back. Sami grabbed a crutch and feigned an injury before slamming it into Knoxville. Johnny retreated to the corner. Sami threw a trashcan at him. Zayn covered for a two count. McAfee said he thinks he's seen Johnny Knoxville die four times on television. Sami retrieved a table.  He went for another weapon, but recoiled quickly, shaking his hand in pain. He pulled back the apron to reveal a table covered in mouse traps. Zayn smiled, asking Knoxville if he was responsible. Zayn set up the table at ringside and returned to the ring. Johnny calpped two trashcan lids over his head.
Knoxville cracked a stop sign over Sami's back as the match hit 4:30. He propped a table in the corner and tried to suplex Sami through it. Zayn blocked it, spun him around and gave Knoxville an Exploder through the table. Zayn covered for a near fall. Knoxville retreated to the corner while Zayn set up for another Heluva Kick. Zayn charged, but Knoxville blew an air horn in Sami's face. Zayn stumbled back, covering his ears. Pontius "Party Boy" entered the ring, taunting Zayn. He ripped his shirt and pants off. He rubbed his mostly naked body on Sami. Zayn snapped, shoving Pontius to the mat and stomping away at him. He tossed him outside.
Johnny rolled up Sami off the distraction for a near fall. Zayn left the ring to kick Pontius under the apron. He went to retrieve another weapon, but Wee-Man poked him in the eye. Sami ran back in the ring. Wee-Man kicked him in the shin, then gave Zayn a body slam. The crowd popped big. Johnny Knoxvile hit a tornado DDT off the middle rope for a near fall. Wee-Man brought a prosthetic leg contraction into the ring. Sami fought Knoxville off. Sami gave Wee-Man a Heluva Kick, eliciting massive boos. Zayn mounted Knoxville and punched him repeatedly. He climbed to the top rope. Zayn prepared to jump, but Knoxville held up a remote. He pressed a button and fireworks came up from the ringpost behind Sami, causing him to fall. Knoxville pulled out a bowling ball and rolled it into Zayn's crotch. Knoxville used the prosthetic leg with a lever to kick Zayn in the groin.
Knoxville grabbed a shock device. Sami left the ring, but rang into the massive hand clapper from Jackass. Sami pulled himself back in the ring. He managed to give Johnny a big suplex. Zayn checked the ring post for more pyro, then climbed to the top rope. Knoxville grabbed Sami's crotch with a pair of tongs, then flipped him out of the ring and through the mouse trap table on the outside. The entire Jackass crew appeared to pull a human-sized mouse trap from under the ring. They delivered Sami to Knoxville. Johnny tasered Zayn, then positioned him in the mouse trap. He set it off, trapping Zayn. Knoxville hooked both legs for a three count.
WINNER: Johnny Knoxville in 14:26
Zayn remained stuck in the mouse trap. The Jackass crew danced and celebrated around him.
(LeClair's Analysis: This wasn't particularly good, but Sami Zayn's commitment and dedication, coupled with the crowd's interest, kept it tolerable. Michael Cole and Pat McAfee seemed to get a huge kick out of it, too, more so than other ridiculous gimmick matches. This was on the higher end of what I suppose we could have reasonably suspected. It's certainly not something I usually like in my pro wrestling, but I enjoy seeing Sami Zayn get a big spot at WrestleMania, earning a bunch of heat and just generally enjoying the shenanigans. Zayn and Knoxville really did a commendable job promoting this thing on social media, and it seemed to pay off with the crowd, who were invested and firmly behind Knoxville. This could've gone in an entirely different direction, so credit to Zayn for being the annoying foil.)
-After a break, a camera backstage zoomed in on the door of Brock Lesnar's locker room. Jimmy Smith hyped the main event and said they're just getting warmed up. Graves said the biggest WrestleMania match of all time is rapidly approaching. Over a wide shot of the stadium, Mike Rome introduced the 4-way tag team match for the Women's tag titles.
Noami entered first, followed by Sasha Banks driving lime green convertible. Naomi hopped in the passenger seat as Banks drove to the middle of the stage. Liv Morgan entered next, wearing Cat-Woman inspired gear. Rhea Ripley followed, matching her. Shayna Baszler and Natalya came next. The champions followed. The camera cut to Corey Graves, gushing about Carmella's entrance. He called her his blushing bride and said there would be a celebration unlike the world has ever seen following WrestleMania.
(4) SASHA BANKS & NAOMI vs. LIV MORGAN & RHEA RIPLEY vs. SHAYNA BASZLER & NATALYA vs. CARMELLA & QUEEN ZELINA (c) – WWE Women's Tag Team Championship match
Rhea Ripley began the match with Queen Zelina. Byron Saxton explained why the match doesn't favor the champions. Zelina tagged Carmella in before the action began. Carmella tagged in Sasha Banks. Banks and Ripley came face to face. Ripley asked for a test of strength. Banks jumped to grab her hand. Ripley took Banks to the mat with ease for a quick power cover. Banks kicked out at one and leapt to her feet. Ripley tried to set up Sasha for the Riptide, but Banks slid out. She went for the Back-Stabber, but Ripley shook her off.
Ripley tagged in Liv Morgan. Zelina and Carmella pulled Ripley to the outside. Natalya and Baszler pulled Naomi. Morgan and Banks completed stereo dives to the outside to save their respective partners, then met back up in the ring. After a quick tussle, Morgan hit Oblivion on Banks, but didn't realize Natalya had tagged her out. Baszler dropped Morgan and covered her, but the champions slid in the ring to break it up. Shayna worked over the leg of Morgan, stomping on her ankle. Baszler torqued the leg of Morgan, who screamed in agony. Liv tried to leap to her partner, eventually catching Baszler with an enziguri. Carmella tagged herself in on Baszler. She and Shayna argued. The tag champions began isolating Liv.
Queen Zelina taunted the crowd as the match hit 5:10. She hit Morgan with Code Red and covered, but Ripley broke it up and dumped Zelina on the top rope. Each woman began entering the ring for quick spots. Ripley was left in the ring with Carmella. Ripley went for a powerbomb off the top, but Carmella countered into a hurricanrana. Banks and Naomi double-teamed Liv Morgan. They went to opposing corners, but the heels knocked them down. Natalya and Carmella set up a superplex on Sasha Banks. Shayna Baszler and Queen Zelina set up a superplex on Naomi. Liv Morgan and Rhea Ripley delivered tandem powerbombs to each respective stack, leaving all eight women in the match down in the ring.
Naomi rolled up Morgan for a two count. Morgan tagged in Ripley. Rhea gave Naomi a headbutt, then set up for the Riptide. She tossed her right into double knees from Morgan. Banks broke up the pin attempt. Natalya tossed Ripley into the ring post. Baszler tagged herself in and pinned Naomi for a two count. Liv Morgan burst back into frame with a flurry on Baszler. She stifled it. Natalya tagged in. She and Baszler went for a Heart Attack, but Carmella tagged herself in. Zelina pulled Natalya to the outside. Naomi rolled up Carmella, but Carmella pushed her into a knee from Zelina. Carmella kicked Naomi in the face and covered for a near fall.
Carmella covered Naomi again, this time barely getting a two count. Naomi retreated to the corner. Naomi caught her with a kick and tagged in Banks. Sasha hit a frog splash off the top and hooked both legs, but Carmella kicked out. Banks locked in the Bank Statement. Carmella looked ready to tap, but Queen Zelina pulled her out of the ring. Banks climbed to the apron and hit Zelina with a Meteora to the outside. Carmella tossed her into the steps, then back in the ring. Naomi brought Carmella up into wheelbarrow position. Banks hit the ropes and delivered a Codebreaker as Naomi sat out. Banks covered Carmella for three.
WINNERS: Sasha Banks & Naomi in 10:50 to win the WWE Women's Tag Team Championship
(LeClair's Analysis: Fast and furious action with a somewhat expected outcome. Banks and Naomi seemed primed for a title win, being the biggest pair of names in the match and WWE's propensity for switching the women's tag titles on a fairly regular basis. The match was better than I think I expected, which isn't to say it was excellent, though it was perfectly serviceable. Like the opener for the men's titles, this relied on quick tags and multi-person chaos to maintain constant movement and commotion during it's near eleven minute run time. Banks and Naomi stood out the most, but Rhea Ripley got some good moments as well. Liv Morgan shined as the face in peril and did a nice job selling, especially for Shayna Baszler.)
-After a break, the Raw announcers drew attention to Ezekiel Elliott and Micah Parsons of the Dallas Cowboys, both seated at ringside. Smith talked up Edge vs. A.J. Styles and threw to its video package.
A.J. Styles entered first to a big reaction. He had a fresh cut on the side of his face. Blood started dripping down his cheek as he descended the ramp. He wiped it with a glove and Corey Graves said this could be a preview of what's to come. Styles paced the ring confidently as the lights shut off. Fire engulfed the stage and Edge's new, dark music played. He was raised up from underneath the stage, seated on a throne. Edge held his arms out as more flames shot up. Edge had a new a new, buttoned entrance coat. The crowd seemed subdued. Saxton and Graves talked about Edge's transformation. Smith said they've yet to see the transformation in the ring.
(5) A.J. STYLES vs. EDGE
The crowd popped for the start of the match. A.J. Styles pounced quickly, but Edge ducked through the ropes to force the referee to hold A.J. back. He obliged, reluctantly. Edge and Styles locked up. Edge worked him into the corner, then broke the hold and smiled. A.J. gave Edge a quick kick to the quad, feeling him out. They locked up again. Edge grabbed a side headlock. Styles broke free and the two hit the ropes. A.J stopped the run with a dropkick, then a quick arm drag. Edge pulled himself up by the ropes. A dueling chant began. Edge and Styles circled each other. Styles grabbed a headlock.
Styles rolled through a clothesline attempt. Edge missed a big boot. Styles went for the Styles Clash, but Edge kicked him away. He charged for a spear, but Styles jumped over him. Edge slowed up just before colliding with the turnbuckle. Graves said both men are cautious, not wanting to make the first mistake. Styles slid out of the ring. Edge followed, Styles slid back in. Styles wound up on the apron. He jumped a clothesline attempt, then kneed Edge in the jaw. Edge fell backward into the steel steps. A.J. tossed him back in the ring and set up on the apron. Styles went for a springboard 450 splash, but Edge got his knees up. Styles clutched his ribs and screamed. Edge shook out his knee.
Edge kicked A.J. into the corner as the match crossed 5:00. He whipped A.J. and chased him down for two knees to the gut. Edge held his arms out to a chorus of boos. He kicked Styles in the ribs. Edge whipped Styles toward the corner and A.J. collapsed. Edge pinned him, but Styles grabbed the bottom rope right away. Styles chopped Edge. He went for a hip toss, but Edge blocked it and moved into an abdominal stretch. He'd briefly break the hold repeatedly to club at Styles' ribs. Styles elbowed Edge's knee and fought out with a hip toss. A.J. gave Edge a dragon screw to create separation. Edge caught A.J. with a tilt-a-whirl shoulder breaker. Styles retreated to the corner, where Edge stomped him. Styles slumped to the mat. Edge drove his knee into A.J.'s ribs.
Styles swung wildly, connecting with Edge and knocking him down. Styles adjusted his shoulder, appearing to pop it back into place. A.J. charged at Edge, but Edge side stepped him. Styles crashed hard face first into the middle turnbuckle. It shook the ring. Edge went for a suplex, but Styles blocked it and hit one of his own, dumping Edge into the turnbuckles. Styles held his left arm close to his body as he dragged himself up. He mounted Edge and punched him repeatedly. Styles fired a shot with his left hand, but immediately withdrew it in pain. Styles shook it off. Edge twisted the left arm and drove both knees into it. Edge stretched Styles' arms deep behind him as the match approached 12:30. Styles fought free and went for a Pale Kick. Edge moved and went for a Crossface. Styles fought free and went for the Styles Clash. Edge slid out of and delivered a drop toe hold, transitioning immediately into the Cross Face. Styles reached the bottom rope quickly.
The camera pulled back to show the full stadium as Styles and Edge struggled to their feet. Styles wound up on the apron. He hit a leaping DDT over the top. Styles climbed to the top rope. Edge cut him off, seating him. Edge set up for a Superplex. Styles jabbed at Edge. A.J. rolled off the ropes, scooped Edge into the Torture Rack, then completed the Rack Bomb for a two count. Styles continued selling the left arm. Styles hoisted Edge onto his shoulders, but Edge elbowed out of it and connected with the Edgecution for a near fall. Both men sauntered to their feet, trading punches. Styles hit Edge with a snap German Suplex. They crawled toward each other, trading punches again. The crowd came alive. Styles delivered a series of headbutts. He went for a quick combo. Edge tried to block it with a big boot, but Styles shrugged it off and hit the Pale Kick. He rolled Edge into the Calf Crusher. Edge countered into an Arm Bar. Styles rolled him back into the Calf Crusher. Edge fought through into the Cross Face. Styles bit Edge's fingers to break free.
Both men returned to their feet slowly. Edge hit the Edge-O-Matic for a two count. Styles headed to the corner. Edge scooped him into a powerbomb, bounced him off the top rope and hit a sit-out bomb for a near fall. Styles rolled to the apron at 20:00. Edge joined him. Edge cornered A.J. against the ring post and then positioned him on the turnbuckle. A.J. slid free and knocked Edge to the opposite side of the post. He hooked Edge for a Superplex and delivered it to the edge of the ring. Both men collapsed to the floor and the referee began to count. Both returned to the ring at nine.
Styles hit the springboard 450 to a prone Edge in the ring. He turned him over for a cover, but Edge got a shoulder up just in time. A.J. set up for the Phenomenal Forearm. Edge ducked it and went for a spear. Styles ducked it, hooked Edge and hit the Styles Clash. He rolled him over for a believable near fall. Styles and Edge lay tangled in the center of the ring. Styles crawled to the apron, looking for the Phenomenal Forearm again. He adjusted the elbow pad, but looked down to see Damien Priest standing at ringside, staring at Edge. Styles leaped, but Edge speared him in the air and covered Styles for a three count.
WINNER: Edge in 24:26
Damien Priest entered the ring after the match and knelt across from Edge. They smiled at each other and posed, then left the ring walking side by side.
(LeClair's Analysis: Good match that never really seemed to hit the final gear to cross into "great" territory. The distraction finish didn't help, either, making Styles look dumb. I really liked the story they told with Styles' injured ribs and shoulder, and Edge's ailing knee, but I thought they missed an opportunity to really turn a corner in the latter stage of the match. They took a long time setting most of the spots up, which led to the crowd losing focus for patches. I don't blame them for working a different pace, though. There's been a huge focus on speed and spot after spot these last couple of nights, and Styles and Edge went out to do something a bit different. I think they mostly accomplished that. I still think this whole angle would've been better served by keeping Edge a babyface and just letting these two work. The crowd was already split anyway, as Edge's status as a popular legacy act outweighs any character change. I just don't get the sense that this character is working particularly well, and I don't know that Damien Priest is going to add anything to that.)
-Mike Rome announced the official attendance for night 2 as 77,453.
-Sheamus and Ridge Holland headed to the ring with Butch in tow. Michael Cole welcomed Byron Saxton to the table with him. Cole tossed to clips that helped set up the tag match. New Day entered wearing gear inspired by Big E, matching the color scheme he wore when he won the WWE title.
Sheamus and Ridge Holland attacked New Day as soon as they entered the ring. They ripped their jackets off and tossed them to Butch, who slammed them on the announcers desk. Ridge Holland was left alone in the ring with a reeling Kofi Kingston.
(6) THE NEW DAY (Kofi Kingston & Xavier Woods) vs. SHEAMUS & RIDGE HOLLAND (w/ Butch)
Ridge Holland begged the referee to ring the bell as Kofi Kingston stood up. Kofi hit Trouble in Paradise as soon as the bell rang. He covered, but Sheamus pulled him to the outside. Kofi tagged in Xavier Woods. Kofi went to attack Sheamus, but Sheamus caught him with a Brogue Kick on the outside. Butch distracted the referee. Sheamus hopped in the ring and gave Woods a Brogue Kick. Ridge Holland followed up with the Northern Grit and pinned Woods for three.
WINNERS: Sheamus & Ridge Holland in 1:43
Butch attacked Xavier Woods after the match. Sheamus and Ridge had to pull him off. Cole wondered what's wrong with Butch. The segment faded out.
(LeClair's Analysis: Yikes. New Day got railroaded here. After this match got cut from last night's show, they tossed it on tonight and acted like there was a fire alarm. I can't help but think they'd have just been better served squeezing it onto the pre-show tonight, so it at least had a little time to breathe. Bummer for New Day, who have been featured so prominently in the past, and were honoring Big E. Hard to say anything positive or negative about the match itself, as it was over before it ever really got going.)
-A backstage camera honed in on Roman Reigns' locker room door. Michael Cole and Byron Saxton continued to tease the main event.
-Mike Rome asked for applause for the Hall of Fame Class of 2022. The Undertaker's music hit, and he walked on stage to wave and bow again.
-An actor from Yellowstone was shown at ringside. Michael Cole promoted the show, then tossed to a video package for Pat McAfee vs. Austin Theory.
Following the video, Vince McMahon's music hit and he strutted onto the stage. Cole said the match is so important to Mr. McMahon that he needs to be at ringside to see it. Cole said it would be hard to be unbiased for this match. Saxton said to be careful with the boss watching. Vince goaded the crowd into singing along with his theme. He grabbed a microphone and introduced Austin Theory as a future Universal Champion.
Theory appeared to be live streaming his entrance. He got in the ring and took a selfie with Vince. The crowd booed loudly. Pat McAfee entered with the Dallas Cowboys' cheerleaders to The White Stripes' "Seven Nation Army." The crowd chanted along with the song. McAfee got a strong babyface reaction. McAfee punted a football up into the crowd from the ramp. It may have hit the scoreboard, but the camera missed it.
(7) PAT McAFEE vs. AUSTIN THEORY
Austin Theory went for a running clothesline when the bell rang. McAfee ducked it and hit a number of quick punches. He dropped Theory with a quick forearm, sending Theory retreating to the corner. Theory created space with a punch to the throat. Theory pounced, kicking McAfee. The crowd booed. Theory pulled McAfee to his feet and worked him into the corner. Pat leapfrogged Theory and hit him with a spinning back elbow.
McAfee leaped onto Theory's shoulders and executed a hurricanrana. He covered for a two count. Saxton said Mr. McMahon is looking a little uneasy at ringside. The crowd started a "McAfee" chant. Theory dropped Pat with a back-breaker. The crowd started the "Seven Nation Army" chant again. Theory gave McAfee a snap suplex, then looked to McMahon for a approval. He told the crowd to shut up. Theory flexed as the crowd chanted "you suck." He gave McAfee another suplex, then jogged around the ring.
Theory went for a third suplex, but McAfee blocked it and delivered one of his own. Cole cheered heavily for Pat. Theory rolled to the outside. McAfee followed him outside and put on a headset. He called Theory a douchebag, then slammed his head against the announcers desk repeatedly. McAfee tossed Theory back in the ring. Cole said he's the first person to commentate his own match. Pat climbed to the top rope. The crowd cheered loudly. McAfee went for a Swanton Bomb, but Theory rolled out of the way. He pulled Theory to his feet and hit a spin-out Powerbomb. Theory covered for a near fall as the match approached 5:45.
Austin dragged Pat toward the corner and gave him a leaping stomp. He climbed to the top rope, taunting the crowd as he climbed. McAfee cut him off with an elbow. He hooked Theory for a Superplex. Theory shoved him off, but McAfee back-flipped and landed on his feet. He leapt clean onto the top rope and completed the Superplex. Cole came unglued. McAfee covered for a near fall. McAfee let out a yell. He went for a punt kick, but Theory took him out at the knees. Theory grabbed Pat by the chin and talked trash. Pat pushed him away, angering Austin. He scooped him up for the A-Town Down. McAfee slid down the back and rolled Theory up for a three count.
WINNER: Pat McAfee in 9:09
Cole was elated. McAfee jumped onto the turnbuckle to celebrate. "Mr. McMahon is not going to be happy about this," Saxton said. Byron told Cole to calm down because Vince was staring at him. Vince went to check on Theory on the outside. Pat jawed at Theory. Vince looked at him with disgust. He teased taking his suit jacket off, then thought better of it. Cole and Saxton implored McAfee to leave the ring. Vince took his jacket off, then his shirt. He had a classic black tank top underneath. Vince stepped in the ring. A referee entered. Austin Theory attacked McAfee from behind. Vince told the referee to ring the bell.
(8) PAT McAFEE vs. VINCE McMAHON
Vince McMahon gave Pat McAfee a clothesline. Cole was bewildered. Saxton said the boss can do whatever he wants. Vince gave McAfee another clothesline. The crowd treated Vince to a "you still got it" chant. McMahon strutted around the ring. He grabbed Pat by the throat and tossed him into the turnbuckle. Pat dragged himself up using the ropes. The crowd sang to him again. McAfee stared down McMahon.
Theory tripped McAfee and pulled his legs in between the ring post. Cole begged for a disqualification. Saxton said the referee will do whatever McMahon wants. Vince kicked at Pat. Theory gave Vince a football. McMahon showed it to the crowd and teased punting it to each side of the crowd. Instead, he punted it into McAfee's ribs. He pinned McAfee for a three count.
WINNER: Vince McMahon in 3:44
Vince asked for his music to be cut. He told Theory to pose on the turnbuckles. The crowd booed him. Cole checked on McAfee on the outside, completely dejected. Theory's music played and Vince jumped like there was a surprise run-in. The two hugged. Suddenly, glass shattered and Stone Cold Steve Austin appeared. Michael Cole nearly lost his voice with excitement. Austin marched to the ring. Austin Theory tried to punch him, but Steve kicked him in the gut and gave him a Stunner. Theory bumped straight out of the ring.
McMahon looked on with fear. He talked to Steve. Stone Cold called for a couple beers. Vince smiled. He handed one to McMahon. Vince took a sip nervously. They toasted. Austin took a big, long gulp. H kicked Vince in the gut. He went for a Stunner, but Vince fell awkwardly into the corner. He bounced off the ropes and back into Austin's grasp. Steve gave him an awkward Stunner and Vince crumpled in a heap. Austin booted him to the floor.
Steve called for more beers. He invited Pat McAfee in the ring and gave him two beers. The crowd serenaded McAfee again. They toasted and hit opposing turnbuckles. McAfee took a big sip, then ate a Stunner from Austin. He spit his beer out comically on the way down. Austin poured a beer out over him. Steve laughed uproariously as the crowd cheered.
(LeClair's Analysis: First off, they got a great video package to lead into this one, narrated by McAfee. The first match was made significantly better by the crowd. Pat McAfee has good natural instincts and a great connection with the crowd. They were behind him wholly, treating him like a major star. The match was fine for what it was, but Theory getting the majority of offense as the established wrestler, and McAfee getting some cool spots including the great Superplex. Things turned sour when Vince got in the ring. Things quickly fell apart, with Vince looking a bit too old to be a guy in a tank top on a live event. McAfee sold for McMahon like nobody's business, but Vince's offense looked weak. The crowd wasn't into this – they fell silent when McMahon got the pin and it felt like the rug had just been pulled out from underneath a guy they really love – a WWE staple.
Thankfully, there was a final surprise to this. Steve Austin entered and saved what was quickly becoming a disastrous segment. Everyone knew McMahon was about to eat a Stunner, but that didn't make the crowd eat it up any less. Vince taking the Stunner was more awkward and embarrassing than anything else, and hopefully this marked the final time he'll be physical on WWE TV in any capacity. Seeing Austin have a big beer bash is always fun, but it definitely lost some of its luster having being done two nights in a row.)
-After a break, Cole queued up the video package for the main event.
Roman Reigns' music hit and he emerged from the back. Cole remained silent for several moments, letting the entrance breathe. Reigns wore his big-match lei. He was flanked by Paul Heyman, and The Usos. He and his cousins held up their titles in unison, initiating a pyro display. Cole said Reigns is competing in his sixth WrestleMania main event. Corey Graves, who'd joined Michael Cole for the main event, said he's never seen a bigger main event. Corey said Reigns is looking supremely confident, but wondered if that would change once he saw Brock Lesnar. Reigns got a second pyro display as he held up the Universal title inside the ring, this time a massive fireworks show outside the stadium.
Paul Heyman handed Reigns a microphone. Roman looked around, "WrestleMania…acknowledge me." The crowd cheered at first, then booed. Reigns stared stoically into the camera. Brock Lesnar's music rang out and the crowd popped. Lesnar marched down the ramp and circled the ring, keeping an eye on Roman Reigns. He leapt onto the apron and pyro shot from the posts. He got right in Reigns' face. Neither man flinched.
Mike Rome delivered Championship introductions, calling it the biggest WrestleMania match of all time. He was interrupted by Paul Heyman, who handled Roman's introduction. He called him "The G.O.A.T. who slays the beast." Lesnar laughed as Reigns held up the title. Heyman handed the mic back to Mike Rome. Brock Lesnar took it from him. He called himself the "Cowboy country ass-kicker." He threw the mic at Roman. Reigns scowled.
(9) ROMAN REIGNS (c, w/ Paul Heyman & The Usos) vs. BROCK LESNAR (c) – WWE Universal Championship & WWE Championship, Winner-Take-All Unification match
The crowd popped big for the bell ringing. Neither Brock Lesnar nor Roman Reigns moved a muscle. Brock laughed and removed his gloves. "Bare knuckle time," Cole said. Roman ran his hand through his hair. Cole said Lesnar looks more loose than Reigns tonight. Brock quickly powered Reigns into the corner. He drove his shoulder into Reigns' ribs, then carried him into the opposing corner. Reigns collapsed to the ropes and grabbed at his back.
Lesnar quickly grabbed a waistlock, looking for a German Suplex. Reigns blocked it, but Lesnar caught him with a belly-to-belly. Roman stood up. Lesnar gave him a second one, then a third. The crowd counted along. Lesnar clotheslined Reigns clean over the top rope. Heyman cowered in fear as Lesnar looked at him. Paul went to check on Reigns, but Brock stepped to him. Heyman pleaded for mercy. "I love you! Please take me back! It was Roman's idea!" Lesnar just laughed. Roman appeared out of nowhere and speared Lesnar through the barricade, into the timekeeper's area. Cole said Heyman suckered Lesnar in. Paul smiled, confirming Cole's suspicions.
The referee nearly counted Lesnar out, reaching nine before Brock stumbled back through the ropes. Reigns immediately hit him with a spear. He hooked the leg for a very near fall right as the match hit 3:45. Lesnar pulled himself up as Reigns cocked his fist in the corner. He hit the Superman Punch, then jawed at the crowd. He cocked the fist again and hit a second Superman Punch. II told you I'm the greatest of all time!" he told the crowd. Lesnar tried to shake it off, but could barely stand.
Brock stood, revealing a smile. Reigns went for another Superman Punch, but Lesnar sidestepped it and gave him a German Suplex. The dragged Reigns up and hit a second one. Roman pulled himself up by the ropes and ate a third. Brock pointed to the crowd, then delivered a fourth. Graves said Brock is just getting warmed up. Lesnar hit a fifth German Suplex. Reigns reached out to the air. Brock scooped him up for the F5, but Reigns slid down his back and shoved him into the ring post. Reigns hit another Superman Punch. Reigns set up in the corner. He went for a Spear, but Lesnar scooped him into the air and hit the F5. He hooked the leg and Reigns barely kicked out.
Lesnar waited for Roman to stand up. He lifted him up for another F5. Roman raked Brock's eyes. Lesnar stumbled into the referee, but caught himself before doing any damage. Reigns drove his bodyweight into Lesnar's back, crushing the referee between him and the turnbuckle. Reigns gave Lesnar a low blow. Paul Heyman handed Roman the Universal title. Reigns hit Lesnar in the head with it and covered him. Lesnar lifted a shoulder at the last moment. Reigns looked shocked. He began talking to Heyman, and himself. "Ain't nobody every gonna be able to follow me!" Reigns shouted out. He pointed at Lesnar and willed him to stand as the match hit 10:00. Reigns hit the ropes, ran past Lesnar, then speared Brock from behind. He covered, but Lesnar grabbed the bottom rope with both hands.
Reigns went for another spear, but Lesnar trapped him in the Kimura Lock. Lesnar's face turned purple as he wrenched back on Reigns' arm. Roman reached desperately for the rope, and managed to grab it. Lesnar held it for as long as the referee would allow. Heyman got in Reigns' ear. Roman said his shoulder is out. Heyman told him to rise. Reigns grimaced. Lesnar scooped Roman for an F5. Reigns slid down his back, hit the ropes and connected with another spear. He pinned Lesnar for a three count.
WINNER: Roman Reigns in 12:18 to retain the Universal Championship and win the WWE Championship
Roman hoisted both titles above his head, struggling to get his left arm up. He grimaced through it and let out a yell. Reigns looked down at Lesnar with contempt. After replays, Reigns stood on the ramp with Heyman. Paul handed him both titles. Lesnar looked on from the ring, disappointment on his face. Cole said that Roman Reigns is the undisputed World Champion. Reigns held out the titles as pyro exploded from the stage. The camera cut to outside the stadium, where more fireworks shot from around the stadium. Reigns held out the titles as the show faded to black.
(LeClair's Analysis: As Reigns and Lesnar stood at opposing corners and their introductions began, this felt massive. I can't recall a time in recent memory where a WWE match felt quite this consequential. The crowd seemed to acknowledge it, too, popping big as soon as the bell rang. It's hard to say exactly what I was expecting out of the match itself, given that we've seen it many times before, but this wound up feeling too similar to previous bouts to me. I've enjoyed most of their matches together, and thought this one was fine for what it was, but the finisher-spamming Lesnar match formula is tired, and for a match built to be this big, I think it needed to be more. I just don't think this rose to the occasion for which it was presented. "How many F5s or spears will it take this time?" should not be the story of the match, and tonight, it felt like it was. I liked the spear transition into the Kimura, and thought they could've built some more drama off the hold and the bit of action that followed. Instead, they went right to the finish. By the time they got there, the finishers seemed arbitrary as to which one would finally do the trick. There's diminishing returns there. All in all, a disappointing conclusion to Reigns' biggest rivalry and the supposed biggest main event in WrestleMania history.)
FINAL THOUGHTS: It felt like there was a bit of a hangover from last night's stellar outing. Much like last year, WrestleMania Night 2 failed to live up to the show that preceded it. This half was anchored by the main event and Styles vs. Edge, neither of which really lived up to their billing. Nothing outside of McMahon's ridiculous win over McAfee was bad, but most of the show's later matches under-delivered, which was all the more glaring given how much they over-delivered last night. I certainly wouldn't call this a bad show, but it ends the weekend on a bit of a down note after the high of last night. To me, this is another argument for returning to one night. Take the sum of the two show's best parts, and you have a great WrestleMania. Spreading the show over two nights and stretching it out over the course of nearly eight hours gives too much room for less-than-stellar outings, leading to a bit of a mixed bag when it's all said and done. Looking ahead, I think they've set themselves up pretty nicely for the post-Mania push. Reigns come out on top, as expected, and should have a few fresh challengers in the coming months (McIntyre, Rhodes, Lashley.) There's plenty of intrigue ahead, in my book.