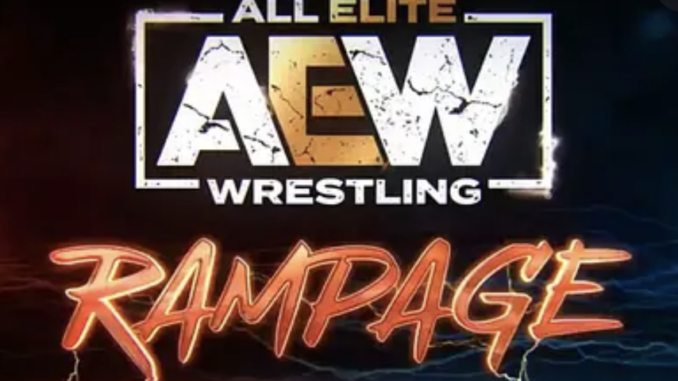 ---
SPOTLIGHTED PODCAST ALERT (YOUR ARTICLE BEGINS A FEW INCHES DOWN)...
---
AEW RAMPAGE TV REPORT
APRIL 8, 2022
RECORDED AT THE AGGANIS ARENA IN BOSTON, MASS.
AIRED ON TNT
REPORT BY PATRICK MOYNAHAN, PWTORCH CONTRIBUTOR
Announcers: Excalibur, Taz, Ricky Starks
Ring announcer: Justin Roberts
---
– The opening of Rampage aired. Excalibur welcomed us with, "It's Friday night, and you know what that means!" Excalibur was joined by Taz, and Ricky Starks.
(1) BRYAN DANIELSON (w/William Regal) vs. TRENT BERETTA
William Regal joined commentary for this match. Danielson took Beretta over, then kicked him hard across the back. Beretta took Danielson down with a charging elbow, then the two stared one another down as they met in the center of the ring. Danielson focused on Beretta's legs but Beretta fired right back with a stiff chest chop.
Beretta hit Danielson with a suplex, then covered for a quick count. Danielson got Beretta in the corner and fired away with a series of kicks across the chest. Beretta climbed onto the top of Danielson's shoulders, then pulled him out over the top rope. Beretta flew over the top rope but Danielson was waiting and kicked him as he came down. Danielson went for a tope through the ropes but Beretta caught him and suplexed him on the floor. Beretta charged in toward Danielson but missed and hit the steel steps. [c]
Danielson continued his offense by focusing on Beretta's surgical repaired neck. Danielson hit a front headlock suplex, then played to the crowd as he climbed to the top rope. Beretta cut him off and hit a superplex off the top. Beretta and Danielson traded chops until Danielson missed a kick and Beretta followed it with a German suplex. Danielson hit a rolling elbow strike, then a shoulder capture suplex into a pin attempt for two.
Danielson locked on a Dragon Sleeper but Beretta was able to reach the ropes for the break. Beretta looked like he was out as Danielson went for a Gotch-style piledriver. Beretta got out of it, then evaded a charge by Danielson. Beretta hit a swinging DDT for a close count. Beretta placed Danielson on the top rope but Danielson turned things around and pushed Beretta into the top rope. Danielson went for a back suplex but Beretta turned it around and landed on top of Danielson. Beretta covered for another close count.
Both men stood in the middle of the ring and traded kicks and elbows strikes. Beretta hit a back suplex, then a huge clothesline for yet another close count. Beretta had the upper hand until Danielson hit him with a running knee strike. Danielson hit the Gotch-style piledriver, then hit his patented series of kicks to the head. Danielson wrenched Beretta's neck until he tapped out.
WINNER: Bryan Danielson in 13:30
(Moynahan's Take: Great opening match to kick off tonight's Rampage. Beretta got in a good deal of offense and looked great in the process, but Danielson was too much to overcome.)
– Lexi Nair was backstage with HOOK. She tried getting him to answer a few questions but he didn't respond, then got up to walk away. Danhausen popped out of a trash can and tried putting a spell on HOOK, who just ignored him and walked away.
– Lexi Nair was backstage with HOOK. She tried getting him to answer a few questions but he didn't respond, then got up to walk away. Danhausen popped out of a trash can and tried putting a spell on HOOK, who just ignored him and walked away.
– Men of the Year and Dan Lambert were in the ring. Scorpio Sky said he got rid of the open challenge for the TNT title because he was looking for someone to step up. Sammy Guevara and Tay Conti came out to tell Sky to shut up. Sammy said Sky was making the title mean nothing, then asked Conti to translate "sexist piece of sh–" in Portuguese. Conti then just said "Dan Lambert." Lambert was angry and told them to focus on the ring, not the bedroom. Ethan Page took the mic next and told them they were a PR disaster waiting to happen. Page then turned to the camera to speak to his daughter, and said he hoped she wouldn't grow up to be anything like Conti. Sammy said he was out there for a match and that he had something planned for them next week.
(Moynahan's Take: This segment did nothing for me, and neither has Sammy/Tay as an on-screen couple.)
– Chris Jericho named Q.T. Marshall as his Chris Jericho Sports Entertainer of the Week.
(2) SWERVE STRICKLAND vs. Q.T. MARSHALL (w/The Factory)
Both men traded moves back and forth early on until Marshall kicked Swerve in the stomach, then threw him to the outside. Swerve landed on his feet as we went to break. [c]
Swerve hit Marshall with a few elbow strikes, and finally took him down with a third. Swerve came off the top rope with a flying uppercut to Marshall's back. Marshall dropped down and took Swerve over then nailed him with a right hand. Marshall went for the Cutter but Swerve evaded it, then hit a flatliner. Swerve pumped up the crowd as he hit Marshall with a back-heel kick to his head for the win.
WINNER: Swerve Strickland in 5:30
(Moynahan's Take: This was good for what it was but all too short. The post-match promo by Starks finally set up the big tag team match, which will thankfully bring this feud to Dynamite.)
– Ricky Starks got up from the announce booth and challenged Swerve and Keith Lee to a match between him and Powerhouse Hobbs on Wednesday's Dynamite.
– A Marina Shafir video pack aired, which hyped up her still-to-be-announced match with Jade Cargill.
(3) WILLOW NIGHTINGALE vs. RED VELVET – Owen Hart Foundation Women's Tournament Qualifier
Nightingale and Velvet were already in the ring and the match started. The crowd seemed to be chanting Nightingale's name early on. Velvet hit Nightingale with a back kick, then took her down with an arm drag. Nightingale had the offensive advantage until missing a senton. Nightingale had Velvet down on the mat, then went to the top for a moonsault. Velvet moved just in time, then hit a series of clotheslines.
Velvet hit double knees across Nightingale's back, then hit her finisher but Nightingale kicked out in time. Velvet got caught with a spinebuster, and Nightingale was able to get a near fall. The two went back-and-forth in the center of the ring until Nightingale hit a huge pounce to take Velvet down. The crowd fired up for that move. Nightingale followed it up with a cannonball in the corner. Velvet was able to kick out of the follow-up pin attempt. Velvet hit a backstabber, then hit her corkscrew kick for the win.
WINNER: Red Velvet in 6:00
(Moynahan's Take: The commentators made it sound as though Nightingale received this opportunity through her recent work on the ROH Supercard of Honor show. Velvet seemed to be playing more on the heelish side. This was sloppy at times but the crowd was clearly behind Nightingale.)
– During the prior match, it was announced that Minoru Suzuki would defend the ROH TV Title against Samoa Joe on this week's Dynamite.
– Lexi Nair was backstage again with Tony Nese. Nese said he was really the best free agent signing as Mark Sterling appeared and told him he could help him.
– Mark Henry was backstage on split screen with tonight's main event's competitors. Wheeler Yuta said he was no stranger to Jon Moxley. While Moxley embarrassed him the first time, he said he was not the same guy he was before and he'd earn Moxley's respect tonight. Moxley said it wasn't his job to show Yuta respect. He said tonight he had one job, to spill his guts all over the mat to see what he was really made of. Henry announced that it was "time for the main event."
(4) JON MOXLEY vs. WHEELER YUTA
The match was fought under the Pure Rules format, but was not for the Pure Rules title.
Yuta dove through the ropes as Moxley made his way to the ring. The two fought their way through the crowd. Yuta threw Moxley's face into the metal guardrail as the two finally made their way into the ring. Moxley hit a German suplex to slow things down. Moxley took Yuta to the mat, then covered for a one count.
Moxley raked Yuta's face as the crowd cheered on both men. Yuta hit a Manhattan Drop, but Moxley quickly threw Yuta out over the top and onto the floor. Moxley followed and drove Yuta's face into the steel steps. Yuta was busted open. [c]
Yuta's face was covered in blood as Moxley continued to take it to him. Yuta started to fire back but Moxley cut him off. Yuta finally was able to send Moxley to the outside, then jumped off the top and dove onto Moxley who was laying across the announce table. The crowd was completely fired up. Moxley got back into the ring first as Yuta took his time. Yuta went for a backslide for a two count, then hit a deadlift German suplex, then another. He tried for a third but Moxley fought out of it. Yuta came right back with a back suplex, then started to use Danielson's kicks to the face on Moxley. Yuta went to the top and hit his flying splash for a two count.
Yuta locked in a crossface as Moxley looked as if he was able to tap out. Moxley rolled back and broke free. He followed up with a huge clothesline for a close count. Moxley hit Yuta with a few strikes but Yuta fired up. Moxley pushed Yuta into the corner and the two went to the top together. Yuta fought Moxley off, then came off the top but was caught in a Paradigm Shift. Yuta somehow kicked out at two to the amazement of Moxley, the announcers, and the crowd. Moxley locked in the bulldog choke.
Yuta tried breaking it until Moxley let go. Yuta rolled up Moxley for a close count, then locked in his own bulldog choke. Moxley got to his feet but Yuta locked in a sleeper. Moxley rolled out of it and hit Yuta with elbow strikes. Moxley hit the Regal knee, then another Paradigm Shift, but Yuta kicked out again. Moxley locked in the sleeper again and Yuta finally passed out.
WINNER: Jon Moxley in 13:00
– After the match, Regal and Danielson walked to the ring. They circled around Yuta as Yuta slowly got up. Yuta told them to bring it on as the crowd chanted his name, then said "shake his hand." Regal extended his hand in respect, and Yuta shook it. Yuta seemed to write the initials of the Blackpool Combat Club in his own blood across his chest. You could hear Moxley tell him that the "real work begins," which makes it seem that he has officially joined them.
(Moynahan's Take: I heard a lot of rumblings that this match was awesome, and it absolutely lived up to the hype in my view. Yuta has been incredible as of late, and his character and in-ring work has really brought him to a new level. I'm very much looking forward to seeing what's next for him and the Blackpool Combat Club, especially as it seems like Yuta has officially joined.)
FINAL THOUGHTS: Well, Tony Khan said he was going to go all out with Rampage, and he certainly did with tonight's episode. The opener and main event matches specifically were standouts, with tonight's main event rivaling–and likely topping– mostly all of the top matches over the last week/weekend. It may have gotten lost in my notes, but it was also announced that Samoa Joe will challenge Minoru Suzuki for the ROH TV Title on this week's Dynamite. Looks like Khan isn't letting off the gas anytime soon. Until next week, stay safe everyone!