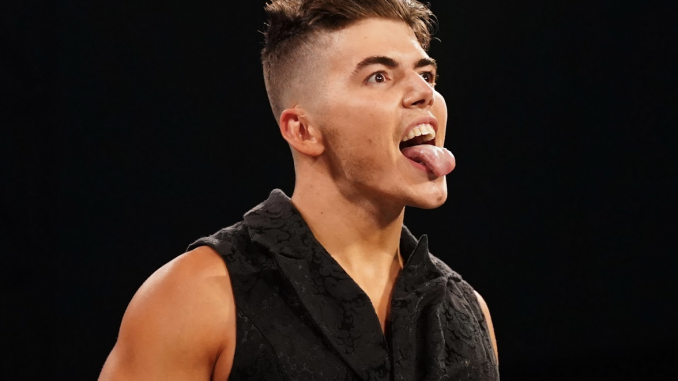 ---
SPOTLIGHTED PODCAST ALERT (YOUR ARTICLE BEGINS A FEW INCHES DOWN)...
---
AEW Rampage Hits & Misses
Bryan Danielson defeated Trent Beretta: HIT
We've seen several backstage interviews where Trent has expressed his loathing for Wheeler Yuta's soft spot for the Blackpool Combat Club. However, he has also alluded to not liking Yuta to begin with, and that's just come out of no where to me. I don't know if part of this story has been told on Being the Elite or we're just left to make assumptions.
In any case, it makes sense for Trent to want to take matters into his own hands and challenge Danielson. And he's been in enough high-profile singles matches on Rampage lately for this not to seem too far-fetched. I thought the match really delivered! Very good, physical opener.
William Regal was on AEW commentary for this match and said something like, "Ricky, you should speak up more, sunshine." My thoughts, exactly.
Hook Backstage "Interview": MINOR HIT
Lexy Nair tried to interview Hook, but he stayed silent and walked away. As he was leaving, Danhausen came to try and curse him again, like last week. After staring at him in contempt, Hook just kept on walking.
I'd honestly rather AEW continue the story with Hook and QT and keep Danhausen as a background player to Hook's feuds instead of such a central figure. As I warned last week, you don't want to run into a situation like Goldberg/Goldust from Raw in 2003.
In any case, good performance from Danhausen and Hook.
Sammy Guevara, Tay Conti, and Men of the Year Promo: NARROW MISS
The good:
· The first minute with Sky-Guevara back-and-forth was fine.
· Based on live correspondent reports from this week's Dynamite post-show, at least one or two lines were edited out of here that would have made it worse
The bad:
· Some underwhelming comedy
· When the heels suggest that the babyfaces are a potential PR liability for the company for any reason other than "they kick too much ass," and it rings true, that's a bad thing
· Scorpio Sky feels like a background player to Dan Lambert
· Some might take issue with people getting title shots for bad behavior (albeit Sammy may be more justified than Adam Cole to ask for one)
· The crowd didn't seem to like any of this at all
I think this came across slightly better than expected from live reports, albeit still not worthy of a "HIT."
Serve Strickland vs. QT Marshall: MINOR HIT
A nice match to keep Strickland looking hot. QT continues to be featured in just the right way to extract more signal than noise.
By the way, QT Marshall was Jericho's Sports AEW Entertainer of the Week (announced via video).
Post-Match Ricky Starks Promo: IT HAPPENED
Starks challenged Strickland to a tag match next week on Dynamite in Starks's hometown. It will be Starks and Hobbs vs. Strickland and Lee.
I honestly forgot Ricky Starks was on commentary before he stood up to cut this promo. The promo itself was nothing special either.
Marina Shafir Video Package/Promo: MINOR HIT
Very brief but good. I wish it were lengthier and had more of a mission statement.
Red Velvet vs. Willow Nightingale: MINOR HIT
This was okay. Not the smoothest of matches, but enjoyable nonetheless. The announcers ran down Willow's ROH accomplishments to justify her TV time tonight. If they are going to feature ROH canon into AEW programming now, please include video packages instead of just Excalibur info dumps.
Tony Nese/Mark Stirling Backstage Confrontation: IT HAPPENED
Lexy Nair tried to interview Tony Nese, who began complaining about the lack of attention devoted to him. In walked Mark Stirling, who offered Nese "proper legal representation," and they both walked off together to talk business.
Stirling is very underwhelming as a manager to me, but I suppose an alliance with Stirling is better than nothing for Nese.
Main Event Promo: MAJOR HIT
Excellent promo battle between Wheeler Yuta and Jon Moxley. Yuta explained his improvement from the first to the second battle with Moxley, setting things up for round three. He also brandished his newly-won ROH Pure championship. Moxley fired back with a fiery promo of his own. Very good setup with long-term storytelling between the two.
My only gripe is that I don't feel sufficiently informed on the "Pure" championship. Moxley referred to their upcoming match as "this ain't Pure rules." What are "Pure rules," then? Can I make a colloquial interpretation and assume that it means "regular singles match?" If that's the case, it's not like the upcoming match is a No-DQ match.
I would have really liked it if AEW put together a video package on the history of the ROH Pure title, what "Pure Rules" matches are like, and why Yuta winning the Pure title is a big deal.
In any case, this was the best AEW Rampage main event promo battle I have ever seen. This is exactly the kind of match where such a promo format can do wonders.
Jon Moxley defeated Wheeler Yuta: STUPENDOUS HIT
Not perfect, but What. A. Fight. Yuta dived onto Moxley and began brawling with him into the crowd. The bell didn't ring until both wrestlers were in the ring (Wade Keller would hate this, but I didn't mind at all – it reminded me of some Attitude Era pre-match brawls).
Every move mattered, as did the stuff in between the moves. Yuta was clearly trying to show that he studied tape of both Danielson and Moxley and is using this knowledge smartly. His offense was relentless; after a near-fall he'd transition to a submission hold right away, and if it seemed like Moxley was breaking out of it, Yuta would strike with elbows to get him to stay down. Fantastic storytelling with both wrestlers looking to win.
My only gripe with the match was that I wouldn't have had Yuta kick out of two Paradigm Shifts. That's a very protected move, and it's too implausible for Yuta to have gotten good enough in a matter of weeks to kick out of it twice in a match. One kick out would have sufficed.
In addition, if you remove the second Paradigm Shift spot, you can show Yuta struggling in Moxley's finishing submission hold for longer, thus augmenting the effect of him passing out and refusing to give up. As it was, the pass out was a bit too quick, even for someone bleeding as much as Yuta was.
Post-Match Angle with Blackpool Combat Club: HIT
William Regal and Bryan Danielson came down to the ring and all three members of the Club gave Yuta signs of respect. This was to be expected, but great nonetheless.
Commentary: MINOR HIT
Excalibur and Taz were really good tonight, but I'll continue to penalize the commentary for as long as Taz remains an on-screen heel character but morphs into someone else on commentary.
In addition, Ricky Starks continues to seem non-existent at the announce desk. Jericho wasn't here this week to overshadow him either.
Overall Show: WHEELER YUTA
This was the Wheeler Yuta show, and a lot of the other segments did their jobs fine as well. If you remove the Guevara/Conti/MotY stuff (which was actually better than expected), you have yourself a near-perfect episode of AEW Rampage. They didn't even need to bust out too many marquee names tonight or rely on a major return or lengthy world title defense.
The main event promo battle and the match itself were the best I've ever seen on Rampage. The promo battle is easier for me to rate so highly because the best ones have come in the last few weeks or so. As for the match, I went back to look at some of my favorite Rampage matches, and Danielson-Kingston from last year probably comes close for this style of match. However, I give tonight's main event the nod for both storytelling and athleticism.
---
CATCH-UP: 4/8 AEW RAMPAGE TV REPORT: Danielson vs. Trent, Moxley vs. Yuta, Q.T. Marshall vs. Strickland, Lambert-Sammy