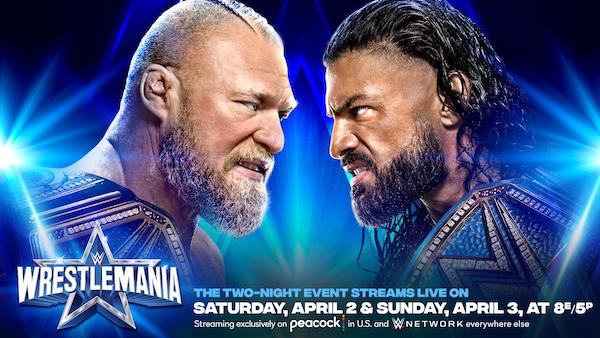 ---
SPOTLIGHTED PODCAST ALERT (YOUR ARTICLE BEGINS A FEW INCHES DOWN)...
---
Call WWE whatever you want. You have my permission. Vince McMahon? Same to you. Nick Khan? Go right ahead. WWE is a pro wrestling company! WrestleMania is an entertainment show! We're a content juggernaut!
Yes.
Yes! WWE is all of those things and if you had any doubts about that, WrestleMania 38 should have coaxed you to the other side of the argument. Love it or hate it, WrestleMania 38 was WWE's biggest platform to date to fully showcase the tone and temperament they want their business to be. They did a nice job, too. It was Vince McMahon's time to spin all the plates at once as people from all around the world admired with wide, amazed eyes.
Look, the matches still matter and are the root of everything. Without them and the stories leading up to them, nothing else can happen at the big event. The big matches are the foundation from which WrestleMania is built. This year, Brock Lesnar vs. Roman Reigns was the main match hook, with Becky Lynch vs. Bianca Belair, and Charlotte Flair vs. Ronda Rousey right behind it. Sure, there were other true pro wrestling matches throughout both nights of the show, but these three were key and featured the biggest names WWE has. These were excellent matches and delivered for the company to appease fans.
Oh, hello celebrities. Last year at WrestleMania 37 it was Bad Bunny. This year, it was Pat McAfee, Johnny Knoxville, Ronda Rousey, and countless other one-off specialty kickoff show contributors. Some participated more than others, but the presence of each helped WWE convey the special nature of the WrestleMania brand.
The celebs that did wrestle? Well, they were excellent. McAfee kept up with Austin Theory in victory. Johnny Knoxville, brought the Jackass schtick to the wrestling ring and though it certainly was polarizing when compared to the serious nature of Reigns vs. Lesnar, it was also a ton of fun for those that had the correct and obvious expectations.
Legends? Check. The Undertaker took his rightful place in the WWE Hall of Fame, appearing on both nights of the show as well as during the Hall of Fame ceremony on the Friday before WrestleMania. "Stone Cold" Steve Austin returned to the KO Show and ended up having a return match against Kevin Owens. Vince McMahon returned to thicken the nostalgia of the weekend, helping Theory and having his own match with McAfee. Austin appeared again to layer more emotions into the audience with a McMahon Stunner that quite possibly was the worst ever due to McMahon's "Bambi learning to walk" athletic ability.
Wrestling attention descended on Dallas, Texas like football attention does the Super Bowl and the environment created was one of fun, anticipation, and camaraderie. There is so much to do over WrestleMania weekends these days, that its more of an event than at any time during WWE's history. The addition of specialty independent wrestling shows running the same weekend adds non-WWE intrigue to the weekend too, thus making it an industry celebration of sorts with WrestleMania being the sun that everything else revolves around.
The content WWE generates throughout WrestleMania is an embarrassment of riches. Two major PLE events, two-hour kickoff shows ahead of each, a television taping prior and a television taping after, the minor league show – NXT Stand and Deliver during one of the afternoons, constant social media videos from WrestleMania Axxess, and specialty backstage material shot for future WWE documentaries on Peacock and elsewhere.
The two questions that come to mind are, "how in the blazes does WWE use all this material?" and "is all this material necessary?" Let's answer the second question first. Yes, because that's who WWE is. And now the first question second. They want as many eyes on them as possible, regardless of whether it's a two-minute clip on Twitter, or a six-hour love affair each night of WrestleMania.
And yeah, let's not forget the corporate glad-handing that happens during WrestleMania either. Summits, conventions, panels, networking, advertising and marketing all on full display. WWE flexes their influence during their biggest weekend of the year, adding depth to the overall scope of the event.
Folks, I'm sorry, but this is what WWE is now. Analyzing the company must be done with that stipulated and with it stipulated, WrestleMania 38 was a huge success and coming out party for the company. For the first time ever, WWE found the proper balance across each priority, making it a watchable affair from most angles.
The sports-like matches delivered. In terms of what they were asked to do on the show, celebrity involvement was the best of all-time. The biggest star in history returned to a hero's welcome. We're in for an onslaught of content to consume. The business of the weekend was strong too with WWE announcing new partnerships and incorporating brand exposure into the show itself.
What other company can pull off sports-like super fights, celebrity silliness, hat tips to the past, fan convention, content generator, and corporate summit all at once? WWE can, did, and pulling it off is exactly who they want to be.
This is them and last weekend they did them well.
---
CATCH-UP: VIDEO: PWTORCH DAILY NEWSWIRE 4/9: Moxley vs. Yuta, NXT call ups, more