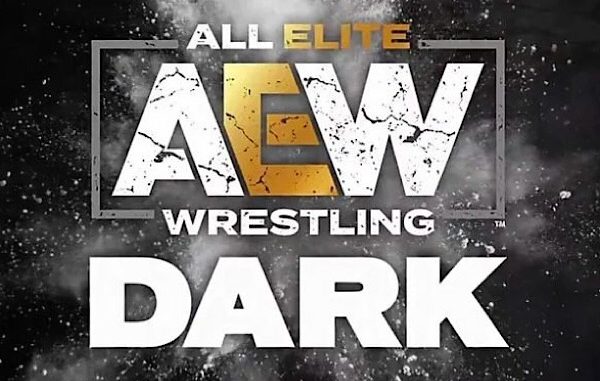 ---
SPOTLIGHTED PODCAST ALERT (YOUR ARTICLE BEGINS A FEW INCHES DOWN)...
---
AEW DARK TV REPORT
MAY 3, 2022
RECORDED AT UNIVERSAL STUDIOS, ORLANDO, FL.
AIRED ON YOUTUBE.COM
REPORT BY RYAN HOWARD, PWTORCH CONTRIBUTOR
AEW Dark Announcers: Excalibur and Taz
Ring Announcer: Justin Roberts
-Excalibur and Taz on the call, welcoming us to the show and plugging sponsor Price.com.
(1) JOHN SILVER (w/-1) vs. RYAN NEMETH (w/Peter Avalon)
Excalibur & Taz debate Nemeth's new greenish hair color between sea foam green and Carolina blue. Nemeth is also wearing fingerless gloves, for what it's worth. After Silver got an early start, Nemeth was sent outside, but grabbed Silver by his beard and trapped him in the apron skirt to unload strikes. Back in the ring, Nemeth kept Silver ground by showing off his mat wrestling skills. After doing a Pee-Wee Herman strut, Nemeth drove a shoulder to the midsection in the corner for a two count. Silver made his comeback by countering a leap frog into a powerbomb for two of his own. Silver hit an enziguri and clothesline while Taz tells us a story about being on a plane with John Silver, who was uninterested hockey great Mark Messier was sitting in first class with them. Nemeth & Silver fought up to the corner ropes and Nemeth tried a fireman's carry, but Silver countered into a corner hurricanrana. A pump kick and Spin Doctor got Silver the win. -1 jumped in the ring and did the Fargo Strut over the fallen body of Ryan Nemeth, which was hysterical.
WINNER: John Silver in 6:30
(Howard's Analysis: The thought of Taz marking out for Mark Messier, but John Silver completely uninterested made me laugh. This was a solid opener, as seeing -1 do the Fargo Strut at the end was quite the sight to see.)
-Tony Schiavone is backstage with Toni Storm, talking about her tag match on Rampage this week and also Diamante tonight.
(2) THE VARSITY BLONDS (Griff Garrison & Brian Pillman Jr. w/Julia Hart) vs. THE WORKHORSEMEN (JD Drake & Anthony Henry)
Julia Hart no longer has any Varsity gear on and just stood there behind Griff & Pillman during their entrance. She continued to just sit on the steps with her back to the ring as Henry & Drake attacked at the bell. Pillman quickly turned the tide and The Blonds worked over Henry's arm. Pillman spilled to the floor with Henry, who hit a charging leg lariat, which sent Henry himself over the guard rail. Back inside, Drake got a quick one count and Pillman stayed isolated. Drake hit a back suplex, but called out for a Vader Bomb and missed. Pillman fought free from a double suplex, sent Drake & Henry into each other and got the Griff hot tag. After a few corner splashes and big boot on Drake, Griff cleared the top on a dive that took out Drake & Henry. In the ring, Griff hit a cross body off the top, but Henry hit a bounce back German. Griff popped up and hit a roaring elbow for two. The Blonds tried an assisted dropkick, but Henry rolled up Griff for two as Pillman crashed and burned. The match broke down as Drake hit his somersault senton, Henry hit a diving top rope stomp, but Drake missed a moonsault. The Blonds hit the assisted dropkick the second try before they put away Henry with a combo of strikes and a flapjack suplex from Griff.
WINNERS: The Varsity Blonds in 7:00
Post match, Tony Schiavone asked Julia Hart & The Blonds about what happened to Julia months ago. Pillman said he used to think Julia had Hart, but if the House of Black wants her, then come to Dynamite on Wednesday and get her. Julia just stood there and rolled her eyes during the promo and the crowd didn't really react much.
(Howard Analysis: Finally they're having a payoff to this Julia Hart angle that happened months and months ago. I have no idea why it has taken them this long, but we're getting progression in this angle and to be honest, it's kind of too late. Crowd was really uninterested in this. I've really liked Julia's more aggressive streak recently, but it just feels like they're tying up loose ends with Julia finally embracing the dark side and presumably joining House of Black.)
(3) SHAWN SPEARS vs. LORD CREWE
Spears heeled it up to the crowd too much in the opening moments, which allowed Crewe to hit a corner knee. Spears rolled to the floor and suckered in Crewe to try a dive, but hit him with a forearm instead. After a back suplex on the apron, Spears poured down forearms in the mounted position. Spears briefly zoned in on the knee, but hit the C4 for the easy win.
WINNER: Shawn Spears in 3:30
(Howard's Analysis: Spears needs to start stacking wins if he's presumably going to be fed to Wardlow during his path to MJF. I fully expect to see more of these performances from Spears before he gets powerbombed over and over again in the near future.)
(4) RICKY STARKS & POWERHOUSE HOBBS vs. TERRY YAKI & JAY LUCAS
Starks showed off his speed early with a quick arm drag and forearm strikes in the corner on Yaki. Hobbs made the tag and quickly pancaked Yaki, while Starks dropped a knee. Yaki finally escaped the grips long enough to make a tag to Lucas, who tried to run wild, but was squashed in the corner. Yaki suffered the same fate, as he was squashed and tossed outside, as Starks made the tag and flattened Lucas with a Spear for the win.
WINNERS: Ricky Starks & Powerhouse Hobbs in 4:00
(Howard's Analysis: I said this on Twitter, but Terry Yaki should've been my Create-A-Wrestler name years ago when playing wrestling video games. Team Taz getting a whole bunch of wins heading into their tag title match with Jurassic Express, which has to be happening pretty soon. That's definitely a match I'm looking forward to.)
(5) JULIA HART vs. JAYCIE LOVE
Taz goes over the Julia storyline quickly, as a graphic is shown in the corner that The Varsity Blonds face House of Black tomorrow on Dynamite. Julia attacked immediately and punted Love in the ribs to the outside. After driving Love into the side of the ring, we went back inside, where Love ducked a clothesline and connected with a jawbreaker. Hart reversed a corner whip; hit a handspring forearm and another charging corner strike. Julia rag dolled Love down and locked in a head scissors choke for the submission.
WINNER: Julia Hart in 2:00
(Howard's Analysis: After getting the submission, Julia had a smirk on her face, perhaps the first time she's smiled since getting misted months ago. I'm hoping Julia completes her heel turn tomorrow and puts The Varsity Blonds in the rearview mirror. I'm interested in seeing where here character could go once she turns.)
-Tony Schiavone is backstage with The Factory and talks about a 10 man tag next week with The Factory against members of the New Japan Dojo. QT Marshall talks about Brick Aldridge and Blake Li, who joins Aaron Solo, Nick Comoroto and QT, who will show the Dojo why they are the best next week.
(6) TONY NESE (w/Mark Sterling) vs. LEON RUFFIN
Nese easily picked apart Ruffin in the corner during the opening minute, but Ruffin floated over in the corner and hung up Nese. They played catch me if you can with Nese not able to get his hands on Ruffin, who jumped from rope to rope. Nese grew frustrated and gave Ruffin a hard corner buckle to regain control. Nese took the ref, as Sterling poked Ruffin in the eye. Ruffin got a jaw jacker, but Nese starched Ruffin with a right hand. Nese draped Ruffin throat first over the top, but missed a follow up moonsault. Ruffin hit a few strikes, but Nese rolled through a sunset flip and hit a spin kick to the face. It was academic, as Nese hit the Running Nese for the win.
WINNER: Tony Nese in 4:00
(Howard's Analysis: The former NXT North American champion was able to show off his speed in this one, but was no match for Tony Nese. Taz said he's letting Hook deal with Nese & Sterling and is staying out of it.)
(7) ANGELICO vs. YUYA UEMURA
Taz told us he was in line in the lobby at the hotel, Angelico was with him and they did the little dance Angelico always does. I wish there were video of such thing. Excalibur tells us the background of Uemura training in the New Japan dojo. The opening minutes were spent with back and forth ground exchange with each man working head locks, arm bars and head scissors. Uemura bridged out of a head scissors and we had a stalemate. Taz put over Katsuyori Shibata's training, as Uemura hit a big shoulder block. Angelico offered a handshake, Uemura foolishly accepted and Angelico trapped the arm again. After a rope break, Uemura fired off a huge chop t the chest. Angelico hid in the ropes long enough to hit a basement dropkick and rolling leg lock. Uemura got the ropes, but Angelico went to work on the left leg. Angelico took too long to capitalize, as Uemura hit a dropkick and corner splash to follow. Uemura fought for and finally got a big time back suplex, but only got two. Uemura signaled for the end, but Angelico swept the leg. Angelico charged, but Uemura hit a huge arm drag, tried a double arm suplex, but Angelico countered into a big time dragon screw and Navarro Death Roll for the submission.
WINNER: Angelico in 9:00
(Howard's Analysis: This match featured some excellent back and forth mat wrestling. I'm so happy Uemura is on Dark and this is one of Angelico's best singles showings. This was a very enjoyable and evenly matched battle that has easily been Match of the Night thus far.)
(8) DANTE MARTIN vs. INVICTUS KHASH
Both men traded arm bars and wrist locks early until Khash hit a nice overhead throw. After a snazzy series of counters, Dante finally was able to get to his feet and use his speed to connect with a somersault into a dropkick. Taz tells us he did that in his early days as the Tazmaniac. Khash avoided a dive, drove Dante into the side of the mat and posted him to follow. Back inside, Dante tried to fight back, but Khash hit a flying arm bar. Not sure I would work the arm of a high flyer, but that's Khash's strategy in this one to keep Dante grounded. Dante finally made his comeback with some clotheslines, corner boot, step up corner kick and cross body for two. Khash made me eat my words, as Dante went for a suplex but couldn't get it due to his arm being worked over. Khash hit a nice shoulder breaker, but took too long and Dante hit a snap German suplex. With Khash on the outside, Dante hit an elbow suicida and Nose Dive double jump moonsault for the win.
WINNER: Dante Martin in 6:00
(Howard's Analysis: Dante fought for this one, as Khash controlled a majority of the action. Post match, Tony Schiavone told us Dante will face Rey Fenix tomorrow on Dynamite in an Owen Hart Foundation Qualifier, which should be a crazy high flying showcase and a huge match for Dante. He took the mic and said this is a dream match of his and also a lot of others. Dante said he won't take it easy on Fenix during his first match back in action.)
(9) TONI STORM vs. DIAMANTE
I've been asking for Diamante to get some stronger competition and she's definitely getting it in the main event here tonight. Toni worked a deep headlock for a full minute before Diamante escaped. Toni did a misdirect into a snap dropkick and worked the armbar. Diamante rolled through, hung up Toni on the apron and hit a sliding dropkick to send Toni to the floor. Diamante whipped Toni into the steps and got a two back inside. Diamante did a nice O'Connor Roll into a half Camel Clutch transition. Toni got to her feet, but Diamante slammed her to the mat by the hair. Diamante hit three rolling German suplexes, but only got a two count. Diamante started slapping Toni in the face, which just pissed her off and Toni hit a snap German of her own. After a running corner boot, Toni got a nice DDT for two. Diamante countered Storm Zero and both ladies traded pin attempts. Diamante bridged out of a back slide and got almost a Code Red for two, as Toni rolled outside. Diamante went for Sliced Bread, but Toni countered into a Tornado DDT from the apron. Back inside, Toni got two off a fisherman's suplex. Diamante fought back and hit a standing Sliced Bread for a super close two of her own. Diamante wanted a proper Code Red, but Toni countered into a Water Wheel Drop, then Storm Zero for the win.
WINNER: Toni Storm in 8:30
(Howard's Analysis: I dug this main event quite a bit with Toni Storm looking great and Diamante super strong even in defeat. This was one of Diamante's best showings in AEW, as I enjoy her squashes, but her being in competitive matches is much better, which is the case with most wrestlers. I wouldn't mind having Diamante get a shot at an Owen Hart Qualifier and they could justify it not just by her record, but by pushing Toni to the limit, someone who has already qualified.)
FINAL THOUGHTS: Like many of the first episodes off a fresh set of Dark tapings, this episode was incredibly enjoyable tonight. They were able to plug and promote some matches for tomorrow night with The Blonds vs. House of Black and Dante vs. Fenix as well. It's a tough call for Match of the Night, as Angelico & Uemura had an excellent ground based back and forth battle, while the ladies crushed it in the main event. Both were given plenty of time, didn't feel rushed and all competitors looked impressive in each match. I can't decide, so I'm giving a Matches of the Night to those two, which are the matches I'd seek out on this episode. I hope the rest of the taping featured some matches like this, as it's all I've been asking to have on Dark for months now. More competitive matches, which in tonight's case, delivered.
---
CATCH-UP: 4/26 AEW DARK TV REPORT: Ten man main event with The Hardys, Moriarty vs. Serpentico, more