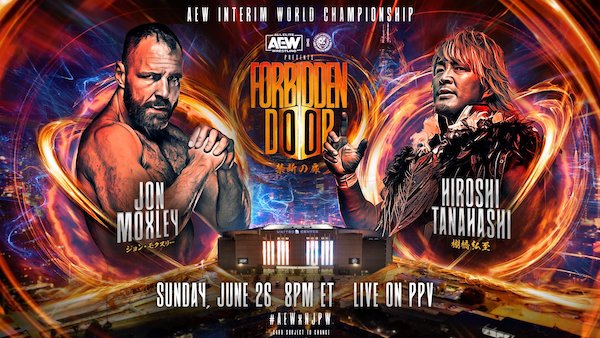 ---
SPOTLIGHTED PODCAST ALERT (YOUR ARTICLE BEGINS A FEW INCHES DOWN)...
---
I'm ready for Forbidden Door to be over. Anyone else?
Yeah, the novelty of an AEW and New Japan Pro Wrestling supershow was wonderfully intriguing on the heels of its announcement, but had we known what we know now, it wouldn't have been and it likely won't be in the future.
Here it is – Forbidden Door is a snake-bit show, marred by injuries, plagued by painfully weak and detrimental booking, and booked by a guy that seems to be infatuated with the concept of what he books rather than the impact his booking has on his company.
C.M. Punk, Bryan Danielson, Kenny Omega, Hiromu Takahashi, Tomohiro Ishii were all ruled out of the event for one reason or another. Punk, Danielson, and Omega. Takahashi and Ishii are great, but losing those three guys? That's three major matches that *poof* into thin air. These guys needed to be a part of matches so that the supershow idea and selling point rang true for fans. Their lack of involvement deeply hurt the brand of the show.
Well, the tip top New Japan talent still are around, right? Wrong. Yeah, they were around, but they certainly don't stand out. When Will Ospreay is sliding his way around matches with Trent Beretta, there is a problem. Jay White? Same thing. He has looked the best out of the top New Japan talent, but White is a great wrestler and hasn't show the million weekly viewers of Dynamite why. Tanahashi, same thing. It's a criminal mistake that not only hurt ratings already, but that forever hurts the ability of Tony Khan to use those talents down the road to do business.
And now the supershow concept. Here's the thing. It's a supershow only if the talent matters to your broad audience or if you make it matter to them. Tony is excited about Zack Sabre Jr. against XX guy because he knows Zack Sabre Jr. So, to him? Dream match. To others? Meaningless. Khan clearly loves the concept of the supershow filled with dream matches, but it's bad business to build a show like that for yourself and fans like yourself. That's what happened with Forbidden Door and Khan simply won't have the casual AEW viewer purchasing this show because of it.
Now, are you ready for the ironic hilariousness of all this? All the above aside, Forbidden Door is likely to be a tremendous show.
Call this a preview, a calm look into the distant future, or a gaze into a wondrous crystal ball; just don't hold me to anything, ok?
Jay White vs. Adam Page vs. Kazuchika Okada vs. Adam Cole – IWGP World Heavyweight Championship
I mean, this is just like a WWE style fatal four-way match at this point. A bunch of guys in the ring with a claim a title shot and boom, there you have it. Too much of this build has been around getting the match instead of getting the prize for winning. White just won the title at Dominion and with Okada's wife having a baby soon, he'll retain. Page or Cole? Your job awaits.
Thunder Rosa vs. Toni Storm – AEW Women's World Championship
This will be an exciting match if given some time. Rosa and Storm are talented enough to pull off a lot of drama when the story between both really doesn't deserve any. Good talent can save quite a bit of bad storytelling. The Rosa title reign is cold. Ice cold. Storm livens it up simply because she's fresh. Khan decides that fresh is better than not fresh and puts Storm over in a big way.
FTR vs. Roppongi Vice vs. Jeff Cobb & Great-O-Khan – ROH and IWGP World Tag Team Championship
This didn't need to be a triple threat match, but hey, someone on Roppongi Vice has to the job, right? FTR has a good story going into this match and big business on the other side of it. If you missed Rampage this week, you missed it, though. Shame on you AEW. FTR cut a stellar promo that emphasized what winning the IWGP Heavyweight Tag Team Championships would mean to them. They load up on all the belts, save for one set. Young Bucks vs. FTR 3 come on down and this time it'll be for it all. FTR to take it in a really good match.
The Young Bucks & El Phantasmo vs. Sting, Darby Allin, & Shingo Takagi
Someone give me a good reason that this match is happening. I know you want The Young Bucks on the card, but on a show that's already long, let's just not do this. Shingo Takagi is an afterthought, which stings to those who know his body of work, and not worth having on the show because of. Just, no. No, no, no. Team Bucks win in a car crash style match that the audience eats up.
Chris Jericho, Minoru Suzuki, & Sammy Guevara vs. Eddie Kingston, Wheeler Yuta, & Shota Umino
If this were the only multi-person match on the card, it would stick out more, but is the best built multi-person match on the show. The match has history, that's for sure. It serves a purpose as well. Kingston, Yuta, Jericho, and Guevara are all scheduled for Blood and Guts next week and this helps give that more sizzle. The outcome also impacts that match as an advantage in it is on the line for the winner. Heels take the win so they can steal the advantage and give the babyfaces a mountain to climb on Wednesday.
Will Ospreay vs. Orange Cassidy – IWGP United States Championship
There is no doubt in my mind that Ospreay and Cassidy will have a classic. It's easy to forget, but Cassidy can go and Ospreay is a unique opponent for him. The match fits in with most of the overall Forbidden Door criticisms, though. Has there been mention of the title on the line? Ospreay was rolled out as just another guy, and this a dream match for, well, yeah. Ospreay gets the W and remains champion.
Zack Sabre Jr. vs. Mystery Opponent
My guess is that the mystery opponent is Claudio Castagnoli, formerly Cesaro in WWE. If it's him, these two have a mat classic that Claudio wins to build some momentum ahead of Blood and Guts.
Pac vs. Malaki Black vs. Clark Connors vs. Miro – All-Atlantic Championship Tournament Final
Not enough people care about this tournament or title because nobody knows what the hell it means. Because it's weak, you don't want potential contributors involved. That eliminates Miro and Malaki Black. Connors just isn't ready and was a late addition for Ishii, so that leaves Pac. Ok, Pac it is.
Jon Moxley vs. Hiroshi Tanahashi – Interim AEW World Championship
The best built match on the show and my match of the night pick. Hiroshi Tanahashi gave the line of show's build saying that he didn't dodge Moxley, but just waited for him to get up to his level. A wonderful line that adds a layer of intensity to the match. It aired on the Forbidden Door Countdown show that a third of the Dynamite audience watches, but ahhh, don't look that direction. Moxley has hyped this successfully on the microphone and the final stare down between both men, though too long, harnessed the charisma of both. Tony Khan needs the belt on Moxley, so he wins, which sets up a box office Moxley vs. Punk match down the road.
---
CATCH-UP: PPV PRIMER – AEW & NJPW FORBIDDEN DOOR 6/26: Moxley vs. Tanahashi, Ospreay vs. Cassidy, more