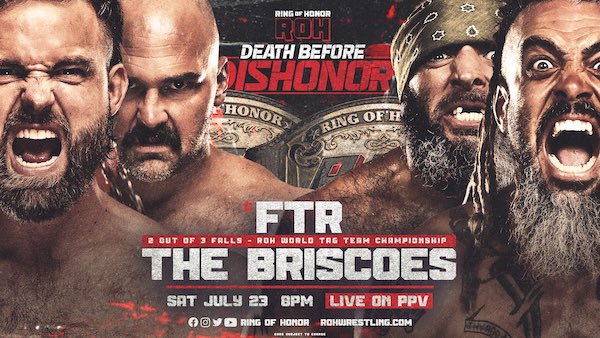 ---
SPOTLIGHTED PODCAST ALERT (YOUR ARTICLE BEGINS A FEW INCHES DOWN)...
---
LECLAIR'S ROH DEATH BEFORE DISHONOR 2022 REPORT
JULY 23, 2022
LOWELL, MA AT TSONGAS CENTER
AIRED LIVE ON B/R LIVE (U.S.), FITE.TV (Int.)
Announcers: Ian Riccabani & Caprice Coleman
-The show opened cold on a sweeping shot of the front row of the Tsongas Center in Lowell, Massachusetts. Ian Riccabani welcomed the audience to the show and threw to the ring.
Claudio Castagnoli was introduced first. Riccaboni and Coleman were surprised to learn that the ROH World title match would be up first. Riccaboni clarified that there was a coin toss earlier in the night, and FTR vs. the Briscoes would main event the show. They welcomed William Regal to the commentary table as Jonathan Gresham entered to a modest reaction.
(1) JONATHAN GRESHAM (c) vs. CLAUDIO CASTAGNOLI – ROH World Championship match
Claudio Castagnoli exploded out of the corner, looking for an uppercut. Jonathan Gresham side stepped him. The two men regrouped and locked up in the center of the ring to get things going. Riccaboni talked about Gresham's legacy of defending the world title during ROH's hiatus. A small dueling chant broke out.
Castagnoli and Gresham traded quick lock ups and takedowns. Claudio tripped the champion up and initiated the swing early. He got more than a dozen rotations to the crowd's delight. Claudio covered for a quick two count. The announcers tossed to a replay of the swing from a nice looking bird's eye camera above the ring.
Gresham backed Castagnoli into the corner and looked to Irish whip him. Claudio held onto the turnbuckle. Gresham dropped to a seat, trying to out power Claudio. He eventually caught him in a quick arm drag. Claudio got Gresham onto his shoulders, but he quickly slid out and took Claudio down. Gresham began working over the leg leg of Castagnoli.
The champion torqued the leg of Claudio in a drop toe hold. Castagnoli fought free and dumped Gresham onto the apron. Castagnoli climbed onto the middle rope and tried to Gutwrench him back into the ring. After a struggle, he succeeded and covered for a two count just as the match crossed 5:00. Gresham managed to trip Claudio into the corner. He connected with a dropkick to the back of the knee. Gresham went back to work on the injured leg.
Castagnoli worked Gresham to the mat and looked to apply the Sharpshooter. Gresham used his lower body strength to keep his legs far enough apart to block the hold. Claudio gave him a kick to the sternum and moved on. Gresham caught Claudio with another kick to the knee. He set up for a German Suplex, but his lower back prevented the move. Claudio backed Gresham into the corner, selling the knee. Gresham flew off the middle rope with a missile dropkick, then a big running forearm. Gresham covered for two.
Jonathan Gresham turned Castagnoli over into an Ankle Lock. Claudio reached the ropes with relative ease. Gresham gave him a hard chop to the chest. The two traded chops and shots. Gresham eventually caught an Enziguri. Claudio hoisted Gresham onto his shoulders, but his knee gave out. Gresham took control with a springboard moonsault off the middle ropes. He picked the ankle again, then pulled Claudio to his feet and into a big German Suplex with a bridge for a two count.
Gresham went for another forearm, but Claudio popped him up into an Uppercut. He went for the Ricola Bomb, but Gresham blocked it and hit a bomb of his own. Claudio popped up and dropped the champion with a clothesline. Castagnoli hooked Gresham's arm and began driving his elbow violently into the champion's head. He picked Gresham up and delivered the Ricola Bomb, covering him for a three count.
WINNER: Claudio Castagnoli in 11:40 to win the ROH World Championship
Confetti shot from around the ring, covering Castagnoli. He said in the middle of the ring and cupped his hands over his mouth, soaking in the moment. William Regal thanked the announce team and left to meet the new champion. Gresham approached Claudio and gave him a handshake. Regal smiled wide on the outside. Claudio took a victory lap around ringside.
(LeClair's Analysis: Good match, but it didn't cross into great territory. It was a little short to reach those heights. Claudio was very over with the crowd, seemingly quite a bit more so than Gresham, although there were a couple of small dueling chants throughout the mats. This felt like a clear statement of purpose for this "new" era of Ring of Honor. Tony Khan has been apt to get titles on his guys, and in relatively quick fashion. Castagnoli has felt like one of Khan's guys from the get go. He's been placed in significant spots on AEW television, and now, Ring of Honor. This result is surprising only in that they did little to build this match coming in. One could have argued  a title change this significant might have come with more fan-fare, but ultimately, the promotion's new direction won out. I wonder what these means for Castagnoli's involvement in AEW going forward, given that Khan himself mentioned that he'd originally envisioned him as primarily an ROH guy, and it was injures that necessitated his inclusion in main AEW programming.)
-The camera moved back to ringside as Riccaboni and Coleman reset the stage, promoting Wheeler Yuta vs. Daniel Garcia. Riccaboni tossed backstage.
Daniel Garcia was interviewed about recent comments from Wheeler Yuta saying Garcia was "unworthy" of the pure title. Garcia said he's a sports entertainer. He said he has no interest in the title itself, he only wants to take it from Yuta. Garcia said he'd take to the "big leagues" of AEW and break into pieces on national television with the Jericho Appreciation Society.
(LeClair's Analysis: Good, quick promo from Garcia stating his purpose. I'd caution him on trying to undermine the credibility of a title, but I do understand what he was going for and thought it largely worked.)
-Riccaboni and Coleman continued running down the rest of the card, concluding with the match up next: Dalton Castle & The Boys vs. The Righteous.
Dalton Castle and The Boys headed to the ring first. Riccaboni mentioned that Castle won his first ROH title right in Lowell. The Righteous followed to minimal reaction.
(2) THE RIGHTEOUS (c) vs. DALTON CASTLE & THE BOYS – ROH World 6-Man Tag Team Championship match
Dalton Castle opened the match with Vincent of The Righteous. Riccaboni and Coleman discussed the Boys getting names. Riccaboni promoted upcoming AEW TV tapings. Vincent gave Castle a Russian Leg Sweep. Castle rolled to the outside and got fanned by The Boys.
Vincent tagged in Bateman. He and Castle locked up, but Dalton tagged in Boy Brandon. Brent tagged in Boy Brent. Bateman tagged in Dutch. Dutch shot Brent to the corner and gave him a big chop. He dragged the Boy out by the arm and gave him a big short arm clothesline, followed by a Spinebuster. Dutch covered for a two count, then tagged in Vincent.
Brent caught Vincent with a quick elbow out of the corner, but the Righteous leader shrugged it off and dropped him. Vincent tagged in Bateman. Bateman worked over Brent int the center. Castle and Brandon tried to get the crowd behind them from the corner. Batemen went for a back drop, but Brent flipped out of it and reached Castle for a tag. Castle knocked Vincent and Dutch off the apron. He gave Bateman a DDT.
Boy Brandon hopped in the ring and knocked Dutch off the apron again. Castle asked for a Boy. He tossed them repeatedly over the top rope and onto the Righteous on the outside. This went on for a while. Castle tagged in Brandon, who posed in the center with Brent. Vita VonStarr jumped onto the apron, distracting Castle and Boys. Dutch tossed the Boys to the outside. VonStarr dove over the top rope, but the Boys avoided her. She took out Vincent and Bateman instead. Dutch got a running start and flew over the top, taking out Brandon and Brent.
The Righteous began a triple team on Brandon. They connected with Death from Above and covered, but Dalton Castle broke up the count just in time. At the 8:30 mark, Vincent caught Brent with a back fast and a big neck breaker. Castle pulled him out of the ring and hit a 'rana to the floor. Dalton tagged himself in. Brandon got caught with a Boss Man Slam from Dutch. Castle took out Dutch with a German Suplex.
Bateman entered, but walked into the Bangarang from Castle. Dalton covered him for a three count.
WINNERS: Dalton Castle & The Boys in 9:37 to win the ROH World 6-Man Tag Team Championships
(LeClair's Analysis: This one was rough in the beginning. Both teams received minimal reactions coming to the ring, and the audience didn't really seem to know what to make of this in the opening minutes. It wasn't until Castle began tossing the Boys around that the crowd started getting into this. The last few minutes were fun, but nothing of particular note. This marks the second title change of the night, again signifying a clear shift in direction for the company.)
-Riccaboni threw to Sonjay Dutt backstage. He, Jay Lethal, and Satnam Singh were dressed in matching white suits. Dutt said white signifies happiness and pureness. He said in Indian culture, the only reason you'd wear white head to toe is for a funeral. He said tonight is Samoa Joe's funeral. Jay Lethal said everyone can feel it, that tonight is a new day. He promised to leave with the ROH Television Championship. Lethal said Joe has two choices, death or dishonor. "The choice has already been made for you," he concluded.
-Riccaboni and Coleman set the table for the ROH Pure title match. They ran through the rules, most notably that wrestlers are limited to three rope breaks per match.
Daniel Garcia entered first. He flipped off the ROH logo on the ring apron and taunted the fans. Wheeler Yuta followed, accompanied by William Regal. Riccaboni and Coleman welcomed Regal back to the table. Bobby Price  introduced judges Josh Woods, John Walters, and Ace Steel.
Yuta offered a handshake. Garcia obliged, but forced his shoulder into Yuta's, talking trash.
(3) WHEELER YUTA (c) vs. DANIEL GARCIA – ROH Pure Championship match
The two men locked up and traded some quick takedowns. The wrestling broke off and gave way to quick slaps to the face. Yuta gave Garcia a quick backdrop. Yuta and Garcia traded Straight Jacket holds. Yuta used his boot to create torque. Garcia preferred using his head. Regal said he's a big fan of Garcia's in ring talent, but dislikes the company he keeps. Riccaboni noted that the two wrestlers fought to a 60 minute time limit last year.
Yuta grabbed a front face lock and dropped Garcia to a seated position. Garcia fought his way up and blocked a Suplex attempt. Garcia managed to left Yuta into the air and toss him cleanly to the outside. Yuta tried to return to the ring, but Garcia caught him with a blindside boot to the face. Garcia tossed Yuta violently into the ringside barrier. He teased bringing him back into the ring, but drove him into the barrier a second time.
Garcia threw Yuta back in the ring and covered him for a one count. He admonished the official for counting too slow for his liking. Garcia gave Yuta a snap Suplex. He scooped the champion up, but Yuta caught him in a quick roll over cover for a one count. Yuta followed with a standing Cannonball splash. Yuta gave Garcia a big chop as the match crossed 5:00. Yuta locked up Garcia's arm and drove his fist into the sternum. Wheeler transitioned into a single-leg crab, then rolled him into a full body stretch. Garcia flipped over into a cover for two.
Yuta clutched Garcia and planted him with a German Suplex. The champion held on, rolling through and hitting a second. Garcia broke the grasp of Yuta and grabbed the arm. Yuta worked through it, but Garcia bit him on the ear. Garcia shoved Yuta to the mat and scraped his forearm against Yuta's ear. He gave him a hard chop, raising him to his feet. Garcia tossed Yuta from corner to corner. He struck Yuta in the ear repeatedly. Regal said it could effect Yuta's equilibrium and talked about how painful ear burn from irritation can be.
The champion managed to block Garcia's punches and climb to the middle rope for a dropkick. Yuta followed up with an inverted atomic drop. He climbed to the top rope and connected with a flying elbow. Riccaboni noted that tonight's show is in the top 4 for ROH buys and attendance. Coleman noted that neither man has used a rope break 10:00 in.
Both men were laid out and the ref began to count. Garcia and Yuta good to their knees just before nine. They traded brutal slaps to the face. They fought to their feet, slapping each other incessantly. Yuta dropped Garcia and called for a knock-out count. Garcia answered the count just before ten. Yuta hit him with a German Suplex immediately. He bridged for a two count.
Yuta hooked Garcia's arm, exposing his chest. He drove his elbow into it repeatedly. Garcia rolled through it and engaged in the same shots. The challenger applied a chin lock, but Yuta rolled through it into a cover for two. Both men popped up. Yuta hit a quick planting slam, but Garcia rolled right into a Crossface. He transitioned into a deep Sharpshooter. He extended backward, but Wheeler grabbed him by the neck and pulled him into a hold. Garcia slipped free and applied the Regal Stretch.
Garcia let go of the hold himself to deliver hard knees to the neck and shoulders. Yuta shrugged it off and applied the Boston Crab. Garcia used the ropes to break the hold at 14:30. Garcia and Yuta traded quick sunset roll ups. Garcia blocked one and hit a Piledriver for a two count. Garcia grabbed the wrists of Yuta. The champion spit in his face. Garcia went to stomp anyway, but Yuta rolled him up for a surprise three count.
WINNER: Wheeler Yuta in 15:58 to retain the ROH Pure Championship
Wheeler Yuta offered a handshake. Garcia gave him the finger and left. He gave double middle fingers to the ROH logo on his way out.
(LeClair's Analysis: Really good, creative, and hard hitting match. Those face slaps were brutal. Garcia sold their impact incredibly well. I thought commentary, in particular, really shined here. Garcia and Yuta went to some out of the box stuff and Regal, Riccaboni, and Coleman did an excellent job explaining exactly why such holds and moves would hurt. Garcia working over Yuta's ear, for example, was discussed in detail by Regal and made you believe the brutality of the match, even if the particular action was quite safe and simple. I also thought it was a nice touch that both men used their mentor's holds, and at times, stole their opponent's mentor's moves. It really sold the fact that these are two young guys soaking in a ton of knowledge and ability from talented veterans who are eager to share their wealth. Good stuff all around.)
-Ian Riccaboni talked up Rush vs. Dragon Lee. He touted their individual accomplishments, mentioning this is the first time they've faced off. Rush headed to the ring first, accompanied by Jose the Assistant. Dragon Lee entered next, getting the first pyro of the night.
Dragon Lee offered a handshake. Rush reluctantly accepted.
(4) RUSH (w/ Jose the Assistant)  vs. DRAGON LEE
The two men circled the ring cautiously to begin. They locked up. Rush backed Lee into the ropes, then broke. They circled again. Rush backed Lee into the ropes again and gave him a friendly chop to the chest. The two men opened up some chain grappling that ended with a stalemate. Dragon Lee grabbed a side headlock. Rush shoved him away. They hit simultaneous shoulder tackles, neither man budged.
Rush threw a big strike, knocking Lee to the mat. He shoved his brother to the corner and gave him a hard chop. Lee collapsed to the mat. Rush tossed Lee to the opposing corner, but Lee jumped the ropes and leapt back in with a big kick. Lee charged at Rush, but Rush caught him with a big leaping dropkick. Lee rolled to the outside, but Rush immediately flew over the ropes onto him. Rush showboated atop the announcers desk.
Dragon Lee was sent flying into the ringside barrier. Rush looked around at the crowd and smiled. He tossed his brother back inside and worked him toward the corner. Rush got a running start, but slowed up, planted, and kicked Lee in the face. He hit Lee with a snap Powerslam out of the corner and covered for two.
Lee managed to battle back with a headscissor over the top rope to the floor. Rush stumbled against the table at ringside. Lee catapulted himself through the middle rope and onto Rush, breaking the table for a big spot. Lee got his brother back inside and covered him for two. Coleman said you could count on one hand the number of times Rush has been in this much trouble in a match.
Rush returned to a seated position and absorbed kicks to the chest from Dragon Lee. The two men traded forearms to the face. They transitioned to hard chops to the chest. Lee hit a pump kick to the face. Rush shrugged it off and hit a massive chop. Lee hit a Ripcord knee, sending Rush stumbling backward. He charged forward for an awkward looking plant. Both men were down for a count.
The brothers returned to their feet at the referee's count of seven. They stood in opposing corners. Rush sent Lee to the apron, then hit a Suplex back into the ring off the middle rope. He covered for two. The match approached 10:00 as Rush joined Lee on the apron. They traded open chops on the edge of the ring. Rush caught Lee with a Superkick, but Lee bounced back with a knee to the face. Rush teetered on the edge. Lee charged, but Rush tossed him cleanly over his head to the floor below.
Rush tossed Dragon Lee back inside. He turned his attention to the crowd for a moment. When he spun around, Lee came flying with a 'rana. Both men returned to the ring at the referee's count of 19. They rolled to their feet and slapped chests. Lee hit a Superkick. He charged at Rush, who caught him with another tossing Overheard Belly-to-Belly. Lee crumbled into the corner. Rush hit the Bull's Horns and hooked the leg for a near fall.
The crowd began a "this is awesome" chant as the match crossed 14:00. The two men worked to the corner and up to the top rope. Dragon Lee hit a double stomp to the mat and covered for one. Lee couldn't believe it. He scooped his brother up and hit a big sit-out Powerbomb for a two count. Lee dropped his knee pad and hit the Incinerator. He hooked the leg, but Rush kicked out at two.
Rush tried to stand, but collapsed in a heap. Lee went to check on him, fearing an injury. The referee gave Lee the ok. Lee covered for a one count. Rush shot to his feet, tossed his brother to the corner and hit the Bull's Horns for a second time, covering for a three count.
WINNER: Rush in 15:51
(LeClair's Analysis: Really good match which some innovative offense. I thought they made creative use of their time on the apron. Rush's catch belly-to-belly was impressive on both occasions, and I appreciated that they went great lengths to highlight the fact that Rush was wrestling with honor against his brother, only to have him pull a ruse to win later on. After praising commentary in the last match, though, I have to note that Caprice Coleman had what undoubtedly was the boneheaded remark of the night, exclaiming that Ring of Honor "isn't about two wrestlers disliking each other" but rather, "it's all about having the best match." I understand that ROH prides itself on the respect aspect of competition, but surely there is a far better way to communicate that message than this. Crowds today are already apt to cheer for a good match over a popular wrestler, and Coleman practically invited them to do it.)
-Riccaboni and Coleman turned their attention to the ROH Women's World Championship match. Bobby Cruise introduced challenger Serena Deeb. Mercedes Martinez entered to a respectable ovation.
(5) MERCEDES MARTINEZ (c) vs. SERENA DEEB – ROH Women's World Championship match
Mercedes Martinez and Serena Deeb shared a handshake as the bell rang. Riccaboni noted that Martinez may have made an error by letting Deeb watch her so closely for weeks while they were teaming. The two engaged in some quick holds and takedowns. Deeb worked Martinez into a seated chin lock. Martinez fought free and the two continued to chain wrestle. The crowd gave a small "Let's go Deeb" chant.
The champion grabbed a side headlock and then sent Deeb off the ropes. She dropped the challenger with a tackle, but Deeb quickly returned to her feet. Martinez caught her with an arm drag. Deeb rolled through with ease and hit one of her own, holding on for an arm lock. Martinez worked to her feet slowly. Coleman said he's never seen a chin like Martinez'. "She can take hits and keep hitting."
Deeb tried to maintain control, but Martinez powered her off. Deeb rolled to the outside to regroup. Mercedes followed her, giving her a hard chop and tossing her back into the ring. She draped Deeb's head over the apron and drove her elbow into the back of Serena's neck. Martinez lifted Deeb onto her shoulders on the apron, but Deeb elbowed herself free. Serena followed up with a big apron spear just before 4:30.
Both women returned to the ring. Deeb charged, but no one was home. She climbed to the middle rope and hooked Martinez for a slow-developing Dragon Sleeper. Deeb covered for a near fall. Deeb delivered some forearm uppercuts. Mercedes caught her arms and pulled her into a backslide. Deep shot to her feet, but Martinez caught her with a Half and Half Suplex. The champion called for Deeb to stand. She perched Deeb onto the top turnbuckle. She set up for a German Suplex off the top, but Deeb blocked it.
The challenger elbowed herself free and slid to the apron. Martinez was tied up in Tree of Woe position. Deeb kicked at her head. She hit a running dropkick to the sternum, breaking the champion free and sending her crumpling to the mat. Deeb applied a neck wrench. She climbed Martinez' back, applying the Detox. Martinez screamed in agony. Mercedes used her strength advantage to break Serena's grip and toss her to the mat.
Deeb and Martinez traded quick roll ups for two counts. Martinez transitioned into an arm bar as the match crossed 9:30. Deeb clutched her own hands together to avoid the pressure. Martinez moved into an inside choke. Deeb broke it with punches to the ribs. The two women kicked at each other from seated positions. Perfectly placed tandem boots to the face left both champion and challenger laid out in the center. Both women rose slowly. They each tried a Powerbomb unsuccessfully. Martinez rushed at Deeb in the corner, but Deeb side stepped her.
The two women got tangled in the corner. Martinez hoisted Deeb to the top and connected with the Spider German Suplex she wanted earlier. Deeb's head and neck hit the mat hard. Martinez freed herself and stalked her opponent. She clubbed Deeb's chest. Martinez set up for the Execution Forearm, but Deeb collapsed to the mat before it connected. Martinez went for the Surfboard Stretch, but Deeb blocked it and bit the champion's elbow.
The official broke up the bite. Martinez exploded off the ropes with a big chop. Deeb caught the champion with a spinning neck breaker at 14:20. She hit the ropes and connected with a spinning DDT. Deeb applied the Serenity Lock. Martinez swung her hips into a cover for two. Deeb picked the ankle and slammed Mercedes' knee into the mat repeatedly. She wrenched the ankle. Mercedes used her free leg to catapult Deeb into the corner.
Martinez lifted Deeb into Electric Chair position. Deeb planted herself on the ropes, so Martinez kicked her through the legs. She flipped her through a Razor's Edge and covered for a near fall. Martinez locked in the Brass City Sleeper. Deep flailed wildly and tapped.
WINNER: Mercedes Martinez in 17:23 to retain the ROH Women's World Championship
(LeClair's Analysis: Good match that could have been made even better by shaving just a few minutes off. Unfortunately, I think it suffered a bit from a crowd that didn't seem fully invested, save for a few small chants for Serena Deeb. The chain wrestling was impressive, and Deeb is always a pleasure to watch. Mercedes Martinez held her own, particularly with her offense in the latter stages of the match. The set up for the spider German Suplex mid-match was scary enough, so it was shocking to see them come back to it later and hit it. I thought there was a missed opportunity there to capitalize on a big near fall, given how brutal the move looked. They lost a lot of momentum by taking time getting Mercedes unhooked from the corner and covering Deeb lackadaisically. That was too big of a spot to let go to waste. For their part, the announcers worked hard at putting over the history of the ROH Women's division and the lineage of the title. Caprice Coleman was adamant about pointing out that it's not about bikini models and fashion. That played years ago, but the company they're trying to insult has largely moved on from that era, so it just rang a little hollow.)
-A video package aired for Samoa Joe vs. Jay Lethal.
Jay Lethal entered, flanked by Sonjay Dutt and Satnam Singh. They left him at the top of the stage and returned to the back. Samoa Joe cut off Lethal's entrance, entering while Lethal was still in the ramp way. Joe and Lethal wasted no time, coming to blows in the aisle.
Joe dropped Lethal against the barricade and yelled out to a crowd ready to come alive for him. Joe walked Lethal around the ringside area, slamming him into the ring and barricade. Lethal fought back, backing Joe against the ring and delivering a pair of hard clotheslines. Joe burst out and dropped Lethal with one of his own. The two men jostled back and forth, with Lethal getting the upper hand. Jay picked up the Television title and tried to slam Joe into it. Joe blocked it.
Samoa Joe tossed Lethal in the ring. Lethal quickly dove onto him. He hit the full trio. Riccaboni noted that the match hadn't even begun. A big "Lethal sucks" chant broke out. Lethal charged at Joe and ate a big chop to the chest, followed by a massive kick. Joe sat Lethal in a chair and kicked him in the skull.
Joe cleared off the announcers desk and dragged Lethal into position. Satnam Singh returned and attacked Joe from behind. He held Joe up as Lethal wrapped a chair around the champion's arm. Singh tossed Joe into the ring post, then tossed him in the ring. Joe rolled to the corner. The referee ejected Satnam Singh, refusing to ring the bell until he left.
(6) SAMOA JOE (c) vs. JAY LETHAL  – ROH World Television Championship match
With Singh in retreat, the bell rang and Jay Lethal went on the offensive. Samoa Joe mustered a big chop to create some distance. Lethal stumbled to the corner and ate another big chop. Joe whipped Lethal to the opposing corner and followed him, catching him with a big dropkick. Joe covered for a quick two count.
Lethal rolled to the apron. Joe came after him, but Lethal wrenched the injured arm over the top rope, sending Joe reeling. Lethal covered Joe and held the injured arm, forcing Joe to utilize it. Lethal and Joe traded chops from corner to corner. Joe hit a running forearm, but Lethal shrugged it off and connected with a perfect dropkick. Joe shook out his arm and pulled it in close.
Samoa Joe responded to a foot stomp from Lethal with a big slap to the face. Lethal staggered, but delivered an enziguri to take Joe down. Both men rose slowly. Joe hit a shoulder tackle. Lethal rolled to the outside. The champion launched himself through the middle rope onto Lethal. Riccaboni noted that Samoa Joe won NXT and Impact gold in Lowell. The champion tossed Lethal back in the ring.
The match hit 5:00 and the crowd opened up a big "let's go Joe" chant. The two men traded punches. Joe deflected a punch and rolled Lethal into a pin for two. He turned Jay inside out with a massive clothesline. He hooked Lethal up, but Jay kicked at the injured arm again. Lethal hit the ropes but Joe caught him with a snap slam and cover for two.
Joe hit Lethal with a series of open palm strike. Jay connected with Lethal Combination for a two count. He took a moment to shake off the slaps, then grabbed Joe's leg. Samoa Joe kicked him in the face. Lethal stumbled, but went to work on the leg. He set up for the Figure Four, but Joe easily kicked him away.
Lethal managed to work Joe up to the top turnbuckle. He put Joe in position for a Musclebuster, but Joe fought him off. Joe hit a big leg lariat off the top rope and covered for a near fall. The camera pulled back to show the arena as Lethal and Joe struggled to their feet. Joe worked Lethal to the corner and set up for the Muscle Buster. Jay slid down his back, hit the ropes, and caught Joe with Lethal Injection. He hooked the leg for a believable near fall.
Samoa Joe stumbled into a dropkick. Lethal charged, but Joe caught him with a Judo slam out of the corner. He positioned Lethal for the Muscle Buster again, but saw Sonjay Dutt jump on the apron. With the referee distracted, Lethal clocked Joe with the championship. He covered, but Joe kicked out. He set up for another Lethal Injection, but Joe blocked it. He grabbed the clutch, but Lethal hit a Jawbreaker. Lethal rolled Joe up, but Samoa Joe broke free and transitioned straight into the Coquina Clutch. Lethal tapped.
WINNER: Samoa Joe in 12:19 to retain the ROH World Television Championship
(LeClair's Analysis: Good match with some interesting pacing. They went fast and furious out of the gate, getting the crowd really invested right away. Once the actual match began, though, they slowed down considerably, almost to a point of losing the crowd on a few occasions. This match suffered from the "back and forth" spots, which would've been fine under normal circumstances, but have been overly prevalent up and down tonight's card. The final few minutes picked up significantly, with the crowd fully believing Dutt's interference would lead to a title change. They popped big for Joe's kick out, and loved the transition into the Coquina Clutch off the tease moments prior. Fun match, with Joe proving he's still a force in the ring.)
-Riccaboni and Coleman ran down this week's AEW TV slate from Worcester, MA, including the in-ring return of Bryan Danielson.
-The announcers transitioned to a hype package for the main event.
The Briscoes entered first. Ian Riccaboni called this match the most anticipated rematch in company history. Caprice Coleman said they could have two match of the year awards in the same year. The Briscoes posed on adjacent turnbuckles before FTR's music hit. Dax and Cash entered to a strong ovation and "FTR" chant.
Bobby Cruise introduced the match and competitors. The two teams came face to face in the center of the ring and a dueling chant broke out.
(7) FTR (c) vs. THE BRISCOES – 2 out of 3 falls match for the ROH World Tag Team Championships
Both teams were unmoved by the referee's calls to head to their opposing corners. FTR eventually broke the stalemate, backing up to their corner and giving each other a quick hug. Dax Harwood started the match with Mark Briscoe. The match crossed 1:00 before the two men even locked up.
Mark Briscoe looked to have position, but Dax regained his ground and eventually broke the hold. They stared each other down, then locked up again. Briscoe grabbed a side headlock. Mark dropped Dax with a shoulder tackle off a drop down. Dax shot to his feet and the stalemate began again.
Dax looked for a waist lock, but tried to pick the leg instead. Mark stumbled into the ropes to break it up. He took Dax town into a seated headlock. Dax fought free and shook out of his heavily taped shoulder. Riccaboni noted that he has a torn labrum, injured even further at Forbidden Door. Dax made a tag into Cash Wheeler. Cash worked over Mark's arm, cutting off the ring.
Briscoe fought out of an arm lock and backed Cash into the corner. Wheeler popped out and ate a quick arm drag. Wheeler rolled to the ropes, checking his mouth for blood. Wheeler tagged out. Briscoe tagged his brother Jay. Jay Briscoe locked up with Dax Harwood. Harwood won the exchange, taking Briscoe down into a side headlock. Jay rolled him into a cover for one. Dax kept a grip on the hold, but Jay worked himself to his feet.
Jay and Dax exchanged quick headlock takeovers. Briscoe caught Harwood with a 'rana, but Dax popped up and hit a backdrop. Dax rolled to the outside. Cash came to his aid. Cash called over the doctor, who checked Harwood over and gave the okay. Harwood tagged out to regroup. Wheeler got in Jay's face. They shoved each other. Jay Briscoe delivered a big chop. Wheeler responded in kind.
Wheeler caught Briscoe with a spear to the mid section off a hard shoulder tackle. Dax hit the ring and knocked Mark off the apron. The Briscoes headed outside to regroup. Jay returned to the ring before too long. Wheeler whipped him to the corner and tagged in Harwood. Harwood took Jay down and covered for a quick two count. FTR began cutting off the ring, isolating Jay Briscoe in their corner. Wheeler covered for a two count off a back drop at 9:55. Briscoe caught Wheeler with a back elbow and big boot. Jay reached his brother for a tag.
Mark Briscoe backed Wheeler into the ropes and hit quick forearms. Jay tagged himself in, but Cash didn't see it. The Briscoes hit Wheeler with a big double shoulder tackle. Coleman said they often communicate in grunts. Mark Briscoe gave Cash a cheap shot while Jay distracted the referee. Jay worked Wheeler into the corner and drove his boot into the neck. Mark tagged in, continuing the corner work.
The Briscoes hit tandem splashes in the corner, collapsing Cash. Jay hollered at Harwood, taunting him. He grabbed a seated chin lock. Wheeler worked to his feet and broke the hold. Jay cut off the comeback with a clothesline and cover for one. Mark tagged in. The Briscoes continued to dominate. Wheeler eventually created an opening with a catch Powerslam. He rolled desperately to his corner and made the tag.
Dax Harwood jabbed at Mark Briscoe. Jay tried to enter the fray, but Dax pulled him into a pair of German Suplexes. Mark rolled Harwood  up for a two count. Harwood responded in kind for the same. Jay tried to sucker punch Harwood through the ropes, but Dax caught him with his own open hand. Mark rolled Cash up for two.
Cash fell out onto the apron. Mark yelled "bang bang!" and turned to get a running start. He ran into a big clothesline from Cash. Back in the ring, Jay set up Dax for the J-Driller. Dax blocked it. Mark returned and they double teamed Dax with Cash down on the outside. The Briscoes connected with the Doomsday Device. Mark covered. Cash tried to intervene, but Jay held him down. The Briscoes scored the first fall at 16:31.
After a brief rest period, Dax Harwood rolled up Mark Briscoe for a two count. Mark tagged in Jay, then pulled Dax to the outside. Mark chopped Harwood's chest so hard it began to bleed. He tossed him to his brother. Cash Wheeler tried to intervene, and the action quickly spilled to the outside. The Briscoes maintained firm control. Jay returned Dax to the ring and continued delivering vicious chops as the match crossed 20:00.
Harwood began to fade while locked in a grounded chin lock. Cash Wheeler called desperately for a tag. Coleman noted that it's a heavy AEW crowd and they're still "warming up" to the Briscoes. Harwood tried to reach his partner, but Jay cut him off, knocking Cash off the apron. Harwood mustered a German Suplex, but Wheeler was nowhere to be found. Dax improvised, hoisting Jay to the top rope and connecting with a massive Super Back Drop. Cash Wheeler returned to the apron. Harwood reached for him, but Mark Briscoe ripped Cash off the apron.
Jay Briscoe capitalized on his brother's big save. He forced Dax back to the Briscoe corner and tagged in his brother. The connected with Red Neck Boogie. Mark folded Harwood up for a cover, but he kicked out at two to keep the match alive. Mark Briscoe applied a seated chin lock. Harwood worked to his feet very slowly. Mark peppered his chest with more hard chops. Dax hit some of his own. Briscoe slid under Mark's legs and fell into a tag.
Wheeler exploded into the ring. Jay came to cut him off, but Cash hit him with a belly-to-belly. Mark approached and ate a big clothesline. Cash connected with a Brainbuster for a near fall. Mark Briscoe recovered and hit an open hand slap to the chest. Wheeler hit Mark with a Gory Special. He covered. Jay hit the ring to break it up, but Harwood held him down. Mark kicked out.
The fight spilled to the outside. Jay Briscoe and Dax Harwood fought into the crowd. In the ring, Cash caught Mark with a cross body off the top rope for a near fall. Jay slid back to ringside and caught Cash in the head with the ring bell, out of view of the official. Mark hooked the leg, but Wheeler kicked out. Mark hit a massive elbow from the top rope. Jay hooked the leg, but Harwood returned to break it up.
Harwood and Mark Briscoe fought to the outside. Harwood gave him a flapjack onto the steel steps. In the ring, a bloody Cash Wheeler tried to recover. Jay Briscoe dragged him to his feet and gave him several elbows as the match crossed 29:20. Harwood tagged himself in off of Wheeler's back. FTR connected with Big Rig and covered Jay Briscoe for a three count at 29:35, evening the match at one fall a piece.
A "fight forever" chant echoed out as the official cleared the match to continue. Cash Wheeler blinked the blood from his eyes and went forearm for forearm with Mark Briscoe. Mark gained the upper hand with a series of chops. He caught Wheeler with a capture Suplex. Wheeler tagged in Harwood. Mark Briscoe was now bleeding heavily. He and Harwood rolled to the apron. He set up for a Uranagi on the apron, but Dax blocked it. The two men traded punches and chops. Mark connected with a Kung-Fu Uppercut. Harwood stumbled to the floor. Mark leapt off the apron and hit a Blockbuster.
The Briscoes rolled Dax Harwood into the ring. Mark tagged in Jay. Briscoe set up for the J-Driller again. Harwood blocked it and countered into a big Piledriver. He covered for a two count at 33:30. Jay worked Dax to the corner again and tagged in Mark. They set up for the Doomsday Device again, but Cash Wheeler appeared to dump Mark from the top rope. FTR called for the Big Rig, but Jay blocked it. Punches flew, leading to the official getting caught in the crossfire.
Jay hit Dax with the J-Driller and covered for a visual three count, but there was no referee. The Briscoes set up for the Doomsday Device again. Wheeler made the save once more. Jay tried to fight off both members of FTR. He leapt off the middle rope, right into the Big Rig. Harwood hooked the leg and the referee returned just in time to make the count. Jay kicked out just before three. Coleman exclaimed that it's the first time in history that anyone has kicked out of the Big Rig.
The crowd broke into a loud "this is awesome" chant. The camera pulled back to show most of them standing. Jay Briscoe and Dax Harwood perched themselves precariously on the top rope. Jay managed to slide under Dax and walk him over to Mark, who flew off the rope for a Doomsday Device. Jay covered, but Cash broke it up just in time.
With Jay and Dax down in the ring, Cash and Mark came exchanged hard blows in the ring. They tumbled to the outside in a heap as the match hit 40:00. Harwood and Jay Briscoe traded hard shots in the ring. Dax hit a big clothesline and covered for two. Jay rolled through it and grabbed a clutch. Mark tossed Cash in the ring and applied the same hold. FTR linked hands, willing each other not to tape. Harwood managed to reach the bottom rope.
Jay Briscoe set Dax Harwood up for the J-Driller again. Mark perched himself on the top rope. Cash Wheeler leapt to meet him, delivering a back drop off the top rope, to the outside, through the announcers desk. Jay looked on in horror. He hooked Dax and delivered the J-Driller. Jay hooked the leg, but Harwood kicked out for a last second near fall.
Harwood collapsed to the mat as Jay tried to hook him for another J-Driller. Jay couldn't lock the hands, allowing Harwood to hoist Jay onto the top rope. He chopped at Jay's chest to wear him down. The two teetered on the top rope. Jay shoved him away briefly, but Dax leapt right back up. He hooked Briscoe and delivered a spike Piledriver off the middle rope. Dax rolled over, covering Jay with only his legs, and scored a three count.
WINNERS: FTR by 2-1 in 43:33 to retain the ROH World Tag Team Championships
Dax Harwood became emotional as he celebrated with his title in the ring. The referee checked on Cash Wheeler, who slowly joined in his partner in the ring. Dax vacated the ring, celebrating with fans at ringside. He got a hug from his wife, and circled to shake the announcers' hands. Cash grabbed a microphone.
Cash invited the Briscoes into the ring. Harwood held the ropes open for them and the crowd roared. The Briscoes shook FTR's hands and left the ring. Dax said he he's talked about how much he loves his wife and his daughter, but now he wants to talk about how much he loves the fans. Wheeler said they fought like eight year old girls. Harwood said pro wrestling saved his life. "You can call me a mark if you want, but I love this shit. Top guys out!" Harwood flipped the mic and grabbed his titles.
Claudio Castagnoli, Wheeler Yuta, and William Regal emerged from the back. Claudio and Wheeler held up their titles. FTR did the same as the show faded out.
(LeClair's Analysis: Fantastic match that set out to prove that, in no uncertain terms, tag team wrestling can headline major shows in 2022. Both WWE and AEW have had impressive runs of tag matches this year, and you can add ROH to that mix with this series of FTR vs. Briscoes bouts. It was clear from the get-go that they planned to the long haul, and despite slowing the pace down considerably on multiple occasions for long stretches of times, the crowd seemed engaged and invested from bell to bell. FTR has cultivated a truly special connection with the audience, and there's something fun about watching a wrestlers who know they're on the best run of their career with seemingly no end in sight. The finish never seemed to be in all that much doubt, but it hardly mattered. They built drama, tension, and littered this marathon match with believable near falls. The Briscoes showed that they still very much belong in this incarnation of ROH, and it felt like a coming out party for them in a way. The announcers seemed keenly aware that they had new eyes on them tonight, and even noted that the live crowd was more an AEW audience than an ROH one. With that in mind, it took some time for a good portion of the group to warm up to the Briscoes, there was little doubt they made stars of themselves in the eyes of the unfamiliar. Excellent match worth the price of admission alone.)
FINAL THOUGHTS: This was really fun card from top to bottom. I came in expecting to hear a crowd full of ROH die hards, given that the show was held in a friendly market. Instead, we got a very obvious AEW crowd that was less familiar with ROH talent than I think anyone may have anticipated. Fortunately, most were able to acclimate themselves relatively well. Tony Khan's use of AEW talent to bolster the show and introduce the new era worked quite well, though I do very much hope that we get some more separation and definition for the two brands going forward. This looked good, sounded good, and felt big league without losing the charm ROH has had in the past. Ultimately, I'd stress going out of your way to see the main event, but I can't imagine you'll leave disappointed with the rest of the card, either.