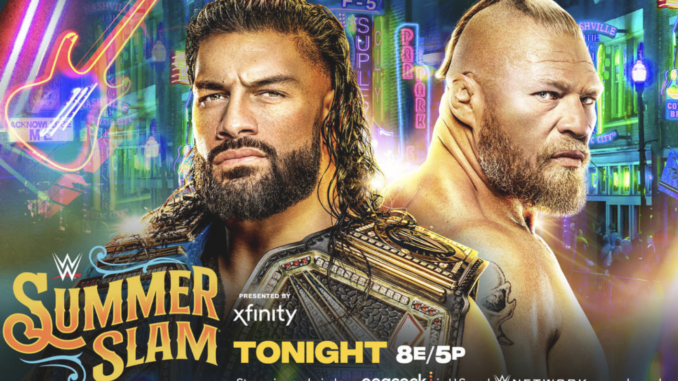 ---
SPOTLIGHTED PODCAST ALERT (YOUR ARTICLE BEGINS A FEW INCHES DOWN)...
---
KELLER'S WWE SUMMERSLAM 2022 REPORT
JULY 30, 2022
NASHVILLE, TENN.
AIRED LIVE ON PEACOCK & WWE NETWORK & PPV
Raw Commentators: Jimmy Smith, Corey Graves, Byron Saxton
Smackdown Commentators: Michael Cole, Pat McAfee
---
Tonight after the PPV, join PWTorch columnist Greg Parks live reviewing Summerslam with live callers and emails.
•STREAM LIVE HERE ABOUT 5 MINUTES AFTER THE EVENT CONCLUDES
•CALL: (515) 605-9345
•EMAIL COMMENTS/QUESTIONS: wnialivecast@gmail.com
•IF YOU DON'T LISTEN LIVE, SEARCH "PWTORCH" ON YOUR PODCAST APP TO SUBSCRIBE AND THEN DOWNLOAD OR STREAM THE FULL SHOW TWO HOURS OR SO AFTER THE TV SHOW ENDS.
---
-A video package aired hyping the line-up.
-They cut to an aerial view of the stadium in Nashville, Tenn. Then they went inside the stadium for an impressive crowd.
-They went to the commentators at ringside for a brief introduction.
(1) BIANCA BELAIR vs. BECKY LYNCH – WWE Raw Title match
Becky made her entrance first. Saxton said Lynch has a tendency to get flustered easily. Lynch countered a Belair leapfrog with a sweep into a faceplant. Belair made a comeback and scored a two count, so Lynch rolled to ringside to recover. Belair pursued her and took over at ringside. She yanked her into the time keeper's area and legdropped her over the ledge. Back in the ring quickly, she scored a two count. Graves called out Smith for calling the venue Nissan Arena instead of Nissan Stadium. "There's no roof on the place!" said Graves. They battled back to ringside again. Becky tried to yank Belair into the ringpost by her braid, but Belair yanked Becky into the post instead. Back in the ring she landed a handspring moonsault for a two count.
A couple minutes later, Lynch went for her Disarm Her, but Belair blocked it and rolled to ringside to force a break. Belair then delivered a KOD on the floor. "Lynch is out!" exclaimed Graves. Belair tried to get Becky into the ring, but had to roll into the ring to avoid a countout. Becky also got back into the ring just in time to avoid a countout loss. Belair set up a KOD in the ring, but Lynch slipped out. Belair stayed in control and set up Lynch for a top rope move. Lynch met her at the top and exchanged strikes. She then went for a superplex. Belair resisted. Becky yanked her down with her braid and landed a Manhandle Slam for a believable near fall.
After more back and forth action, Belair landed a Spanish Fly off the ropes and then hit another KOD for the clean win.
WINNER: Belair in 15:00 to retain the Raw Title. (***3/4)
(Keller's Analysis: Really good match. Nothing off-the-charts exciting, but well executed and a good dramatic story.)
-After the match, a disappointed Lynch offered a handshake to Belair. Belair hesitated, then accepted. Becky pulled her in for a hug. They had some private words for each other. The announcers said that was a major show of respect by Becky.
As Belair continued to celebrate, Bayley made her way out to the ring as her entrance theme played. Saxton said they had heard the rumors and she is back. Belair watched her. Bayley gave a thumbs down to a fan looking for a hand slap. She yelled, "Bianca, do you remember me?"" Then Dakota Kai's music played. Graves wondered what she was doing there. Bayley gave a knowing smile. Graves said as far as he knew, Kai wasn't even under WWE contract. Io Shirai's music then played. She's been renamed "Io Sky." Bayley gave a knowing nod. Saxton asked, "What in the world is happening right now?" Belair scratched her head like she was beginning to get concerned. Bayley led Kai and Sky to ringside and then into the ring. Bayley asked Belair if she thought she'd come back alone "like an idiot." She said she brought the best in the world with her. Becky entered the ring and stood next to Belair. Becky said, "We're ready to go. Come on!" Bayley & Co. backed away.
(Keller's Analysis: Interesting stuff there. Becky's switched back babyface, which is going to please a lot of people. Like, a lot lot of people. Bayley could have come back as a face, and there was danger as a heel she'd be cheered, but standing opposite of Becky and Belair gives her a good chance to get booed. I really like the idea of Kai and Shirai with Bayley, as it elevates them being part of a faction with top tier women's star in Bayley, fresh off of an extended injury recovery period. This is an example of Paul Levesque making his mark with wrestlers he knows the strengths of well from their time in NXT together.) [c]

-A video package previewed the next match.
(2) MIZ (w/Maryse, Ciampa) vs. LOGAN PAUL
A "Tiny Balls" chant rang out early. Logan looked good early. Miz taunted Logan with some arm gestures. Logan came back with an Orange Cassidy-esque slow kick to Miz's head after Miz had been covering in anticipation of a full force kick. Logan clotheslined Miz hard over the top rope.
When Miz took over, Ciampa took a cheap shot at him from ringside. Graves called the Nashville fans "mouth-breathers" (which is a term that should probably be retired considering it's a medical issue with some kids, including most commonly those with Down's Syndrome). Logan came back with a smooth blockbuster off the top rope. Graves said Miz taught Logan that move for WrestleMania earlier in the year. Logan threw Yes Kicks to Miz's chest. Then he applied a figure-four. Miz reached the bottom rope to force a break. Logan landed a top rope crossbody followed by a standing moonsault for a near fall. Miz poked Logan's eye to slow him. Ciampa jumped onto the apron, but the ref reprimanded him and then kicked him out of ringside. Ciampa threw a fit and then defiantly grabbed a chair and sat at ringside. Funny. A.J. Styles's music then played. Ciampa stood up and paced. Styles surprised Ciampa by leaping off a ringside barricade. Graves said he "came out of the WWE Universe." Logan then landed a Phenomenal Forearm on Miz for a near fall. Graves wondered if Styles has been training Logan.
Logan slammed Miz onto the announce desk and then climbed to the top rope. Mayrse tried to discourage him, but he leaped and frog-splashed Miz through the table. As Logan covered Miz in the ring, Maryse distracted the ref from the ring apron. Logan yelled at her to get down. Miz then swung a chain, but Logan ducked. Miz almost hit Maryse. Logan then gave Miz a Skull Crushing Finale for the three count. Saxton said, "This just happened. Logan Paul beat Miz with his own move!"
Logan celebrated, then sat on the ring apron and said, "That's how a champ does it."
WINNER: Logan in 14:00. (**3/4)
(Keller's Analysis: Logan was executing a lot of moves and sequences with a smoothness beyond his limited ring time, but there are still moments that look like a slightly-off video game rendition of wrestling moves. Mostly, though, Logan comes across as a really good athlete who's a bit of natural at pro wrestling or at least has a knack for it after considerable off-camera practice. I'm not sure where he goes from here, but the fans didn't seem to bitterly reject him and he probably won some over with that performance. His post-match comment and demeanor felt more cocky than was called for at this stage of his WWE stint if he's looking to win over skeptical fans.) [c]

(3) BOBBY LASHLEY vs. THEORY – U.S. Title match
Theory still only has one word for his name; some hoped with Vince McMahon gone that Paul Levesque would give him a first name again. Theory bashed Lashley with the MITB briefcase before the bell as Lashley was standing on the second rope soaking up cheers. The ref backed Theory away and then checked on Lashley. Once Lashley stood, he asked if he's ready. Lashley said ring the bell. The ref called for the bell. (That's the way you handle a pre-match attack.) Theory stayed on the attack after the bell rang. Lashley leapfrogged Theory and took over with a clothesline and a one-armed slam. Theory retreated to ringside to regroup. He grabbed his briefcase again and threatened to leave. Lashley met him at ringside. Theory threw the briefcase at him. Lashley batted it to the side and went on the attack, throwing Theory hard into the ringside barricade. Smith said he was going to beat the arrogance out of him.
Back in the ring, Theory landed a surprise pinpoint dropkick for a two count. Lashley came back with a DDT. They traded punches mid-ring. Lashley powerslammed Theory and played to the crowd. The crowd cheered. Lashley charged, but Theory leapfrogged him. Lashley went hard into the corner. Theory somsersaulted toward Lashley, but Lashley countered into a sudden Hurt Lock for the tapout win. As Lashley celebrated, Saxton suggested Theory should perhaps go home and call it a night.
WINNER: Lashley in 5:00 to retain the U.S. Title. (*1/2)
(Keller's Analysis: Good while it lasted. Lashley should be getting a clean win over Theory at this point. I'm not sure how this affects how fans will feel about Theory's chances of cashing in later.) [c]
(4) REY & DOMINIK MYSTERIO vs. FINN BALOR & DAMIAN PRIEST (w/Rhea Ripley) – No DQ

The outdoor stadium ring entrances took on a better aura as it was now dark in Nashville. Balor and Priest got the early advantage and then struck a pose mid-ring. The heels dominated Dominik for a while. He finally hot-tagged in Rey who rallied against Priest. When Balor showed up on the ring apron with a chair, Rey knocked him down and grabbed the chair. He hit Priest with the chair, then slid under the ropes and splashed Balor on the floor. Priest caught a charging Rey with a kick to the chin. Rey came back and set up a 619, but Balor tagged himself in and intercepted Rey. Dominik grabbed Balor's leg as he climbed to the top rope. Rey recovered and met Balor in the corner. He landed a springboard head scissors off the top rope for a two count. Rey and Dominik teamed up and were going to land stereo 619s, but Ripley tripped them. Graves noted it's legal because of the no-DQ stipulation. Priest landed his South of Heaven chokeslam. The lights went out. Fire began blasting from the stage and Edge showed up on a rising platform. Graves said, "Something wicked this way comes." He marched to the ring and met a charging Priest in the aisle with a kick. He then speared Balor. He speared Priest next. He set up Balor for a 619, which Rey and Dominik landed together. Rey then landed a slingshot splash and made the cover for the three count. Edge posed with the Mysterios in the ring and laughed as The Judgment Day retreated.
WINNERS: Mysterios in 11:00. (**1/4)
(Keller's Analysis: The match was just fine, but mostly a set-up for Edge's return. Not an entirely unpredictable finish. We'll have to see what Edge does on promos and whether he tries to explain why he was such an awful person before Balor, Priest, and Ripley dumped him.) [c]
-A video package previewed the next match.
(5) PAT MCAFEE vs. HAPPY CORBIN
As Corbin made his entrance, a giant choir near the entrance stage sang "Bum Ass Corbin." McAfee then made his entrance to that same theme. When the bell rang, Corbin told McAfee he belonged at ringside in a chair next to Cole. He pointed at the crowd. Corbin shoved McAfee. McAfee caught Corbin with a surprise superkick. McAfee took Corbin down with a top rope huracanrana and then knocked Corbin to the floor. He rammed Corbin into the ringpost. Cole excitedly recapped McAfee's rally. When McAfee threw Corbin into the ringpost, Cole yelled, "Oh yeah!" Graves said he liked Cole better when he wasn't allowed to have opinions. Cole said, "That's changed. A lot's changed."
Back in the ring, McAfee set up a superplex. Corbin knocked him down, but McAfee landed on his feet. As McAfee extended his arms to show off. Corbin nailed him with a dropkick. Cole said McAfee might've gotten a bit cocky. After Corbin took time to yell at the ref, McAfee made a comeback. He slingshot himself onto Corbin at ringside. Graves said it was ugly, but effective. Corbin took over and beat on McAfee on the announce table. Cole cheerlead McAfee to fight back. Corbin took joy in beating up McAfee at his desk while yelling, "You suck" and took digs at McAfee's family. Cole said Corbin's parents would be embarrassed by him. Corbin shoved Cole into his chair. Cole told him to get the hell away from him. Cole said Corbin has been nothing but a bully his entire career. McAfee leaped up to the top rope, slipped a little, recovered, and landed his superplex. Both were down and slow to get up. McAfee rolled over and draped his arm over Corbin's chest for a two count.
Corbin made a comeback, but then McAfee avoided his charge in the corner. McAfee climbed to the top rope, almost lost his balance, and then regained it and leaped with a flip dive onto Corbin on the floor. McAfee then stood on the ring apron with Corbin on his back mid-ring. He climbed to the top rope. Corbin stood, so McAfee leaped over him. Corbin went for Edge of Days, but McAfee slipped out and punched Corbin. Corbin bumped into the ref. McAfee gave Corbin a low blow as the ref recovered. Cole said it was payback for last night. McAfee then landed a sunset bomb for the three count, almost landing on his head in the process. Cole very excitedly announced McAfee as the winner. He said it wasn't pretty and it wasn't a wrestling clinic, but it was effective. McAfee went over to Cole as he celebrated. He swigged a beer handed to him by a fan also before skipping to the back high-fiving fans on his way.
WINNER: McAfee in 10:00. (*3/4)
(Keller's Analysis: I mean, it was a mess at times, but it was crowd-pleasing. I did worry for McAfee's well-being more than a couple times during that match.) [c]
-Drew McIntyre walked out to his music, sword in hand. He said he loves Nashville so much. He noted the Titans are in the house. He said it's the home of the new no. 1 contender, referencing himself. He talked about the fight he and Sheamus had on Smackdown. He said he could barely get out of bed, but it was worth it. He said he wanted to talk about the main event. "Let's talk about Brock Lesnar vs. Roman Reigns for the first time ever." He paused and went "Eh" and then added a bunch of details that actually were for the first time such as it being in Nashville and with the Last Man Standing Rules, making fun of the fact that they keep wrestling each other. He asked a kid at ringside what his name is. He said it's the first Lesnar-Brock match ever in front of Colt. Fans laughed and cheered. Drew said he didn't care who won, but he'll face whoever does win at Clash at the Castle. He raised his sword and pyro blasted.
(Keller's Analysis: Drew was fighting an uphill battle at first with the crowd at first, it seemed, but he won them over once he joked about Lesnar-Reigns and incorporating the kid.)
-They went to Cole and Graves who previewed the next match.
-Jeff Jarrett made his ring entrance. Not sure if they turned the crowd volume down or not, but it didn't sound like a big pop at all.
-A video package aired on the match.
(6) THE USOS vs. THE STREET PROFITS (Montez Ford & Angelo Dawkins) – WWE Unified Tag Team Title match
The Profits made their entrance after a performance by the local NFL team Tennessee Titans' cheerleaders. They came out dressed up in Titans jersey colors with a logo that was a takeoff on the Titans' logo. As the Usos came out, Cole said they have been tag champs for 376 days. Cole predicted this match would steal the night.
Jarrett was aggressive in enforcing rules early including pulling Dawkins out of the corner when he was going after Jey. When Jey tagged out, Jarrett yanked him out of the ring when he tried to get in one extra stomp on Dawkins. "One in, one out," Jarrett emphasized. Ford ducked charging Usos, who then tumbled over the top rope. Dawkins then flip dove toward them, but largely overshot them. The Usos went down. He hit a spinning neckbreaker in the ring for a near fall on Jimmy. Cole touted the great count by Jarrett as ref there.
The Usos rallied. Jimmy tagged in and hit a frog splash on Dawkins for a two count. Graves said Jarrett made sure he was in great position to be sure he had a clear view of the shoulders. Jey tagged back in. The Usos both leaped off opposite corners with a stereo splash. Ford broke up the cover. All four wrestlers were down and slow to get up. Jarrett began a slow count. Jey went for a superkick, but it nearly hit Jarrett after Dawkins ducked. Jarrett caught his boot and swung his leg around. Dawkins then gave Jimmy a sidewalk slam. Ford landed a frog splash on Jey for a believable near fall. He took a few seconds to make the cover after selling that the landing hurt him too. Ford angrily yelled at Jarrett for not counting to three. Cole said he didn't understand what the argument was. When Ford went for a dive through the ropes, the Usos superkicked him out of mid-air. They threw him into the ringside barricade. They stereo superkicked Dawkins next. They landed the 1D mid-ring next for the pin.
WINNERS: The Usos in 13:00 to retain the Unified Tag Team Titles. (***1/2)
(Keller's Analysis: Good match. Not a classic or must-see match, but good start to finish. Jarrett was a good referee, and in the end it was Ford being upset with him not counting to three that caused a disruption in his momentum leading to the Usos win. Not sure if that's a hint of Ford heel turn or just a way to play into the special ref stip.) [c]
-Cole said he wanted to go out last night and Graves was already in bed. "Who is the old man here?" he asked. Graves said he has to get his sleep sometime. they showed Kid Rock in the front row. He began tongue kissing a woman he had his arm around like Sammy Guevara and Tay Conti.
-Riddle ran into the ring and said he's not medically cleared to compete. He told security at ringside to shut up. He called Seth Rollins to get his ass to the ring. Cole said he has a spinal injury due to the stomp by Seth and their match was postponed. Seth came out, although a crowd of referees and officials tried to talk him out of it. Seth ran to the ring. Riddle met him in the aisle. They had a pullapart brawl. Seth ran into the ring. Riddle threw some kicks. Seth punched Riddle, who dropped to the mat. Seth then gave him another Stomp despite Adam Pearce pleading with him not to. Seth strutted as fans sang his song. he then returned to the back.
(Keller's Analysis: That was a sufficient "make good" on the match not taking place and adds heat to their eventual match. Riddle had a good edge to him with a less dopey persona on display.) [c]
-A video package aired on the next match.
---
Subscribe to our PWTorch VIP membership tonight for just 99 cents for a full month with coupon code "slam22".
That's $9 off our usual $9.99 subscription fee.
Gain access to our entire ad-free VIP Podcast feed, compatible with iPhone's native podcast app and most other iOS and Android podcast apps.
Gain access to our nearly 35 year library of content – newsletters, '90s retro radio shows, podcasts
Gain access to our ad-free VIP exclusive website with all of PWTorch.com's daily content plus exclusives
DETAILS ON VIP MEMBERSHIP – CLICK HERE (This gives you an overview of our list of VIP benefits.)
EXPRESS SIGN-UP FORM – CLICK HERE (enter code "slam22" for the $9 discount on any subscription term)
This includes our full week of Vince McMahon retirement and Triple H appointment as Head of Creative coverage including multiple VIP-only podcasts, articles, and newsletters on those major developments.
---
(7) LIV MORGAN vs. RONDA ROUSEY – WWE Smackdown Title match
Rousey made her entrance first. When Morgan came out, Cole said this is her first Summerslam match. He said he won't apologize for being a Morgan fan, but she has her work cut out for herself. Rousey judo tossed Morgan in the opening seconds. They took it to the mat where Morgan managed to end up locking Rousey's arms behind her in a submission attempt. Rousey lifted Morgan, but Morgan dropped down yanked Rousey down with a crucifix driver for a two count. Rousey applied her armbar in the ropes. Rousey had to release. Rousey took Morgan down and went for an armbar mid-ring, but not before mouthing off to the crowd. She applied the armbar. Morgan scooted to the bottom rope with her boot to force a break. Rousey applied another armbar, but Morgan again rolled to the bottom rope to force a break. Cole said Rousey might be frustrated.
Rousey continued to attack Morgan's arm. "How much more of this can Liv Morgan take?" asked Cole. Rousey's shoulders were down as the ref counted three, yet at the same time Morgan was tapping. Nevertheless, the ref saw the shoulders down and not the tapout. On replay, Morgan clearly tapped before the three count. Cole said the ref blew the call.
WINNER: Morgan in 4:00 to retain the Unified Title. (*1/4)
(Keller's Analysis: Not a lot to it, but I it told a story in a concise package. Morgan seemed like she could hang with Rousey for a while there. The finish keeps the belt on Morgan while facilitating a Rousey heel turn for being a bad sport about an understandable blown call.)
-A frustrated Rousey attacked Morgan. Cole said she was pissed off and was going to take it out on Morgan. Rousey switched to attacking the ref with an armbar. Graves said she has reason to be upset, but this wasn't the right way to handle it. Graves said Morgan should thank her lucky stars tonight. [c]
-A video package previewed the main event.
(8) ROMAN REIGNS (w/Paul Heyman, The Usos) vs. BROCK LESNAR – Last Man Standing match for the Unified Title
Graves said war doesn't determine who is right, only who is left. Reigns asked the crowd to acknowledge him. Lesnar made his entrance. He got on a tractor parked near the entrance area and drove it to the ring. He looked quite comfortable in the vehicle. He stood on the top of the tractor and saluted the crowd with his hat and smiled. Lesnar interrupted the ring announcer Mike Rome and told him to shut up. He said he's a good ol' country boy who was there to kick Roman's ass. Rome introduced Reigns. Lesnar leaped down and tackled Reigns. The ref called for the bell. Lesnar clotheslined Reigns aggressively over the top rope, knocking him to the floor. Lesnar pursued him aggressively. Lesnar threw Reigns around the ringside, then gave him a belly-to-belly toss off the base of the steps.
Lesnar continued to beat up Reigns. Lesnar was going to leap over the ringside barricade, but he slipped on the top. Cole said Lesnar won't like that. Graves said he'll take it out on Roman. Lesnar set up a table. Heyman got too close, so Lesnar looked over at him. Heyman dropped to his knees and begged off. Reigns recovered enough to give Lesnar a Samoan drop through the table. Graves said Heyman might be a slimeball, but he's effective. Reigns slammed Lesnar through another table. The ref began his count, but Lesnar stood at six.
Back in the ring, Reigns signaled for a Superman Punch. He landed it. Lesnar staggered against the ropes, but remained standing. Reigns looked shocked and hit another. Lesnar bumped to the mat, but then stood. Reigns signaled for a spear and hit it. Lesnar went down and gasped for breath. The ref began counting, but Lesnar stood again. Lesnar caught a charging Reigns into ann F5 position, but Reigns slipped out. Reigns charged, but Lesnar side-stepped him and threw him to ringside. Lesnar slammed Reigns onto a broken table. The ref counted to eight before Reigns stood. Lesnar, meanwhile, got back in his tractor. "What is Brock doing?" asked Cole. Lesnar got down and rammed Reigns with the steps. Then he bashed Reigns with a piece of the table. The ref counted to eight before Reigns stood. Lesnar threw Reigns into the front loader and lifted it and then dumped him into the ring. Lesnar actually seemed to struggle slightly with the controls and the drop wasn't much higher than the top rope. Reigns stood at the count of seven. Some fans briefly chanted "This is awesome" at this point.
Lesnar took Reigns to Suplex City with several German suplexes. The ref counted to eight. Lesnar gave Reigns an immediate F5. The ref counted to 9.5 before standing with help from the ropes. Graves said he's not sure that even counts. Lesnar walked over to Reigns and went for another F5, but Reigns shifted it into a guillotine. Lesnar broke free and applied an instant guillotine and dropped down. Reigns struggled, but eventually stopped moving. He dropped his arm and told Lesnar to break the hold so he could count. "Come on, now," said the ref. The ref began to count. Reigns was motionless on his back. Reigns leaped up at 9.5 again, then fell into the ropes. Lesnar began to tentatively celebrate until the ref let him know Reigns broke the count. Lesnar got in the tractor again. He backed up and then pushed the ring four feet with the tractor. Cole said, "Brock Lesnar just moved the ring with a goddamn tractor." He lifted the corner of the ring with the front loader and Reigns rolled to ringside. The ref began counting again as Lesnar stood in the tractor and looked down at the ref. He then walked over to Reigns, who again managed to stand with help from the ringside barricade.
Lesnar cleared the announce desk. The Usos then attacked Lesnar. Lesnar overhead suplexed Jimmy and then Jey. Heyman got in Lesnar's face and said Reigns is his meal ticket and his kids are dependent on it. He told Lesnar to take the Universal Title and leave. Lesnar gave Heyman an F5 onto the table. Reigns, meanwhile, got up and speared an unsuspected Lesnar. The ref began counting with both men down. Both stood at nine.
Theory's music played and he ran to the ring to cash in his briefcase. Cole talked about the precedent for this. Theory rammed Reigns with the briefcase. Then he handed the ref the briefcase. Lesnar then gave Theory an F5. The Usos attacked Lesnar. The ref began counting him down as Reigns stood and raised his arm, trying to will the ref to count to ten. Lesnar stood before ten, though. Reigns speared Lesnar and he landed on both belts. Cole said he's never seen carnage like this in his entire life. The ref counted to nine and Lesnar stood with help from the ringside barricade. Reigns smashed Theory with the briefcase, the hit Lesnar. He bashed Lesnar with the briefcase over a half dozen times, then told the ref to "count his ass down." Cole said it was sickening and uncomfortable. He compared the scene to a demolition derby. Lesnar stood at nine again.
Reigns smashed Lesnar in the forehead with the Universal Title. Cole yelled, "For the love of god, count faster!" He said no human being can take this amount of punishment. Lesnar got to nine and stood again. Reigns looked despondent. "He's a damn monster," yelled Cole. "He's bionic or something." Reigns smashed Lesnar in the head with the blue belt again. Then he piled tables and chairs and equipment on Lesnar. The Usos chipped in with the ringside steps. Reigns stood on him. The ref made it to ten. Graves said that was one of the damnedest fights he's ever seen in his life. Cole said he's seen nothing like that in his 25 years calling matches.
Cole called for someone to help get the pile of stuff off of Lesnar. Heyman, the Usos, and Reigns celebrated at ringside. A camera showed the underside of the ring which was lifted high in the air on one side. Cole said Lesnar rolled out from under the pile on his own. Cole said, "We thought we saw everything until tonight. Cole said that might have been the greatest Last Man Standing match ever.
WINNER: Reigns in 23:00 to retain the Undisputed Title. (****3/4)
(Keller's Analysis: That was wild and memorable and a mega-satisfying Summerslam main event. Unconventional, but great. The use of the tractor was a great visual and used really creatively. The Theory cash-in ultimately felt anti-climactic. We'll see what he has to say about how that played out. I'm off to record the VIP Roundtable Podcast. Go VIP to listen later tonight!)
---
Tonight after Summerslam, join PWTorch columnist Greg Parks live reviewing Summerslam with live callers and emails.
•STREAM LIVE HERE ABOUT 5 MINUTES AFTER THE EVENT CONCLUDES
•CALL: (515) 605-9345
•EMAIL COMMENTS/QUESTIONS: wnialivecast@gmail.com
•IF YOU DON'T LISTEN LIVE, SEARCH "PWTORCH" ON YOUR PODCAST APP TO SUBSCRIBE AND THEN DOWNLOAD OR STREAM THE FULL SHOW TWO HOURS OR SO AFTER THE TV SHOW ENDS.