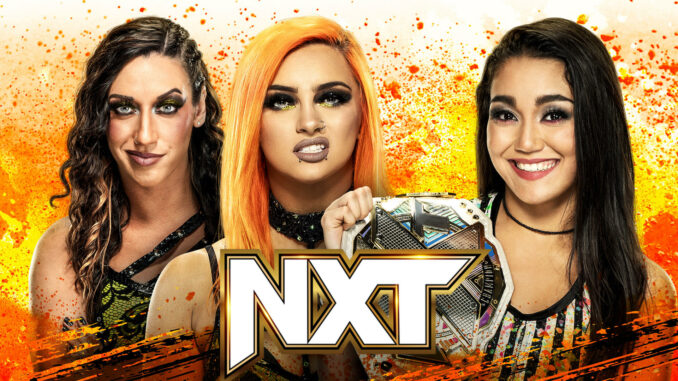 ---
SPOTLIGHTED PODCAST ALERT (YOUR ARTICLE BEGINS A FEW INCHES DOWN)...
---
INDI HARTWELL vs. TIFFANY STRATTON
Stratton is back in action after a long time away from injury. Hartwell walked into this match with a chip on her shoulder, thinking she should be getting more chances than she is and that Stratton keeps getting opportunities handed to her.
This was a decent opening match, not as explosive and energetic as some of NXT's usual opening matches, but decent nonetheless. Stratton looks like she hasn't lost a step, and Hartwell showed a fire we've never seen out of her.
Stratton picked up the win after using her formerly injured knee as to make everyone think she was re-injured. She attacked Hartwell before the trainers could check on her for her first victory back in NXT.
Verdict: HIT
ANDRE CHASE vs. JD MCDONAGH
Thea Hail had won her first match last week and to celebrate, Andre Chase threw an awards ceremony tonight. McDonagh interrupted the ceremony, lambasting Chase for giving out participation awards. A match was made between the two right then and there.
This was a much better match than I expected. Andre Chase kept trying to fight from underneath with McDonagh continually getting the upper hand. Chase would eventually overcome McDonagh's offense, only to be thwarted at every turn.
Chase wound up losing, causing Duke Hudson to get fed up with Chase U and walk to the back.
Did McDonagh succeed in driving a wedge between Chase U?
Verdict: HIT
TATUM PAXLEY & IVY NILE vs. KIANA JAMES & FALLON HENLEY
It's great to see some focus on the women's tag division for a change! Ivy Nile & Tatum Paxley are on their own journey to become a cohesive team, while rivals Kiana James & Fallon Henley are trying to co-exist where they're both dating Brooks Jensen and Josh Briggs respectively.
Although Henley and James can hardly stand one another, they managed to get a win over Nile and Paxley.
While I think that the story between James and Henley is more popular to the general NXT audience, Ivy Nile and Tatum Paxley have lost quite a few big matches. Nile should be booked as a bit more of a force to be reckoned with considering her alliance with Diamond Mine and her overall intimidating presence. I wish this match was a little longer and gave Nile and Paxley a bit more time to shine. Otherwise, this was a fun match to progress both stories.
Verdict: HIT
HANK WALKER & DREW GULAK vs. CREED BROTHERS
One of these things is not like the others.
Hank Walker stuck out like a sore thumb in his button down shirt and jeans compared to his partner and opponents. While he didn't look like a grappler he did fare better than I expected against the Creeds, even taking them off their feet on more than one occasion. He and Drew Gulak worked together surprisingly well against the acclaimed technical wrestling brothers.
While this was an entertaining match, Hank Walker is supposed to be a former security guard turned wrestler. While his story is that he's working with Gulak to get better, the fact that he was able to kind of hang with the Creeds was a bit surprising.
Charlie Dempsey made his presence known, taking Gulak out of the match. Walker quickly went down after that.
After the match, the Creeds and Ivy Nile were celebrating in the ring. They thanked her for sticking with them when Indus Sher and Jinder Mahal interrupted and challenged them to the much anticipated Creeds vs. Indus Sher next week.
Verdict: HIT
WENDY CHOO vs. ELEKTRA LOPEZ
Elektra Lopez has been trying to tell Valentina Feroz to stand up for herself after Sanga had dismissed Feroz's concerns about reforming Indus Sher. Lopez had Feroz watch this match ringside so she could see what it looks like to do what you need to do.
Lopez wound up pulling out some brass knucks in the match and when Feroz saw this, her conscience forced her to tell the ref. That distraction gave Lopez just enough time to clock Choo with those knucks for the win.
Lopez seems to want to help Feroz on the surface, but knowing how snake-like the character can be I'd be willing to bet that find out that's far from the truth.
Verdict: HIT
KAYDEN CARTER & KATANA CHANCE vs. ALBA FYRE – NXT WOMEN'S TAG TEAM CHAMPIONSHIPS
Last week, Alba Fyre challenged Kayden Carter and Katana Chance to a match for their titles, even though she doesn't have a partner.  I'd love to know the kayfabe reason for this match to be allowed in the first place. Does this set a precedent in which someone like Brock Lesnar could challenge the Usos for their unified tag titles?
Okay, I'm thinking too much into it. It just seems odd to me that Shawn Michaels or another official didn't step in and force her to choose a partner. Granted, Sol Ruca made her way to the ring and joined Fyre moments after the bell rang. I just don't know why you'd bill it as a handicapped match and not milk it before having Ruca make her presence known.
The champions retained, which was so good to see. Carter and Chance have been a team for years at this point. Ruca and Fyre were thrown together after the bell rang. I would have hated to see them lose the titles to further a singles storyline between Ruca and Fyre.
Verdict: HIT