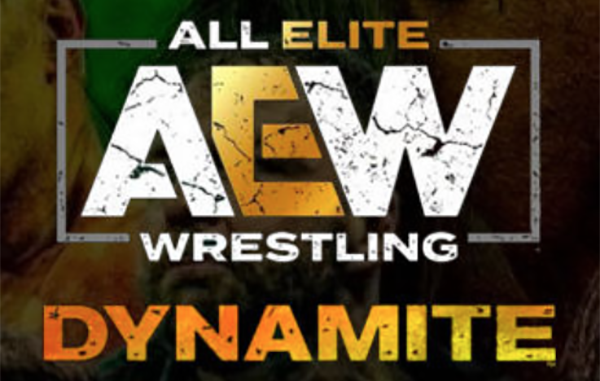 ---
SPOTLIGHTED PODCAST ALERT (YOUR ARTICLE BEGINS A FEW INCHES DOWN)...
---
AEW DYNAMITE REPORT
FEBRUARY 1, 2023
DAYTON, OHIO AT WRIGHT STATE UNIVERSITY
AIRED LIVE ON TBS
Commentators: Excalibur, Taz, Tony Schiavone
Ring Announcer: Justin Roberts
---
[HOUR ONE]
-The Dynamite opening theme aired. They cut to the arena as pryo blasted. Excalibur said it's one of the most loaded episodes of Dynamite yet.
(1) JON MOXLEY (w/Wheeler Yuta, Dan Moxley) vs. "HANGMAN" ADAM PAGE
Moxley made his way to the ring with Yuta and his dad, Dan. Excalibur noted that Moxley grew up an hour away in Cincinnati. Taz told Tony Schiavonea he'd like to see Moxley's dad beat him up. Mox attacked Hangman in the aisle during his entrance. He tossed him around ringside aggressively. Schiavone noted Mox bent the security barricade when he tossed Hangman into it. He tossed Hangman in the WWE Universe and then leaped off with a flying sledgehammer. Excalibur noted the bell hadn't rung yet. He put him in a figure-four leglock. Then he put his leg in a chair and was going to leap off the ring apron. The ref got in his way. Hangman stood and threw the chair at Mox, knocking him down to the floor. Mox had a dazed look. Hangman suplexed him into the chair at ringside. They entered the ring and the ref called for the bell, nearly 7 minutes into the show.
Mox, bleeding from above his right eye, took control quickly and put Hangman in another figure-four. A "Moxley! Moxley!" chant rang out. Hangman escaped and German suplexed Mox. Mox wiped the blood away from his eye as the announcers talked about it burning and impairing vision. A "Cowboy Shit!" chant broke out. Hangman punched Moxley's bloodied face and then wiped the blood off of his knuckles onto his chest. Hangman gave Mox a fallaway slam, but when he springboarded toward him with a lariat attempt, Mox punched him out of mid-air. Mox put Hangman in a sleeper on the ring apron as the ref told him to bring it into the ring. Mox set up a piledriver on the apron, but Hangman resisted before lifting Mox and throwing him face-first into the turnbuckle. They cut to a split-screen break with Mox on his back at ringside. [c/ss]
Hangman dominated during the break. Back from the break, he leaped off the second rope with Mox on his shoulders with a Death Valley Driver for a near fall at 7:00. They fought at ringside where Hangman went for a leaping moonsault. Mox side-stepepd it and then hit Hangman with a lariat. Both were down and slow to get up. They each stood and clotheslined each other. Hangman powerbombed Mox through a table. Hangman rolled into the ring for the "ceremonial" breaking of the ref's count. When Mox charged into the ring to break the ref's threat to count him out, Hangman hit him with a lariat immediately and then a Dead Eye for a near fall. Mox fired back with a King Kong Lariat.
They exchanged strikes mid-ring. Hangman delivered a small package driver for a near fall. A frustrated Hangman rolled to the ring apron and went for a Buckshot Lariat, but Mox transitioned into an attempted Paradigm Shift. Hangman escaped and delivered a tombstone piledriver. He set up for the Buckshot again and that time hit it for a dramatic near fall. Hangman immediately applied a bulldog choke, using Moxley's move against him. Fans were loudly chanting "Moxley! Moxley!" Mox leveraged Hangman's shoulders down while in the bulldog for the three count.
WINNER: Moxley in 16:00.
(Keller's Analysis: Another amazing opener on Dynamite.)
-Afterward, Cesaro and Yuta entered the ring to check on Mox. Hangman took exception to their presence. They argued. Mox stood and shoved Hangman. Hangman swiped at Mox and gave him a middle finger. Excalibur said Mox didn't get the decisive win he wanted. Schiavone said he seems to want more rather than showing joy in victory. Cesaro and Yuta pointed out of the ring, telling Hangman to scram. Hangman retreated.
-A vignette aired hyping the Darby vs. Samoa Joe match for the TNT Title. Darby said he knew he'd want a rematch and would stop at nothing to get it back. He said he asked for it to be No Holds Barred. Joe said he's coming to take back what is his and he will not be usurped by a man like him. Darby said whoever loses won't get a rematch.
(Keller's Analysis: Good video package.) [c]
-Renee Pacquette interviewed Butcher, Blade, and Bunny on one side and Jamie Hayter on the other. Renee said Bunny requested the time. Bunny said they were impressed with her win over Emi Sakura last week even if Emi outshined her. Bunny said Hayter doesn't back down from challengers, so she asked for an Eliminator match next week on Dynamite. Hayter said she's free next week and she loves a challenge, so it's on. Renee said something was going on elsewhere. They showed on a monitor that Saraya and Toni Storm were attacking Britt Baker backstage. Hayter went to help.
(2) THE ACCLAIMED (Max Caster & Anthony Bowens w/Billy Gunn) vs. TURBO FLOYD & TRUTH MAGNUM
Max Caster said their opponents look like they're going through a mid-life crisis who probably have sex with each other. He called them bootleg Beverly Brothers. He made a reference to Tom Brady retiring, too. Fans sang, "Scissors me, daddy!" Turbo and Truth scissored each other and acted like they electrocuted one another. They were giving Boogs a run for his money for being overly-amped. After early offense, Caster, Bowens, and Gunn did the scissors hand thing mid-ring. Caster landed a top rope Mic Drop elbow for the win.
WINNERS: The Acclaimed in 1:00.
-Afterward, just as The Acclaimed were about to celebrate, Colten & Austin Gunn walked out. Colten said they had a good match, but they said last week what will make them happy is the tag belts. He said they want a shot at the belts and they want their answer right now. Anthony scolded them for interrupting the most popular tag team in all of pro wrestling and the winning-est tag team in AEW history and the Forever Champs. He said since they're the people's choice, they'd ask the people. He asked if they deserve a title shot. Fans booed and shouted no. They argued with each other. Billy told them to stop and said he's so sick of it. He said he's done with it. "Go beat the shit out of each other," he said. He then bailed out and walked to the back. Austin said he's doing what he did their entire childhood and turned his back on them. Billy paused, then kept walking. Austin told him to go drown his sorrows in the bottom of a pill bottle. Billy turned around and returned to the ring.
Fans chanted "You f—ed up!" He got in their faces. He said they just made a big mistake. The mic apparently wasn't on in the arena as he threw it down in frustration and then Bowens handed him a new one. Billy said next week they got a tag team title shot so they can find out if they have it. Acclaimed seemed surprised that Billy just offered them that. Austin and Colten snickered that they got what they wanted. Bowens and Caster chatted with each other over what just went down.
(Keller's Analysis: That's meant to leave you wondering if Billy coordinated all of that with his sons to get them another title shot. It risked making the Acclaimed look like they're trying to avoid defending against Colten & Austin since they weren't thrilled Billy offered a tag title match to his sons.)
-Excalibur commented on clips of Hook and Jack Perry winning last week.
-Alex Marvez interviewed "Jungle Boy" Jack Perry backstage. Perry said Hook has his back when nobody else did, but he said he's done tag team wrestling before. He said this year he is determined to be a solo champion.
(Keller's Analysis: JungleHook fans will be disappointed. I'm curious if this is going to be an angle with Hook and Perry or just is a way to move on and nothing else.)
(3) KONOSUKE TAKESHITA vs. BRIAN CAGE (w/Prince Nana)
Kakeshita came out first to a nice ovation. Then Cage with his ROH Six-Man Tag Title belt. Schiavone pointed out what title it was. Takeshita went on the attack right from the beginning with a running boot and then a dive onto Cage at ringside. When Excalibur said Takeshita is 6-2, Taz said he can confirm he is 6-2, "an inch or two taller than me." Cage grabbed Takeshita off the ring apron and threw him spine-first into the ringpost.
Back in the ring, Cage avoided a charging Takeshita in the corner and then took over offense. He then suplexed Takeshita from the middle rope into the ring. As he flexed his arms, they cut to a split-screen break. [c/ss]
Cage dominated during the break. Back from the break, Takeshita countered a powerbomb and took control with a leaping knee and then a back suplex into a bridge for a two count. Cage caught Takeshita mid-ring going for his signature leaping knee and went for a move, but Takeshita countered with a Ligerbomb for a near fall. Cage headbutted Takeshita and landed a backdrop driver followed by a discus lariat for a convincing near fall. Takeshita came back with two brainbuster suplexes for a near fall. Takeshita came back with a brainbuster suplex off the second rope followed by his running knee for the win.
WINNER: Takeshita in 10:00.
(Keller's Analysis: A hard-hitting match start to finish. That's a needed and big win for Takeshita against a credible looking opponent.)
-Renee interviewed Chris Jericho and the J.A.S. backstage, sans Jake Hager. She asked about being accused of cheating to win last week. Jericho said Ricky Starks didn't lose to a baseball bat, he lost to J.A.S. Sammy said that he and Danny Garcia came up with a gauntlet match concept. Garcia said Ricky has to beat Angelo Parker first, then Matt Menard, and then either him or Sammy. He said they'd let him know the night of which of them is the third opponent. If he gets past them, then he can face Jericho. Jericho said if he can get through the Garcia-Guevara Gauntlet, he will be ready to beat his ass.
-Excalibur hyped the Darby-Joe main event, the TBS Title match, and Bryan Danielson vs. Timothy Thatcher. [c]
-They went to the basketball gym at the university with Kenny Omega, Don Callis, and The Young Bucks. Omega told Top Flight & A.R. Fox to face them for the Trios Titles next week. He said they best not miss their shot because The Elite never miss. Nick Jackson then shot a basket from near mid-court. (I'm impressed even if that was the fourth of fifth take.) Matt Hardy, Ethan Page, Stokey Hathaway, and Isaiah Kassidy showed up. Ethan challenged them to a six-man match this Friday on Rampage. Omega and Matt argued about NFTs for a few seconds. Omega accepted the challenge. Kassidy moaned sensually in Omega's ear and Omega flinched. Matt told Brandon Cutler to cut the camera.
(Keller's Analysis: What are fans supposed to think of The Elite?)
-Excalibur said, "Don Callis is so lame he thinks NFTs are still a thing."
[HOUR TWO]
(4) BRYAN DANIELSON vs. TIMOTHY THATCHER
Danielson came out first with his left shoulder taped up. The announcers talked about his partial separation. Excalibur and Taz touted Thatcher's Fujiwara armbar. Schiavone said Johnny Valentine is Thatcher's pro wrestling idol. They mat wrestled for four minutes before cutting to a split-screen break. [c/ss]
Back from the break, Danielson fought off Thatcher's attempt to set up a superplex out of the corner. Danielson then leaped off the top rope with a dropkick. Both were down and slow to get up. Danielson went for some Yes Kicks but Thatcher blocked them and took control briefly. Danielson landed a Yes Kick and scored a two count. Danielson dropped some 12-to-6 elbows and then went for a sleeper. Thatcher pushed Danielson backwards and crushed the ref in the corner. With the ref down, MJF walked out. The crowd popped as MJF shooshed them. He had his Diamond Ring on and he said it's too damn easy. Takeshita leaped from off-camera and tackled MJF. He sent MJF scurrying to the back. Thatcher applied a Fujiwara armbar on a distracted Danielson. Danielson held on and crawled over to the bottom rope. Thatcher gave Danielson a belly-to-belly. Danielson fired back with a German suplex and his Psycho Knee for the win.
WINNER: Danielson in 13:00.
(Keller's Analysis: Precisely what you'd expect from these two. A fun style match-up, for sure.)
-Backstage, MJF was getting the better of Takeshita. He threw a chair at him and threw a plastic trash can at him. Takeshita reversed MJF into a table. They exchanged punches. Officials ran in to intervene. Renee walked in and said Tony Khan has booked MJF vs. Takeshita in an Eliminator match next week.
-They went to the announcers on camera. Taz said MJF didn't agree to that. Schiavone said, "Too freakin' bad." Excalibur said MJF doesn't make the decisions, TK does. Taz called Schiavone a kiss-ass.
-A vignette aired with Swerve Strickland and the Mogul Affiliates talking about Dustin Rhodes. Swerve said the Rhodes family gets under his skin. He said they want to take out another second-generation beneficiary, so they're going after Brian Pillman Jr. on Rampage on Friday. [c]
-Excalibur announced that Rush will face Bryan Danielson next week in the latest MJF challenge.
-Renee interviewed Rush with Jose the Assistant and Vance Archer. MJF interrupted the interview. Rush got in MJF's face and asked what he wants. MJF took a step back in the interest in personal space and then opened up a briefcase filled with cash. He said he's got five more of those filled with cash and all he needs to do is rip Danielson's arm off next week and beat his head with it. Jose translated. Rush nodded and then said some things in Spanish. MJF asked for a translation. Jose said, "He said 'we have a deal.'" MJF said that sounded like he said more than that. MJF said he just needs to get the job done.
(5) JADE CARGIL (w/Leyla Grey) vs. RED VELVET – TBS Title match

Velvet side-stepped a charging Jade early and sent her at ringside. They fought at ringside. They cut to a split-screen break about two minutes in. [c/ss]
Back from the break, they replayed Jade pressing Velvet over her head up the ring steps and then dropping her over the top rope. Jade, though, was back in control. Jade cut her off with a pump kick for a two count at 8:00. Kierra Hogan attacked Grey at ringside. Velvet hit a spinning roundkick to Jade for a visual fall. When the ref stopped yelling at Hogan, she turned and counted to two. Velvet applied an arm submission mid-ring. Jade teased tapping, but then powered up. She lifted Velvet above her shoulders. Velvet went for a sunset flip. Jade blocked it and then delivered her Jaded for the win. Jade celebrated with her daughter at ringside.
WINNER: Cargill in 9:00 to retain the TBS Title.
-Renee checked in with a trainer tending to Britt Baker backstage. Baker said she's fine. Ruby Soho walked in and said she heard about what happened. Baker said, "Those are you girls." Ruby said she didn't know about that. Baker said she's known them longer than her. Baker said she's good. Hayter said she's great, in fact. Ruby backed away and said, "Fine."
-Excalibur hyped the Rampage line-up: Ethan & Hardy & Kassidy vs. The Elite for the Trios Titles, Rush vs. Christopher Daniels, Swerve vs. Pillman Jr., and Saraya & Toni Storm in a match. Then Dynamite featuring Rush vs. Danielson, MJF vs. Takeshita, Acclaimed vs. Gunn Brothers, Hayter vs. The Bunny in an Eliminator match, and the Ricky Starks gauntlet match. [c]
(6) DARBY ALLIN vs. SAMOA JOE – No Holds Barred match for the TNT Title
Darby went after Joe with his thumb tack covered hoodie. Joe fired back with a boot and then wrapped his arm with a towel and hit Darby. Taz said that was smart of Joe to utilize that towel to protest himself from thumb tacks. Joe yanked off the thumb tack jacket and then stomped away at him in the corner. Joe pulled a table out from under the ring. Darby leaped out of the ring and knocked the table into Joe. Joe got up and dragged Darby into the crowd and up the steps. Darby raked Joe's back with his finger nails. Joe retaliated by lifting and dropping Darby over the railing. They cut to a split-screen break. [c/ss]
Joe was bleeding from the bridge of his nose. Joe pulled some chairs out from under the ring and brought them into the ring. He set up two of them and side suplexed Darby onto them. Joe admired his work. Joe set up the chairs again, but when he went for a powerbomb, Darby threw white powder into his eyes and then landed a Code Red for a near fall. He followed with an over-the-top stunner. He put his hoodie with thumbs tacks back on. He landed a Coffin Drop for a near fall.
Darby went to ringside and began unsnapping the ring canvas. He yanked the pads out from under the canvas and exposed the pine platform. Darby went for a running dive at Joe at ringside, but Joe sidestepped it. Darby crashed through the table leaning against the barricade. Joe powerbombed Darby on the thumb tack covered hoodie and then wrapped it around his head. Darby defended himself by jabbing his thumbs into Joe's eye sockets. Darby bashed Joe with a chair across the back three times. He climbed to the top rope. Joe threw the ref into the ropes to knock Darby off balance. Joe then gave Darby a Muscle Buster onto the exposed pine for the win.
WINNER: Joe in 16:00 to capture the TNT Title.
(Keller's Analysis: I wasn't expecting Joe to win. Both are good choices to have as TNT Champion, but I'm curious what the reason is regarding Joe's trajectory as a heel champ and Darby's after this loss. The match was brutal and fit the theme of this episode.)
-Afterward, as Joe was celebrating, Wardlow's music interrupted. He charged into the ring and attacked Joe. Excalibur said they haven't seen him since Joe cut his hair weeks ago. Wardlow set up a powerbomb, but Joe escaped and rolled out of the ring.
(Keller's Analysis: So asked and answered, at least short-term, regarding what's next for Joe. Wardlow is giving off Matt Morgan vibes with his new look.)