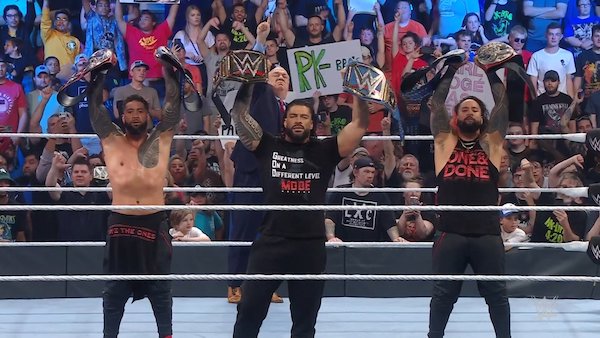 ---
SPOTLIGHTED PODCAST ALERT (YOUR ARTICLE BEGINS A FEW INCHES DOWN)...
---
Owens vs. Sikoa – HIT: This was a big night for the continuing saga of the Bloodline, Kevin Owens and Sami Zayn. It started off with the short bit in the back with Paul Heyman, Jimmy Uso and Solo Sikoa. It continued with this good opening match of Sikoa vs. Owens. I wasn't a big fan of the disqualification ending, but it was still good enough to get a Hit. The post-match attack and save from Zayn, followed by Owen's continuing refusal to work with Zayn all worked very well to advance the story.
Carmella and Green – HIT: I am getting a kick out of the pairing of Carmella & Chelsea Green. I enjoyed their backstage interview including when Adam Pearce started to walk into the shot, saw them, and quickly turned around to avoid having to deal with them. That was great. Carmella's match against Bianca Belair was pretty good. The aftermath with Green attacking Belair and the save from Asuka was interesting. They still aren't doing much to dig into a story between Asuka and Belair. But, at least this was something with Asuka coming to Belair's aid.
Zayn – Owens – HIT: The follow up to the opening match with Zayn and Owens talking in the back was another good step in the story as Owens continued to refuse to work with Zayn against The Bloodline. Whenever those two hug, it is going to be a big moment. Later on, during the bit with Elias, Boogs, and Bronson Reed, you could see Cody Rhodes and Owens talking in the background. Now, I saw Rhodes and wasn't sure what he was doing, but saw after the show that he was talking to Owens. This was the closest WWE can come to Citizen Kane where so much happens in the background which lesser filmmakers would have zoomed in on to make it obvious for the audience, where Orson Wells just lets viewers notice, or not. It is awesome to have something like that in the background where many fans might not have seen it. I only saw half of it. But, then you catch up and think, "how great was that?"
MizTV – HIT: WWE continues to do a good job of presenting Logan Paul as the heel that he should be, not trying to force him into a babyface role like they did last year. He played his part well here, as did Seth Rollins and The Miz. I didn't realize that the host of WrestleMania can make matches, but I feel like I have written the same thing about past hosts, so maybe I did know that. They got where they needed in the end with the announced Rollins vs. Paul match at WM. The physicality worked well too, as Paul knocked out Rollins with the big right hand, which calls back into the hype around his match against Roman Reigns last year.
Gargano vs. Balor – MISS: This was a good match between Johnny Gargano and Finn Balor. Unfortunately, Gargano's talents continue to be wasted with his lame character, still being involved with Dexter Lumis. The fans didn't seem to care about this match which is unfortunate but understandable. Balor is cold, even at a time when the Judgement Day is hot in terms of Rhea Ripley and Dominik. It was hard to care about the match, despite the Hit worthy action. The cold characters made it difficult to get into it which is a shame. Edge's appearance, costing Balor the match made sense to advance their feud, but didn't do Gargano any favors. He got the win, but it was tainted. Maybe going back to NXT (even for one match) will give him the boost he needs.
Niven vs. Cross – MISS: It was stupid to have Piper Niven lose last week so early in the attempt to rebuild her which started at The Royal Rumble. She should be a killer, badass heel. She should not have lost last week. Nikki Cross hasn't been presented as a serious act either. She has been a heel, but maybe were are supposed to feel bad for her? She sort of is aligned with the babyface Candace LeRae, so is she a babyface? She doesn't feel like it. So, you get a match where the fans didn't care about either wrestler, and didn't have one to cheer for. So, they were silent for this match, which was very short and had a bad looking ending.
Cena – Theory – HIT: I had mixed feelings about this segment with John Cena verbally beating down Austin Theory. Some of the work was strong, but some of it didn't make a lot of sense. I didn't like the meta talk from Cena, particularly how he pointed out the piped in crowd noise. Why acknowledge that? I didn't understand the idea that Theory would be worse off whether he lost or won a match against Cena. How would he be worse off if he won? So, there were some definite negatives here. But, there was a lot of positive about it too. The performances were strong, even when the scripting wasn't. We will get the big Theory vs. Cena United States Championship match at WM which has a chance to be very good. I like that Cena was acting in a serious manner. He wasn't goofing around like he sometimes does. I also am hopeful that this is going to lead to a boost for Theory in the end.
Becky, Lita & Trish – Damage CTRL – MISS: This was ok, but it didn't quite click. It feels like Becky Lynch's feud against Damage CTRL will never end. The Hall of Famers being involved is ok, but I'm not that interested in seeing them wrestle. Damage was done to Kai-en-Sky in losing the Tag Team Titles to Lita last week. They tried to do the lame swerve where they pretended to be upset at Bayley for agreeing to the match, only to turn around and attack the babyface trio. That didn't work. The brief physicality was sloppy. There will be a ton of talent in the ring in the six woman tag at WM, but there will also be two retired wrestlers who better raise their game, much more than Lita did last week.
Uso vs. Zayn – HIT: The culmination of this Bloodline storyline throughout the show was the main event between Jimmy and Sami. This was a good main event. They told the story of how Jimmy is under extreme pressure to both take out Zayn here, and bring his brother Jey back into the Bloodline by Friday. That story placed more importance on this match, with Jey returning to watch the end from the top of the announce table. It was hard to read where his mind wash as he watched. While the match was good, the post-match angle was great. What was going through the Usos' minds when they stood together in the ring? Jimmy looked crest fallen when Jey hugged Sami. The fans then became even more crest fallen when Jey turned on Sami. This was what had to happen eventually, and it certainly worked very well here. The fact that Rhodes came to chase off The Bloodline as they beat down Zayn was smart. He is going to play a role in reconciling Zayn and Owens, which helps keep him where he needs to be going into WM. I can't think of anything negative about how WWE is handling this epic story.
Lita & Lynch vs. Damage CTRL – MISS: I hate to say ig Titles at that point? What are they doing with Shayna Baszler & Ronda Rousey?
Jon Mezzera is PWTorch.com's WWE Hits & Misses Specialist, providing his point of view for Raw and Smackdown each week. Email him at jmezz_torch@yahoo.com.
---
CATCH-UP: Cody Rhodes "won't rule out" a Brandi Rhodes appearance on Road to WrestleMania