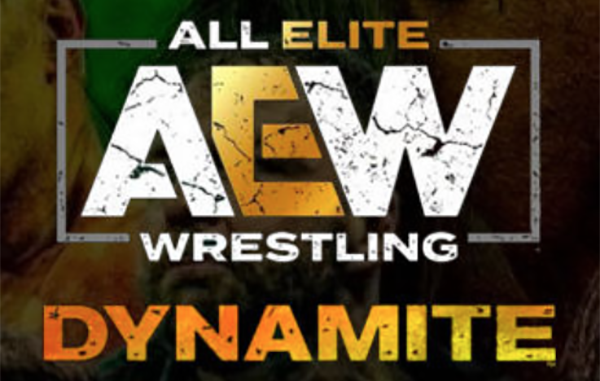 ---
SPOTLIGHTED PODCAST ALERT (YOUR ARTICLE BEGINS A FEW INCHES DOWN)...
---
AEW DYNAMITE REPORT
MAY 17, 2023
AUSTIN, TEX. AT MOODY CENTER
AIRED ON TBS
Commentators: Excalibur, Taz, Tony Schiavone
Ring Announcer: Justin Roberts
---
[HOUR ONE]
-The Dynamite opening aired and then they cut to the arena as pyro blasted. Excalibur introduced the show and said it's "been a historic day for AEW" and they'd have more on that later, but first they'd get right to the action. Tony Schiavone backed him up. "What a day to be a fan of AEW!" he said. "We're all pumped up."
-Wardlow made his ring entrance in dress pants and dress shoes, carrying his TNT Title belt to the ring with him. Schiavone said he's never seen anyone go as low as Christian Cage did last week. He said he didn't even want to stay in the ring with him. Excalibur said Christian claims he'd say those words straight to Wardlow's face. Fans chanted "Wardlow! Wardlow!"
Wardlow said Christian made promises last week that he wants to see him live up to. He told him to put on his "tiny little jacket" and come to the ring "and spit in my face." He lay the belt in front of him mid-ring. Christian walked out with Luchasaurus. Excalibur said Wardlow is outnumbered two-to-one. Christian stood face to face with Wardlow in the ring and trash-talked him. He said he doesn't have what it takes to stay champion. He wound up to spit, but Wardlow grabbed him by his throat and blocked it. Luchasaurus then hit Wardlow. Wardlow punched back. Wardlow turned to Christian and set up a powerbomb, but Luchasaurus intervened. Christian then gave Wardlow a low-blow from behind.
Luchasaurus chokeslammed Wardlow onto a ladder leaning in the corner. Christian then gave him a Kill Switch onto the ladder.
(Keller's Analysis: I got sidetracked asking PWTorch's Nick Barbati if Wardlow's pants were too short and too much ankle was showing for the look he was going for – because fashion is definitely not my thing – but the angle seemed well done to add heat to the feud and the eventual Wardlow vs. Christian match. Maybe Wardlow walked into getting beaten up, though.)
(1) BIG BILL & LEE MORIARTI vs. ORANGE CASSIDY & DARBY ALLIN
Orange Cassidy made his ring entrance first. Then Darby Allin made his entrance, riding his skateboard to the ring. Big Bill and Moriarty came out together. The bell rang 10 minutes into the hour. Cassidy got the better of Moriarty. When Bill and Darby tagged in, Bill overpowered Darby and threw him around. Bill then mocked Darby's height with a test of strength challenge. Darby slapped him. When Bill charged, Darby ducked. Moriarty re-entered the ring, but Darby backdropped him into Bill's arms at ringside. Darby and Cassidy leaped onto both of them. They cut to a split-screen break. [c/ss]
The heels took over during the break. Darby got the hot tag at 6:00 and rallied against both Bill and Moriarty. A loud "Darby!" chant broke out. Bill landed a Bossman slam for a near fall on Darby a minute later. Excalibur noted that Rampage will air at 6:30 ET this Friday, another special time. Cassidy tagged in and gave Bill a DDT. Moriarty tagged in and rolled up Cassidy for a near fall. He followed with a crossface, but Cassidy leveraged his shoulders for a two count. Darby and Cassidy landed a tandem superplex. Cassidy landed a Slum Dog Millionaire on Bill and then Darby gave him a Code Red. Cassidy fended off an interfering Big Bill as Darby landed a Coffin Drop followed by his headlock takeover into a three count. Excalibur said he'd like to know how MJF is responding to how Darby looked in that match.
WINNERS: Darby & Cassidy in 10:00.
-Alex Marvez approached the Young Bucks in the parking garage for an update on Kenny Omega. Matt said physically he's beat up but he'll be okay. He said mentally is another issue. The Blackpool Combat Club showed up and surrounded the Bucks. Claudio slammed Nick on the hood of a Dodge Ram. They beat up Matt. Mox stood on his head. Mox grabbed the camera and said they are "the only elite in this business."
-Renee Paquette was backstage getting an update on Wardlow, who was getting iced by a trainer. Arn Anderson walked in and threw the ice pack against the wall and said he should have been out there. Wardlow told Arn that he asked him to stay in the back. Arn said he's been around long enough not to need protection. Arn said he's seen what they'll do, so now what is he prepared to do. Wardlow said he's prepared to beat Christian at his own game. He said he'll give him a title shot in a ladder match at Double or Nothing.
-They cut to the announcers who reacted to that challenge and then threw to a sports gambling sponsor. [c]
-Renee interviewed Cassidy backstage. She asked about being attacked by Kyle Fletcher. He said there are a lot of people who want a shot at his title, so anyone interested should go ask Tony Khan for a title match at Double or Nothing.
(2) SAMMY GUEVARA vs. EXODUS PRIME
Guevara landed a GTH seconds into the match for the ring.
WINNER: Guevara in under 30 seconds.
-After the match, Guevara grabbed a mic and addressed the Austin, Tex. crowd. He said he remembers the good times and bad times and the drama driving up and down the indy circuit in Texas. "And that brought me to where I am today," he said. He acknowledged he's made a lot of mistakes. He said fans have watched him grow up in front of their eyes. "Sometimes it takes a few wrong turns to find the right place," he said. He said the right place is Las Vegas on May 28 when he can shut up the naysayers. He said he listens to what's in his heart, and his heart says he will be the new AEW World Champion at Double or Nothing.
(Keller's Analysis: He didn't step in any potholes or go all meta, so that's a positive. That was one of his better babyface-style promos, but he still lacks any color as a babyface and seems to lose the bombastic charisma he has as a heel. And are we supposed to be skeptical of him being a babyface now with the idea that it's likely a ploy? Or are we supposed to just assume he's no longer associated with the Jericho Appreciation Society?)
-Schiavone introduced Jeff Jarrett, Jay Lethal, Satnum Singh, and Sonjay Dutt. FTR attacked them. Dax shoved Satnum Singh off the stage. Karen Jarrett entered the ring and gave Cash a low-blow. Jarrett gave Dax his Stroke finisher. Satnum recovered and chokeslammed FTR in the ring. Next, Jarrett and Lethal bashed FTR with guitars as Sonjay high-fived Karen.
(Keller's Analysis: I'm curious if Tony Khan can reign in Karen Jarrett from her usual full speed acceleration into go-away heat because in moderation, she's an effective heel personality.)
-Renee interviewed Darby backstage. He said his win earlier was a message for MJF. Sammy walked in and said they have a history, but he respects him. He said Darby told him if he's ever going to become a World Champion, he needs to stop being a follower. He said at Double or Nothing, he won't lay down for MJF and he won't make it easy for any of his opponents. He said one of them has to take the title from MJF. Darby said, "May the best man win."
(3) THE OUTCASTS (Toni Storm & Ruby Soho w/Saraya) vs. HIKARU SHIDA & BRITT BAKER
The bell rang 43 minutes into the hour. They cut to an early split-screen break. [c/ss]
The heels controlled the action during the break. Baker hot-tagged in Shida who exchanged strikes mid-ring with Soho. Shida fended off Saraya when she stood on the ring apron. Shida then leaped off the ring apron onto all three Outcasts at ringside. Fans loudly chanted "Shida! Shida!" She landed a Falcon Arrow on Soho for a near fall.
Storm interfered to break up another pin attempt a minute later by Baker. Baker shifted into a Lock Jaw attempt, but Soho leveraged Baker's shoulders down for a two count. She tagged in Storm, but Baker gave her an Air Raid Crash. Saraya stood on the ring apron again. Baker turned her attention to her. Soho slid Storm the can of spray paint which she sprayed in Baker's face before hitting Storm Zero for the win.
WINNERS: Storm & Soho in 8:00.
-Renee told Cassidy that 20 wrestlers lined up to tell Khan they wanted a shot at his title. Cassidy suggested they have a Blackjack Battle Royal at Double or Nothing. Cassidy offered Renee a spot in the match. She turned it down. [c]
-Excalibur threw to Tony Khan's announcement.
-Khan said it was great to be back in Austin. "Today has been one of the greatest days in AEW history," he said. He said "at WBD up fronts" (How many viewers have no idea what that is?) they announced the launch of AEW Collision. He plugged the July dates in Canada for Collision followed by July 22 in Newark, N.J. He said it'll be a hot ticket and a great show. He said next week he will announce where the premiere event will take place.
June 17 – TBA (Chicago, Ill. at United Center)
June 24 – Toronto, Ont.
June 29 – Hamilton, Ont. (Thursday taping)
July 8 – Regina, Sask.
July 15 – Calgary, Alb.
July 22 – Newark, N.J.
(Keller's Analysis: It's great to see Collision will be live almost every week out of the gate, and hopefully going forward from there it will be a rare exception they tape on a Thursday. It seems like, without the CM Punk setback today, they would have announced United Center in Chicago, but they're giving themselves a week to work out the situation with Punk before deciding whether United Center is a feasible venue to book. That's just a hunch given what's going on.)
(4) RODERICK STRONG vs. CHRIS JERICHO
Justin Roberts announced that the J.A.S. are banned from the arena during this match. Excalibur noted that includes Guevara. Strong made his entrance first. Jericho came out to "Judas" and fans sang along.
[HOUR TWO]
Strong attacked Jericho before the bell and the referee rewarded him by calling for the bell to start the match. Strong scored a near fall after a flurry of offense to start the match. He and Jericho chopped each other. Jericho clotheslined Strong over the top rope to the floor. Back in the ring, Jericho stayed on the attack. Strong blocked a Code Breaker. Jericho applied a Walls of Jericho mid-ring. Strong crawled over and grabbed the bottom rope to force a break. They cut to a split-screen break at 5:00. [c/ss]
They brawled into the stands during the break. They ended up in a concourse where security had already pushed fans to the side (how did they know they'd be brawling up there?). Excalibur noted that they just received word that "Superstar" Billy Graham has died and they passed along their condolences. Jericho suplexed Storm onto a table. They brawled into the concourse to an empty souvenir area where Storm took over. Jericho charged at Storm with a stantion. They fought into the stairway. They fought on the ledge. Jericho scored a two count.
Back in the concourse, Jericho picked up a chair. Strong threw plastic cutlery at Jericho and then took over. He threw ice cream in Jericho's face, then ate some. Jericho was blinded, but then wiped his face clean with garbage from a trash can. Schiavone called it disgusting. They walked past a sign that said, "Seat Filler Waiting Area." Storm left the arena where Adam Cole showed up. Schiavone said this might have been Storm's plan all along. Cole beat up Jericho and then Storm landed a jumping knee followed by a three count. As Cole and Strong celebrated, Jericho began to sit up from where he was pinned in a bed of dirt.
WINNER: Strong in 14:00.
(5) RUSH (w/Jose the Assistant) vs. "JUNGLE BOY" JACK PERRY
Rush walked out with Preston Vance and Jose. Perry came out second. The bell rang 17 minutes into the hour. Rush shoved Perry over the top rope seconds into the match, then chopped him and threw him into the ringside barricade on all four sides of the ring. He reset the ref's count in the ring, then went back after Perry, who was bleeding from the forehead. He then threw him over the barricade. Jose held up a sign that said, "Rush > Jack Perry." They cut to a split-screen break. [c/ss]
Back from the break, Perry began to fight back. Rush stopped him with a jumping knee. Perry fired back with a dropkick and then got fired up. Perry headbutted Rush on the top rope and then head scissored him. Jose grabbed Perry's boot. Rush charged, but Perry countered into a Snare Trap. Rush crawled to the bottom rope and forced a break.
They fought on the ring apron. Rush wiped his hand over Perry's blood and then licked his hand and rubbed the blood on his chest. Rush threw a charging Perry off the ring apron. Perry tucked his head as he flipped but barely in time as he grazed the side of his head as he landed on the floor. Rush stood on Perry's chest and got a two count. Schiavone said Rush is making a statement in this match. Rush beat up Perry in the corner. The ref warned him to back off. Rush shoved the ref. The ref didn't DQ him, but he should have. Perry rolled up Rush as Rush was yelling at the ref and got the three count.
WINNER: Perry in 10:00.
(Keller's Analysis: So Darby got a tag match, Guevara got a jobber opponent, and Perry had to face Rush? That doesn't seem especially fair as far as warm-up matches go. Rush's intensity at the start was great.)
-Afterward, Vance and Alex joined Rush in attacking Perry. Schiavone said this seems to be something MJF orchestrated. Darby ran out to his music and made the save, but he was quickly overwhelmed. Rush wrapped a cable around his neck. Guevara then ran out to his music to even the odds. He kicked Rush on the ramp and kicked Vance in the ring. Darby then gave Jose a Scorpion Death Drop. Darby and Guevara stereo dropkicked Vance out of the ring. Guevara and Darby froze in place and stared at each other, then looked over at Perry. Excalibur said it'll be every man for himself at Double or Nothing a week from Sunday.
-Renee interviewed MJF backstage. She asked him about his title defense at Double or Nothing. She pointed out that the winner doesn't have to pin him to become champion. He knocked the mic out of her hands, stared at her, and then walked away. [c]
-Excalibur noted that Jamie Hayer was injured by Storm when she threw her shoulder-first into the ringside steps. They showed the clip.
-Renee told Storm she has four wins in the last five days. Storm said she doesn't see Hayter setting records like that. She said she's not the same Storm as before. She challenged her to put her title on the line at Double or Nothing against her.
(6) JAY WHITE (w/Juice Robinson) vs. RICKY STARKS
White made his entrance first, accompanied by Juice. They showed a brief clip of the first White-Starks incident last month. Starks came out second and they showed clips of the last time they crossed paths two weeks ago. (Those clips constituted the totality of hype for this TV main event during the show other than on-screen graphics a couple times.) The bell rang 37 minutes into the hour. After some back and forth action, they cut to a split-screen break. [c/ss]
Starks scored a near fall after a tornado DDT at 7:00. Fans chanted "This is awesome!" White came back with a DDT of his own. Both were down and slow to get up. They picked up the pace with rapid-fire exchanges and near falls. Starks speared White, but White then gouged his eyes. Juice entered and swung a chair at him. Starks ducked and then bashed Juice with it. When White charged, Starks jabbed him and then hit him across the back. The ref DQ'd him.
WINNER: White via DQ in 12:00.
-Starks sat mid-ring in the chair and looked down at Juice and White afterward.
-Excalibur plugged Rampage: Best Friends & Bandido vs. Blackpool Combat Club, The Acclaimed & Billy Gunn vs. The Varsity Athletes, Bishop Kaun vs. Dustin Rhodes, Jade Cargill with an open challenge, and The Hardys will speak. Dynamite will feature the Lucha Bros. vs. Claudio Castagnoli & Wheeler Yuta. Then he hyped the Double or Nothing line-up so far. Excalibur hyped that Don Callis would speak next. [c]
-Schiavone introduced Callis from mid-ring. He said it gives him no pleasure to introduce him, though. Callis walked out with security flanking him on the ramp. Fans booed as he entered the ring. Excalibur said he was disgusting and his actions despicable. Fans chanted, "Piece of shit!" Schiavone asked, "Why? Why?" Callis said everybody wants to hear him talk about why he did what he did to Kenny Omega. He said instead he wants to talk about Omega did to him. "There's only one victim in this scenario, and it's not Kenny," he said. He said he is the victim. He touted Omega's achievements in New Japan and AEW. "Without me, there is no Kenny Omega." Omega's music then played.
When Omega walked out, security tried to block him. He punched some of them. Blackpool Combat Club jumped Omega on the ramp. Moxley gave him a Paradigm Shift on the ramp. Mox entered the ring and said this is his final warning to stay down. He said they are the real elites.
The Young Bucks then came out to their music. They were selling the attack from earlier. Nick brought a trash can out with him. They each grabbed objects. "Hangman" Adam Page's music played and he joined them on the stage. Omega handed Hangman a broom. Excalibur said they are former rivals and now partners. They charged the ring with the two-by-four, trash can lid, pipe, and broom and attacked BCC. After clearing the ring of the heels, Hangman said they are the heart and soul and spirit of AEW. He was wearing an eye patch. He yelled, "We are The Elite!" He challenged them to an Anarchy in the Arena match at the PPV. Taz said, "Whoa! That's massive."
(Keller's Analysis: A change of format for Dynamite, with the main event ending early and then a big promo segment and angle to close the show including the return of Hangman to set up the Double or Nothing co-main event.)
---
PWTorch editor Wade Keller has covered pro wrestling since 1987. He has been a guest on the Steve Austin Show as an analyst of current events and pro wrestling history 40 times, making more appearances than any other guest. He currently hosts the "Wade Keller Pro Wrestling Podcast" and "Wade Keller Pro Wrestling Post-show" along with several PWTorch VIP-exclusive podcasts every week. He was inducted into the National Wrestling Hall of Fame for "Excellence in Writing on Professional Wrestling" in 2015. He hosted "The Ultimate Insiders" DVD series in the 2000s including long-from studio interviews in Los Angeles, Calif. with Matt & Jeff Hardy and Vince Russo & Ed Ferrara. He has interviewed more big name wrestlers and promoters in long-form insider interviews over the last 35 years for the Pro Wrestling Torch Newsletter, usually in the "Torch Talk" transcribed Q&A format, than any pro wrestling reporter. The list of those he has interviewed include Steve Austin, The Rock, Vince McMahon, Kevin Nash, Scott Hall, Hulk Hogan, Goldberg, Eric Bischoff, Verne Gagne, Lou Thesz, Jesse Ventura, Drew McIntyre, Brian Gewirtz, Paul Heyman, Mick Foley, Jim Ross, Tony Schiavone, Jon Moxley, and dozens of other top stars and influential promoters and bookers/creative team members.