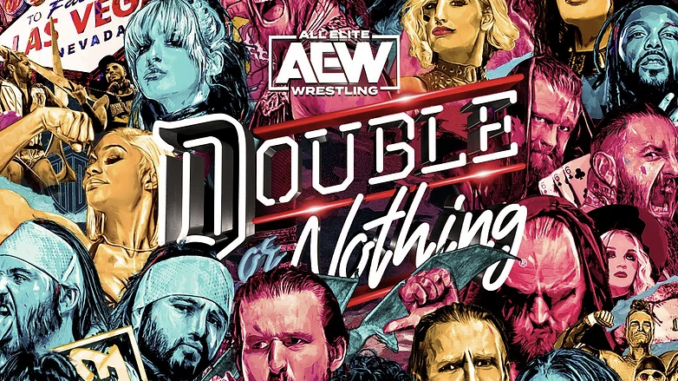 ---
SPOTLIGHTED PODCAST ALERT (YOUR ARTICLE BEGINS A FEW INCHES DOWN)...
---
Hey, y'all! It's me again. You may remember me from such articles as my AEW Dark Elevation reports (which means you probably don't remember me, so hi!) Today, I am here to predict the results of one of the most unpredictable pay-per-views of all of this Sunday, but not the NXT one.
Now, while I'm not exactly a psychic, I am a know-it-all, and I really did manage to somehow guess the outcome of every match at AEW Revolution 2023. I'm not sure how I did that, and I'm not sure I can do it again, but I am sure that I'm going to try because I like attention.
---
ADAM COLE vs. "THE OCHO" CHRIS JERICHO
Special Enforcer: SABU
Stipulation: An Unsanctioned Match (featuring sanctioned referees, sanctioned commentators, and a sanctioned timekeeper on a sanctioned pay-per-view.)
It's easy to want to write off Chris Jericho in this match, but before you do, you should remember that he is no stranger to the land of hardcore. (Just ask Dominos Pizza.) Jericho has willingly borne the brunt of pizza cutters, broken glass, and matches with Chyna. This man is no stranger to danger.
On the other hand, Adam Cole has the motivation of the horror of seeing the love of his life attacked with a foreign object by someone who isn't named Hikaru Shida, Thunder Rosa, Ruby Soho, Toni Storm, Nyla Rose, Big Swole, Tessa Blanchard, Shayna Baszler, Hornswoggle, Dylan Bostic, Saraya Knight, or AEW's Saraya the first time she did it. (The second time she did it was a step too far.)
Given Cole's totally justified indignance at seeing AEW wrestler Britt Baker attacked by AEW wrestler Saraya in the middle of a wrestling ring and given how hard Jericho has worked to put over younger talent in recent years, I'm going to predict that Cole will come out on top this Sunday. (Also, I think it would be a very, very bad idea to have Cole lose on pay-per-view this early in his return.)
WINNER: Cole
---
THE HARDY BOYS (Matt Hardy & Jeff Hardy) & HOOK vs. ETHAN PAGE & THE GUNNS (Colten Gunn & Austin Gunn)
Stipulation: If Team Hardy Wins, Matt Hardy Will Own Ethan Page's Contract
Back in 2021, when Hook had the number one best-selling T-shirt in all of AEW, this is exactly what I imagined him doing two years later. So, Bravo. Good Job! Congratulations, felicitations, raise a glass in celebration because this is in no way a waste of one of the most intriguing characters in AEW.
Now, I'm not well versed in contract law, and I'm not sure how Ethan Page can lose a contract that belongs to AEW, but I do think it would be hella interesting if Hardy had control over Page for a few months. Sure, that would be a corny storyline, but if you're going all in, go all in, and then, maybe at All In, we can get Hook vs. Page in a one-on-one match for the FTW Championship in front of 65,000 people (and not on the pre-show).
Because I'm a Hook fan and because I'm rooting for him to move on to better things, I'm going to predict Team Hook wins this one. I'm also going to predict that Jeff Hardy has a 50-percent chance of jumping off of a ridiculously high place. To be clear, I'm not predicting that because this is a pay-per-view; I'm predicting that because I like to imagine that is how Jeff Hardy enters most rooms.
WINNER: Hook & The Hardy Boys
---
ORANGE CASSIDY vs. 20 OTHER MEN
Stipulation: A 21-Man Blackjack Battle Royal for the International Championship.
You know, in my humble opinion, Orange Cassidy has been one of the best-booked champions in AEW history. He has opened so many episodes of AEW Dynamite that I'm surprised they haven't made his music the show's opening theme. My first instinct was to say Orange Cassidy would win this match because he has done a fantastic job representing AEW's International Championship. (Fun Fact: Thesaurus.com says "international" is a synonym for "world.")
Still, even though Cassidy clearly deserves this win, and even though I can see this win happening for him, my boyfriend recently made a compelling case that I should not bet on Cassidy to retain his championship because going up against 20 other men makes him an underdog.
So, let's take a look at who those men are:
The Butcher (No)
The Blade (No)
Tony Nese (No)
Ari Daivari (No)
Lee Moriarty (No)
Komander (Did he sign with AEW?)
Bandido (No)
Juice Robinson (No)
Big Bill (No, unfortunately)
Chuck Taylor (In a tag team)
Trent Beretta (In a tag team)
Rey Fenix (Is literally a current tag team champion)
Penta El Zero M (See Rey Fenix)
Brian Cage (This would make too much sense, so no.)
Kip Sabian (I wish.)
Dustin Rhodes (He'd deserve it, but I'm not sure he'd take it if offered.)
Keith Lee (Maybe.)
Swerve Strickland (Maybe. They could even have Lee & Strickland feud over the belt?)
Jay White (Maybe.)
Ricky Starks (Maybe.) (Also, this is the man who should win. Right here. This guy. Do it.)
Looking at that massive list of names, I can see at least five "feasible" winners other than Cassidy himself. Because of this, and despite my best judgment, I am going to trust my boyfriend and guess that Orange Cassidy will lose his International Championship at AEW Double or Nothing.
WINNER: Not Cassidy. (But probably Cassidy.)
---
JADE CARGILL vs. TAYA VALKYRIE
Stipulation: TBS Championship Match
I can't believe they gave this match away for free on AEW Dynamite. The decision to do that sucked the oxygen out of what could have been an electric build to a highly anticipated pay-per-view title match. Instead, we now know for a fact that Cargill can beat Valkyrie, and I don't think AEW would be so shortsighted as to blow the payoff to Cargill's 505-day reign on a rematch with someone she previously beat.
BTW, I still say that Athena should have been the one to dethrone Cargill, but that ship has clearly sailed. I do hope that whenever someone does finally end Cargill's impressive winning streak, they run with her like their butt is on fire.
WINNER: Cargill
---
CHRISTIAN CAGE vs. WARDLOW
Stipulation: A Ladder Match for the TNT Championship
Speaking of fire, Christian Cage is on fire right now. His turtleneck-wearing, bond-villain-scheming, Russell-Brand-talking character is showcasing some of the best heel work of his entire career. I would honestly have no problem with them putting the title on Christian Cage at Double or Nothing, and I'm not just saying that because I own an unusual amount of Christian Cage merchandise.
However, the TNT Championship has been jumping around more than Rampage as of late, and I don't think it would be wise to continue that trend. I also think they see Wardlow as more than a transitional champion, or so I hope. For those reasons, and despite having voted for Christian at Taboo Tuesday 2005, I'm going to vote for Wardlow to win this one.
Also, trying to find Rampage is like trying to find my car keys, and I don't watch wrestling for scavenger hunts. Stop it.
WINNER: Wardlow
---
FTR (Dax Harwood & Cash Wheeler) vs. JAY LETHAL & JEFF JARRET (For some reason) (w/Karen Jarrett (Sure, why not) & Sonjay Dutt, & Satnam Singh)
Special Guest Referee: MARK BRISCOE
Stipulation: AEW Tag Team Championship Match
This match is a lot.
Now, to be fair, I don't have a crystal ball (because genuine crystal is expensive), so maybe this match won't be as "extra" as I think it will be, but it took me 39 words to describe this match in the header alone.
For some reason, and I can't fathom why, everything about this match gives me TNA vibes. Don't get me wrong, I liked TNA Wrestling, and I even went to see their shows live; however, this story feels like a quasi-invasion angle but with the emphasis being put on the "invasive" part.
Oh, but I do hope Jeff Jarrett gets hit in the head with a guitar. It doesn't have to happen during the match itself; it can happen on the pre-show, or after the show, or in a hotel room on TikTok. IDC where it happens, but it should happen.
Another thing that should happen is FTR should win.
WINNER: FTR
---
JAMIE HAYTER vs. TONI STORM
Stipulation: AEW Women's Championship Match
Did you know Toni Storm started training at the age of 13? Well, now you do, and now you know that I'm enough of a Toni Storm fan to know random trivia about her career. Therefore, it should not be a surprise that I really wish I could somehow make Toni Storm win this match, but I know I can't.
Jamie Hayter has done an excellent job representing AEW's Women's Championship. While she hasn't been the focal point that I wish she was, that isn't her fault, either. She's done the absolute best she can with what she has been given. Because of this, I imagine AEW is happy with Hayter as champion, and I think they would like to showcase Hayter as a native champion defending her title on home soil at All In. In fact, it wouldn't surprise me if they went with Hayter vs. Saraya for their UK debut, given the nationalities of both of those athletes.
My prediction for this match is that Jamie Hayter will retain; however, I'm also predicting there will be shenanigans, and at some point, Saraya, Soho, and Baker will get involved at ringside. (Why are they even allowed at ringside? When has that decision ever gone well for any referee who has made it?)
WINNER: Hayter
---
BLACKPOOL COMBAT CLUB (Bryan Danielson & Claudio Castagnoli & Moxley & Yuta) vs. THE ELITE ("Hangman" Adam Page & Matt Jackson & Nick Jackson & Kenny Omega)
Stipulation: An Anarchy in the Arena Match! (That exclamation point is warranted.)
This match is a hard match for me to guess the outcome of. I could see either side winning. If the Blackpool Combat Club were to win, that would make sense because this feud is likely not going to end here but at Blood and Guts. A babyface team that appears to be punching up is a good hook for continuing the story.
Then again, if a babyface team is beaten down to the point of a victory seeming hopeless, fans might embrace that hopelessness and tune out of their segments altogether. With that in mind, The Elite have certainly been through the wringer as of late. Moxley won his cage match against Omega; Don Callis betrayed The Elite; Adam Page is wearing an eyepatch, and Dynamite ended with Moxley threatening murder-adjacent violence.
All that said, as unsure as I am about who is winning this match, I'm going to go with The Elite because I flipped a coin, lost it, moved my couch, tried to find it, gave up looking for it, and now I'm stuck making an uninformed guess about the winner of this match because I can't find my lucky coin.
One thing I am sure of is that I'm excited to see this match! This looks like it's going to be a doozy!
While I did not enjoy how chaotic the last Anarchy in the Arena match was, I am optimistic that AEW's film crew has learned from their past mistakes and will do a better job of capturing the action. I think the key to making this kind of match work is to coordinate who will do what, where, and when. That way, the director knows what shots to call, and we don't miss chunks of the action.
I certainly wouldn't want to miss a precious second of this match. There are eight men in this match, and every single one of them is capable of delivering a classic on their own. Together, on AEW's second biggest stage of the year, I can only fathom the magnitude of the stops they will pull out, and I shudder at how bloody those stops will be.
I hope the red cross is standing by with a mop.
WINNER: The Elite (and vampires)
---
MJF vs. "Jungle Boy" Jack Perry vs. Darby Allin vs. Sammy Guevara
Stipulation: A Four-Way Match for the AEW World Heavyweight Championship
MJF will win.
With that out of the way, I'd like to say I'm one of the few people who loves the idea of this match despite its predictability. If AEW wants to run to the moon and back with MJF, they are going to have to make sacrifices, and those sacrifices need to feel significant. Allowing MJF to beat all four pillars at once is a painful but effective way of asserting his character's dominance. Still, even though they are facing an inevitable loss, I don't think any of the other pillars will come out of this match with egg on their face because this match does not involve eggs.
In fact, all four of these men will likely come out of this feud better off than when they went into it. Seeing Jack Perry, Darby Allin, and Sammy Guevara share significant ring time with AEW's World Champion has elevated their positions in my eyes because seeing is believing, and they have made me believe they are worthy of the spot they are being put in. The biggest standout in this feud (other than Jungle Boy's hair and Guevara's butt) has been Allin's promo skills.
TBH, I had no idea Allin could talk, and I'm kind of thinking he didn't know he could, either. Whereas Perry has been expressing his frustrations through screaming, Allin has chosen to talk and talk calmly. Allin's monologues have been chilling, cutting, and relatable. Best of all, they sounded like they were coming from the mouth of a star.
Three months ago, I never thought I'd say this, but maybe Allin should be the next AEW Champion in five years when MJF gets fired for no-showing a meet and greet because he was busy throwing water on thirsty-looking kids.
WINNER: MJF (May he reign until even his most pollyannish fans resent him.)
---
In conclusion, this PPV looks great on paper, and it will likely be great in reality; however, the "build" has been less "construction site" and more "erector set."
AEW Revolution 2023 had one of the best builds I've seen in a long time, and so I was especially disappointed to see this pay-per-view take a backseat to ratings ploys and hot-shotted matches. I know AEW's fanbase thrives off breathtaking matches, but while people enjoy breathtaking matches, they don't fall in love with them. People fall in love with stories.
Sure, wrestling sells well these days, but stories have sold since the invention of language. Nobody ever went to see a movie because the stunts looked neat, and nobody ever read a book because the prose looked purple. So, please, keep up the great wrestling! I love it! Just remember, the pieces of a puzzle and the notes of a song mean less when they're used alone.
---
David Bryant's totally normal amount of selfies can be found on his Instagram account @IamDavidBryant, and even more can be found on his Twitter account, which is also @IamDavidBryant because David Bryant is not good at naming things.