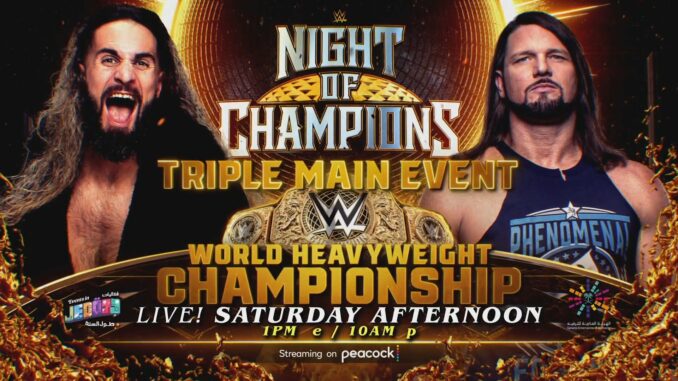 ---
SPOTLIGHTED PODCAST ALERT (YOUR ARTICLE BEGINS A FEW INCHES DOWN)...
---
And back to Saudi Arabia WWE goes. I need to emphasize what an awful move it is for WWE to take the money for these show as it seems like the outrage has waned as the blood money deal has rolled along. Shame on you, WWE. Shame.
That said, it's the time of year for a Saudi show and this time it's Night of Champions. For a Saudi Arabia show that's typically a glorified house show, the 2023 Night of Champions card has come together nicely and within WWE's normal cadence of storytelling. Stuff on this show will matter moving forward.
A new world champion will be crowned, The Bloodline story continues, and Brock Lesnar vs. Cody Rhodes 2 has some added heat behind it. All are key parts of the WWE narrative right now that will play out in major ways.
Call this a preview, a calm look into the distant future, or a gaze into a wondrous crystal ball; just don't hold me to anything, ok?
Sami Zayn & Kevin Owens vs. Roman Reigns & Solo Sikoa – WWE Undisputed World Tag Team Championship
It's weird to see Roman Reigns not defending his world title on a major show like this, but him involved in the tag team title scene has pushed The Bloodline saga in another exciting direction. It could have stalled out after WrestleMania, but the drama between Reigns and The Usos with Solo Sikoa on the side has drummed up a good continuation of WWE's best story in years. This match will bring the drama and look for The Usos to get involved to cost Reigns and Sikoa the titles. Accident or on purpose? We'll see, but their involvement will crack the page on another chapter in the story.
Rhea Ripley vs. Natalya – WWE Smackdown Women's Championship
Is it wrong to predict a squash match? I suppose so, because this is a PLE, but I'll call it a glorified squash instead. Nattie should not be hanging with Ripley in a credible way. Look for her to get some shine at the start of the match and then a couple hope spots before doing the job in a definitive way for Rhea.
Gunther vs. Mustafa Ali – WWE Intercontinental Championship
Part of me really wants to take Ali in this match. He's been featured out of nowhere and I just can't help but thing, why. Not only has he moved away from the positivity stuff with the character, but he's telling a tale of being on a journey and completing that journey with a title win. Not that Ali matters much in the WWE ecosystem, but it will forever be tough to repair him if he loses here and his journey is squashed. Still, that's what happens. We get a really good match, but Gunther retains the title.
Bianca Belair vs. Asuka – WWE Raw Women's Championship
Asuka has a better chance of walking out as champion than Natalya does. Nattie's chance is negative percent, though. So, I'd say Asuka sits at about 5%? Less? A little more? Who knows, but this will be all about Belair without question. A good match that builds off of their WrestleMania showdown, but Bianca retains.
Seth Rollins vs. A.J. Styles – WWE World Heavyweight Championship
This is going to be a great match and needs to be. WWE is presenting this championship as the fighter's title, so the tone around it needs to be set with a very memorable in-ring encounter. Styles and Rollins can both bring it and achieve that goal. Rollins wins, though. His storyline has been woven right through the middle of this championship and Styles simply hasn't. He's around it, but that's it. The title screams Seth at this point and Styles winning would be a disappointment because of the expectations WWE has set forth.
Becky Lynch vs. Trish Stratus
I've loved the build to this match. It's simple, but effective. Stratus has come across as the annoying and overconfident heel. Lynch, the calm, cool, and collected babyface. Nobody could "out cool" Lynch during the contract signing and frankly, I don't know that there is anyone in WWE that could say so much in a promo segment without saying a word. Great stuff. Lynch wins.
Cody Rhodes vs. Brock Lesnar
Look, I don't think Cody getting injured and being presented as a broken, but fighting babyface ahead of the second Lesnar match is an accident. This has a purpose behind it and the purpose is to protect Cody. Why? Because Lesnar is going to get a win back. Cody fights and fights and fights and fights, but just can't overcome due to the damage already sustained on Monday night. That's the story and Lesnar vs. Rhodes 3 gets locked and loaded for Summerslam.
---
CATCH-UP: PPV PRIMER – WWE NIGHT OF CHAMPIONS 2023: Preview and predictions for Cody vs. Lesnar, more