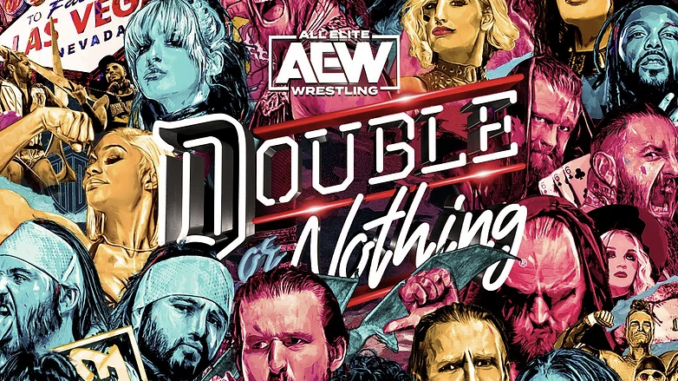 ---
SPOTLIGHTED PODCAST ALERT (YOUR ARTICLE BEGINS A FEW INCHES DOWN)...
---
AEW returns to Las Vegas, Nevada in the T-Mobile Arena for Double or Nothing. We will see which of the four pillars of AEW stands strongest when MJF, Darby Allin, Jack Perry, and Sammy Guevarra vie for the AEW World Championship Title. Blood was promised when the Elite and the Blackpool Combat Club face each other in Anarchy in the Arena. Adam Cole tries to get revenge on Chris Jericho in an unsanctioned match. Babyface and heel roles are reversed when former friends Toni Storm goes after Jaimie Hayter's AEW Women's World Championship. Jade Cargill faces the gravest threat to her AEW TBS Championship when Taya Valkyrie comes for it. A worn-down Orange Cassidy defends his AEW International Championship from twenty other men in a Blackjack Battle Royal, and the AEW World Tag Team Championship, the AEW Tag Team Championship, and the AEW World Trios Championship will all be defended too.
MJF (c) vs. Jack Perry vs. Darby Allin vs. Sammy Guevara – AEW World Championship Four-Way Match
Story in a nutshell: The four wrestlers that were dubbed the "Four Pillars of AEW" face off in a match to determine who emerges with MJF's AEW World Championship.
Early in AEW's existence, four wrestlers without much national exposure were spotlighted as being the future stars of the company. These were MJF, Jungle Boy (Jack Perry), Sammy Guevara, and Darby Allin. MJF, who over the years had successfully faced all of them, won the AEW World Title at Full Gear. It was decided that one of the other "Pillars" would get a shot at the title, so a tournament was set up. MJF offered Sammy Guevara a deal. In exchange for money, MJF would help Sammy win the tournament, as long as Sammy throws their match at Double or Nothing. Sammy agreed and with MJF's help, succeeded in defeating Jack Perry and Darby Allin. The match between Sammy and MJF was set for Double or Nothing but thanks to their shenanigans, Darby Allin and Jack Perry were given an opportunity to get in on the match. If Darby and Jack could defeat Sammy and MJF in a tag match, they would be added to the match in a four-way. During the match, Sammy and MJF's partnership dissolved leading to Darby and Jack's victory.
Prediction and analysis: MJF had made a similar offer to Jack Perry that he made to Sammy, but Jack turned it down immediately. However, this could be an opportune time for Jack to turn heel by siding with MJF.
Then there is a returning CM Punk angle. Punk may get involved with the match either by costing, or helping, MJF. (Picture a black-cloaked figure wearing MJF's devil mask coming to the ring and revealing himself as CM Punk). This could lead to Punk either face or team up with MJF for AEW Collision's first show (assuming Punk doesn't f&@$ things up in the meantime). I've got MJF retaining.
Bryan Danielson & Jon Moxley & Claudio Castagnoli & Wheeler Yuta vs. Adam Page & Kenny Omega & Nick Jackson & Matt Jackson – Anarchy in the Arena Match
Story in a nutshell: When Blackpool Combat Club got involved in the feud between Adam Page and BCC's Jon Moxley, Matt and Nick Jackson, along with Kenny Omega were dragged to the forefront of the conflict leading to Anarchy in the Asylum.
Former member of the Elite, Adam Page, defeated Blackpool Combat Club member Jon Moxley at Revolution, and hoped that his victory put their feud behind him. Moxley and Claudio Castagnoli faced and defeated Dark Order's John Silver and Alex Reynolds. Wheeler Yuta joined his BCC compatriots in continuing the attack after the match prompting Evil Uno and Page (who is friends with the Dark Order) to make the save. Moxley, Castagnoli, and Yuta defeated Page, Evil Uno, and a returning Stu Greyson and once again took liberties after the match. Greyson then faced Moxley and lost. Moxley attacked him backstage after the match.
The night of the Moxley-Greyson match, Kenny Omega was to face El Hijo del Vikingo. Just before the show started, the Young Bucks and members of the Elite, Matt and Nick Jackson, were attacked in the parking lot and were being loaded into an ambulance. Omega couldn't go with them, so Adam Page went instead, a further thawing in the relationship between Page and the Elite. (Page was a member of the Elite and there had been bad blood between him and the group.) Don Callis, Omega's manager, tried downplaying the attack in order to get Omega's head right for the match. After Omega won, the BCC came out and attacked him. Page returned in the ambulance and drove the BCC off. Don Callis feigned getting hit by Page, so Omega was not receptive when Page offered Omega a hand.
The following week Omega was set to defend the IWGP US Championship (a New Japan Pro-Wrestling title) from Jeff Cobb. Don Callis duplicitously tried to widen the wedge between Page and Omega in the guise of "smoothing things out". As Callis was about to apologize to Page for the "misunderstanding", the BCC attacked Page "injuring" him. Callis offered Moxley a handshake, but Moxley punched Callis (leading to a real laceration when Callis accidentally struck his head on some equipment). Despite the distraction, Omega successfully defended his title from Cobb. After the match the BCC surrounded Omega when BCC's absent Bryan Danielson made his return from doing his own thing. Danielson feigned trying to reign in the rest of his cohorts but attacked Omega instead.
The Elite and BCC went back and forth, bring screwdrivers into their conflict. Callis recruited Konosuke Takeshita to help even the odds, but he too was taken out. Eventually, tired of the insanity, Omega challenged Moxley to a cage match which Moxley accepted. Unfortunately, the cage failed it's one job and Callis was able to enter it during the match and betrayed Omega by spiking him with a screwdriver for reasons still mostly unexplained.
Callis was going to explain why he did what he did when Omega came out to confront him. BBC waylaid Omega. The Bucks came out and were joined by Adam Page (wearing an eyepatch). Page challenged the BCC to an Anarchy in the Arena match and declared that he, Omega, and the Bucks were the Elite, officially rejoining them.
Prediction and analysis: Page and the Elite are finally together again paying off a multi-year storyline hampered by the scattershot nature of its telling, so they win. I expect to see the Dark Order lend some assistance so they can gain some level of retribution on the BCC.
Adam Cole vs. Chris Jericho – Unsanctioned Match
Story in a nutshell: Adam Cole wants revenge on Chris Jericho after Jericho orchestrated an attack on Cole's girlfriend, Britt Baker.
Adam Cole returned from injury and faced, and defeated, Jericho Appreciation Society member Daniel Garcia in his first match back. Chris Jericho took umbrage with the way Cole celebrated the victory, claiming it was disrespectful. Later, the JAS attacked Cole. Britt Baker, Cole's girlfriend, came to his aid. However, this was a setup to opening up Britt to an attack from the Outcasts who she had been feuding with. Cole was handcuffed to the ropes and forced to watch the brutal beating. This culminated in an unsanctioned match being sanctioned for Double or Nothing. Being outnumbered, Cole has brought in Roderick Strong and Sabu, with Sabu being named the guest enforcer for the match.
Prediction and analysis: During the buildup to the "Four Pillars" match, Britt, the unofficial "fifth pillar" had a run in with MJF, leading me to think that Adam Cole is MJF's next real threat. As such, I think Cole will win. What's Kyle O'Reilly's current status anyway?
And in defense of the English language, "enforcer" just means "a person that give their force to…". In this case Sabu is Adam Cole's enforcer (like how a hockey team has an enforcer, GO PANTHERS!), not an enforcer of the rules.
Dax Hardwood & Cash Wheeler (c) vs. Jeff Jarrett & Jay Lethal – AEW World Tag Team Championship w/Mark Briscoe as special guest referee
Story in a nutshell: Jeff Jarrett and Jay Lethal have been trying to manipulate Mark Briscoe, who is also friends with FTR, as a way to gain an advantage over FTR as Lethal and Jarrett go after the AEW World Tag Team Title.
AEW World Tag Team Champions Dax Hardwood and Cash Wheeler (FTR) briefly allied with Jay Lethal and Jeff Jarrett thanks to a shared friendship between Jay Lethal and FTR with Mark Briscoe. The alliance did not last long (Lethal and Jarrett are heels and FTR are babyfaces). Lethal and Jarrett became FTR's next challengers and tried to manipulate Mark Briscoe into giving them dirt on FTR so they could have an advantage over their opponents. It was determined that Mark would be the special guest referee for the match. During a confrontation between Lethal and Jarrett and FTR, Hardwood was blinded and accidentally took out Mark. Later, Mark confronted FTR and made it known that he was frustrated with both FTR and Lethal.
Prediction and analysis: FTR retain with Briscoe having had enough of Lethal and Jarrett's bs. I expect a lot of shenanigans in this one.
Wardlow (c) vs. Christian Cage – AEW TNT Championship Ladder match
Story in a nutshell: After Wardlow regained the AEW TNT Championship, Christian Cage made it known he was coming for it and when Luchasaurus put Wardlow through a ladder, Wardlow declared that the match would be a ladder match.
Wardlow regained the AEW TNT Championship from Powerhouse Hobbs and was immediately greeted by the sight of Luchasaurus. Wardlow was eager to defend against Luchasaurus. Later, Christian Cage (Luchasaurus's "handler") made it known that Christian, NOT Luchasaurus would be Wardlow's challenger. During a confrontation, Luchasaurus put Wardlow through a ladder prompting Wardlow to call for a ladder match when he defends his title.
Prediction and analysis: Christian said that people "misunderstood" that it was Luchasaurus gunning for the title and that it was him instead. I'd love for Wardlow to come out and say that Christian "misunderstood" that they were having a traditional ladder match (one where you have to climb up the ladder to retrieve the belt that is hanging midair, a match that favors Christian) but instead a match where you have to put your opponent THROUGH a ladder instead. While I think Wardlow wins, I'd like to see Christian win it and eventually get dethroned by Luchasaurus.
Blackjack Battle Royal for the AEW International Championship
Story in a nutshell: After a grueling schedule where Orange Cassidy had defended his AEW International Title on an almost(?) weekly basis, an exhausted Cassidy figured he might as well wrestle all interested challengers on the same night and get it over with.
Orange Cassidy has been worked to the bone, constantly defending the AEW International Championship ever since he won it. He said that he'll take on any challenger, all they had to do was ask AEW president Tony Khan for a match. He was later told that twenty wrestlers were lined up outside Tony's office so Cassidy said that with him being twenty-one, a Blackjack Battle Royal would be a perfect place to defend his title. While I haven't heard it confirmed that this is the format they are using, in a traditional AEW Blackjack Battle Royal, twenty wrestlers are divided into four lots of five wrestlers, each lot represented by a suit. Each lot enters the match after a time interval based on the order the suits are drawn. One wrestler is the Joker and is the last one to enter the match.
Prediction: I am assuming that Orange Cassidy is the Joker, but I wouldn't be surprised if he ends up first in the match. Unless there is a surprise signing or return, I've got Cassidy retaining.
Jamie Hayter (c) vs. Toni Storm – AEW Women's World Championship match
Story in a nutshell: Toni Storm is getting her rematch against the (possibly injured) AEW Women's Champion, Jamie Hayter, only this time Storm has support from her Outcast faction-mates.
Then heel Jamie Hayter defeated then babyface Toni Storm for the interim AEW Women's World Championship at Full Gear 2022. Toni Storm turned heel and joined up with Saraya and later Rubi Soho in a group dubbed the Outcasts. The Outcast were "outsiders" hired by the company who believed themselves superior to AEW homegrown talent. Storm then challenged Hayter to a rematch for the title. Hayter accepted despite being injured and not medically cleared.
Prediction and analysis: This is a match rife with the possibility of interference with the whole originals versus outsiders subtext to this feud. I think Hayter retains since she hasn't had time to build up any real legacy with the title but if her injury is going to hold her out for a longer time, it makes for a good excuse for her to drop it.
Jade Cargill (c) vs. Taya Valkyrie – AEW TBS Championship match
Story in a nutshell: After Taya Valkyrie lost her first challenge to Jade Cargill's AEW TBS Championship due to a dumb match stipulation, Taya get another shot at Cargill.
On AEW's visit to Canada, Jade Cargill held an open challenge for her AEW TBS Championship for any Canadian wrestler. Nicole Mathews answered the call and summarily lost. Then Taya Valkyrie appeared. The two were set to face each other but Mark Stirling, Cargill's lawyer, got Taya's finisher banned due to its similarity to Cargill's. In the match, Tay went for the finisher and paused when she realized she'd be disqualified. Cargill used this hesitation to roll up Taya for the win. An upset Taya put her hands on the referee earning a suspension. Once the suspension was lifted, Taya attacked Cargill upon her return and got a rematch.
Prediction: Taya Valkyrie is the one who has had the best chance of dethroning Cargill for a long time so I'm saying Taya has a chance. It seems to me though that Kris Statlander is the one earmarked to end Cargill's streak if she could only stay healthy enough.
Buy-In match: Malakai Black & Brody King & Buddy Mathews vs. TBA – AEW World Trios Championship Open House match
Story in a nutshell: The House of Black welcomes any three wrestlers to team up and come at them.
There is no opponent announced for House of Black. Under Open House rules, any three wrestlers can come together. Count-outs are enforced, rope breaks are not, and the challenger can declare a stipulation of their choice.
Prediction and analysis: I think the Acclaimed with Billy Gunn are the most likely challengers. I'm not even sure if the match will be in the Buy-In or the main card but with no announced opponents, I assume Buy-In. In any case, House of Black retains.
Buy-In match: Jeff Hardy & Matt Hardy & Hook vs. Ethan Page & Austin Gunn & Colten Gunn
Story in a nutshell: Matt Hardy who was stuck being under contract to Ethan Page and the Firm now gets the chance to turn the tables and get Ethan Page under HIS thumb.
The Firm got Matt Hardy and Private Party's contract under their control when Ethan Page beat Matt Hardy. Matt eventually tricked Ethan Page into signing a match giving Matt the opportunity to get out of the contract, and successfully extricated himself and Private Party from beneath the Firm. Then the Firm was DELETED. Now the tables are turned and if Page loses, he works for the Hardys now. Due to injuries, Hook who had issues with the Firm's manager Stokely Hathaway was added to the match.
Prediction and analysis: The Hardys and Hook win so the shenanigans can continue.
---
CATCH-UP: WWE NIGHT OF CHAMPIONS RESULTS (5/27): Keller's report on Seth Rollins vs. AJ Styles for World Hvt. Title, Sami & KO vs. Roman Reigns & Solo Sikoa, Cody Rhodes vs. Brock Lesnar