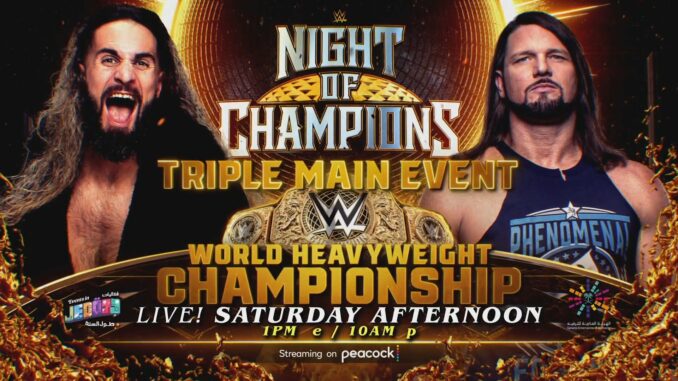 ---
SPOTLIGHTED PODCAST ALERT (YOUR ARTICLE BEGINS A FEW INCHES DOWN)...
---
KELLER'S WWE NIGHT OF CHAMPIONS PLE REPORT
MAY 27, 2023
JEDDAH, SAUDI ARABIA AT THE JEDDAH SUPERDOME
AIRED LIVE ON PEACOCK
Commentators: Michael Cole, Corey Graves
-A video package previewed the show.
-They showed images of the live crowd. Cole said a capacity crowd was expected.
---
NOTE: A reminder that WWE running events in Saudi Arabia tends to "normalize" a regime that is ranked extremely low for human rights and civil liberties globally. Here are some details on where the big paydays for WWE executives, stock holders, and wrestlers comes from and at the expense of: Freedom in the World 2022 Report (Score 7 out of 100)
Ari Emanuel, the head of Endeavor, the company that is purchasing WWE, returned money from Saudi Arabia in 2019 in protest of Saudi Arabia's role in the slaughter of outspoken critic of the regime, Jamal Kkashoggi: Endeavor Returns Money to Saudi Arabia, Protesting Khashoggi Murder.
This month, CNN and other news outlets publicized that Saudi Arabia is now inviting members of the LGBTQ+ community to visit the country, part of an attempt to project a more progressive movement on human rights: Saudi Arabia says it welcomes LGBTQ visitors
Saudi Arabia was listed just a few years ago on a Forbes list of the five least safe places for gay travelers: 5 Safest Places For Gay Travelers In 2019 (And The Most Dangerous)
---
(1) A.J. STYLES vs. SETH ROLLINS – World Hvt. Title match
(Keller's Analysis: Putting this match on first immediately puts it at considerable risk of seeming as secondary as the old World Title did when was the opening match title while the WWE Title belt main evented. It defines it down as a secondary title. That said, the argument internally within WWE is that going on first is the second most prestigious position on their events if the match has high stakes.)
Cole and Graves talked about the design of the new belt and it being an homage to past titles. Seth made his entrance as fans sang his theme song. After formal ring introductions, Cole said this is the first world title match in more than four years, and the last time Styles lost to Seth. The bell rang 13 minutes into the hour. Seth continued to act as a conductor as the fans continued to sing his song. They were about to do a test of strength, but Seth pulled away to play to the crowd. A frustrated Styles dropkicked him to jump-start the action. Graves said that was a surprising mistake by Seth given the stakes.
Styles battled back and took Seth down with a step-up enzuigiri. Graves said both men are such perfectionists and came prepared for each other, so the outcome could come down to one mistake. Styles set up a Styles Clash from the top rope, but Seth escaped and then took control in the opposite corner. Styles elbowed free, but Seth came right back with his own inverted DDT off the top rope followed by a side slam for a near fall at 12:00.
Seth blocked a Phenomenal Forearm attempt and knocked Styles to the floor. Seth dove to the floor at Styles, but came up limping. Cole said Seth appeared to tweak his knee. Back in the ring, Styles applied a Calf Crusher mid-ring. Seth rolled out of it, but Styles reapplied it. Seth escaped by shifting into chinlock so Styles broke. They replayed the Seth landing in slo-mo and observed the moment on the landing where it appeared Seth tweaked his knee. Seth caught Styles with a quick clothesline. Both were down and slow to get up. They showed the new belt on a table at ringside.
When Styles went for a Phenomenal Forearm again at 19:00, Seth kicked him out of mid-air. When Seth went for a stomp, his knee buckles and collapsed. Styles then rolled Seth into position for a Calf Crusher, but Seth slipped free and landed a Pedigree followed by a stomp for the three count.
Triple H entered the ring and presented Seth with the belt as Seth's music played.
WINNER: Rollins in 20:00 to become the World Hvt. Champion. (****)
(Keller's Analysis: Right in the zone of what you'd expect from these two at this stage of their careers, with a smartly crafted story in the match and an economy of meaningful big moves and countermoves with a lot of effective body language selling the intensity early and the grind late in the match. No surprise at all that Seth won, and I can understand from the standpoint of ending this event with more suspense and drama, putting this on somewhere other than last. If you buy the idea that the opening slot is prestigious, then this was a fair placement of the match when looking the layout of this show. It still, though, risks defining it down out of the gate as secondary to whatever Roman Reigns or Brock Lesnar are doing, title or no title.) [c]

-They showed the exterior of the dome with an augmented reality falcon on top looking around. Cole said that's the official bird of Saudi Arabia.
(2) TRISH STRATUS vs. BECKY LYNCH
A video package aired on this match before ring entrances. As Trish made her entrance, Graves asked Cole if he has thanked her lately. Cole said he doesn't understand why she needs to talk about her past like she does. Graves said she got tired of not being talked about enough so she wants to show this generation she's the greatest of all time. Cole said when he retires, "you'll never hear from me again." (That might've gotten the biggest pop of the night so far from some people watching at home.) Becky walked out in a yellow jump suit and black stripes and a black zipper. (That can't be fun to wrestle in, but it's cool looking.) Cole said Trish made a critical error dragging Becky's young daughter into the conversation because it just ticked her off. Graves agreed because Becky is dangerous enough otherwise.
The bell rang 47 minutes into the hour. Becky went on the attack right at the start and stomped away at Trish in the corner. Trish threw Becky into the ringside steps. Trish landed a tornado DDT back in the ring for a two count. Trish yanked on Becky's mouth and then slammed her head to the mat. Graves said Trish has a professional respect for Becky's skills. Cole laughed at the timing of the comment. Cole said Becky admits she isn't perfect but is proud of her accomplishments. Cole noted Trish hasn't had a singles match in over four years. Graves touted her fitness routine including yoga.
Trish set up a superplex at 7:00, but Becky blocked it. Trish remained in control and set up a Stratusfaction, but Becky countered. Becky then went on the attack and landed a legdrop off the second rope for a two count at 9:00. Trish set up a sharpshooter, but Becky blocked it and climbed to the top rope. Trish went for a top rope head scissors, but Becky countered into a Boston crab off the ropes.
At ringside, Becky leaped off the ringside steps toward Trish, but Trish roundkicked her out of mid-air. Back in the ring, Trish landed a Chick Kick for a two count. Trish slapped Becky. Becky immediately lunged and applied a Disarm Her. Trish yanked on Becky's hair to escape. They stood and brawled. Becky ducked a kick and then rolled up Trish for a two count. She followed with an immediate Alabama Slam and made the cover. Trish put her leg on the bottom rope to stop the ref's count. When Trish retreated to the floor, Becky went after her and threw her back into the ring. Zoey Stark came out from under the ring and yanked on Becky's leg and then delivered her Z360 knee to the gut. She threw Becky into the ring where Trish landed a Stratusfaction for the win.
Cole called it a hit and run and wondered what that was all about. Stark celebrated with Trish afterward. Becky's nose was bleeding pretty heavily afterward. She wasn't bleeding until after the Stark attack at ringside. It wasn't obvious if it was the Stark move or the Stratusfaction that caused the bleeding.
WINNER: Stratus in 15:00.
(Keller's Analysis: Good match. They were ambitious with the length of the match, and they had the crowd involved and invested at various times, but not consistently relative to the opener. Trish is back in a good groove, though, and Becky is a great opponent to be part of a good singles match. Zoey getting to align with Trish is going to elevate her quickly, especially as it appears she'll be feuding with Becky next.)
-A commercial aired for the NXT Battleground event tomorrow night.
-A segment aired on Mustafa Ali hanging out in Makkah, Saudi Arabia. He said he hasn't been in Saudi Arabia during Ramadan before. He said he was praying on the plane. they showed him having an amazing time. He said even though eh's not from Saudi Arabia, the sense of brotherhood and belonging has encompassed him. He said didn't feel like an outside for one minute that he was there. He said he feels a gratitude coming out of his fingertips and he was beaming. He said he felt his heart skip a beat as he looked around at his brothers and sisters from all over the world wearing the same garment. "I just felt a sense of community," he said. "I felt so much peace and tranquility." He said he feels blessed and thankful and he'll cherish it for the rest of his life.
(3) GUNTHER vs. MUSTAFA ALI – Intercontinental Title match
Graves downplayed Ali's chances. The bell rang 11 minutes into the second hour. Gunther landed a chop early, but Ali fought back with a flurry of kicks. Gunther went for a quick sleeper, but Ali escaped and landed two dropkicks to the chin. Gunther bodyslammed Ali a second later, then landed several chops to the chest. Fans booed as Gunther gloated. Gunther settled into a crossface mid-ring. Cole said Gunther has no wasted motion and just gets to business. Graves said he's all substance with his smash-mouth style.
At ringside, Gunther threw Ali into the ringpost and then re-entered the ring. Cole said some people compare Gunther to Bruno Sammartino. Gunther looked around as he battered Ali. Cole said Gunther believes the IC Title is the most prestigious championship. Graves said the rest of the roster is watching Gunther, and Gunther knows it. Ali showed fire with a comeback at 5:00. He delivered a leaping neckbreaker and then climbed to the top rope. Gunther chopped him off the top rope and then attempted a double underhook suplex. Ali blocked it and delivered a sunset bomb. "The champ's in trouble," Cole said. Ali leaped off the top rope with a 450 splash and scored an near fall that popped the crowd.
Gunther went back on the attack and landed a hard clothesline. Cole said the 450 might've been the last gasp for Ali. Seconds later, Ali made another comeback and landed a tornado DDT and went for another 450. Gunther moved and then landed a dropkick and a powerbomb into a stack pin for the win. Graves called Gunther a "dream crusher." Cole said he might be the most dominant in the history of WWE.
WINNER: Gunther in 9:00 to retain the IC Title. (**3/4)
(Keller's Analysis: Good story that allowed Ali to put up a great fight while also allowing Gunther to remain in the mode of the dominant champion.)
-They went backstage to Kevin Owens when Sami Zayn approached him and talked about what a great run it's been since WrestleMania. He said even if it ended tonight, it'd be something to be proud of. KO took exception to such talk. Sami said Reigns finds a way and they need to take that into account. Owens stood and said Reigns needs to acknowledge that they beat the Usos, who are more of a tag team than Reigns and Solo Siko. He said Reigns might've been champion for 1,000 days, but this is their day, not his. He was really fired up and he got Sami nodding and smiling. Sami seemed perhaps less sure than KO, but KO seemed to be getting through to him.
-They showed L.A. Knight at ringside. He stood and looked around as fans around him reacted.
-Cole said WWE wrestlers were part of granting the first wishes for children in a hospital as part of Make-a-Wish Saudi Arabia. They showed Natalya, Kofi Kingston, and Cody Rhodes posing with children at a hospital.
-A video package previewed the next match.
-Graves talked about the official
-Cole touted the "sensational city walk" in Jeddah and how there are so many fun things to do there.
(4) BIANCA BELAIR vs. ASUKA – WWE Raw Women's Title match
As Asuka made her entrance, Graves said she has turned her focus back to winning a championship and she might be the most lethal competitors in the division now. Belair then made her entrance, blowing kisses and dancing to the ring while twirling her braid. Cole touted Belair being the longest running women's champion of "the modern era."
The bell rang 32 minutes into the second hour. After some back and forth action, Asuka threw Belair into the ringside steps. Asuka scored a two count back in the ring and then applied an armbar. Asuka used Belair hair to yank Belair hard to the mat. Asuka strutted around and kicked Belair's head in a disrespectful, cocky manner. Belair fought back with some punches and a leaping faceplant. Both were down and slow to get up at 6:00.
Belair rallied, but didn't seem to get much of a crowd response. She punched away at Asuka and some fans counted along while others stood and gave her a thumbs down. Belair delivered a backbreaker and a handspring moonsault for a two count. An "Asuka!" chant picked up some steam.
They continued to fight back and forth for several minutes. They fought at ringside again at 12:00. Belair threw Asuka back-first into the ringside steps. Back in the ring, Belair was beating Asuka in the corner. The ref got between them. Asuka blew mist toward Belair, but Belair ducked. Asuka went for an armbar, but Belair escaped with a chokeslam. Asuka rolled to the ring apron and blew mist on her fingers. Belair lifted Asuka for the KOD, but Asuka rubbed the mist in Belair's eyes and then kicked her in the neck and scored the three count. Cole said Asuka used the mist in an unconventional way and stole the title.
WINNER: Asuka in 15:00 to capture the Raw Women's Title. (**3/4)
(Keller's Analysis: Give Asuka credit for innovating after Belair ducked her attempt to blow mist in her face. The match wasn't bad, but it felt too long because the crowd was split but not intense in their reactions.) [c]

(5) RHEA RIPLEY (w/Dominik) vs. NATALYA – WWE Smackdown Women's Title match
Cole said Natalya told her that she isn't looking to just get her hand raised, but she wants to keep her head raised in a performance against Ripley. Graves said the locker room has shown Ripley respect, but the locker room doesn't feel Ripley has returned the proper respect. Natalya took selfies with fans on her way to the ring.
After ring introductions, Dominik stood on the ring apron and told Natalya she doesn't stand a chance. When Natalya turned to him, Ripley attacked her. Ripley rammed Natalya's head into the announce desk and then threw her into the ringside steps. She then landed a Rip Tide for a quick win. Natalya was helped from the ring.
WINNER: Ripley in 1:00 to retain the Smackdown Title.
-Byron Saxton interviewed Seth backstage. He cackle-laughed and asked Saxton to put some stank on introducing him as champion. Seth said it feels good and it's been nearly four years since he held championship gold. He said it feels right. Saxton asked what the future of Raw looks like with him as champion. Seth said he'll be on this Monday night and every single Monday night going forward. He said is a visionary, a revolutionary, and a world champion again.
-They went to Graves and Cole at ringside for a reaction.
(6) BROCK LESNAR vs. CODY RHODES
Lesnar made his entrance first. Cole said Cody has to have a screw loose to want to get in the ring with Lesnar "with a broken freakin' arm." Graves said Lesnar is angry. Cole said Lesnar still has a cut on his forehead from his last battle with Cody at Backlash and Lesnar is still ticked off over Cody's win over him and he's out for revenge. "The Beast is ready to feast," said Graves. As Cody came out, Cole said Cody has a break in his forearm area. He said he has an Exos cast on his arm to provide support and rigidity as he tries to battle Lesnar. Lesnar smiled as Cody entered the ring. Cole said Lesnar is a sharp and Cody is bleeding so he's ready to strike. The bell rang 10 minutes into the third hour.
Graves said Cody has to win with strategy rather than brute force. Cody asked Lesnar if he wanted to fight, then dropped to ringside. Lesnar chased him. Cody jumped Lesnar as they reentered the ring, but Lesnar went on the attack. Lesnar suplexed Cody out of the corner and Cody's arm hit the mat hard when he landed. Lesnar followed with a belly-to-belly. Cody hit Lesnar with his cast over and over. Then he knocked Lesnar hard to the floor and dove onto him. Cody leaped off the announce desk and bashed Lesnar with the cast. Cole said Lesnar is in trouble. Cody leaped off the ropes and landed on Lesnar and scored a near fall at 3:00.
Cody hit the Disaster Kick next followed by a Cody Cutter for a near fall. Cole asked if Lesnar inadvertently made an error breaking Cody's arm because the resulting cast has been an effective weapon. Cody landed Crossroads next and then got fired up. Cody then set up a move, but Lesnar shifted into a sudden kimura. Cody writhed in pain and reached for the bottom rope. Cole said Cody has too much damn heart but "this is a career-threatening situation." Cody seemed to be passing out from the pain. The ref raised his arm, but it didn't drop, so the ref let Cody continue. Cole said there's no way Cody makes it out of the Kimura. When Cody did grab the rope to force a break, Cole exclaimed, "You've got to be kidding me!"
Lesnar lifted Cody for an F5, but Cody countered into another Crossroads for a near fall. "Cody Rhodes is not human!" said Cole, his voice cracking. Cody bashed Lesnar with is cast, but Lesnar lifted Cody and delivered an F5. Lesnar was slow to get up. Cole said, "This is the damnedest match I've ever witnessed." Cody kicked out at two. Lesnar applied another kimura and yelled, "Tap!" The ref lifted Cody's arm and this time it dropped, so he called off the match. As Lesnar walked to the back and his music played, Cole said they needed a doctor out there for Cody.
WINNER: Lesnar in 10:00. (***)
(Keller's Analysis: Really well executed and the right story to tell at this stage of their feud and given the backstory and build. At some point, it'll be a good idea to move away from Cody's identity being wrapped about him overcoming odds and injury and never giving up rather than just being a really good wrestler who wins without the central focus on his heart.)
-Cole talked about Jeddah as they showed the falcon again. Then he hyped the Four-Way match for the Women's Tag Team Titles taking place on Raw next week.
-They showed Omos sitting in the crowd. He stood and put his hand over the camera.
-Cole and Graves hyped the Money in the Bank event and the qualifying matches coming up soon on Raw and Smackdown. Cole said Reigns officially reached 1,000 days as champion today.
-A lengthy video package aired on the main event.
(7) SAMI ZAYN & KEVIN OWENS vs. ROMAN REIGNS & SOLO SIKOA (w/Paul Heyman)
As the Bloodline made their entrance, Graves said if they win the tag titles, they'll need a Brinks truck to make their entrance. Graves talked about Heyman managing the Samoan Swat Team decades ago and detailed the family lineage to the Bloodline today. KO came out first to his music. Sami followed and he looked emotional as he came out. Cole said Sami has family and friends present, just as he did in Montreal. Reigns sneered and then smiled as they entered the ring. Heyman did ring introductions for his team. Sami interrupted Mike Rome's introduction of him and took the mic. He spoke in Arabic before the match. The crowd ate it up as Reigns looked bewildered.
The bell rang 45 minutes into the hour. Cole noted how many Night of Champions-related hash-tags were dominating the top ten on Twitter. Cole and Graves talked about the amazing atmosphere and buzz in the stadium. Reigns yelled at Sami, "You wouldn't know who you are without me!" Fans sang "olé" and Sami pointed at them as evidence that they determine who he is more than Reigns. Reigns tagged in Solo. Reigns yelled, "I should've never let you in!"
Sami and Solo locked up four minutes after the bell rang to officially start the match. When Sami and KO had Solo down, Reigns charged in and attacked them. Reigns rolled to ringside. Sami looked down at him. Solo hit Sami from behind. Cole acknowledged the success of Reigns's strategy.
Reigns tagged in beat up Sami. Solo beat up Sami at ringside briefly before Reigns threw Sami back into the ring. Cole said Solo's eyes are blank. Sami threw some punches at 10:00, but Reigns stayed in control. Fans chanted "You suck!" at Roman. Solo tagged in. Sami eventually hit a tornado DDT at 13:00. Both were down and crawled to their corners. Both KO and Reigns tagged in. KO went after Reigns aggressively. KO stomped away at Reigns, who rolled to the floor. KO charged at him with a clothesline at ringside followed by a running senton. KO superkicked Regns in teh ring, then knocked Solo off the ring apron. Reigns then caught KO with a clothesline. Graves said, "Just that quickly, the tide turns again."
KO fired back with a Pop-up Powerbomb for a near fall. He followed with a top rope frog splash for a near fall. They cut to a worried and relieved Heyman at ringside. KO again turned to Solo on the ring apron. Reigns hit him with a Superman Punch for a two count. Reigns told KO he is going to become tag team champions now. He played to the crowd and they booed him. KO recovered and caught Reigns with a stunner, but Reigns fired immediately back with a spear. Both were down and slow to get up. Cole called it a critical point in the match-up.
Solo and Sami both tagged in. Sami landed a running flip dive onto Solo, which Cole compared to the Saudi National Bird, the falcon. Back in the ring, Sami landed a Blue Thunder Bomb for a near fall. Cole wondered who benefits from the match as it goes longer. Graves said, "The real winner is the WWE Universe." Sami blocked a Samoan Spike and then suplexed Solo into the corner. Sami landed a Helluva Kick, but Reigns broke up the cover. Reigns told the ref to shut up as he went on the attack. The ref said that was his save, so now get out. Sami almost ran into the ref. Reigns went to spear Sami, but Sami moved and Reigns speared the ref. The ref was down on his back and not moving. Sami set up a Superman Punch of his own and hit Reigns. He set up a spear next, but Reigns swung with a Superman Punch (which showed tons of light). KO speared Reigns and punched away at him. Cole said without an official, all hell has broken loose.
KO threw Reigns into the ringside steps. He then cleared the Arabic announce desk and the English announce desk. The Usos then showed up and attacked KO. They stereo superkicked him. They dumped the announce desk onto Owens, then entered the ring and took turns superkicking Sami. They mistakenly stereo superkicked Solo just as Roman sat up and saw what happened. "Oh my God!" said Cole. Reigns entered the ring and asked what they were doing. Jimmy began to explain, but Reigns shoved him aside. Jey explained they were there to help. Reigns asked, "Why are you here?" Reigns shoved him. Jimmy superkicked Reigns. Jey asked Jimmy, "What are you doing?" He said he can't do that. He was distraught. Jimmy told Jey to listen to him. He said he's doing what Jey should've done a long time ago. He then superkicked Reigns followed by a celebratory yell. Jimmy engouraged Jey to join him. Jey looked down at Reigns who was out on the floor.
Jey told Jimmy they had to go. They left. Owens gave Solo a Stunner. Sami delivered a Helluva Kick and made the cover. A second ref ran out and counted the pin. Graves asked, "What did the Usos just do?"
WINNERS: Sami & Owens in 26:00 to retain the WWE Tag Team Titles. (****)
(Keller's Analysis: Major major angle there at the end. Well executed with tons of ramifications. The match was secondary to the angle and finish, but the match itself was really good too.)

NOTE: I'll be talking in-depth about this entire event with Todd Martin and Brandon LeClair for the PWTorch VIP Roundtable Podcast right away. It'll be available for VIP members later today. GO VIP TODAY!