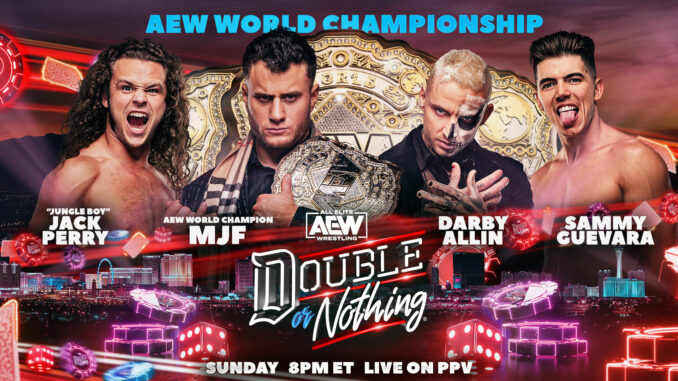 ---
SPOTLIGHTED PODCAST ALERT (YOUR ARTICLE BEGINS A FEW INCHES DOWN)...
---
AEW DOUBLE OR NOTHING PPV REPORT
MAY 28, 2023
LAS VEGAS, NEV. AT MGM ARENA GARDEN ARENA
AIRED LIVE ON PAY-PER-VIEW
PRE-SHOW
-The pre-show started with a panel discussion and video packages previewing the show.
---
Tonight after the PPV, join PWTorch columnist Greg Parks live reviewing the event with live callers and emails.
•STREAM LIVE HERE ABOUT 5 MINUTES AFTER THE SHOW CONCLUDES
•CALL: (515) 605-9345
•EMAIL COMMENTS/QUESTIONS: wnialivecast@gmail.com
•IF YOU DON'T LISTEN LIVE, SEARCH "PWTORCH" ON YOUR PODCAST APP TO SUBSCRIBE AND THEN DOWNLOAD OR STREAM THE FULL SHOW TWO HOURS OR SO AFTER THE TV SHOW ENDS.
---
Commentators: Jim Ross, Excalibur, Taz
(A) MATT & JEFF HARDY & HOOK vs. AUSTIN & COLTEN GUNN & ETHAN PAGE
Deep into the match, Jeff climbed to the top rope but lost his footing and collapsed. The announcers talked about that being the results of being out faction for so long. He recovered and hot-tagged in Hook against Ethan. Hook forced an Ethan tapout to the Red Rum a couple minutes later.
WINNERS: Hardys & Hook.
-Renee Paquette introduced Martha Hart on the stage who spoke about the Owen Hart Cup Tournament starting in Toronto this summer. Tony Khan joined her briefly.
-They went back to the announcers who threw to the entrance stage as wrestlers began making their way to the ring, starting with the Best Friends, Chuck Taylor & Trent Beretta. Others included Ariya Daivari & Tony Nese with "Smart" Mark Sterling, Big Bill & Lee Moriarty, Juice Robinson & "Switchblade" Jay White,
PAY-PER-VIEW
Commentators: Jim Ross, Excalibur, Taz
-A video package previewed the event.
(1) CASINO BATTLE ROYAL – International Title match
Participants: Orange Cassidy (c), Butcher, Blade, Ricky Starks, Bandido, Komander, Lee Moriarty, Big Bill, Ari Daivari, Tony Nese, Trent Beretta, Chuck Taylor, Penta El Zero Miedo, Ray Fenix, Kip Sabian, Swerve Strickland, Brian Cage, Jay White, Juice Robinson, Keith Lee, and Dustin Rhodes
Taz said: "People ask why he's called Big Big. It's because his name is Bill and he's big." They did a near elimination spot with Jay White trying to take out Ricky Starks. Keith Lee and Brian Cage battled. They showed Swerve Strickland arriving late to the match. (Why would anyone put themselves at risk of elimination early by actually showing up on time? The "enter whenever you around to it" concept is so lazy and stupid.) When Strickland entered, he and Lee battled. Lee powerslammed Strickland. A few minutes later he threw him over the top rope onto the ring apron. Cage then tossed Lee over the top rope. Dustin Rhodes gave Cage a neckbreaker and threw him over the top rope onto the ring apron. Swerve then went after Cage.
Starks eliminated Juice, but then White gave Starks a high chokeslam. Penta and White squared off mid-ring next. Starks speared White and eliminated him. Juice attacked Starks at ringside. Back in the ring Big Bill and Starks battled. Bill eliminated Starks. Dustin eliminated Cage. Starks eliminated Dustin.
It came down to Swerve, Bill, Penta, and Orange Cassidy at 15:00. Bill eliminated Penta. Swerve and Bill double-teaming Cassidy. Bill and Swerve had a little tift. Cassidy eliminated Bill. Swerve threw Cassidy over the top rope, but Cassidy held onto the top rope. Swerve and Cassidy battled back and forth. Cassidy hit a Slum Dog Millionaire. They both ended up on their backs and were slow to get up. Fans chanted "This is awesome!"
Cassidy signaled for an Orange Punch, but Prince Nana tripped him. Swerve then landed a stomp and then held Cassidy as he talked to a ringside camera. Swerve put Cassidy's hands in Cassidy's pockets. Taz said he was mocking him. Cassidy countered Swerve into a tornado DDT followed by another DDT. He then landed an Orange Punch, that sent Swerve over the top rope. Swerve landed on the ring apron. Cassidy went for an Orange Punch. Swerve blocked it and tried to take Cassidy off the ring apron. Cassidy blocked it. Nana tried to interfere again. Swerve then leaped off the top rope toward Orange on the ring apron. Cassidy lifted his boots and then knocked Swerve off the ring apron to the floor to win.
WINNER: Cassidy in 22:00.
(Keller's Analysis: A decent battle royal. Not much of note other than the Swerve-Lee, Starks-White, and Cassidy-Swerve sequences that were the focus at various times.)
-They went to Excalibur, Ross, and Taz at ringside who shifted to plugging a sports gambling sponsor.
(2) CHRIS JERICHO (w/Danny Garcia, Matt Mendard, Angelo Parker, Jake Hager) vs. ADAM COLE – Unsanctioned match
Garcia joined Jericho at the bell in attacking Cole. Sabu entered the ring and grabbed a chair, so Jericho and Garcia bailed out. Jericho entered with a chair and squared off with Sabu. They bashed their chairs against each other mid-ring. Sabu got the better of it and then struck his signature pose. Ross questioned whether Sabu could be considered a referee with what he was doing. Excalibur said he was a special enforcer to offset J.A.S.'s role. Sabu then dove off the top rope onto Parker and Menard on a table at ringside. Garcia then charged at Sabu and koncked him over.
Jericho and Cole squared off mid-ring. Ross said someone should send everyone to the locker room so they can see a one-on-one battle. A few minutes in, Jericho applied a Walls of Jericho. Cole grabbed the bottom rope, but the referee let him know there are no forced breaks in an unsanctioned match. Instead, Cole grabbed a fire extinguisher on the floor.
The match continued with various weapons being used. Eventually, Britt Baker ran out and hit Jericho with a kendo stick. Saraya ran out and brawled with Britt. Britt turned the kendo stick on her, so Saraya ran to the back. Britt followed her. They ended up chained together. Cole hit a Panama Sunrise, but rather than go for a cover, he wrapped his fist with the chain. The ref stopped the match as Cole was hitting Jericho over and over again in the skull and Jericho appeared to be out completely.
WINNER: Cole in 17:00.
(Keller's Analysis: This got monotonous and a bit gratuitous, even without blood. The crowd wasn't much into it, either. I think the melodramatic acting by Cole when Britt Baker – a pro wrestler who has been in bloodbath brawls before – got this feud off to a bad start.)
(3) FTR (Dax Harwood & Cash Wheeler) vs. JEFF JARRETT & JAY LETHAL (w/Sonjay Dutt, Karen Jarrett) – TNA Tag Team Title match
Mark Briscoe was special referee. He checked wrestlers' boots for objects before the match, which Ross observed he hadn't seen in a while. Taz said he often has his boots checked. Karen interfered from ringside and gave Jarrett an advantage several minutes in against Cash. Jarrett gloated and did the Fargo Strut. Ross said Jackie Fargo's body lives in Jarrett's body.
Dax got the hot tag eventually. Sonjay interfered. Mark Briscoe kicked him out. Fans sang "Na na na na, good bye." Briscoe kicked Karen out too. jarrett swun ghis guitar at Dax, but Dax ducked and the guitar KO'd Mark Briscoe. Fans chanted "You f—ed up!" Lethal tried for a Lethal Injection on Dax, but Cash blocked it. Cash and Dax then gave Lethal their double-team finisher. Dax made the cover and fans counted along. Briscoe was out, though. Referee Aubrey Edwards ran out, but Dutt blocked her on her way to the ring. She shoved Dutt down. Karen then bashed Aubry with a guitar. FTR looked on from the ring, helpless. Lethal gae them both a Lethal Injection at once. FTR, Briscoe, and Lethal were all down in the ring. Fans chanted "F— you, Karen!"
Jarrett lifted Dax and held him as Lethal wound up with a tag belt supplied by Karen. Dax kicked the belt out of Lethals' hands. Dax gave Lethal a piledriver. Jarrett, though, gave Dax a shot to the face with the tag belt. He followed with his Stroke finisher. Jarrett yelled for Briscoe to wake up. Briscoe counted to two before Dax kicked out. The crowd popped. Jarrett was fuming mad. Ross said he appeared to be having a nervous breakdown. He shoved Briscoe and then slapped him hard across his face. Briscoe slapped him back. FTR hit Jarrett with a sudden Shatter Machine. Briscoe made the three count. "There were a lot of moving parts in that thing," said Taz. (He's not wrong.)
WINNERS: FTR in 20:00 to retain the AEW World Tag Team Titles.
(Keller's Analysis: It's so strange that a match with all the old-school shenanigans and "moving parts" gets the most crowd heat of the night in a promotion that was launched ostensibly to be a more sports-like presentation of a pro wrestling "league." Everyone played their parts well, if being campy was part of the goal since it got campy quite a bit of the time.)
-Alex Marvez interfered Ricky Starks backstage. An intense Starks said he did what he said he was going to do when he eliminated both Juice and White. Juice and White then attacked him. FTR ran out for the save, so Juice and White fled.
-A video package previewed the Wardlow-Christian Cage match.
-Backstage, Jericho and Saraya were throwing a fit backstage. Jericho was in a rage about losing via referee stoppage. He said Cole is an insane and a barbarian and a bastard. Saraya called Baker a bitch for hitting her with a kendo stick. Jericho demanded Tony Khan give them a mixed tag match on Dynamite on Wednesday. He threw stuff aound in a fit. A worker walked in and told Jericho to calm down. Saraya swung him around. He said he was just doing his job. Jericho threw a fireball at him. The guy went down, writhing in pain as he grabbed his face. "How dare you tell me to calm down," Jericho said. "I'm a wizard, bitch."
(4) WARDLOW vs. CHRISTIAN CAGE – Ladder Match for the TNT Title
Christian got in some punches early. Wardlow took over quickly with a kick to the gut. He pressed Christian above his head. Christian ducked a wild swing and set up an early Kill Switch. They ended up at ringside. Wardlow beat up Christian then threw him back into the ring. Wardlow picked up a ladder, but Christian slidekicked it into Wardlow's chest. When Christian slingshot himself at him over the top rope, Wardlow knocked him out of mid-air with the ladder. Wardlow set up two tables at ringside. Wardlow shifted to bridging a ladder at ringside. When Wardlow walked on the ladder toward Christian, Christian fought back and knocked Wardlow off balance. Wardlow made a comeback and threw Christian into a ladder leaning in the corner. Christian reversed a charging Wardlow into the ladder seconds later. He then set up a ladder in a corner at an angle on the second rope and catapulted Wardlow into it.
Christian climbed a ladder mid-ring and reached for the TNT Title. Wardlow recovered and knocked the ladder over. Wardlow pressed Christian above his head and spun him around a few times. He then dropped him onto a ladder. Christian rolled to the floor to try to recover. When Wardlow climbed a ladder mid-ring, Luchasaurus ran out and rolled Christian into the ring. Christian then knocked Wardlow off the ladder and drove his head into the mat with an inverted neckbreaker. Ross said that was "concussion territory."
Wardlow catapulted Christian into a ladder and then went for a leaping senton, but Christian moved. Arn Anderson walked out and helped Wardlow up and whispered something to him. Wardlow leaped off the top rope onto a ladder mid-ring that Christian was climbing. The ladder bent when Wardlow landed on the rung. It was a high-risk malfunction. Christian landed safely, it appeared, and rolled to the floor. Wardlow clutched his shin, but brushed off the pain and climbed the broken ladder. The ref held it but told him it wouldn't support him. Luchasaurus entered and chokeslammed Wardlow twice. Anderson entered and approached Luchasaurus from behind. He charged, but Luchasaurus turned and set up a chokeslam. Arn bit his thumb as a defense maneuver. Luchasaurus's thumb was bleeding, altuough it looked like a Halloween prop. Arn dropped to the floor. Luchasaurus went after him again. Wardlow hit Luchasaurus with a chair from behind and then put him on a table at ringside.
Wardlow set up a ladder at ringside. Arn held it in place as Wardlow climbed it to the top rung. Wardlow then leaped off the ladder with a swanton splash onto Luchasaurus through the table. Fans chanted "Holy shit!" That was a wild stunt usually reserved for people like Jeff Hardy. Christian climbed a ladder, but Arn knocked him off the ladder. Wardlow caught him mid-air and powerbombed him. Wardlow then climbed the ladder and pulled the belt down to win.
WINNER: Wardlow in 17:00 to retain the TNT Title.
(Keller's Analysis: There were a lot of big spots and high-risk situations. The ladder collapsing the riskiest, but that Wardlow swanton was amazing. I think we've seen so many big-spot high-risk stunt matches like this over the years, fans are somewhat numb to them where the risk might not be worth it considering how quick everyone moves on for the next big spot. But that match delivered well on what fans look for in ladder matches, and Wardlow scored some cred points there with some of the out-of-character spots he pulled off. Christian held up his end of things really well, too.)

-A video package aired on the AEW Women's Title match upnext.
-Tony Schiavone replaced Ross on commentary.
(5) JAMIE HAYTER vs. TONI STORM – AEW Women's Title match
Storm came out first. As Hayter came out onto the stage, Saraya and Ruby Soho attacked her, setting the idea that her right arm was damaged going into the match. Storm threw Hayter shoulder-first into the ringside railing and then the ringside steps. Saraya and Soho joined Storm in attacking Hayter. The ref checked on Hayter and she indicated she was good to do, so the ref called for the bell. Hayter went for a quick cover and got a two count.
Hikaru Shida saw enough interference and ran out with a kendo stick. She went after Soho. Some fans chanted "Shida!" Hayter then hit Storm with Haterade and scored a near fall. Hayter let out a yell and went back after Storm, but Storm surprised her with a Storm Zero for a three count almost out of nowhere for the win. Saraya and Soho leaped at Storm to celebrate with her mid-ring.
WINNER: Storm in 3:00 to capture the AEW World Title.
(Keller's Analysis: With Hayter having an injury going into the match, I wasn't surprised to see this go short and have an injury angle built into it.)
-Renee Paquette and R.J. City plugged a sports gambling sponsor.
(5) HOUSE OF BLACK (Malakai Black & Brody King & Buddy Matthews) vs. THE ACCLAIMED (Max Caster & Anthony Bowens) & BILLY GUNN – Trios Titles match

Caster rapped on his way to the ring. He asked how Malakai gets away with black face. He made a Ru Paul Drag Race reference. He asked how Buddy looks ominous "when he's getting cucked by a kid named Dominik." He asked how House of Black can not have any black guys in it in. He said they don't need a special rule to beat their "Emo asses."
When Black sat down early in the match, Bowens also sat down and stared at him. A few minutes in, Black applied an ankle lock on Bowens and then tagged in Matthews. Matthews landed a meteora. Gunn tried to jump into the ring, but the ref cut him off. Malakai tagged in and stayed on Bowens, who was grounded. Bowens leaped to tag Billy, but Brody yanked Billy off the ring apron before the tag. Bowens kicked Matthews out of mid-air and then tried for another tag to Billy. This one connected.
Gunn rallied against Matthews and Black as they charged at him. Brody then rammed Billy with a hard chop to the chest. Billy no-sold it and hit a Fameasser. Billy knocked Matthews out also with a Fameasser seconds later. Billy crotch-chopped him. Black then spun Billy around and landed a spinning kick for the win.
WINNERS: House of Black in 15:00 to retain the Trios Titles.
(Keller's Analysis: That was a long stretch with Bowens taking a beating from House of Black. Solid match. Not sure about Billy Gunn no-selling Brody's hard chops to his chest, but at least he took the pin in this one.)
(7) JADE CARGILL (w/"Smart" Mark Sterling, Leila Grey) vs. TAYA VALKYRIE – TBS Title match
Cargill had an elaborate entrance with dancers on the stage with her with a woman singing live. Excalibur said they were Jade's sorority sisters. They exchanged strikes mid-ring to start. Valkyrie got the better of Jade and knocked her into the ropes and then hit a sliding lariat. Jade regrouped with Sterling at ringside. Cargill leaped off the topp rope, but landed on Sterling instead of Jade. Grey eventually yanked on Valkyrie's boot, giving Jade a chance to recover and kick her.
Cargill landed a spinebuster for a two count a minute later. Valkyrie came back with a Blue Thunder Bomb for a near fall a couple minutes later. They collided mid-air. Valkyrie stomped Jade's head and chest onto the mat. Then she hit the Jaded on Cargill for a near fall. Excalibur gave away the kickout by saying "we're going to have a new champion" before she made the cover. Jade made a comeback by escaping Valkyrie as she lifted her and then hitting Jaded herself for the clean win.
WINNER: Cargill in 9:00 to retain the TBS Title.
(Keller's Analysis: Solid back and forth action that appeared to take Jade to the limit before Jade pulled out the win. Some clunkiness, but Jade has come a long way.)
-Excalibur said Cargill was now 60-0. Sterling stood mid-ring and touted Cargill's undefeated record. He said she's dominated every challenger and she's prepared to wrestle anytime, anyplace. He said the problem, is there is no one left. Kris Statlander's music then played. She walked out. "Statlander is back!" Taz exclaimed.
(8) JADE CARGILL vs. KRIS STATLANDER – TBS Title match
Excalibur said Statlander signaled in sign language that "mama's home." Jade charged with a Jaded, but Statlander ducked and then landed a running elbow in the corner followed by a running boot in the corner. She followed with a verticla suplex attempt, but Jade slipped out and kicked her. She then set up a Jaded, but Statlander escaped and delivered a Tombstone for the win.
WINNER: Statlander in under 1:00 to capture the TBS Title.
(Keller's Analysis: That was a big moment given to Statlander, so let's see what AEW does with it.)
-Video packages aired setting the stage for the main event.
(9) MJF vs. SAMMY GUEVARA (w/Tay Melo) vs. "JUNGLE BOY" JACK PERRY vs. DARBY ALLIN – AEW World Title match
Perry came out first. Then Guevara came out with Conti. He held up a sign that said they are having a baby. They smiled and kissed as the announcers congratulated them. Before Darby came out, they cut to a video skit where an Elvis impersonator was hosting a wedding. A guy in an MJF mask was standing there. Darby attacked him and then told Elvis he'dhave to help him dispose of the body. Elvis agreed. Darby then made his live ring entrance. MJF then made his entrance. The arena darkened and they showed a camera angle where the only thing visible was the "UFC" letters lit up in red for a while. MJF then came out on a raised platform and a devil mask. "Oh my god!" said Schiavone. MJF sneered as he walked to the ring.
Exaclibur explained that the first man to score a pinfall or submission becomes AEW Champion, which put MJF at a distinct disadvantage. Exaclbur said he tried to game the system and it backfired. When MJF tried to stall, all three opponents cornered him and took turns striking him. When MJF took control a few minutes later, he played to the crowd. He teased doing a dive, but stopped short and then swivveled his hiips.
Darby dove onto MJF at ringside. Perry then dove onto both of them. Guevara then landed a shooting star press on all three.
When Guevara had MJF against the ropes, MJF bit his face and then powerbombed Guevara before launching him at Perry in teh corner. He then took Darby out with a piledriver variation. They did a four-way spot out fo the corner that led to all four down for a while.
The pace picked up with a variety of rapid-fire moves. After MJF cradle sitout bombed Darby for a near fall, the crowd applauded. After another series of spots, all four were down and slow to get up. An "AEW" chant broke out.
Perry hit Guevara with a Kill Switch. MJF then gave Perry a neckbreaker into a leverage cover for a near fall. MJF grabbed a mic from the announce table and entered the ring. He said, "Hold on." He then pitched to Sammy and said he's got a baby on the way, so he should just lay down now because he needs the money. "Do the right thing," he said. "Think about the baby, Sammy." Schiavone said, "Think about how much money you can make as world champion, Sammy!" (Good point!) Sammy said he'd lay down for him. Taz said kids cost a ltoi of money. As MJF moved in for the cover, Guevara small packaged him for a near fall.
They countered each other on the mat. Guevara put MJF in a Boston Crab. MJF grabbed the bottom rope, but Guevara pulled him back to the middle. Darby and Perry entered. Darby cut off Perry and put him in a Boston Crab. The ref checked to see if either MJF or Perry tapped. Perry and MJF broke out of the holds. Darby quickly put Perry in a figure-four. When MJF went after Guevara, Guevara put him in an anklelock. MJF reached over and put Perry in a chinlock.
MJF broke free as fans were chanting, "Fight forever!" Darby charged at MJF, but MJF caught him with an elbow. Darby countered MJF, but then Guevara gave Darby a Canadian Destroyer. Perry then took out Guevara and then scored a near fall on MJF after a Canadian Destroyer when he leaped off of Guevara's back.
Perry and Guevara then battled mid-ring. Perry landed a sitout Tiger Driver for a near fall. Darby got Perry to the floor and charged at both Perry and MJF with a running clothesline, sending both over the barricade into the crowd. Perry climbed the ropes. Guevara knocked hin off balance. Guevara and Darby then leaped off the top rope at the same time as Guevara gave Darby a Spanish Fly to the floor onto MJF and Perry on the floor. Fans chanted "Holy shit!"
All four recovered and stood and faced each other. MJF poked all three of them in their eyes and then gave middle fingers to the crowd. They firedback with a triple superkick. Perry and Darby held MJF as Guevara landed a leaping cutter. Darby hit a Canadian Destroyer. perry landed an elbow. They knocked MJF out of the ring and took turns rolling each other up to try to win the title. The crowd applauded after that series of clever leverage two count.
Guevara gave Perry a DDT. Darby then gave Guevara a Code Red. Darby set up a Coffrin Drop, but MJF knocked him off balance. MJF climbed to the top rope and powerbombed Darby off the top rope. MJF sold an arm injury upon landing to excuse not going for the cover right away as Darby was laid out on his back.
MJF hit Guevara with a low blow. Darby hit him with a skate board and then a Coffin Drop. He put MJF in a headlock takeover. Perry broke up the cover. Excalibur said if not for Perry, Darby would be AEW World Champion. When MJF was going to hit Perry with his title belt, Perry blocked it. Guevara clotheslined MJF over the top rope to the floor. Perry held and looked at the title belt. He then seemed to consider hitting Darby with it as Darby began to stand. Perry threw the belt to the floor. Some fans booed. Darby then caught Perry a leglock into a levearge pin for a two count. Guevara re-entered and rallied. He gave Perry a GTH and then climbed to the top rope. Darby knocked Guevera off the tiop rope. MJF put the belt on Perry as Darby hit the Coffin Drop. MJF then gave Darby the side headlock takeover for the three count.
WINNER: MJF in 28:00 to retain the AEW Title.
(Keller's Analysis: One hell of a match. There was so much talent in that ring and so many personalities to play off of each other. The tease of Perry thinking of using the belt and turning it down could lead to second-guessing on his part and an actual turn. MJF was great throughout, totally in character and heelish and unlikable in his deviousness and demeanor, but also really smooth in everything he did and a great athlete who is credible in this top spot.)
(10) THE ELITE (The Young Buck & Kenny Omega & "Hangman" Adam Page) vs. THE BLACKPOOL COMBAT CLUB (Jon Moxley & Wheeler Yuta & Claudio Castagnoli & Bryan Danielson) – Anarchy in the Arena match
Don Callis joined the announcers on commentary. Just a wild brawl in the ring for a while with several wrestlers bleeding early. Claudio and Matt battled outside the arena. Claudio piledrove Nick in the bed of a pick-up truck. They were on split-screen where Moxley and Hangman wrapped in a cable. Danielson threw Nick off the stage. Schiavone said The Elite might've bitten off more than they could chew. Hangman countered Mox on the ring apron and landed a piledriver. Omega, meanwhile, used a trash can lid as a weapon. Claudio blocked him and then gave him a lift-and-drop European uppercut. Nick landed a leaping hurancanrana on Claudio and then went to work on both Danielson and Yuta. Mox re-entered the ring and hit a King Kong Lariat and a Gotch-style pildriver on Nick for a near fall.
Mox had Nick in a Monst Crab as Yuta cinched on a headlock. Matt made his way back to the ring after recovering from the piledriver in the pick-up truck. He superkicked Moxley, but sparks shot off. Callis said, "That can't be legal." He then superkicked Yuta three times. Yuta rolled out of the ring. Hangman then hit Yuta with a Buckshot Lariat for a believable near fall.
A minute later, BCC tore off Matt's boot. Claudio and Omega battled at ringside as Danielson and Yuta beat up Matt. Mox poured thumb tacks onto the mat and gave Matt a powerbomb onto the tacks. His bare foot had a ton of tacks stuck in it. He followed with the Death Rider for a very near fall. Danielson applied a kneebar. Nick landed a top rope senton Danielson, but Mox caught him with an immediate cutter face-first onto the tacks. Omega gave Mox a snap dragon suplex. Mox rolled to the floor. Claudio cut off Omega's next move and then set up a powerbomb, but Omega escaped and landed a V-Trigger. Danielson caught Omega with a running psycho knee. He delivered another to Hangman.
Danielson then dropped elbows straight down onto Omega. Mox did the same to Nick and Yuta did the same to Hangman. Matt intervened as best he could. Yuta gave him a low-blow. Mox put a handful of tacks into Matt's mouth and then Claudio gave him a Euiroepan uppercut. Yuta gave him a German suplex into a bridge for a near fall, but Hangman broke up the cover. (He was late the ref stopped his count even though Matt's shoulders were still down, technically.) Hangman and Omega looked at each other and psyched themselves up and then turned and went after Mox and Claudio. Omega clotheslined Claudio over the toprope. Danielson went after Hangman and Omega with roundkicks. Omega caught his leg and then Hangman gave him a Dead Eye. Omega then gave Danielson a One-Winged Angel. Yuta broke up the cover at two. "Have you ever seen anything like this in your life?" asked Schiavone. "And I've seen a lot of shit!" Taz said, "I've seen a lot of shit, too."
Omega and Yuta battled mid-ring. Hangman joined in the attack. Hangman then leaped onto Claudio at ringside. Callis walked to ringside. Mox yanked Omega to the floor. Hangman went for a Buckshot, btu Callis handed Yuta a screwdriver. he hit Hangman with it. Omega ducked Yuta's swing and set up a One-Winged Angel. Callis entered the ring. Omega dropped Yuta. A mystery person entered the ring and revealed himself as Takeshita. He took down Omega with a jumping knee. Yuta then hit Omega with a screwdriver and leveraged Omega's shoulders down for the three count.
Afterward, Callis choked Omega with his belt as Takeshita watched. Excalibur wondered if Callis and Takeshita were part of the BBC. He said they'd find out more on Dynamite on Wednesday.
WINNERS: The Blackpool Combat Club in 26:00.
(Keller's Analysis: Crazy wild match that fit what you'd expect from those eight in this situation. The Takeshita payoff had a good backstory so the payoff worked pretty well as the reason for the finish.)
---
Tonight after the PPV, join PWTorch columnist Greg Parks live reviewing the event with live callers and emails.
•STREAM LIVE HERE ABOUT 5 MINUTES AFTER THE SHOW CONCLUDES
•CALL: (515) 605-9345
•EMAIL COMMENTS/QUESTIONS: wnialivecast@gmail.com
•IF YOU DON'T LISTEN LIVE, SEARCH "PWTORCH" ON YOUR PODCAST APP TO SUBSCRIBE AND THEN DOWNLOAD OR STREAM THE FULL SHOW TWO HOURS OR SO AFTER THE TV SHOW ENDS.
---