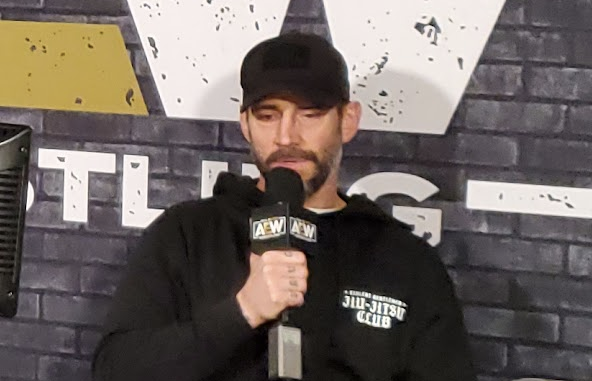 ---
SPOTLIGHTED PODCAST ALERT (YOUR ARTICLE BEGINS A FEW INCHES DOWN)...
---
It's a big week for AEW and it started with Dynamite this week. The goals for this week's show were simple: Continue the momentum from a very solid episode a week ago, keep interest high for Collision, and perhaps set up an angle for Saturday's show and properly set up this weekend's Forbidden Door PPV. Let's see how they did…
HITS
CM PUNK FOLLOW UP
The Hardy's/Gunn's match was fine and it was a good sign that the crowd was into it, but it was used as a vehicle to get CM Punk on the show and set up a match for this week's Collision. I'm not all that enthralled with another multi-man tag match with Punk, especially since it'll include 5 of the 6 that fought in last week's main event. I do understand they are slowly working Punk back in and want to protect him, so I get it.
Interesting that Punk removed the AEW mic flag once again — it means something, but we are going to have to wait until he's not in Chicago to see what that is, how the fans react, and how he reacts.
It was also a plus during the finish of the match when the announcers said "They are gonna steal this one!!" and it actually happened rather than that telegraphing an obvious kickout.
THE CONCESSION STAND BRAWL
A Jeff Jarrett special. In the words of SNL character Stefon, this match had everything: Hot sauce to the eyes, hot dogs flying everywhere, a brutal table spot, Papa Briscoe chokeslam, Karen Jarrett nut shot, lots of interference, and Taz saying "You have to wear a condiment" — Classic.
Like him or not, Jarrett is a heat machine and can still get the fans invested every time no matter how ridiculous the match is.
THE BCC PROMO
Jon Moxley continues to be the best promo in the company. He talks with such ease and confidence. Calling Takeshita "tall, dark, and sexy" plus Takeshita showing some real presence with a confident heel posture is slowly but surely making him a star. Bryan Danielson with strong words to Okada and the look on Moxley's face when Danielson calls Okada a coward was priceless.
STING & JERICHO
The lifelong fan in me loves two legends, being given tons of respect, setting up a first-time ever match. Plus, they threw in another solid tease for Collision to announce Sting and Darby's partner. Well done.
COLE & MJF HAVE A CHAT
One of the issues with AEW over the years was to let certain storylines sit for a couple of weeks because they packed the show with other content. Sometimes they'd just throw up a 30 second video package to keep it going and while that was better than nothing, it often tempered the enthusiasm of the angle. That's why it was nice that they gave Cole and MJF plenty of time to follow up on last week's great match. Kudos to them for putting those two in the ring to have a little fun together. (Shut up Schiavone!!) Both were great as you would imagine and had the crowd loving every minute of it. I actually had written a whole paragraph about how the confusing blind draw tag team contender tournament thing was a "Miss" and wondered why they wouldn't just announce at least one of those teams to get people invested in this thing. Clearly they had a plan, and while I'm not overly excited for this tournament at this time, it should be fun to see Cole and MJF team up. See below for one "Miss" from this segment.
KINGSTON/MOXLEY & OKADA/DANIELSON FACEOFF
The final segment was a little rushed at first, but you gotta love Eddie Kingston. He's one of those guys where you never know what he's going to say or do and that's exciting to watch. As for Okada and Danielson, just a cool, cool moment. For decades, there was always talk of dream matches but you knew WWE was not interested as they liked to pretend they were the only thing going. No wrestling promotion is perfect, but it's nice to know AEW has made it clear they honor and respect all other companies worldwide and that can make these kinds of matches and moments happen. Can't wait for Sunday!
MISSES
MJF'S INTELLIGENCE
95% of the MJF/Cole segment was great, but "tricking" him to accept Tanahashi's challenge was just dumb. MJF is portrayed as a champ who can be cowardly at times and will cheat at all costs, but he's no idiot. There needed to be another way for him to accept that challenge rather than being swayed by fans (who he hates) and Cole (who he hates) saying he's a coward. Also, there were quite a few cowards on this show. Perhaps Danielson, Jericho, Cole, and Don Callis should have grabbed a thesaurus and come up with a few other options to convey their messages!
WOMEN'S TBS TITLE MATCH
I'm a fan of Kris Statlander but this "feud" was poorly booked from the start. I suppose Taya Valkyrie can be jealous that Kris won the title after she softened up Jade Cargill but we haven't heard anything from her other than staring at a TV watching Kris' matches. I'm hoping for a better feud for Statlander and one that is given the time to develop.
MINOR MISSES
PICK A LANE TONY!
During Hardy's/Gunn's match, Tony Schiavone said "good move" by Colton after a cheap shot, then two minutes later criticized the Gunn's for "taking every shortcut you can" — make up your mind, man!
PREMATURE GRAPHICS
After a very entertaining Orange Cassidy/Shibata vs. Garcia/Sabre Jr match, they put up a 4-way graphic way too soon to announce the match for Forbidden Door. Let it breathe folks. Do it after the break, or at the very least, use the "I'm just getting an update from Tony Khan in my ear."
So back to the goals for the show:
Continue the momentum from last week – check.
Keep interest high for Collision – check.
Properly set up Forbidden Door – check.
3 for 3 again.
---
CATCH-UP: AEW DYNAMITE RESULTS (6/21): Keller's report on Jericho & Guevara & Suzuki vs. Andretti & Martin & Fox, Hardys vs. Gunns, Eliminator Tournament blind draw