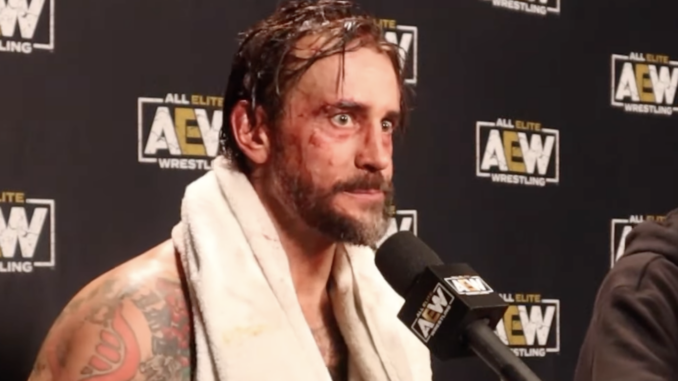 ---
SPOTLIGHTED PODCAST ALERT (YOUR ARTICLE BEGINS A FEW INCHES DOWN)...
---
The decision to fire C.M. Punk surely didn't come to easy for Tony Khan. Fans knew it, wrestlers and other AEW employees were eyewitness to it, and Khan wasn't shy about it – TK was a huge fan of the on-air persona of C.M. Punk. Khan also knows what value Punk brought to the AEW brand, especially in the midst of current TV rights fee negotiations.
Based on what I've heard directly from people in AEW, the collection of prior evidence and anecdotes from Punk's time in AEW (which sheds, perhaps, a different light on how people might feel about how WWE reacted to Punk years ago), and based on what Khan said last night, the decision to fire Punk was the right call.
Punk is reportedly gearing up to respond, so his perspective could change my view and that of fans who are either current pro-Punk or anti-Punk in this situation. "Sources close to both sides expect a response from Punk, which holds the potential to be explosive," wrote Justin Barrasso in Sports Illustrated this weekend.
There's no question that Punk was needlessly antagonized by wrestlers in AEW. I've said Jack Perry was out of line and showed an immaturity and bad judgment, triggering a string of events that put a black mark on what should have been a glorious positive experience for everyone last Sunday in front of 80,000+ fans.
Perry's career will likely be negatively affected by this, and it should. It's time for Tony Khan to take control of the locker room, and Perry's bad judgment makes him a timely target to be made an example of.
Veteran wrestlers have told me that younger wrestlers don't know how good they have it with AEW's mere existence, giving them and many others who would be toiling on the indy scene actual full time jobs and a chance, on international TV, to establish their name and build a fan base. Those wrestlers can leverage their AEW exposure into WWE gigs and higher paying indy dates.
Part of appreciating what they have with AEW should be respecting the boss and checking with trusted, level-headed veterans before pulling immature stunts to antagonize Punk. Same goes for Ryan Nemeth, although his tweet was more innocuous and should have flown under the radar of someone of Punk's accomplishments and stature.
This is not to dismiss any responsibility from Punk. There's little, and perhaps nothing, that has been said to or done to Punk that has justified his responses, short of perhaps some aspects of the locker room fight (which his unhinged vitriol at last year's All Out media Q&A sparked). If Punk had the personality and discipline to just let things slide and move on with his day, pretty much none of this would have happened.
Did Tony Khan make the right call in firing CM Punk? #CMPunk

— Pro Wrestling Torch (@PWTorch) September 2, 2023
By being a leader by example, he'd have been a contrast to some of the passive aggressive immaturity of The Elite and their allies. He would have gained influence with TK and perhaps given TK the confidence to stand up for his company with firmer enforcement of the type of tenor he'd prefer from his wrestlers.
Instead, Punk made every situation worse, amplifying the problem by trying to settle scores or hold people accountable for what he believed (and he wasn't wrong) to be immature, counter-productive prodding and poking to try to get a reaction out of him.
Whatever happened between Khan and Punk behind the scenes last Sunday rattled TK enough to say he felt his life was in danger. Our sources indicate the exchange between Punk and Khan away from the Gorilla position where the Perry scuffle occurred was likely the breaking point for TK.
We all saw that look on Punk's face at the All Out 2022 media Q&A. If he was even more worked up last Sunday, I can imagine TK fearing for his safety. I reported that there wasn't the usual post-dust-up text exchanges initiated by TK with Punk after the incident with Perry, which sent a signal to Punk things were different this time.
There are top wrestlers in AEW who believe Punk's actions last year at All Out should have been the end of the Punk-AEW relationship. He lost some respect and support in certain corners of the locker room by bringing Punk back, and even more when he was seen cheering him on backstage on his way to the ring.
By firing Punk, he now has the chance to pivot to being a stronger leader and attempting to make things right with his veterans who will now be asked to do more on Saturdays than they were when Punk was around.
TK isn't a polished speaker, and in his comments off-camera before Collision to the Chicago fans and on camera during Collision weren't ideal. Saying he feared for his life, without giving more details, left some people critical that he was blowing the incident and the risk to his safety out of proportion. If he wasn't going to add more details in terms of where and when and why he felt his life was in danger, it'd have been better p.r.-wise to leave that part out.
Managing Punk's inability to just let things go, his prickly temperament, and his strident need to call out people who weren't doing things the way he felt they should be done made his presence a challenge under the best of circumstances. Segregating Punk and his allies on Collision seemed to only be tempting fate once everyone had to come together for a PPV, and it didn't take long at all for it to be shown that the two sides wouldn't be able to co-exist in the same building.
Given the history of the situation, Khan should have had security on hand to make sure Punk was kept separate from agitating forces backstage. Once Perry said what he said, Khan should have scurried him into his locker room and then out of the building before Punk left his locker room. The risk of an incident was high and it was avoidable with some swift, common sense extra caution on that day.
Wrestler's I've asked about Punk have a mix of emotions, but mostly relief that there won't be more distractions. Some are more sympathetic to Punk than others, although even those on his side said Punk's response to Perry was unacceptable since he should have shown more veteran leadership in that situation. Now it is time for some of the Punk critics in AEW to look at what they can do to minimize the damage of losing Punk by stepping up behind the scenes and on camera in ways they haven't before.
It's also time for TK to get in the star-making business instead of the dream-match-making business. Instead of presenting wrestlers on TV with an assumption everyone watching knows and loves them as much as he does, he should look at his non-main event roster and pick out a few and give them a focused, consistent push that includes a longer-term story arc that shows fans who they are and what they stand for. TK might just create the next Punk for this generation if he does that.
---
RECOMMENDED NEXT: Khan's concern about Punk's conduct threatening his safety extended beyond incident with Perry in front of others, SI reports
RECOMMENDED NEXT: AEW terminates CM Punk "with cause" with Jason Powell's analysis
---
(Wade Keller is the editor, publisher, and founder of Pro Wrestling Torch and PWTorch.com. He has covered pro wrestling since 1987. He studied journalism and economics in college, interned at a major market broadcast news station (KMSP in Minneapolis/St. Paul), worked at KFAN radio for two years in the 1990s, hosted the "Ultimate Insiders" DVD series with international distribution, hosted the "Wade Keller Pro Wrestling Podcast" on Podcast One and now on Spreaker, and has been a guest on the Steve Austin Podcast dozens of times as an analyst (nobody has been a guest with Austin more times). He has broken major pro wrestling stories in five separate decades and has interviewed some of pro wrestling's most influential names in their longest insider interviews including Hulk Hogan, Scott Hall, Lou Thesz, Jesse Ventura, Jon Moxley, Jim Ross, Eric Bischoff, Bill Watts, Paul Heyman, Jim Cornette, Goldberg, Steve Austin, Vince McMahon, The Rock, Kevin Nash, and over 100 others including more than a dozen ex-WWE creative team members. He was inducted into the Tragos/Thesz Pro Wrestling Hall of Fame's Class of 2015 for "Excellence in Wresting on Professional Wrestling" in a class with Beth Phoenix, B.Brian Blair, Greg Wojciechowski, Jim Londos, and Matt Lindland. He continues to cover pro wrestling here at PWTorch.com and on the Wade Keller Pro Wrestling Podcast.)