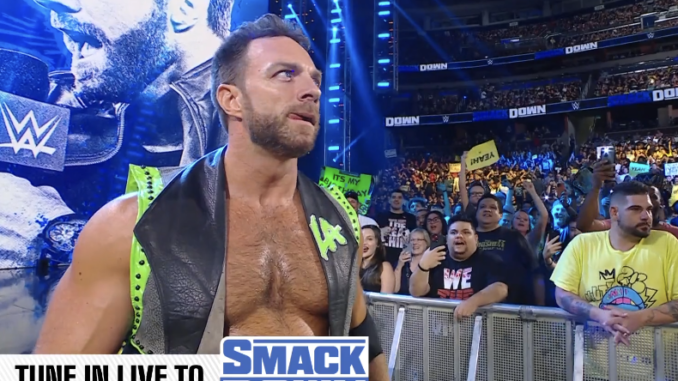 ---
SPOTLIGHTED PODCAST ALERT (YOUR ARTICLE BEGINS A FEW INCHES DOWN)...
---
WWE PAYBACK 2023 FOLLOW UP
SEPTEMBER 9, 2023
BY FRANK PETEANI (@FrankPeteani), PWTORCH.COM CONTRIBUTOR
WHAT IS THIS REPORT?
I was unable to compose a Hits & Misses report for Payback, the most recent WWE PLE, due to my being on vacation with my family. By the time I would have able to compose the report, Wade and I agreed it would be a bit dated. We agreed I would compose a report on WWE's follow up to the show. Match by match how did they do on this week's edition of Raw and Smackdown? Let's reflect on those shows and discuss the follow up to what took place on Payback.
Becky Lynch defeats Trish Stratus in a Steel Cage match. Zoey Stark splits from Trish.
Follow-Up: Zoey loses competitive match to Shayna Baszler.
I like that we didn't see Becky nor Trish on Raw. One of my biggest pet peeves is when wrestlers show up on TV following a grueling match such as a steel cage. I especially get frustrated when they don't sell what happened and worse, work a match. That didn't happen here. They let them have the week off.
I'm still processing Shayna Baszler beating Zoey Stark in a competitive match. I don't dislike it; it was just interesting. We haven't seen Shayna since she defeated Ronda Rousey, which was supposed to be a signature moment for her. After Zoey turned on Trish, the old school person in me would think they'd want to have her winning a match to certify her decision. Who would she beat though? You can find a local talent to have her squash, but I suppose that may be a channel changer for the live viewers or a fast forward moment for late viewers such as myself. This isn't the 80s or early 90s and it's not Saturday morning. Viewers want good matches. I'm fine with Zoey losing. She's an up-and-comer. Shayna should be ahead of her in the "pecking order." She's likely being built as a challenger to Rhea Ripley. Zoey is a way's away from that. Up-and-comers can lose matches but build confidence and experience in the process.
The fist bump after the match was even more interesting. I didn't know how to take it. I think the plan was for Shayna to be the heel in the Ronda feud, but we all knew that blew up in WWE's face. Zoey just turned. My guess is for what they wanted to do; they came up with a compromise for all involved. Furthermore, I hadn't thought about them teaming up as Todd Martin suggested on this week's episode of the PWTorch VIP exclusive show The Fix (simulcasted as this week's Wade Keller Flagship Show), but it makes total sense. They would be an interesting pair. Typically, I like partners that "offset" each other in some way, and they don't do that, but I'm willing to see how things go if that's the direction.
LA Knight defeats The Miz with John Cena as special referee.
Follow-up: Miz hosts MizTV with "John Cena as his guest."
This is one of those deals where it's a matter of taste. I abhorred the segment with Miz pretending John Cena was his guest on MizTV, lamenting him being in "cahoots" and pretending to hit him and give him the Skull Crushing Finale. We all know Cena wasn't going to be there as they will not have him show up for a segment like that unannounced. It felt like one of those "ha ha ha, we fooled you" moments by WWE that I can't stand. The segment dragged for me, and I don't think they're good for business. I would have been happier with a promo where Miz calls out Cena and asks for a rematch with LA Knight. Miz can be serious, and we saw that when he was "yelling at Cena."
If you enjoyed it, that's fine. Like I said, it's a matter of taste.
Rey Mysterio defeats Austin Theory to retain the U.S. Championship
Follow-Up: Rey not on Smackdown. Theory loses to LA Knight.
To be honest I didn't expect much follow up on Rey beating Theory. The U.S. Championship, while it's in a better place than what it was say a little over a year ago, still feels like it needs rehabilitation. The story is more about Rey and Santos Escobar so, there didn't need to be follow up between Rey and Theory. Theory is clearing moving into the heel foil role while Grayson Waller assumes the role in which WWE (well really Vince McMahon) had hoped he would thrive.
I'm fine if Waller and Theory are forming a tag team or some kind of alliance. In wrestling I'm ok if wrestlers are associates but not necessarily a tag team. Knight beating Theory is fine, given the push he's getting, and getting into it with Paul Heyman is a clear indication WWE is invested. YEAH!
Judgment Day (Finn Balor & Damian Priest) defeat Sami Zayn & Kevin Owens to win the Undisputed WWE Tag Team Championship
Follow-Up: J.D. McDonagh defeats Sami Zayn, Kevin Owens not on Raw, Judgment Day
I'm not here to judge what happened on the PPV. It is worth nothing they decided to take the titles off a team (Owens & Sami) that won them in the main event of night one of WrestleMania over a team (The Usos) that held the titles for nearly two years. They defended them in the main event of a Saudi Arabia show against a team featuring the biggest star in the company (Roman Reigns). To me making that decision is big. Given how well the Judgment Day have come together over the past year and given the fact that they put the titles on Priest & Balor, I can get behind that call. I could have done without the interference given it was a street fight, but I'll forgive it (to a point). Part of that interference came from J.D. McDonagh who is getting involved with the Judgment Day although the extent and purpose is not known outside of his longtime friendship with Finn Balor. They followed up on this with J.D. willing to take on Sami, expressing his frustration at the Judgment Day for what took place at Payback.
For me I was looking for two things and got them. I would have liked to have seen Sami and Owens on the heels of their big loss but, I'm fine with just Sami. He called them out for what happened at Payback, which is what you want to see. They stayed with the story with J.D. and gave him a win although I could have done without the interference. I know they're trying to protect Sami but, given WWE uses interference so much in matches it's hard to know when it has its place. That said, Sami at least seemed frustrated after losing so, it tells me the loss matters to him. I like to see that (especially with one of my personal favorite wrestlers).
J.D. giving Priest the "Senor" Money in the Bank briefcase was cool as he (I assume) is trying to get in the good graces of Priest, even though WWE used its typical "swerve culture" when J.D. suggested the briefcase must go. Not a big deal but, like the interference I wish they would use less "hahaha, we fooled you" tactics.
Overall, the Judgment Day is clicking. I like that they have transitioned from the "spooky goth" stuff they were trying at the start to more of just badass people hanging out in a group.
I'll take a hit for saying this.
I may be enjoying them more than The Bloodline.
Go ahead, yell at me.
Cody Rhodes Appears on Grayson Waller Effect, Introduces Jey Uso as part of the Raw roster.
Follow-up: Jey opens the show, appears throughout Raw.
Given they had Cody introduce Jey as the newest member of the Raw roster and regardless of what I may think of how it was handled, overall, Jey felt like he was important and a big deal. Opening the show with him was the right call. I didn't need nor do I ever need the "Welcome to Monday Night Raw!" It's so overdone and stupid and makes the wrestlers feel like corporate employees (which they're not…they're independent contractors…did I say that?) and not badass fighters that want to win titles. Anyway, putting that aside, Jey was clearly over. I didn't mind the interaction with Sami although the psychology was interesting. It was Jey that turned on Sami earlier in the year after everything went down with Sami and Roman. It should have been Jey looking to make amends and not the other. That said, Jey was made to feel important and given that Cody "made it happen" (why), it was the right call.
Rhea Ripley defeats Raquel Gonzalez … I mean Rodriguez to retain the Women's World Championship.
Follow-Up: Raquel defeats WWE Women's Tag Team Championship co-holder Chelsea Green and announces she has been given a rematch for the title with Dominik banned from ringside.
I get that they wanted to give Raquel a win following a loss in a title match. I don't like defeating a champion. I don't care who it is and how many times they do it. It makes the champion feel minimized. That said, it made sense to ban Dominik from ringside once they made the decision to give Raquel another match given the interference at Payback. I like that Raquel spoke some Spanish in her promo. Like with Asuka and Shinsuke Nakamura, it makes the person feel authentic when they speak in their native language.
I wonder if we're heading towards some kind of mixed tag deal with Rhea and Dominik vs. Raquel and Ricochet or pick your babyface. I'm not saying it must be him.
Seth Rollins defeats Shinsuke Nakamura to retain the World Heavyweight Championship
Follow-up: We learned Nakamura attacked Rollins after the match. He refuses an offer for a rematch then loses to Ricochet via DQ.
I abhorred everything about this. Who refuses a rematch for a championship especially after losing clean? It made no sense whatsoever. Yet Nakamura decides to take on Ricochet and then loses via DQ. I'm assuming they're done with Nakamura vs. Rollins because if they were going to have another match, why would Nakamura decline and then lose?
The only thing I could extract from this is maybe Nakamura played into the fact that Rollins admitted he hated being caried out on a stretcher while Nakamura walked out on his own. Perhaps he thinks Rollins doesn't have closure on the situation and he likes it that way? Rollins retained the title but somehow Nakamura thinks he hasn't won the war? Maybe I can get on board with that but the loss to Ricochet made no sense.
Follow Frank on Twitter @FrankPeteani. Thank you for reading!