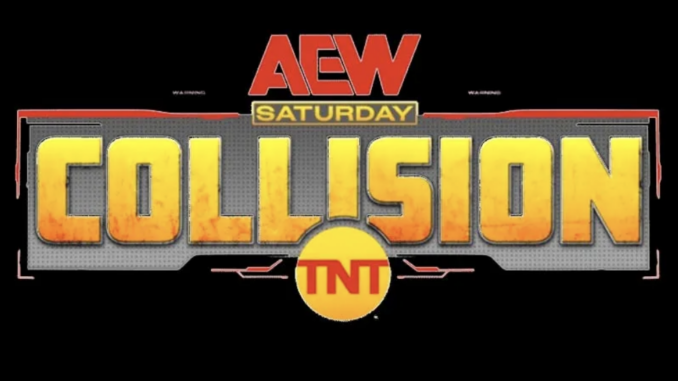 ---
SPOTLIGHTED PODCAST ALERT (YOUR ARTICLE BEGINS A FEW INCHES DOWN)...
---
AEW COLLISION REPORT
SEPTEMBER 9, 2023
CLEVELAND, OHIO AT THE FIELDHOUSE
AIRED LIVE ON TNT
BY BRIAN ZILEM, PWTORCH CONTRIBUTOR
Commentators: Kevin Kelly, Nigel McGuinness
---
[HOUR ONE]
-They opened with sound bites with Samoa Joe ,Penta, Roderick Strong, and Darby Allin. Darby said he's never 100 percent, and tonight, he's going to leave his body on the line for a championship opportunity.
(1) JON MOXLEY vs. ACTION ANDRETTI – AEW International Title Match
Before the match started, a soundbite was shown with Moxley saying he was open to any challenger to fight him for the AEW International Title. When the match started, the fans cheered for Moxley. The match started very slowly at a pace that favored Moxley. Andretti hit Moxley with a head scissors take down and dove outside the ring to gain the advantage as the show went to its first commercial break. During the commercial break, Andretti worked on Moxley's leg. [c]
After the break, Moxley hit a dive onto Action to regain the advantage in the match. Andretti went for a dive, and Moxley hit a fantastic cutter onto Andretti for a near fall. Both men exchanged shotgun dropkicks, followed by Andretti's mid-air flip dive for a near fall. Andretti went for the Moxley stomps, and Moxley reserved it into a deep sleeper hold to secure the submission win.
WINNER: Jon Moxley in 11:00 to retain the AEW International Title.
(Brian's Analysis: Being from Ohio, Moxley would receive a bigger reaction than the upstart Action Andretti. The match overall was nice and tight for both men. I could be reaching a bit for this one, but I found it interesting that after facing high flyers for the last few weeks, Moxley's next opponent is the polar opposite of a high flyer in Big Bill.)
-A highlight package was shown highlighting the friendship between Roderick Strong and Adam Cole
-A recap was shown with Samoa Joe and MJF from Dynamite.
(2) KRIS STATLANDER vs. ROBYN RENEGADE (w/Charlotte Renegade) – TBS Title match
A soundbite was shown of Statlander stating she would be a fighting champion. Statlander looked great early, showing off her power throughout the match. Charlotte grabbed the boot of Statlander to cause a distraction for Robyn so she could briefly gain an advantage within the match. Stat hit a great-looking Blue Thunder Bomb for a near fall. Statlander won the match with a roll-up pin.
WINNER: Statlander in 4:02.
(Brian's Analysis: This match wasn't as dynamic as Statlander's title defense against Emi Sokura from AEW Dynamite this past Wednesday. Statlander still displayed her power and agility against Robyn Renegade.)
-Both Renegade sisters jumped Statlander after the bell. During the beatdown, Jade Cargill returned after months away to make the save for Stalander. Jade's return received a massive reaction from the fans. Jade cleared the ring very quickly. Afterward, Jade extended a handshake for Statlander, which Statlander accepted only then to be laid out by Jade with Jaded.
(Brian's Analysis: With C.M. Punk officially gone from AEW, they must retool and find stars to draw on an audience on Saturdays. A surprise return from Jade Cargill isn't a bad pivot. Jade looked like a star and received a great reaction from the fans. I assume AEW is setting up Jade vs. Statlander at AEW Grand Slam, which could be a good rematch.)
-Renne Paquette interviewed the outcasts. Renne brought up Toni Storm costing Ruby the TBS Title match at All Out. Saraya said she would walk in as champion and out as champion at AEW Grand Slam. [c]
-After a commercial break, the show returned with Tony Schiavone sitting down with Eddie Kingston and Claudio Castagnoli. Tony asked what the problem was with these two. Eddie brought up the history of himself and Claudio in the independent scene. Eddie challenged Claudio to a winner-take-all title for the title at AEW Grand Slam. Claudio accepted, but only if Eddie agreed to shake Claudio's hand if he lost the match.
(3) AUSTIN & COLTEN GUNN & JUICE ROBINSON vs. DIOS DEL INFRAMUNDO & AEROSTAR & GRAVITY
Bullet Club Gold came out to the ring with Cardblade. Tony Khan on social media confirmed Jay White would be absent from their match for personal reasons. Austin and Gravity started the match with well-worked exchanges. When Robinson tagged in, he received a big reaction from the crowd in terms of boos. Austin and Colten saved Juice from a double-team move, and Juice regained the advantage of the match as the show went to a commercial break. [c]
After the break, Juice and Gravity were wrestling in the center of the ring. Gravity finally tagged in Aerostar, and he ran wild. BCG regained the momentum as the Gunns hit a 3:10 To Yuma. finisher on Gravity and Juice hit pulp friction on the other Dios Del Inframundo for the win.
WINNERS: Juice Robinson & The Gunns in 7:00.
(Brian's Analysis: It was unfortunate that Jay White missed this match, but I'm glad AEW adjusted the match to keep BCG on the card. Wrestlers can't get over without being on TV, and keeping that trend with BCG on Saturdays is a good call.)
-After the match, BCG celebrated in the ring with Cardblade.
-In a video package that aired, Miro's wife, C.J. Perry, said that last week she wanted to show him that she had his back and would support him in his quest to become a champion once more, but he was obstinate. She stated that she understands his decision to follow this course, but she already has other plans. She claimed that every fiber of her being has been screaming at her to see if she possesses the necessary skills. She stated that she desires to manage once more and be the coldest manager in the game.
(Brian's Analysis: The prerecorded promo went less than two minutes, but this was by far the best promo C.J. Perry has cut in her entire career. Her delivery was excellent, and you could genuinely believe the conviction in her words. Whether for Miro or someone else, C.J. Perry should be a mouthpiece for a wrestler on the AEW roster.)
-The Dark Order was shown attempting to recruit people for the Dark Order.
-Billy Gunn and The Acclaimed boasted about winning the Trios competition for 13 days. They began their world tour, which Billy announced, in London. After that, they traveled to Chicago, where they met Dennis Rodman. According to Anthony Bowens, their next trip is to New York City. The largest scissors party, he claimed, is coming to New York City. As a map of their route around the country flashed, they talked about the upcoming run of places they would be visiting.
(4) REY FENIX (w/Alex Abrahantes) vs. ANGELICO (w/Serpentico)
A soundbite was shown with Alex and Fenix. Fenix said he would get his revenge on Jon Moxley. The match started fast, with Fenix hitting a dive into Angelico on the outside of the ring. Angelico worked an excellent ground game to gain brief control of the match. Fenix went to the top rope and hit a frog splash onto Angelico for a near-fall finish. Fenix went to the top rope pk onto Serpentico. Fenix would then hit his rolling cutter for a near fall and muscle buster to secure the pinfall victory.
WINNER: Rey Fenix in 5:00.
(Brian's Analysis: Good opportunity to showcase Ray Fenix as a singles star. If the Lucha brothers aren't going to be pushed a tag team, I must prefer each getting a needed singles push.)
[HOUR TWO]
-Tony Schiavone was backstage with FTR. Cash Wheeler discussed all of the opposition they have defeated. He asked, "Now, who is the next team to step up?" They want to compete in Collision's main event since they are the best tag team, according to Dax. They want more rivals, he claimed. Dax issued an open challenge to any young team to step up and try to prove their worth, and they'll put their tag titles on the line.
(5) RODERICK STRONG (w/Matt Taven, Mike Bennett) vs. DARBY ALLIN – Grand Slam Tournament semi-final match
Before Strong returned to the ring, a recap video was shown of Strong beating Trent on AEW Dynamite. Darby was skateboarding to the ring, and before Darby could leave the backstage area, Christian Cage and Luchasaurus jumped him. Darby managed to walk down to the ring after he was attacked. Nick Wayne was there with Darby to motivate him before the match started.
Darby managed to muster up enough offense to slap around Strong, which followed Darby going for a roll-up pinfall attempt early. Strong left the ring, and Darby hit a disaster-looking dive onto Strong as the show went to a commercial break. During the break, Strong worked on the injured back of Darby.
The show returned with both men fighting on the outside of the ring. Strong threw Darby into the ringpost and barricade to inflict more damage on the injured back of Darby. Once both men returned in the Ring, Darby would hit a flurry of near-fall pin attempts on Strong. After Darby broke up a submission attempt from Strong, both men went to the top rope, where Strong would hit a back backer on the top rope so hard Darby bounced onto the apron to the floor. Afterward, the show went to another commercial break.
After the break, both men were on the apron; Darby would hit a stunner and a top rope coffin drop onto Strong to regain the advantage of the match. A.R Fox ran down to even the odds against the Kingdom with Nick Wayne after the match. Darby hit a Scorpion Death Drop for a near-fall finish. Taven jumped on the apron to distract Darby, and A.R. Fox accidentally got involved and hit Nick Wayne. After seeing the chaos, Darby went for the Coffin Drop, but the brief distractions provided enough time for Strong to put his knees up on Darby. Strong then hit the End of Heartache for the pinfall victory.
WINNER: Strong in 15:00
(Brian's Analysis: Awesome match from both men. At some point, Darby will have to replace his entire bone structure. I don't understand how his body can withstand the beating it does. Roderick Strong is still a fantastic professional wrestler, although he's leaning into a silly gimmick that is over at the moment. Strong winning and going to the tournament finals was the correct booking decision. )
-Afterward, Nick Wayne yelled at A.R Fox.
-Powerhouse Hobbs said he was the real winner last Sunday against Miro. He said everyone would fall to the book of Hobbs.
-Lexy Nair spoke with Keith Lee, who said he is the Collision, and his advice for everyone who gets in his way is to run, which was a nice shoutout to Bray Wyatt.
-A video package was shown of the Righteous
-Tony Schiavone stood in the ring and asked Bryan Danielson what's next. Danielson said once his daughter turns seven, he would start finishing up his career, and she's six right now. Danielson said time is running out. Danielson said he would not go gently into that good night. Danielson said he would kick everyone's head in. Danielson would say this is the most epic of his career. Danielson then called out ZSJ for a match for WrestleDream.
Ricky Starks interrupted Danielson. Starks said after Sunday, I put everyone on notice. Starks said I'm the face of Collision, and I will do things you have never done in your career. He said he talked a lot about how he was given bread crumbs, but he wanted a full-course meal. Starks said he didn't tap out, but after passing out, he woke up and realized he had graduated from hunger to greed. He said he's going to take and take and take.
Danielson said he approved Starks, and Danielson seemed like he was going to offer Starks to join the BCC, but Big Bill jumped Danielson, and Starks joined into the beatdown. Moxley would come down for the save, but BCC could not overcome Big Bill and Starks.
(Brian's Analysis: Great segment, but the biggest news from this show is Bryan Danielson appearing to be calling it quits soon in the ring. As fans, we are spoiled to have seen this last run of Danielson within AEW. AEW did confirm Danielson's next opponent would be Zack Sabre Jr. at WrestleDream, but what's next for Danielson in the time he has left in the ring?
-The commentators previewed the card for AEW Dynamite and the AEW Grand Slam show.
-Tony Schiavone interviewed Big Bill backstage. Big Bill said he was going to beat Moxley's ass on Dynamite. Fenix then interrupted Big Bill to say he couldn't cut the line.
(6) SAMOA JOE vs. PENTA (w/Alex Abrahantes) – Grand Slam Tournament semi-final match
Joe walked to the ring, and the commentary recapped Joe's win against Matt Hardy on AEW Ramagpe. Jim Ross joined in on commentary for the main event. The match started with Joe and Penta nose to nose. Penta made the zero fear gesture in Joe's face, followed by Joe hitting a headbutt onto Penta. Joe went outside the ring for a nope spot, but Penta did a baseball slide to avoid the nope spot. Both men exchanged chops on the outside. Penta pulled out a table from underneath the ring as the show went to a commercial break.
After the break, Penta went for a splash from the top rope, but Joe nailed a shoulder block onto Penta to regain the momentum. Joe hit an elbow drop onto Penta for a near-fall. Throughout the match, Jim Ross did a great job explaining how much a slower-paced match favors Joe. Joe hit a great-looking power slam for a near-fall on Penta.
After getting the momentum briefly in the match, Penta went for a dive onto Joe on the outside of the ring, and the nope spot Joe had been going for the entire match was finally hit once Joe moved out of the way of Penta's dive. Penta crashed and burned onto the table. Penta set up earlier in the match. Joe rolled Penta in the ring for a near fall. Penta went for made in Japan, but Joe reversed it into the sleeper for the submission victory.
WINNER: Samoa Joe in 16:00
(Brian's Analysis: A great main event to close the show and wrap up the Grand Slam tournament semi-finals. At 44 years old, Samoa Joe doesn't look winded when he's in a match 12 minutes and above. With Joe advancing to the Grand Slam tournament, finals are set this coming Wednesday on AEW Dyanimte Samoa Joe vs. Roderick Strong.)
FINAL THOUGHTS: The first official AEW Collision without C.M. Punk is in the books. This show was a hybrid of Collision and Dynamite put together, which I ultimately enjoyed. The show had a lot going on and featured many wrestlers, although nothing felt rushed, and everything had time to breathe. Even if there are a few little aspects of C.M. Punk on Collision that I will miss, removing the soft brand split was the right choice. All hands must be on deck if AEW wants Collision to maintain a positive rating during football season. Featuring stars like Jade Cargill, Ricky Starks, Jon Moxley, and Bryan Danielson, it is a step in the right direction.)
---
RECOMMENDED NEXT: AEW COLLISION RESULTS (9/2): Keller's report on final All Out hype, Ricky Starks-Ricky Steamboat angle, return of Bryan Danielson, Tony Khan's CM Punk announcement
OR CHECK THIS OUT AT PROWRESTLING.NET: Tony's Takes: Tony Khan fires CM Punk, ROH titles on AEW television, Jimmy Uso trade compensation, revisiting the WrestleMania 39 main event outcome