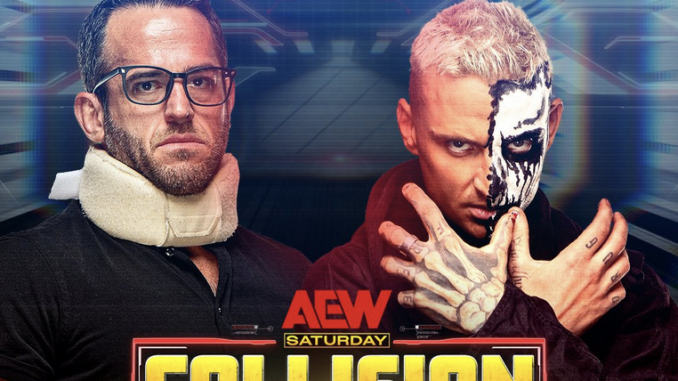 ---
SPOTLIGHTED PODCAST ALERT (YOUR ARTICLE BEGINS A FEW INCHES DOWN)...
---
AEW COLLISION – HITS & MISSES
SEPT 9, 2023
CLEVELAND, OHIO
AIRED LIVE ON TNT
BY DAVID BRYANT, PWTORCH CONTRIBUTOR
– Before I start, I want to thank everyone who took the time to read my editorial that was published yesterday regarding C.M. Punk. The response has been overwhelmingly kind, and the feedback I have gotten has been thoughtful. It is an honor to write for you. I know your time is valuable, and I know you have a lot of choices as to how you spend it. Thank you for spending some of your time with me, and thank you for reading PWTorch.com.
---
– Heyyy! Welcome back to my column! (Unless you never left, in which case, thank you so much, and I am so sorry to hear about your recent loss of motor functions.)
COLD OPEN — HIT
It is no secret that I am a fan of these awesome cold opens, and why wouldn't I be? I'm always chill and snow much fun. (Don't feel bad. I'm embarrassed for me, too.)
– Live from inside a locker room full of no clothes, no bags, and no hope, the world's most terrifying mammal, Samoa Joe, called himself a demon, and that tracks.
– Live from inside a cargo trailer that I'm hoping has nothing to do with Rush, Penta cut a promo in which he promised to become the next AEW World Heavyweight Champion and listed past accomplishments to back up the alternate reality his expectations live in.
– Live from inside a neckbrace, Rodrick Strong cut the least effective cold open promo I've seen on Collision to date, but somehow, I think that was the point.
– Live from inside Mick Foley's sense of self-preservation, Darby Allin threatened to leave his destroyed body in the middle of the ring, and I believe him.
Side Note: It's still wild to me how good Darby Allin has gotten at public speaking compared to when he first arrived in AEW. Allin's progress on the microphone should serve as a form of motivation for anyone out there who thinks they "can't" talk. If you can sound decent while talking to other people, you can sound decent while talking to a camera. All you have to do is pretend the camera has been replaced by a friend who is being very quiet because Rush kidnapped them, and they know that no matter what they say, the show will go on without anyone calling the police.
OPENING THEME SONG & VIDEO PACKAGE — HIT
It's nice seeing Willow Nightingale, FTR, Toni Storm's new gimmick, scissoring belts, and ample amounts of Samoa Joe, Bryan Danielson, and Darby Allin added to the new opening reel.
That said, it needs more Christian, and specifically, only clips of Christian in which Miro is strangling him to death with a shredded turtleneck.
MOXLEY'S PRE-MATCH PROMO — MEGA-HIT
In less than a minute, Moxley put over Action Andretti as a legitimate threat, explained why he would be able to overcome that threat in their upcoming match, named the stakes of their upcoming match, and named the city that match was taking place in.
Much like last week, Moxley put on a clinic of a promo, but this time, he did it in a lower-third overlay video, and it only took him a matter of seconds. I am genuinely impressed and pretty sure I could not pull that off, even if I were offered a bonus to do so. I have no reservations in my praise for this promo.
JON MOXLEY vs. ACTION ANDRETTI — HIT
I'd wondered if (and hoped that) Jon Moxley would continue Orange Cassidy's tradition of defending the International Title in weekly open challenges. I am glad to see that is the case because a guaranteed weekly title match featuring Moxley is a damn good reason to tune into Collision.
Not that AEW needs my advice, but because I have a massive amount of unfounded self-worth, I'm going to give it to them anyway. In order to capitalize on Moxley's International Title run, AEW not only needs to advertise Moxley's Collision opponents on Dynamite each week, but they also need to have him cut a promo on that opponent during Dynamite. The reason I feel this way is because Jon Moxley is a multi-time AEW World Heavyweight Champion. Therefore, Moxley defending a weekly title on Collision should feel like a big deal because it is a big deal.
As for the match itself, this match's in-ring action was vastly different from the matches we enjoyed during Orange Cassidy's reign, but its spirit was not. Visually, the match was a hard-hitting ground and pound with far fewer high-flying spots than you'd find in your average Andretti match. (That might be because Andretti nearly missed Moxley with at least two of his highspots, and I can't imagine Moxley enjoyed having to cover for him.) However, despite how different Moxley's in-ring style is from Cassidy's, this match featured the same heartfelt sincerity and dedication to storytelling that Cassidy's more recent matches have featured, and that is a good and reassuring thing.
Now, for a word about Andretti. I mentioned that a couple of Andretti's spots tonight were messy, but that isn't my biggest concern. As many of you know, I often harp on how much I love in-ring imagery, and while Moxley isn't quite on Danielson and Punk's uniquely elite level in that regard, he is certainly one of the best of this generation.
Andretti, on the other hand, despite having been clearly bitten by the same radioactive spider that bit Dante Martin, needs to work on mastering in-ring imagery. Someone like Moxley or Jericho would be a good choice to pull him aside and offer friendly lessons before each show. It might take several of these aforementioned lessons before Andretti becomes nearly as good at it as they are, but Andretti should not get discouraged because this is not an easy thing to learn. Physical imagery is a theatrical art unto itself.
I don't say this because I think Andretti is horrible at it. I say this because I think he has the potential to be great at it, and there was one moment in the match where Andretti really showed just how far he could go with the right coaching.
The moment I'm talking about was near the end of the match. During that moment, Andretti looked into the very soul of the hard camera as he menacingly dove into a series of Danielson-esque kicks to Moxley's head. This was a great "static image in motion," and it would have been made even better if Andretti's imagery skills had been equally as good during the rest of the match. Had that been the case, this moment would have felt like a climactic ending to an epic battle instead of a singular point of light in an otherwise dimly lit room.
RODRICK STRONG'S PROMO AND VIDEO PACKAGE — MINOR-HIT
In a room the color of the wallpaper that came with your Roku, Rodrick Strong manspreaded his way across a wide leather chair while his friends sat in less comfortable folding chairs. Strong then cut a promo about how he has no friends (Who are those people sitting next to him?), how Adam Cole betrayed him and left him alone (He does know them, right?), and how he will get even with Cole by winning the AEW World Title Tournament. (If he knows them, he should ask them if they are aware they're wearing the same clothes as the last time they did this, and by "did this," I mean Rodrick Strong taking up 100 percent of the only comfortable chair in a Roku-colored room because his seated gate is wider than Buckingham Palace.)
KRIS STATLANDER'S PRE-MATCH PROMO — VERY-MINOR-HIT (ALL THINGS CONSIDERED)
This promo wasn't a "Moxley-quality" segment, but it wasn't "Shockmaster-quality" either. After seeing this, it feels like Statlander has been going over her previous promos and trying to improve herself. That is a good thing and worth at least a "very minor hit." She kept her hands still and on her waist so that they weren't wandering around without purpose, and she kept her words even and direct. She still needs to work on confidence and attitude, but believe it or not, this was an improvement (if you're grading her on the Shelton Benjamin curve).
NOT GIVING ROBYN RENEGADE AN ENTRANCE — MISS
This is just my opinion (which, to be fair, should be the self-evident subtitle of this entire column.), but I'm gonna go out on a limb and say that if you're competing for a title, you should get an entrance. That goes doubly if you're going to beat up the champion afterward.
KRIS STATLANDER vs. ROBYN "NO ENTRANCE" RENEGADE — HIT
This was short, but a short match is okay if it works for the characters involved, and in this case, it did. Despite being short, the match was well executed. In fact, what makes Statlander's promo skills so frustrating is how good her in-ring skills are. She is so close to being the total package, and it sucks that she cuts promos with the confidence of a glass parachute because she wrestles with the confidence of a fighter jet.
JADE CARGILL RETURNS — MEGA-HIT
Despite how much her original segments felt like the creation of what an SNL writer thinks wrestlers do, I have come to really enjoy the performer Jade Cargill has developed into. Since her debut, she has improved her presentation and her in-ring skills, and her recent promos have become what I am hoping Statlander's will someday become (which is something slightly less painful than having my eardrums vacuumed).
Also, Cargill's Instagram stories are fun to follow, and while that is not exactly wrestling-related, it is very related to my idiosyncrasies.
JADE CARGILL'S RING RUST — MISS
As a part of this segment, Jade Cargill executed a big boot and her finishing move. She messed up both.
MARK STERLING APPEARS OUT OF NOWHERE — MISS
Seeing Mark Sterling join Cargill at the end of her return segment was disappointing. Sterling and Stokely Hathaway were valuable players when Cargill needed a mouthpiece, but she has improved and outgrown them. I'd much rather see her as a solo act or accompanied by only her Baddies and no one else.
RUBY SOHO & SARAYA CUT A PROMO TOGETHER — MEGA-HIT
Ruby Soho and Saraya are creating some magic in these joint segments.
Here are just a few of the gems from this segment alone:
"It's cute that she's 'forgetful,' because I didn't forget, Renee!"
"My 'friend' (extra emphasis on the quotation marks) cost me the TBS Championship."
"I didn't forget! I remember it VERY (Soho was so angry, her voice literally broke during the word "very.") clearly."
"Baby girl, she's not with it. She's using mayonnaise as a facial cleanser." (That image has joined "throwing shoes at birds in the parking lot" as a vision that will never, ever leave my head.)
"We just need to smack some sense into her, you know?"
"Shove that shoe where the sun don't shine." (This line sounded almost musical, but I couldn't quite tell over my laughter.)
"Can I just say that you are so much prettier than Lexi. (The crowd booed.) She's a pot stirrer. Can't stand her." (Renee Young's discomfort was palpable.)
"Let's go, Ruby. Let's go kick some ass. Love you, Renee!"
"I love you, too…" Renee said, uncomfortably AF.
Between Soho and Saraya's joint mic-work and Toni Storm slowly replacing Lillian Gish as the first lady of American cinema, the AEW Women's Division may not be having 5-star matches right now, but they are having a carnival-sized bucket of five-star promos.
EDDIE KINGSTON & CLAUDIO CASTAGNOLI IN A SITDOWN PROMO BATTLE — HIT (MOSTLY)
I liked the energy and vibe this promo gave off. I really, really liked Eddie Kingston's prisonyard promo style, and Claudio Castagnoli could not have been more unlikable if he'd been Christian Cage himself. Castagnoli practically exhaled arrogance this entire segment. I can't wait to see Kingston kick his solar plexus out of the solar system. However…
"WOULDN'T DO BUSINESS" — MISS
I love Kingston's promo style, and everything else he said was great, but this line took me out of it. Maybe I misunderstood what he was saying, and if I did, that is on me, but it almost sounded like he was complaining Castagnoli wouldn't job to him before going to WWE. Given how "authentic" Kingston's promos feel, adding in something that isn't "authentic" to the lifelike universe his promo is taking place in sacrifices some of what makes Kingston's hyper-realistic promo style work.
BULLET CLUB GOLD VS. GRAVITY & AEROSTAR & DIOS DEL INFRAMUNDO — MINOR HIT
This was okay.
Everyone did their part, and it never got boring, but I do not like Gravity's gimmick. Every time he wrestles, he looks very hot but not in the sexual sense, and his gimmick looks out of this world but only in the fictional sense.
Don't get me wrong, Gravity's actual wrestling is good; it is just his gimmick that needs tweaking, in my opinion. Gravity's gimmick feels comical in a way that doesn't feel intentional. Maybe it works for others in the same way Orange Cassidy's gimmick works for me? If so, then good, and maybe I'll eventually get it, but it certainly hasn't clicked with me yet.
BULLET CLUB GOLD GOING ALL IN ON THE CARDBOARD CUTOUT — PURE GOLD
They even gave the cardboard cutout (not to be confused with Q.T. Marhsall's gimmick) its own spot in their group's entrance. At first, I did not enjoy this whole cardboard cutout gag, but watching Bullet Club Gold go all in on it has made it fun. (Maybe that's what Gravity's gimmick needs?)
ANDRADE EL IDOLO KNOWS HOW TV'S WORK — MEGA-HIT
For the first time in wrestling history, someone watched a television set with their eyeballs instead of their ear-hole. It was amazing.
ALSO, THEY HIRED LANA! — HIT
I am so glad to see Lana (or Perry, but not the Jack kind) back on my TV screen! This promo, which was, for some reason, filmed inside a confection oven, featured Miss Hot & Flexible saying the reason she gently tapped Hobbs on the back with a chair was because she wanted to help Miro win again after Miro had forsaken her in his pursuit of gold.
Perry (are we going with Perry? C.J.? I'll use Perry for now, but when Jack comes back, that might get confusing.) then declared that she was once the coldest manager in wrestling, and she thinks she wants to become that again.
Also, very importantly, she wore an argyle-patterned pullover sweater.
DARK ORDER VIDEO — IDK
This was a thing.
I'm not sure how to feel about it.
If this means giving Dark Order an identity other than Dark Elevation, I'm all for it.
I think?
ACCLAIMED VIDEO — MEGA-HIT
Everything about this felt right.
REY FENIX VS. ANGELICO (W/SERPENTICO) — HIT
Angelico did not get an entrance, and this is Rey Fenix's return match, so the outcome was not exactly a shocker. The match itself was crisp, and Fenix looked motivated and on top of his game.
NOT MAKING IT CLEAR SERPENTICO WAS AT RINGSIDE WITH ANGELICO BEFORE THE MATCH STARTED — MISS
Due to the lack of an entrance, I thought for a second that Luther had randomly thrown Serpentico into the middle of a match he wasn't in. Then, just as I'd forgotten Serpentico was at ringside, he popped up on the apron out of nowhere and got kicked in the face for it, which is what usually happens when Serpentico does things in public.
Poor Serpentico.
FTR PROMO — HIT
Legendary tag team wrestler and one-half of a syndicated 1980s odd-couple detective show, Dax Harwood, showed a lot of charisma here and reminded me of just how good his solo match against Jay White was last week.
RODRICK STRONG'S ENTRANCE — HIT
I'm just now noticing that "angry" Rodrick Strong looks like "angry" Kendall Roy, and now I can't unsee it.
DARBY ALLIN'S ENTRANCE — MEGA HIT
Professional funeral crasher, Christian Cage, crashed Darby Allin's entrance, and it was quite the spectacle. Among other deliciously devious gems, Cage responded to Allin trying to punch him in the face by saying, "The next time you try that, I'm gonna bite your thumb off."
Cage told Allin he would never win another title as long as Cage was in AEW. Afterward, Luchasaurus, with whom Cage graciously shares his TNT Title, launched Darby Allin headfirst into a metal door, which is also how Darby Allin gets out of bed in the morning, I assume.
Meanwhile, dollar store Kendall (not to be confused with Ken doll) watched on with glee.
DARBY ALLIN VS. RODRICK STRONG — MISS
Despite his pet twink begging him to not carry on with the match, Darby Allin walked to the ring and, against all sense that is common, a referee started the match because a department store mannequin could make better choices.
Interestingly, Rodrick Strong is so feckless it took two commercial breaks, outside interference, and a breakdown in communications between A.R. Fox and Nick Wayne for him to put a half-dead Darby Allin away. This is despite the fact that Darby tried to unalive himself at least twice during the course of the match.
To be clear, my "miss" here is not because of the in-ring action; it is because I could not get over the ridiculousness of this match even taking place after Darby's pre-match beatdown. My main takeaway from all of this was that the only person involved with the match who had even a modicum of functional intelligence was Nick Wayne, and I am pretty sure that is not the takeaway AEW wanted me to have.
HOBBS'S PROMO — HIT
Hobbs took over Miro's closet, turned out that one yellow light that's always lying on the floor, and cut one hell of a promo about his favorite book.
KEITH LEE's PROMO — MINOR-HIT
This wasn't bad, but it wasn't nearly as good as most of Keith Lee's mic work.
VIDEO PACKAGE FOR THE RIGHTEOUS — MINOR-MISS
Wait. What? Oh, yeah! I remember them. Dark Order looks different.
DANIELSON & STARKS' PROMO — HIT
Bryan Danielson announced he has one year left as a full-time wrestler, and that sucks to hear, but after all that he has given to us over the years, it would be hard for anyone to say he hasn't given enough.
Starks's portion of this promo was exquisite. I especially enjoyed Starks telling an applauding fan, "Thanks for clapping for me, sweetheart." What a cloyingly coy way to turn a fan into a foe.
At the end of this segment, Danielson offered Starks a chance to be in the BCC, and Starks vociferously declined. Given that Starks claims he's "hungry" and needs "attention" (I guess he really liked that Doja Cat song.), I'm not sure why he would turn down an invitation to join one of AEW's most prestigious stables, but I'm not bothered by the decision because I feel like we'll get an answer this time.
BIG BILL INTERVIEW & FENIX'S INTERRUPTION — HIT
It's nice to see Big Bill get some promo time, although I wouldn't have minded Starks being present and putting in his two cents, as well.
Also, my 115-pound boyfriend and Big Bill own the same dress shirt, and I'm still mentally processing that.
PENTA VS. SAMOA JOE — HIT
As a Penta fan, watching him lose was not particularly fun, but it was necessary for the story AEW is trying to tell. If Penta had won, we would know for certain who was going to win the last match in their world title tournament. As it stands now, Samoa Joe is very likely to win, but Strong would make storyline sense, too.
I'm not as opposed to title tournaments as some of my readers might be, so your mileage may vary, but I have personally enjoyed this tournament. I also enjoyed this match. Penta looked sharp, moved smoothly, and complimented Joe's intimidating size with fast-paced action. I hope they give Penta more opportunities like this in the future.
Side Note: If you're reading this and you're a wrestler, STOP SUICIDE DIVING IN SAMOA JOE'S DIRECTION! It ends badly 100 percent of the time.
FINAL THOUGHTS
NGL, I was initially a little worried that AEW Collision might go downhill without C.M. Punk backstage to advocate for his vision of the product, but so far, there has been no significant decline in the show's quality. Here is hoping that continues.
Side Note: I am usually down on AEW's production crew, but they did an impressive job of making a small amount of fans look like a lot. This was some Hollywood-quality shooting that took place tonight. While watching this episode of AEW Collision, I couldn't help but think about the time I was an extra in the movie "Home of the Giants," and they kept moving us around a basketball court like it was a carousel to try to make it look full. Tonight, AEW had to do pretty much the exact same thing but without the ability to move people around the arena. They did a good job, and unlike most of this column, I mean that sincerely.
SHOW GRADE: B
Thank you all for reading. I truly appreciate it. And as always, I'm still working on my sign-off, but until next week, remember, if you have five or more unwanted subscriptions that you did not know you had, all you need to do is download the Rocket Money app on your phone, open the app, and then use your phone to punch yourself in the dick until you understand how money works.
---
(David Bryant's non-creepy amount of Ruby Soho shrines can be found on his "The Artist Formerly Known as Twitter" account @IamDavidBryant; a video of David Bryant balancing furniture on his face can be found on his Instagram account @IamDavidBryant, and David Bryant's Threads account is threadbare and also located @IamDavidBryant. David is a published author, circus artist, drag promoter, male pageant winner, unrenowned musician, sloppy figure skater, and the inventor of The Reverse Umbrella, which is also a bucket. Less impressively, he studied screenwriting at the University of North Carolina School of the Arts.)
---
RECOMMENDED NEXT: AEW DYNAMITE HITS & MISSES (9/6): Taz's brilliant deadpan commentary, Samoa Joe at his best, Toni's shoe throwing, Tournament set-up
OR CHECK THIS OUT AT PROWRESTLING.NET: McGuire's Mondays: And just like that, AEW has a Collision problem