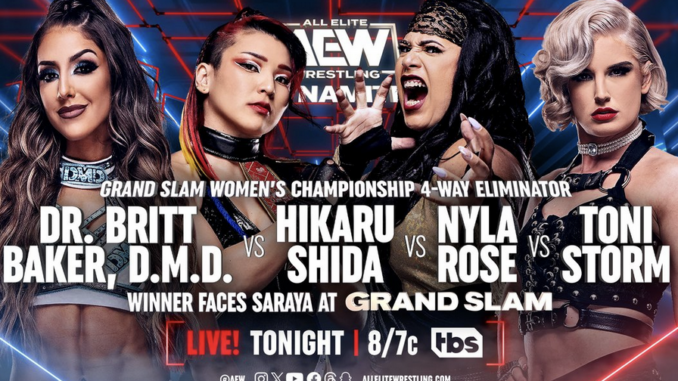 ---
SPOTLIGHTED PODCAST ALERT (YOUR ARTICLE BEGINS A FEW INCHES DOWN)...
---
To say AEW is desperate for a spark would be an understatement. While the wrestling has been exceptional over the past couple of months, they are lacking a hook (not Hook!) to get the non-hardcore fans not only to watch, but come to the arenas. Why else would their Dynamite preview on YouTube have about 35 mentions of "get your tickets" in a six minute long video? It reeks of desperation and I'm hoping with just a little extra effort in creating anticipation for matches and stories, they can bounce back. That starts with Wednesday's edition of Dynamite, so let's see how they did.
---
HITS
CALLIS & THE ALPHA
Combine Don Callis on the mic and the facial expressions of Takeshita and you have gold. This is the kind of intensity and storytelling that AEW has been missing. The only issue is we need Kenny Omega to do his part. I don't need the quirky, joking Omega. We need a serious Omega and I hope he has it in him because this could be one of the angles of the year if both sides can be strong. I'd leave the Bucks out of this because it's difficult for them to find that serious tone after so many years of goofing around. I'm going to put my trust in Callis that they have a story that'll pay off big.
EDDIE, EDDIE, EDDIE!
The BCC really knows how to set up matches and I'm excited to see all of it, but Eddie Kingston takes it to another level. In today's wrestling it's hard to really want to see one guy beat another guy. The stories are not set up that way very often, but I REALLY REALLY want to see Eddie Kingston beat Claudio Castagnoli. Title or no, I'm all about Eddie because he's someone whose character doesn't seem like a character. It's him, and people love him.
MJF'S MATH
MJF made perfect sense to me! Scott Steiner would be proud. (Why Tazz chose to take a shot at the University of Michigan, I don't know, but as a resident of that great state, I chuckled knowing the alums will take that soooo personally!)
JERICHO & SAMMY PROMO
I still have no idea who we are supposed to root for here, but both Chris Jericho and Sammy Guevara did a great job of making this match seem like something meaningful. I still think Sammy ends up going heel and joining up with Callis, but either way, it was a step up from the past couple of weeks where I was bored by the storyline.
---
MISSES
INDIFFERENCE TO THE WOMEN
The announcers can blame it on Cincinnati fans not caring for Pittsburgh, but that doesn't explain why Britt Baker came out to near silence and that silence continued for most of the four-way match. The only wrestler getting a reaction right now is Toni Storm. Now, I am a fan of what she is doing and she is clearly the most talented performer in the division right now, but everyone else feels flat. Baker has fallen so far at this point that she may need a complete rebrand of her character. Storm winning the match makes the most sense I suppose, but only because there is nobody else who can move the needle. What would be better for the story they are telling is for Storm to continue to lose and therefore continue to spiral downward week after week. Winners don't throw shoes.
THE CROWD
I want to make it clear that I don't like it when athletes, coaches, bookers, wrestlers, etc. criticize a crowd. Yes, there were not many people there, but those who spent their hard-earned money to come out and support the product don't deserve to be criticized. However, it's telling that AEW is having a rough time filling their arenas and it's the fault of the booking in my opinion.
There are fun things to watch and above-average wrestling every week, but there is nothing that is "can't-miss" that makes an average fan want to spend the money on a ticket and leave their house to drive to an arena and pay for parking and expensive food when they could sit at home in front of a 50 inch TV and watch it. They have lost the FOMO aspect of the live events. They have the talent to get it back, but most of the shows on Wednesday and Saturday seem to be setting up a PPV event or an annual event like Grand Slam and not getting the people in Cleveland, Indy, Tampa, etc. something they just can't miss. That needs to change or they'll continue to struggle at the gate.
All in all, this was a decent episode of Dynamite. There is a lot of good stuff in there, but something is still missing. I'm hoping they continue to move away from "goofy" and get a little more serious headed into the fall. Grand Slam should be a great show next week.
---
RECOMMENDED NEXT: AEW Dynamite Ratings Report (9/13): Nearly identical numbers as last week for show headlined by Samoa Joe vs. Roderick Strong, year-ago comparison
OR CHECK THIS OUT AT PROWRESTLING.NET: Powell's AEW Dynamite Hit List: Samoa Joe vs. Roderick Strong in the Grand Slam tournament final, Jon Moxley vs. Big Bill for the AEW International Title, Hangman Page vs. Brian Cage