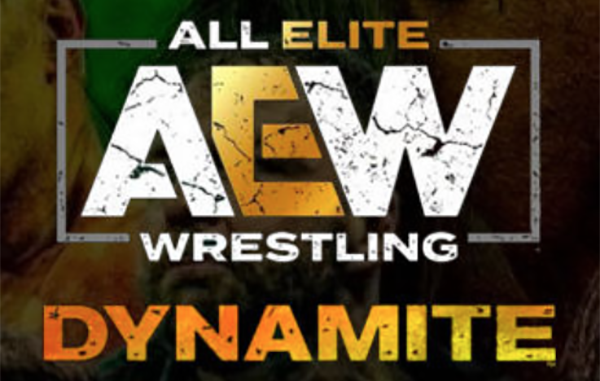 ---
SPOTLIGHTED PODCAST ALERT (YOUR ARTICLE BEGINS A FEW INCHES DOWN)...
---
AEW DYNAMITE "GRAND SLAM" REPORT
SEPTEMBER 20, 2023
QUEENS, N.Y. AT ARTHUR ASHE STADIUM
AIRED ON TBS
Commentators: Excalibur, Taz, Ian Riccaboni, Tony Schiavone

Ring Announcer: Justin Roberts
---
Tonight after AEW Dynamite, join Wade Keller live with guest co-host Javier Machado from PWTorch to break down the show with live callers and emails.
•STREAM LIVE HERE ABOUT 5 MINUTES AFTER THE SHOW CONCLUDES
•CALL: (347) 215-8558
•EMAIL COMMENTS/QUESTIONS: wadekellerpodcast@pwtorch.com
•IF YOU DON'T LISTEN LIVE, SEARCH "WADE KELLER" ON YOUR PODCAST APP TO SUBSCRIBE AND THEN DOWNLOAD OR STREAM THE FULL SHOW TWO HOURS OR SO AFTER THE TV SHOW ENDS.
---
[HOUR ONE]
-After the Dynamite opening, they showed a view of New York as Excalibur introduced the show. ROH's Ian Riccaboni was with the usual threesome due to the ROH element on the show.
(1) CLAUDIO CASTAGNOLI vs. EDDIE KINGSTON – ROH Title and NJPW Strong Openweight Title match
Claudio made his entrance first. When Kingston came out, fans chanted "Eddie! Eddie!" He slapped hands with Penta and Alex Abrahantes on his way out. After formal ring introductions, the bell rang four minutes into the show. They exchanged strikes mid-ring at the start. Taz said they're both heavy-hitters. Excalibur said Claudio doesn't respect Eddie, despite their history as roommates and traveling together. Riccaboni said Eddie believes Claudio is always on a high horse. Graphics in the corner advertised other scheduled matches. Claudio took control in the ring at 3:00. Kingston avoided a top rope headbutt by Claudio, but Claudio stayed on offense with an uppercut and a two count. They cut to a split-screen break at 6:00. [c/ss]
At 10:00 Kingston made a comeback with a variety of suplexes including an exploder and a Saito suplex for a two count. Excalibur noted Rampage is a special two hour episode on Friday with the rest of Grand Slam airing. Claudio absorbed some chops, so Kingston popped him with a right fist that took Claudio down. They each scored two counts on a roll-up and a reversal. Claudio landed a lift-and-drop uppercut and then landed a sitout powerbomb for a believable near fall. The crowd popped for the kickout. Excalibur said Claudio has won 10 out of 12 singles matches between. Ian said in every match, each athlete has "a puncher's chance." Eddie landed a Northern Lights Bomb for a dramatic near fall. Fans loudly chanted, "Eddie! Eddie!"
Kingston absorbed an uppercut and then landed a spinning backfist and then a sitout powerbomb for the win. Schiavone said the fans were losing their minds.
WINNER: Kingston in 16:00 to win the ROH World Title.
(Keller's Analysis: That's the type of battle you'd have expected and wanted from those two. Hard-hitting, dramatic, and with a crowd really into every twist and turn of momentum.)
-Wheeler Yuta helped Claudio stand. Excalibur said the two wrestlers agreed this would be the end of it for them and they'd agree the winner was the better man. Claudo extended his hand and they shook hands. Fans cheered.
(Keller's Analysis: That post-match scene with a gracious handshake by Claudio seems to complete the BCC turning babyface officially, which is in alignment with how the fanbase feels about them. The wide shots of the arena look good. They drew over 20,000 in 2021, over 13,000 in 2022, and they're expected to be down around 10,000 this year. It's still a nice sized crowd in a cool looking building.)
-They went to Roderick Strong lying in a hospital bed as Matt Taven and Mike Bennett sat at his side earlier. They read fan mail sent to him. Roderick yelled for Adam Cole. Cole walked in and asked Strong to open his eyes. Roderick smiled and said, "You came! You really came!" Cole said he wouldn't miss it for the world. Taven and Bennett said they had to head to Grand Slam, so they'd see him later. Roderick wished them luck. Cole said he had to leave too and be there for MJF. Roderick said, "What about me?" Cole began to leave, but then paused. Roderick said, "Go. Just go."
-Excalibur hyped the MJF vs. Samoa Joe main event and Sammy Guevara vs. Chris Jericho. [c]
-Renee Paquette interviewed Christian Cage with Luchasaurus backstage about facing Sting & Darby Allin on Rampage on Friday. Christian said they are going to walk though Sting and Darby. He said he's bored with Darby, but he won't move on until he gets a TNT Title match. Christian suggested a three-way match with him and Luchasaurus with Sting banned from ringside. He mistakenly called it a handicapped match, but then quickly said three-way match. He said he has about as much chance as the Yankees and Mets do of winning a championship this year. "Remember to bring the boy," he closed with.
(Keller's Analysis: AEW has thankfully stayed away from three-way matches, but this is just a perfect time for one. This could also lead to Christian actually becoming the TNT Champion officially.)
(2) CHRIS JERICHO vs. SAMMY GUEVARA
Excalibur said this is the first time these two have ever wrestled each other one-on-one. Fans sang along to "Judas" as Jericho made his entrance. Monteasy rapped next to Sammy on his way to the ring. Jericho smiled as the gum-chomping Guevara made his entrance. The bell rang 33 minutes into the hour.
Jericho shoulder checked Guevara to the mat, but Guevara kipped up. Jericho slapped him. They exchanged rapid-fire strikes. Guevara got the better of Jericho, then whipped him into the ropes. Jericho tripped into the middle rope and then ate a dropkick from Guevara on the rebound. Guevara struck a pose. Jericho joined him for a comedy spot. Jericho took over with a double underhook backbreaker at 2:00. Guevara landed a corkscrew dive onto Jericho at ringside a minute later. Back in the ring, Guevara landed a crossbody for a two count.
They battled on the ring apron. Jericho suplexed Guevara to the floor. They cut to a break at 3:30. [c/ss]
Jericho stayed on offense during the break. Guevara made a comeback during the break. Taz said the longer the match, the better for Jericho. Schiavone at first seemed to disagree by talking about Guevara's stamina, but then said Jericho's veteranship is an advantage the longer the match goes. Excalibur said Guevara wants to win and Jericho seems more intent on dishing out punishment. Taz said maybe Jericho feels a little disrespected. Guevara hit a Code Breaker for a near fall at 8:30. Guevara knocked Jericho off the ring apron to the floor, then leaped off the top turnbuckle with a flip dive onto Jericho. Guevara threw Jericho back into the ring and then yelled to the crowd in celebration.
Back in the ring, Jericho caught Guevara mid-air with a dropkick. Jericho then springboarded toward Guevara on the ring apron and Guevara tried to superkick him, but they were a foot apart and it was botched. Guevara then superkicked Jericho a second later. The match came to a bit of standstill for a few seconds. Guevara then hit a top rope cutter for a near fall.
They fought back and forth for a few more minutes. Guevara landed a high knee and then a GTH. With Jericho down, Guevara climbed to the top rope, but was groggy and thus slow moving. He leaped off the top rope, but Jericho countered a Shooting Star Press into a Code Breaker for the win.
WINNER: Jericho in 15:00.
-Afterward, Guevara hugged Jericho. They whispered words to each other, but then Guevara kicked Jericho in the crotch and shoved him down. "What have you done, Sammy?" asked Excalibur. Don Callis then walked out with a big smile on his face. Fans booed.
(Keller's Analysis: Guevara is a better heel than a babyface, and ideally he'll adjust his ring style a bit more this time to match the persona so his flashy moves come across as a showy instead of dazzling.)
-They cut to MJF arriving with Adam Cole. They had their ROH Tag Team Title belts over their shoulders. MJF wore his AEW World Title around his waist. MFJ said Joe messed up by trying to hurt his brother and best friend, Cole. He said the last thing he'll hear as his eyes fade to black is "MJF! MJF!" He said New Yorkers are his people. As MJF was doing his catchphrase, Cole's phone interrupted. It was Roderick. MJF asked if he's going to be by his side. Cole assured him he would be, but that Roderick had an urgent matter. Cole then told Roderick he's not going to die. [c]
-Renee interviewed Callis and Guevara. She asked if he's officially part of the Don Callis Family. Callis said all would be revealed on Friday. Then then crossed paths with Danny Garcia. Garcia shot a look at Callis and then stared down Guevara. Callis said Garcia is money, but then scooted Guevara away.
(3) JON MOXLEY vs. REY FENIX (w/Alex Abrahantes) – AEW International Title
Excalibur said Mox wants a street fight and Fenix wants a Lucha Libre match. Fenix met Mox on the ramp. Excalibur said it's a street fight. Fenix landed a running flip dive onto Mox on the floor. Mox had a glassy-eyed look after that landing and said something to Fenix. Mox collapsed twice. Fenix threw him Mox the ring. The ref officially called for the bell.
[HOUR TWO]
Mox took over offense, but Excalibur noted that Mox wasn't moving like usual. Mox landed a stomp on Fenix and scored a two count 90 seconds in. Mox chopped Fenix at ringside and sent him into the front row. Fenix attempted a comeback, but Mox knocked him off the ringside barricade. Mox then DDT'd Fenix to the mat on the floor. Mox rolled Fenix into the ring and scored a two count.
Mox mounted and punched away at Fenix. Fenix made a comeback and landed a top rope splash for a two count at 4:00. Mox fired back with a King Kong Lariat. He let out some barbaric yells and waited for Fenix to stand. Fenix did and he landed a superkick. They fought at ringside again where Fenix placed Mox over the barricade and then dove off the top rope onto him They cut to a split-screen break. [c/ss]
Mox took control during the break and grounded Fenix. Back from the break, Fenix landed a double-stop off the top rope for a two count. Mox landed a stomp on the ring apron a minute later. Mox landed a piledriver for a near fall at 10:00. Fenix landed a top rope senton a minute later followed by a package piledriver for a near fall. Mox didn't kicked out, but the ref stopped his count. The fans booed. Mox hit a second piledriver and got the three count. The ringside doc checked on Mox afterward. Mox was lying flat and didn't move much, but was talking. Fenix was elated and celebrated with Abrahantes.
WINNER: Fenix in 12:00 to capture the AEW International Title.
(Keller's Analysis: A good match with an unfortunate and disconcerting finish. It's never good when a ref has to clearly stop his count when a wrestler's shoulders are down. If the planned finish was Mox losing after a second piledriver, the ref should've counted to three after the first one when Mox didn't kick out, especially because that could have been an obvious sign Mox was hurt. Hopefully Mox is fine.)
-A promo aired with Samoa Joe who said he's going to smash MJF from pillar to post in front of his people without mercy.
(Keller's Analysis: That's Joe at his best on the mic.) [c]
-They showed an aerial shot of the stadium. Excalibur said Mox left the ring under his own power during the break.
-A video package aired with wrestlers in the tag team four-way match on Rampage with Trent Beretta & Chuck Taylor, the Hardys, Vincent & Dutch, and Taven & Bennett.
(4) SARAYA (w/Ruby Soho) vs. TONI STORM – AEW Women's Title match
Storm came out first with a black and white entrance. Saraya was full of heel mannerisms on her way to the ring. The bell rang 21 minutes into the hour. Saraya slapped Storm and trash-talked her. Storm smiled and took over. They fought at ringside where Storm hit Saraya with a shoe. Soho distracted Storm leading to Saraya getting the advantage after a superkick. They cut to an early split-screen break. [c/ss]
Storm took off the bottom turnbuckle. Soho slid the spray can to Saraya who sprayed Storm and scored a dramatic near fall. When Storm caught Saraya's boot, Saraya yelled, "Don't you do this to me." Storm set her boot down, kissed her on the lips, and then landed a Storm Zero for a near fall. The crowd popped for the kiss. Storm said, "I love you," then charged at Saraya in the corner for a hip attack. Saraya moved, though, and then gave Storm an impact DDT for the win.
WINNER: Saraya in 9:00 to retain the AEW Title.
-Excalibur plugged the two-hour Rampage "Grand Slam" special this Friday: Darby & Sting vs. Christian & Luchasaurus, Orange Cassidy & Hook & Kris Statlander vs. Anna Jay & Matt Menard & Angelo Parker, the four-way match for an AEW Tag Team Title match at WrestleDream, Skye Blue vs. Julia Hart, The Acclaimed vs. Dark Order, Mogul Embassy vs. "Hangman" Page & The Young Bucks, and Mike Santana in action. Excalibur said Santana says he's going to walk a new path.
Excalibur then plugged Collision: Andrade vs. Jay White, Luchasaurus vs. Christian vs. Darby for the TNT Title, FTR vs. The Work Horsemen for the AEW Tag Team Titles, Ricky Starks vs. Bryan Danielson in a Texas Death Match, and Rob Van Dam wrestles.
Excalibur also plugged next week's Dynamite with the Hangman-Swerve Strickland contract signing. He hyped the WrestleDream line-up this far.
-They showed Joe in the back hall heading to the ring. [c]
(5) MJF vs. SAMOA JOE – AEW World Hvt. Title match
Joe made his entrance after the break. Schiavone said they'll stick with the match until it's over and it's a 60 minute time limit. Before MJF's ring entrance, they aired a kid around age 9 with his dad. MJF put the scarf around the kid's neck and whispering something to him. The kid looked up at his dad and said, "Dad, I'm adopted?" Schiavone said that was funny. MJF wore a jacket that had the logos of every New York major pro sports team. Justin Roberts handled formal ring introductions. Joe was largely booed. MJF's t-shirt under his jacket had the Met's colors and font. It said, "Better than you." Excalibur talked about the shove nine years ago that led to this. The bell rang 43 minutes into the hour.
Fans chanted, "He's our scumbag!" early in the match. MJF poked Joe in the eye and then leaped onto his back at 1:00. Joe threw MJF over his shoulder hard to the mat. MJF grabbed his neck and head in pain. Joe took over with stomps and then punches in the corner as fans booed. Excalibur talked about how Cole wasn't there because of something urgent going on with Roderick. MJF poked Joe in the eye again, but Joe came right back and landed a senton and then a uranage out of the corner. They cut to a split-screen break at 3:00. [c/ss]
Joe methodically controlled the action during the break. Joe ripped off MJF's t-shirt. Fans booed. Schiavone said he was disrespecting the city and the state and the fans. MJF got fired up and took control, ramming Joe's head into the turnbuckle over and over. He mounted Joe in the corner and punched away ta him, then bit him. MJF signaled for the Kangaroo Kick. Fans popped. MJF hit the Kangaroo Kick and then kipped up and shook the top rope. They went to a wide shot of the crowd as an "MJF!" chant rang out.
Joe gave MJF a Samoan Drop off the edge of the ring apron. Back in the ring, Joe scored a two count at 10:00. Joe took MJF to ringside and slammed him through a table he leaned against the ringside barricade. Joe threw MJF into the ring and scored a near fall. Joe pulled up the ringside mat. MJF bit Joe's leg to block his move and then he set up a piledriver, but Joe didn't budget. MJF grabbed at his neck. Joe then gave MJF a piledriver. The ringside medical crew checked on MJF. Joe knocked them out of the way and then threw MJF back into the ring where he scored another two count at 13:00.
MJF came back with a Ligerbomb for a near fall. MJF went for a sleeper, but Joe escaped and applied his own sleeper. MJF mule kicked Joe to escape. MJF pulled out the Dynamite Diamond Ring and smiled. He charged, but Joe put the ref in his path. The ref saw the ring. Joe kicked MJF in the crotch as the ref was tossing the ring to ringside. Joe then hit the Musclebuster for a dramatic near fall. The fans popped for the kickout. Joe sat up in shock, then applied a sleeper.
The ref raised and dropped MJF's arm. Cole ran to ringside and cheered on MJF. MJF raised his arms after Cole's encouragement. He stood and bit Joe's arm. MJF rolled up Joe for a two count and then quickly applied a sleeper. Joe shoved MJF into the corner. The ref leaped to ringside to avoid the charge. Cole jumped onto the ring apron. Joe lunged at him. MJF choked Joe with a chain and applied a sleeper. The ref, favoring his leg after a bad landing, rolled into the ring and determined Joe was out.
WINNER: MJF in 18:00 to retain the AEW World Hvt. Title.
-After the match, MJF hugged the ref as Cole gathered the chain from the mat so the ref didn't see it. Joe shoved Cole in anger. MJF stepped between them. Joe then offered his hand to MJF. MJF considered it and looked at the fans. MJF shook his hand. Joe seemed to endorse him in a scene similar to Brock Lesnar and Cody Rhodes earlier this year. MJF's music played as Cole applauded next to him in the ring. "From London to New York City, he is still the champ," said Schiavone.
(Keller's Analysis: Really good match. No big angle here. I'm not sure how I feel about a top babyface champion cheating so blatantly to retain his title, but it certainly fits MJF's character.)
---
Tonight after AEW Dynamite, join Wade Keller live with guest co-host Javier Machado from PWTorch to break down the show with live callers and emails.
•STREAM LIVE HERE ABOUT 5 MINUTES AFTER THE SHOW CONCLUDES
•CALL: (347) 215-8558
•EMAIL COMMENTS/QUESTIONS: wadekellerpodcast@pwtorch.com
•IF YOU DON'T LISTEN LIVE, SEARCH "WADE KELLER" ON YOUR PODCAST APP TO SUBSCRIBE AND THEN DOWNLOAD OR STREAM THE FULL SHOW TWO HOURS OR SO AFTER THE TV SHOW ENDS.