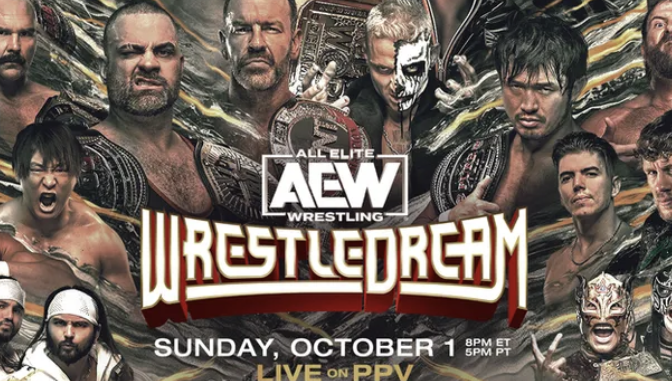 ---
SPOTLIGHTED PODCAST ALERT (YOUR ARTICLE BEGINS A FEW INCHES DOWN)...
---
AEW WRESTLEDREAM PPV RESULTS
OCTOBER 1, 2023
SEATTLE. WASH AT CLIMATE PLEDGE ARENA
AIRED LIVE ON PPV
---
[ZERO ONE PRE-SHOW]
(Aired on YouTube.)
-A video tribute aired on Antonio Inoki with soundbites from Bryan Danielson and Kris Statlander.
-Excalibur introduced Zero Hour.
-Tony Khan stood in the ring next to a table with a framed photo of Inoki. Rocky Romero, Katsuyori Shibata, and two of Inoki's grandchildren. It was a slow-arriving crowd with a lot of empty seats visible in the first few rows in every camera angle. Khan said WrestleDream is a tribute to one of pro wrestling's greatest dreamers. Tony inadvertently bumped into the table and knocked over the photo of Inoki. (Bad omen!) Khan noticed and held it up Romero then grabbed it and held it up as Khan asked for another round of applause for Inoki's family members.
-An introductory video aired for WrestleDream.
Commentators: Excalibur, Nigel McGuinness, Jim Ross
-They went to the announcers at ringside. Excalibur said they might not be there if not for Inoki. Ross said one of the greatest moments in his career was meeting Inoki.
(A) MERCEDEZ MARTINEZ & DIAMANTE & SHANE TAYLOR & LEE MORIARTY vs. BILIE STARKZ & ATHENA & SATOSHI KOJIMA & KEITH LEE
The bell rang 11 minutes into the hour. When fans chanted, "We Want Bread!" Excalibur said that's for Kojima. Ross explained him to explain that. Excalibur said Kojima is a big fan of bread and has gained a big social media following as a result. "I wouldn't mind doing that with ribs," said Ross. Lee powerslammed Moriarty and then Kojima hit him with a lariat for the win.
WINNERS: Kojima & Keith Lee & Athena & Starkz in 6:00.
(B) JOSH BARNETT vs. CLAUDIO CASTAGNOLI
Excalibur said Barnett was practically chosen by Inoki to be the face of Mixed Martial Arts. Ross talked about his history calling matches with Barnett. He then said, "You have to ask how much he has left in the tank, though." Jon Moxley joined the commentary table. Excalibur noted it was great he was back after the scary moment when he lost the International Title two weeks ago. Mox said Barnett has been his secret weapon in recent years and opened his tool box for him. Mox said Barnett feels there's another level he can reach.
The bell rang 21 minutes into the hour. They mat wrestled early. Claudio countered Claudio's takedown attempt with a spinebuster. Mox yelled for Claudio to "light his ass up!" as he was dropping elbows on him. Claudio twisted Barnett's head, but Barnett used a Dragon screw to escape. Claudio set up a big swing a minute later, but Barnett scooted to the bottom rope and grabbed hold to break the hold.
They reset mid-ring where Barnett kicked Claudio's legs. Claudio opened up with aggressive uppercuts. Barnett applied a quick abdomimal stretch. Mox said Barnett wanted to be part of this event because he was a direct student of Inoki. Mox said he's not there for the payday for the spirit of Inokism.
Claudio managed to give Barnett the big swing a couple minutes later and then applied a leglock. Barnett grabbed the bottom rope again. Barnett overhead tossed Claudio. Barnett looked totallywinded as he stood, but he caleld for Claudio to bring it on. Claudio threw some right backfists and a lariat followed by a Neutralizer and then he applied a ground octopus. Mox said he'd poop his pants if Barnett tapped out there. Claudio leveraged his shoudlers down and got the three count.
WINNER: Claudio in 8:00.
-Barnett grabbed a mic and told fans to boo all they want, but he's got something to say. He said he's heard a lot about Claudio from friends and training partners. He pointed at Mox. He said everyone was correct in touting his skills and toughness. He said they don't understand how great he actually is. Claudio shook his hand and bowed in front of him. He told Claudio that Inoki would be a fan of his and he will vouch for it. He said he gave him a challenge and he overcame it in his hometown. He said it isn't over because he wants more time with him. He said he can't rest. He said he's got a long way to go and he's proud to see where that takes him. Claudio told him, "Anytime, anyplace." He raised Barnett's arm. Mox said that's the type of respect that's earned. Mox said, "The pay-per-view hasn't even started. We gave you that shit for free."
-A video package aired on the TNT Title match which they've confirmed is the main event of the night.
(C) NICK WAYNE vs. LUCHASAURUS
Nigel said this could be an absolute mugging. Luchasaurus release back suplexed Wayne at the start and then chopped his chest hard. Luchasaurus beat up Wayne in front of his mother in the front row. Back in the ring, Wayne avoided a charge in the corner by Luchasaurus and landed a quick moonsault press for a near fall. He kicked Luchasaurus and went for a Wayne's World leaping cutter, but Luchasaurus caught him and then hit him across the back of his head for the win. They cut to Wayne's mom who had stern words for Luchasaurus.
WINNER: Luchasaurus in 5:00.
(D) THE ACCLAIMED (Max Caster & Anthony Bowens) & BILLY GUNN vs. TMDK (Shane Haste & Mikey Nicholls & Bad Dude Tito) – AEW Trios Title match
Excalibur pointed out who was whom on TMDK as they entered the ring. Caster rapped on his way to the ring including saying he saw TMDK kneeling at the glory hole.
Late in the match, Bowens ducked a double clothesline and hot-tagged in Gunn. Gunn got in some offense, but Tito countered and scored a near fall. Chaos broke out with everyone in the ring. Bowens kicked out of a near fall coming out of the chaos. Gunn landed a Fameasser on Tito, and then Bowens followed with The Arrival. He tagged in Caster who hit his top rope elbowdrop for the win
WINNERS: The Acclaimed & Gunn in 9:00 to retain the AEW Trios Titles.
---
[MAIN PPV CARD]
(1) MJF vs. THE RIGHTEOUS (Vincent & Dutch) – Two-on-One ROH Tag Team Title match
Taz joined in on commentary. The Righteous came out first. They replayed on split-screen the backstage attack on Jay White. MJF came out next and said he's tired of rumors that he attacked White. He called it, "Bullshit, a/k/a tofu!" Some fans chanted "Tofu!" He said some schmuck stole his mask out of his bag. He said to make matters worse, his best friend Adam Cole wasn't in the arena. Fans chanted, "Adam Cole!" He then insulted The Righteous and said he's going to use a bodyslam and shove Vincent's dreads up Dutch's ass.
MJF went for a bodyslam early, but indicated he hurt his right shoulder. MJF got a massage from a woman at ringside. A security guy knocked the hand of a guy behind her off of MJF. MJF offered a handshake, but then poked him in the eye. MJF then applied a headlock. He did a strut and a hip swivel when Dutch did a dropdown. Dutch came back with a clothesline. The Righteous swarmed MJF two-on-one. The ref indignantly ordered Vincent out of the ring.
The Righteous dominated for a while. Excalibur said MJF appeared outmatched. He stressed that Cole wasn't in the building. The Righteous scored a series of two counts. Vincent was shocked that the Acid Drop didn't put MJF away. Vincent threw a board and a chair into the ring as Dutch distracted the ref. MJF grabbed Vincent's crotch, which Taz called "a five on two." Vincent faded. The ref threw the board out of the ring and scolded Vincent for holding a chair.
Vincent went for a top rope flip dive, but MJF moved. Vincent hit his head a bit before landing on his back. MJF made a spirited comeback. He punched Vincent in the corner and then bit his dreads. Taz said those dreads must taste horrible. "Rancid City," he said. MJF bodyslammed Dutch which popped the crowd and drew a "Holy shit!" chant. MJF stood up wide-eyed and then threw Vincent head-first into Dutch's ass in the corner. MJF then signaled for the Kangaroo Kick. He gave both Vincent and Dutch the Kangaroo kick when they turned around. He followed with a Heat Seeker on Dutch for the win.
WINNER: MJF in 10:00 to retain the ROH Tag Team Title match. (**)
(Keller's Analysis: Not the best turn of events for The Righteous, early in their AEW run, to lose a two-on-one match loaded with comedy spots. You can say there's no shame in losing to the AEW World Champion, but this does seem to place a ceiling on how seriously to take them. This was an escape hatch for Tony Khan if he wanted to move on from MJF & Cole as the ROH Tag Champs given the two-on-one match, but they chose not to do that. The ROH Tag Team Titles aren't essential in terms of being defended regularly, so whatever they had planned for MJF & Cole might just be delayed a bit until Cole is back.)
(2) KATSUYORI SHIBADA vs. EDDIE KINGSTON – ROH Title and NJPW Strong Openweight Title match
Shibata grounded Kingston early with legholds. He then landed a kick in the corner and a running dropkick. The announcers noted that Shibata's ROH Pure Title is not on the line in this match. Kingston landed an exploder suplex, but Shibata popped back up and took Kingston down with a back leg sweep. Both were slow to get up. Taz explained the Shibata takedown technique.
They exchanged hard strikes mid-ring including a Kingston back elbow and a running kick by Shibata. Both were down and slow to get up again. Kingston landed a Northern Lights bomb for a near fall. Shibata pulled himself up by the ropes, but Kingston hit a spinning back elbow and then a powerbomb into a high stack for the win. Taz called it an awe-inspiring battle. Nigel said it exceeded expectations. A fan held up a sign that said, "Kingston is still a bum." Excalibur said Shibata has traveled through so much adversity and he says every day is a gift to him that he doesn't take lightly. After Kingston left, they played Shibata's music.
WINNER: Kingston in 11:00 to retain the ROH Title and New Japan Strong Openweight Title. (**3/4)
(Keller's Analysis: A fun, hard-hitting match.)
(3) KRIS STATLANDER vs. JULIA HART (w/Brody King) – TBS Title match
Tony Schiavone joined Excalibur and Nigel on commentary, replacing Taz. Statlander came out first. Julia rolled to ringside a minute in after being tossed around by Statlander. When Statlander went after Julia, Julia yanked her hair and dragged her to the floor. Statlander lifted Julia onto her shoulders and brought her back onto the ring apron. "Holy smokes," said Schiavone. A distraction by Brody gave Julia an opening to take over. She tossed Statlander to the ringside barricade. Julia threw Statlander back into the ring.
Statlander rallied, but stumbled into the ropes where Brody trash-talked her. Julia came up behind Statlander looking to spray her with mist, but Statlander turned and hit her and then landed a sitout powerbomb for a near fall. Statlander climbed to the top rope, but Julia met her. Julia threw Statlander over her head and then hung upside down from the top rope and stared at her. "Now that's creepy," said Schiavone.
Statlander stood and grabbed Julia's leg while she was mounting the top rope. Julia kicked her. Statlander (awkwardly) shifted into perfect position to be moonsaulted. Julia landed the moonsault and scored a near fall; Statlander grabbed the bottom rope at two. Julia applied her Heartless submission hold. Statlander stood out of it and hoisted Julia into position for a tombstone. She landed her Sunday Night Fever finisher for the win. That ended Julia's 28 match win-streak. The announcers didn't talk about that, which was odd, but Schiavone noted that Statlander is 15-0 in 2023.  Brody carried Julia over his shoulder to the back.
WINNER: Statlander in 9:00 to retain the TBS Title. (**1/2)
(4) HOOK & ORANGE CASSIDY vs. THE YOUNG BUCKS (Matt & Nick Jackson) vs. THE LUCHA BROS. (Rey Fenix & Penta El Zero Miedo) vs. COLTEN & AUSTIN GUNN – Winner Earns Future AEW Tag Team Title match
Schiavone said Hook and Cassidy really compliment each other. Lots of moves with lots of wrestlers paired off. The Bucks ended up clearing the ring and striking poses in the ring. Hook and Matt Jackson squared off (Hook is a bit taller, it appeared, for whatever that's worth.) Hook ended up taking a beating at the hands of the Gunns. Hook eventually tagged out to Penta.
Cassidy landed an Orange Punch on Austin. Hook then applied the Red Rum. Hook was on his back and Nick Jackson landed a 450 onto Austin and Hook and made the cover. Cassidy broke it up, saving Hook from getting pinned. Cassidy set up a Beach Break on Penta, but Penta blocked it. Hook went after Penta, but Penta locked up Hook. Nick then kicked Orange, Penta, and Hook down all at once with Penta giving Orange a package piledriver in essence. The Bucks superkicked Colten. Nick messed up a swing around the ropes, but he and Matt the hit a BTE Trigger and pinned Penta.
WINNERS: The Young Bucks in 13:00 to earn a future AEW Tag Team Title match. (***)
(Keller's Analysis: What you'd expect here. Lots of athletic moves culminating in a cluster of multi-person spots and near falls before the finish. Rey Fenix left during the match with a possible shoulder injury.)

(5) "HANGMAN" ADAM PAGE vs. "SWERVE" STRICKLAND
Swerve got big cheers from the hometown crowd. Hangman reacted and changed up his usual body language and facial expressions, taunting the crowd after any offense, which got boos. He clotheslined Swerve off the ring apron. Schiavone said the crowd was getting under Hangman's skin. Hangman slammed Swerve back-first across the ring apron and then the barricade. He followed with a top rope moonsault press onto Swerve. He threw Swerve back into the ring and landed a pop-up powerbomb for a near fall. He dove at Swerve again a minute later and played to the booing fans.
Swerve made a comeback. He landed a leaping stomp on the ring apron. Back in the ring, he landed a flatliner and a brainbuster suplex for a near fall. Swerve applied an armbar submission, but Hangman put his boot on the bottom rope to force a break. Fans booed the forced break. Hangman rolled up Swerve for a two count and then a spinning lariat. Swerve countered into a submission armbar attempt.
Swerve hit a snap German suplex and then leaped off the top rope with a double stomp, but Hangman moved. Hangman then landed a Buckshot Lariat. However, he clutched his arm in pain afterward, a result of fighting off those Swerve arm submissions. By the time he crawled over and made the cover, Nana put Swerve's leg on the bottom rope. The ref sent him to the back. Nana threw his fit. Hangman went after him, so Nana retreated. Hangman set up another Buckshot as Nana returned to yell at the ref. Swerve, though, hit Hangman mid-air with Prince Nana's crown. He leaned back on Hangman for a two count. Swerve looked on in shock, but then hit two leaping sidekicks to the head followed by the JML Driver for the win.
Afterward, as Swerve's music played, Toa Liona, Bishop Kaun, Brian Cage, and Naan joined Swerve on the ramp to celebrate.
WINNER: Strickland  in 20:00. (***1/2)
(Keller's Analysis: Really good match with a different vibe and dynamic because of the crowd booing Hangman and cheering on Swerve. The crowd didn't seem to love Swerve cheating to win, though.)
-They showed former NBA All-Star from the Seattle Sonics, Shawn Kemp, cheering in the crowd.
(6) WHEELER YUTA vs. RICKY STARKS
Mox joined in on commentary. He said he already got fined for swearing earlier so he wouldn't say what he told Yuta to get him psyched up for the match. He said regarding Yuta being called the Blackpool Combat Club whipping boy, he said that's not as bad as it sounds. "Charisma helps pay the bills but it doesn't help win matches," he said. Ricky walked the top rope and leaped off and hit Yuta. Mox said Ricky is pretty but also annoying, so he doesn't know whether he should date him or throw him on a table.
Big Bill made his way to ringside about five minutes in. When Bill tried to attack Yuta at ringside, Yuta shoved him toward the ringpost and then Bill charged at the post and crashed into it. Mox said he's glad he didn't have to get up because it's his night off. Yuta went on the attack on Starks including some two counts. Starks came back with a Roshambo for the win.
When Excalibur said Bill assisted in helping Starks win, Mox undercut it and said Bill basically headbutted the post. Excalibur said that Bill did prevent Starks from cashing and burning at ringside. Mox said he wouldn't give him credit as he was just hanging out there and Ricky fell on top of him. Mox said he's not worried about matches he's winning now, but more so matches he'll win years from now. He said he's not taking anything away from Starks, though, because he's top tier and could beat anyone on any given night.
WINNER: Starks in 10:00. (**3/4)
(Keller's Analysis: Moxley is the MVP of this PPV so far. He's just cracking me up time after time. He's as authentic as anyone gets in pro wrestling right now. Doesn't give a shit and is witty and speaking the truth without undercutting the product or making it about himself.)
(7) BRYAN DANIELSON vs. ZACK SABRE JR.
Nigel criticized Danielson for kissing up the crowd by wearing Seahawks green. Mox said for all he knows, Danielson will knock him out in the opening seconds, but if not, then Danielson and ZSJ will have a great battle to determine who the best technical wrestler is. "Jesus, I'm pumped up," he said.
Mox said ZSJ plans several moves ahead and always has several options in mind, whereas Danielson is more of a reactive wrestler and he'll let his opponent get him in a hold just so he can counter it. A few minutes in, Excalibur said Danielson seemed to be a step behind so far. Danielson tried to fight back with some hard chops, but ZSJ headbutted his shoulder. Danielson went down, clutching his shoulder. ZSJ stomped on Danielson's shoulders. Mox said the extra muscle that ZSJ put in recent years gave him extra power to plow through Danielson's chops like that. Danielson applied a single leg crab mid-ring, but he couldn't get a grip because ZSJ yanked on his finger a minute earlier. Danielson stood and threw some Yes kicks.
Danielson went for a Dragon leg whip and it appeared ZSJ's ankle twisted awkwardly when his toe got stuck. Danielson went for another leg whip, but ZSJ blocked it and twisted his neck with his legs.
They battled on the top turnbuckle next. Danielson too ZSJ off the top rope with a butterfly suplex. Then they went into a chain of move and counters on the mat ending with Dnaielson applying a surfboard style submission, then shifting into a half crab. ZSJ reached the bottom rope. Danielson stood and threw Yes kicks at ZSJ's chest and finally his head. Danielson grabbed ZSJ's arms and stomped on his chest and head. Danielson waited for him to stand, then charged with a Psycho Knee. ZSJ ducked and bridged Danielson's shoulders down. They countered each other with various leverage pin attempts. Mox stood up excited over what he was watching. Fans stood and applauded in the crowd, too.
Danielson landed a running dropkick in the corner, but ZSJ dropped Danielson with a drop toe hold. Danielson then went into Cattle Mutilation, but ZSJ escaped. ZSJ then applied a wristlock. Danielson countered into a leglock. A "Fight Forever" chant began.
Danielson eventually landed some hard roundkicks. ZSJ locked on an armbar and torqued it in various contortions. Danielson suplexed out of it and then hit a Psycho Knee for a near fall. Both were down and slow to get up, but also firing up the crowd with arm gestures as they stood. Danielson landed another Psycho Knee fro the win. "What a physical war!" said Ross. Mox sat back and kicked up his feet and said "Holy shit! That was one of the finest displays of wrestling I've seen in my life." Mox stood and pumped his fist as Danielson soaked up cheers from the crowd. Mox said, "What an experience that was for everybody!"
Danielson offered a handshake. ZSJ rolled out of the ring. Fans booed. Nigel said Danielson won with a strike, so ZSJ can still claim to be the best technical wrestler. Mox said he didn't blame ZSJ for leaving the ring after losing like that. They showed Demetrious Johnson at ringside. Excalibur said they'll play a video game on Tuesday on "Pit Crew" on Twitch TV.
WINNER: Danielson in 23:00. (*****)
(Keller's Analysis: That's what anyone could have hoped for out of that. A lot of wrestlers will be studying that match for years who are interested in developing that aspect of their ring work. ZSJ played the heel well without doing so in a cartoonish manner that didn't fit the setting the context of the dream match. That's a box checked for Danielson, ZSJ, and a lot of fans, especially of that style.)
(8) KENNY OMEGA & CHRIS JERICHO & KOTA IBUSHI vs. KONSUKE TAKESHITA & WILL OSPREAY & SAMMY GUEVARA (w/Don Callis)
Omega and Ospreay opened against each other. After some exchanges, Omega tagged out to Guevara. Guevara smiled and played to the fans, who booed him. Nigel told Taz that his son Hook is a good looking boy, but it must've been a windy day when Hook was born because the apple had to fall far from the tree. Taz said Hook's mom is good looking and that's where he gets it. Ospreay and Jericho battled next. Everyone entered the ring and squared off and stared at each other before throwing punches. Jericho, Ibushi, and Omega cleared the ring, then all three dove on different sides of the ring where their opponents were conveniently waiting to be landed on.
Omega battled Ospreay one-on-one afterward. A distraction led to Ospeay taking control. Takeshita gouged Omega's eyes a minute later. Excalibur said that's a sign of the influence of Callis. Ibushi got in Takeshita's face. Omega made a comeback and went for a moonsault, but Ospreay raised his knees. Ospreay applied an abdominal stretch mid-ring. Guevara on the ring apron and Takeshita and Callis at ringside formed a chain of extra leverage for Ospreay. The ref kicked their hands apart. Takeshita choked Omega in the corner illegally. Takeshita tagged in and hit a Blue Thunder Bomb for a near fall. Guevara landed a top rope flip senton for a near fall.
Jericho and Guevara tagged in. Jericho showed extra speed and fire as he went on the attack, and that got the crowd going. He landed a running bulldog and then applied an abdominal stretch (the hold of the night, apparently). Omega and Ibushi held a chain of leverage. Omega tagged in Ibushi. He and Jericho knocked Guevara down. Jericho struck a Guevara pose and then Ibushi joined him. Taz called them the Golden Sex Gods. As Omega and Ibushi took it to Guevara, a "Golden Lovers" chant started.
As Omega and Ibushi hit dives on opposite side of ringside, Jericho landed a Lionsault on Guevara for a near fall. Takeshita landed a Chaos Theory on Ibushi, who landed on his head. The announcers expressed concern. Taz said he might be done. Takeshita inadvertently kneed Omega. Jericho dropkicked Takeshita to the floor. Omega sent Ospreay to ringside with a huracanrana. Omega pounded the mat and then hit a running flip dive onto Takeshita and Ospreay at ringside.
Guevara charged back into the ring and went after Jericho with a Spanish Fly for a near fall. Guevara leaped off the top rope with a shooting star press on Omega. He landed awkwardly, but was okay. Fans chanted, "You still suck." (It looked like a less flexible Guevara would have blown out his knee the way he landed there.)
Omega and Ospreay went back at it mid-ring, exchanging strikes. Omega landed a Snap dragon. Guevara went for a flying cutter, but it wasn't crisp and both went down and stayed down. He kinda lost his grip and Omega didn't go down before Guevara crashed hard to the mat. Takeshita and Ospreay charged at Jericho in the corner with stereo kicks. Guevara then hit the Code Breaker and scored merely a one count.
Jericho stood and fought back, but all three opponents beat on him as the ref threw her arms up "helplessly." Fans chanted "Jericho! Jericho!" Ibushi re-entered the ring and eyed Ospreay before decking him with a left. Guevara punched away at Ibushi, but Ibushi brushed him off and landed a palm strike. Takeshita stepped up next and threw an elbow to the jaw. They exchanged strikes rapid-fire. Takeshita took Ibushi down with a hard lariat, but Ibushi fired back with a lariat of his own. Ospreay kicked Ibushi in the head. Omega immediately hit a high knee. Guevara then leaped onto both Omega and Ibushi. Omega cleared the ring and put Ospreay on his shoulders. Ospreay head scissored Omega to ringside and hit a Sky Twister on Omega and Ibushi.
Back in the ring, Jericho and Guevara battled. Jericho caught Ospreay with a Judas Effect as he tried to intervene. Jericho mounted Guevara in teh corner and sent him hard to the mat. Ospreay claimed a neck injury and held the ref back long enough for Guevara to recover and kick out. Ospreay tried to enter with a belt, so the ref turned to him again. Jericho blocked a GTS. Callis then hit Jericho with Jericho's bat, but the ref didn't see it. Guevara then covered Jericho and got the pin.
WINNERS: Guevara & Ospreay & Takeshita in 23:00. (****1/4)
(Keller's Analysis: That was a blast. Everybody got to mix with everyone else in memorable moments. It often came down to Jericho and Guevara battling one-on-one and it made sense for them to be involved in the finish because it can be followed up on since they're full time AEW regulars.)
(9) FTR (Dax Harwood & Cash Wheeler) vs. AUSSIE OPEN (Kyle Fletcher & Mark Davis) – AEW Tag Team Title match
Taz kept getting England and Australia mixed up early during commentary and Nigel had to clarify things. Not sure if it was a bit or Taz was just confused. Cash took an extended beating in the body of the match. He hot-tagged in Dax around 8:00. He went on a flurry of offense against Fletcher. When Dax climbed to the top rope, Fletcher rolled out of his path. Dax went after him and set him up again. When Dax went for a diving headbutt off the top rope, Fletcher moved. Aussie Open landed the Aussie Arrow for a near fall. A couple minutes later Aussie Open landed a top rope double team move when Davis knocked Cash off of Fletcher's shoulders with a flying roundkick.
All four ended up in the ring. Dax landed a superplex on Davis. Cash knocked Davis off the top rope and then landed a top rope elbow. Fletcher dove onto Dax and they both landed on Cash and Davis. Some fans stood and applauded. The announcers kept noting that Davis was clutching his taped wrist in pain. Aussie Open landed a double lariat from both sides of Cash. Cash surprised Davis with an inside cradle for a two count. Aussie Open hit Cash with a Shatter Machine. Then they gave Cash their Coriolis finisher. Excalibur yelled "New champs!" Dash broke up the pin. Davis and Fletcher kicked Dax out of the ring and turned back to Cash.
Cash and Dax came back and gave Davis a leaping spike piledriver on the ring apron. Fletcher then leaped onto them on the floor. He threw Cash into the ring and climbed to the top rope. Cash met him up there. Dax sent Fletcher off the top rope toward Cash who landed the Super Shatter Machine for the win. Excalibur said this means FTR vs. Young Bucks part four. The announcers really talked up Aussie Open's performance.
WINNERS: FTR in 20:00 to retain the AEW Tag Team Titles.
(10) CHRISTIAN CAGE vs. DARBY ALLIN – TNT Title match
Nigel said Darby is like a son to Christian. Taz asked if it's a tough love situation. Nigel said more like a son that resulted from a drunken bachelor party. Taz complimented Christian as a ring general and noted he's wrestled him before. Christian spit at Darby early. Darby armdragged Christian in response and grounded him with an armbar. Christian took over, then did a double bicep pose and then turned and gave middle fingers to the crowd. Darby recovered enough during that time to pull Christian's turtle neck over his face and scored a three count.
FIRST FALL: Darby
Christian regrouped at ringside and eyed Wayne's mom at ringside.  Christian got sustained control against Darby, including gouging and twisting his face. When Christian went for a top rope diving headbutt, Darby moved and landed Code Red for a near fall. Darby scored two more near falls with different leverage pin attempts. Christian threw a charging Darby to ringside and then threw him into the ringside barricade. Christian eyed Wayne's mother again. Then he walked up to her. She teased him with some flirting, but then threw water in his face. Darby then dove at Christian and then threw him into the ring. He landed a flying Coffin Drop at ringside. Then he climbed to the top rope and went for a regular Coffin Drop, but Christian raised his knees. Christian knocked Darby off the ring apron and onto the announce desk.
Christian moved the ringside steps away from the ring and then grabbed Darby. Darby broke free. When Darby tried to charge and knock Christian off the ring apron onto the steps, Christian poked him in the eyes. Christian then tossed him off the ring apron to the floor (it almost seemed like he thought twice about trying to toss him into the steps from there). He then suplexed him onto the steps from ringside. They went for another move off the ring apron where Christian tossed Darby onto the steps. Fans chanted "Holy shit!" The ringside doc checked on Darby as the ref counted Darby out.
SECOND FALL: Christian
They showed replays from various angles that showed Darby's shoulder and neck landing on the bottom step edge and his head hitting the side of the bottom step. A stretcher was brought out. Christian, meanwhile, began lifting up the ring apron and untying the canvas and exposing the wood boards under the ring padding. Taz he's seen it done before, but it's rare. Darby was delicately put on a stretcher and strapped on. Christian then leaped off the top rope onto Darby on the stretcher. Then it tipped over. Both were down. Fans chanted "Holy shit!" Christian threw Darby onto the exposed wood planks. He gave Darby a Kill Switch on the boards. Darby miraculously kicked out just before three. Fans chanted "Darby!" Excalibur said he's phenomenally resilient.
Christian went for a spear, but Darby side-stepped him and then charged. Christian blocked him and applied a Scorpion Death Drop. Fans had been standing for a while. Darby crawled over and grabbed the bottom rope. Darby leaped onto Christian's back and gouged his eyes. He then gave Christian a Scorpion Death Drop followed by a Coffin Drop on the boards for a believable near fall. Darby followed up with a second Coffin Drop attempt, but Christian popped up and knocked him off balance.
Christian set up a superplex out of the ring, but Darby blocked it. Christian instead sunset flipped Darby onto the boards from the top rope. Christian went for a spear, but took out the ref when Darby moved out of the way. Christian gave Darby a low-blow and then rolled to ringside. He grabbed his TNT Title belt and paraded around the ring with it. He pointed at Wayne's mom. Nick Wayne ran out and yanked the belt away from him and then ran over to protect his mother. He entered the ring with the belt. Darby and Wayne stood next to each other. Christian backed off into the corner. Wayne, though, then bashed Darby in the face with the belt. Wayne's mother reacted with dismay and shock and yelled, "Nick!" Fans gasped.
Christian thanked Wayne and sent him away. Christian then pulled the ref over to make the three count.
WINNER: Christian to retain the TNT Title.
-They cut to Wayne leaning at ringside taking deep breaths and soaking up the moment. Excalibur asked if that was a long plan or spur of the moment. Wayne entered the ring and hugged Christian and smiled. Christian rubbed his head in a show of approval. Christian held Darby as Wayne stomped away at him. Out walked Sting to some cheers but not a giant pop, (which was kinda weird). He attacked Christian and Wayne. Sting threw Wayne into Luchasaurus who had shown up on the ring apron. Sting pounded his chest, but Wayne held Sting's leg. Wayne, Christian, and Luchasaurus triple-teamed Sting and shoved their boots onto his head. (How were there no chants for Adam Copeland or "Edge" at this point?) Christian set up a Conchairto, but then the lights went out. The screen said, "Our feature presentation."
A video played on the screen that included the letter R on a road. An old car drove up and they showed someone's legs. Then the words, "You think you know me?" And out came Copeland. He entered the ring and stared at Christian. He asked for the chair. Fans went silent as Christian handed him the chair. Wayne bent over and dragged Sting into position for a Conchairto. He wound up, but hit Wayne and then threw the chair at Luchasaurus. Christian rolled out of the ring. Edge speared Luchasaurus onto the chair and then speared Wayne onto the chair. His theme, the same as from WWE, then played. "Your move, Christian Cage," said Excalibur. Taz said, "This is nuts." Christian stood on the ramp holding up his TNT Title belt. Sting and Darby stood and looked at Copeland. Darby extended his hand. Copeland shook it. Sting then stepped toward him and shook his hand. Fans cheered as the PPV ended.
(Keller's Analysis: Just a hell of a match, more storyline and character and stunt driven than the prior matches with very different styles, but it worked. It had the obligatory "did he die" spots with Darby. It looks like AEW is trying to create their own Dominik. Having a whole video cued up for Copeland felt, well, a little weird – i.e. totally fake and orchestrated – since there'd be no way storyline-wise to know he'd have a reason to be on standby, or if he was on standby, he certainly had reason to come out sooner.)