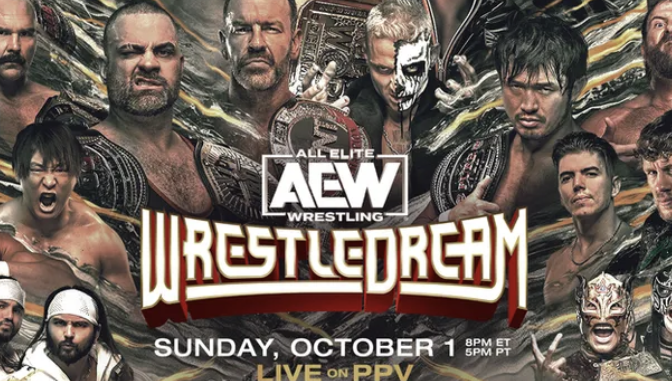 ---
SPOTLIGHTED PODCAST ALERT (YOUR ARTICLE BEGINS A FEW INCHES DOWN)...
---
LECLAIR'S AEW WRESTLEDREAM 2023 REPORT
OCTOBER 1, 2023
SEATTLE, WA AT CLIMATE PLEDGE ARENA
AIRED LIVE ON B/R LIVE (U.S.), FITE.TV (Int.)
Announcers: Excalibur & Taz & Nigel McGuinness & Tony Schiavone
-The show opened with a fireworks display atop the entrance stage. Excalibur welcomed the audience to the Climate Pledge Arena in Seattle and tossed to Justin Roberts in the ring.
-The Righteous entered first to near silence from the crowd. Excalibur talked over a clip of the backstage attack on Jay White at the end of this past Wednesday's episode of Dynamite.
MJF entered next, wearing both of the ROH Tag Team titles draped around his neck. He asked for his music to be cut. He said the devil has arrived in Seattle. Max addressed the rumors that he was the one who attacked Jay White. "I had absolutely nothing to do with it," MJF stated. He claimed someone went into bag and stole his mask. He mentioned that Adam Cole is hurt and can't compete. This brought forth an "Adam Cole" chant from the crowd.
Max talked down Dutch and Vinny and promised to retain the titles for Adam Cole. Excalibur said that when MJF called his shot against Samoa Joe, he did it. Taz and Nigel wondered if he could do it again, bringing up the The Righteous' recent defeat of the Hardys.
(1) MJF (c) vs. THE RIGHTEOUS (Dutch & Vinny) – ROH World Tag Team Championship 2-on-1 Handicap match
MJF immediately turned to the crowd, asking if they'd like to see a body slam. The crowd cheered loudly. He tried to scoop slam Dutch, but it was easily blocked. MJF slid to the outside and asked a girl in the front row to massage his shoulders. She obliged. Max entered the ring and offered a sportsmanship handshake to Dutch. He poked Dutch in the eye and the crowd roared. Dutch tagged in Vinny. MJF tripped Dutch into the ropes, then said he was going to shove Vinny "up his ass." The Righteous cut him off and beat him down.
The heel duo worked over MJF in the center, trading tags. Dutch grabbed a side headlock and grounded the world champion. Max stomped his foot and got the crowd to will him on. Dutch cut it off with ease. Max managed to slide under Dutch's legs and instinctively dove toward his own corner for a tag. He realized no one was there and a frown formed on his face. Dutch was waiting behind him. He gave Max a Powerslam and covered him for a two count. He followed up with a Powerbomb. Dutch tagged in Vinny, who hit a diving Senton for another cover and two count.
Vinny tagged out, feeding Max right into a Sidewalk Slam from Dutch for another cover and near fall. Dutch left the ring to retrieve a chair. Vinny grabbed a 2×2 and chair of his own. He stuck the wood under Max's ankles and raised the chair over his head while Dutch distracted the referee. Max reached up and grabbed Vinny's crotch. He held on until the moment the referee turned around. Referee Bryce Remsburg wrestled the chair away from Vinny. He went for another Senton, but MJF moved.
Max caught both Dutch and Vinny with clotheslines as the match crossed 7:00. He slammed Dutch's forehead off the turnbuckle pad repeatedly. The crowd counted along gleefully. When he'd finished, he went to the opposing buckle to deliver nine punches to Vinny. Instead of a tenth, he bit Vinny's forehead. MJF called for a body slam. He hit it on Dutch and the crowd went wild. A "holy sh-t!" chant broke out. Max rose to his knees in the center, looking at his opponents on either side of him.
Dutch was bent over in the corner. MJF tossed Vinny head first between his legs, fulfilling his earlier promise. He called for the Kangaroo Kick, and connected. He followed up with the Heatseeker on Dutch. MJF covered and put his feet on the ropes to score a three count.
WINNER: MJF in 9:36 to retain the ROH World Tag Team Championships
(LeClair's Analysis: This was a fine opener that didn't overstay its welcome. Despite being a handicap match, there was nothing we'd seen to date from The Righteous that would indicate that they should pose a threat to MJF, the company's world champion, even on his own. I question the use of Max here, given that this card could certainly use a big main event, especially with its asking price. Having events like this not feature world title defenses should theoretically be a lot more acceptable once they're broadcasting on a single monthly subscription provider rather than traditional Pay-Per-View. As Greg Parks astutely noted on Wrestling Night in America, this story is all about MJF and Adam Cole, not the periphery characters they may face for the ROH tag titles. Unfortunately, Cole's untimely injury left them unable to further that story in any meaningful way, and so we were left with this one-off, mid-card feeling handicap match.)
-A quick video package followed, hyping Eddie Kingston vs. Shibata.
(2) KATSUYORI SHIBATA (c) vs. EDDIE KINGSTON (c) – ROH World Championship and NJPW Strong Openweight Championship match
Eddie Kingston and Katsuyori Shibata circled one another and quickly came to blows. Shibata invited open chest chops from the ROH World Champion. Kingston delivered them in spades. He dropped Shibata to a seated position. Katsuyori rolled through one last attempt and popped back to his feet. He began chopping Kingston, dropping him to a knee. Shibata ended the exchange with a huge kick to the chest.
Both men worked back to their feet after trading quick holds. Shibata used his legs to pull Kingston to the mat, then locked in an Ankle Lock. Shibata managed to grapevine the leg. Eddie shook his head violently, reaching desperately to the bottom rope to break the hold. Katsuyori wasted no time dragging him back to center, locking in a Figure Four. Eddie sat up, grinding his teeth as his face flashed red with pain. He dragged himself back toward the ropes and managed to break the hold.
Katsuyori wasted no time dragging Kingston to center again as the match approached 4:00. He applied a toe hold and repeatedly torqued the lower leg back. Shibata transitioned to a Bow and Arrow submission. Eddie managed to slip out of it quickly, but Shibata grabbed a headlock. Shibata tried to sit into it, but Kingston managed to give him a back drop to create some much-needed separation. Shibata rolled to the corner. Kingston toppled him with machine gun chops. Katsuyori popped up, but Kingston dropped him again with a hard chop.
Shibata's chest was reddened. He chased Kingston to the corner and delivered a handful of stiff forearms to the chest and chin of Kingston. Shibata hit a running basement dropkick in the corner. Kingston looked rocked. Katsuyori covered for a two count. Eddie looked up at Shibata, challenging him to bring the fight. Shibata gave him quick kicks to the head. Kingston fought his way to his feet and managed to catch Shibata with an overhead capture Suplex. He tried keep it going, but Shibata dropped him with a reverse sweep.
After a struggle, Shibata hooked Kingston into an Octopus hold. Both men fell backward toward the ropes, but Katsuyori kept the hold applied. Eddie looked like he was going out, but he managed to drop his hand over the bottom rope. Kingston was confused, asking the referee if he went out. Shibata dropped him with a leaping kick. The match ticked toward 10:00. Shibata stomped the mat. He fired off an elbow strike. Kingston hit some hard chops. He smacked the sweat off the chest of Katsuyori. Kingston hit a rolling elbow for a cover, but Shibata kicked out at one.
Kingston immediately hit the Northern Lights Bomb. He covered for a two count. He hit another rolling elbow, then a stacked Powerbomb for a cover and three count.
WINNER: Eddie Kingston in 10:58 to win the NJPW Strong Openweight Championship and retain the ROH World Championship
The two man sat opposite one another and shared a respectful handshake after the match. Kingston left the ring to Shibata, and he bowed to the fans.
(LeClair's Analysis: Another solid match that managed to differentiate itself from the rest of the card by leaning heavily into the NJPW strong-style. Kingston was the valiant, grizzled vet fighting mostly from underneath with less technique and prose than the accomplished Shibata. Eddie's resilience and scrappy nature kept him in the fight and eventually earned him a clean win. Ultimately, I think this may have been better served on an episode of Dynamite or Collision. That's no knock to the match, but rather, an acknowledgement that undercard bouts like these often get lost in the shuffle of AEW's wall-to-wall action packed cards. Putting this on television gives it a little more room to breathe, and perhaps stronger billing.)
-Excalibur turned quickly to a video package for the TBS Championship match.
Julia Hart headed to the ring first, accompanied by Brody King. Kris Statlander followed. Tony Schiavone had joined the commentary table.
(3) KRIS STATLANDER (c) vs. JULIA HART (w/ Brody King) – TBS Championship match
Julia Hart sauntered out of her corner slowly, meeting the poised champion, Kris Statlander, in the center. The champion quickly took control, over-powering Hart into the corner and then tossing her out. Statlander tossed Hart to the outside, but not wanted her to catch her breath, she quickly retrieved her. On the way back in, Hart caught Kris with a Superkick. Statlander shrugged it off and dropped Hart. Julia grabbed at Kris' leg, immobilizing her. Kris managed to break free and scoop Hart up.
Statlander dumped Hart in the corner, then gave her a deadlift Suplex. She was slow to capitalize, allowing Hart to recover. The two topped through the middle rope and fell to the floor. Statlander hoisted Hart onto her shoulders and began carrying her up the steps back into the ring. Hart slid down the back and slammed her off the ring post. Hart tossed Statlander repeatedly into the barricade at ringside. She tossed the champion back inside and covered for a two count just before 3:30.
Hart bounced Statlander's head off the mat repeatedly. She followed up with driving knees right to the ribs of Kris Statlander. She stepped on her back and delivered a Senton for another cover and two count. Excalibur noted that Statlander appears to be favoring her ribs. Hart noticed, applying an abdominal stretch and settling in. Kris managed to fight free and throw a few punches, but she kept going back to clutch her ribs. Hart threw kicks to the stomach. Statlander blocked one and caught Julia with a desperation Powerslam.
The two women retreated to opposite corners at 5:00. Statlander charged, catching her challenger with a knee. hit a sit-out bomb for a cover and two count. Kris charged at Julia again, but Hart moved. Kris got tripped up in the ropes, right in front of Brody King. King just stared, saying something to Kris under his breath. Hart was waiting behind the champion. She seemed ready to spit mist, but Kris slapped her in the face. She gave her a spinning driver for a near fall.
Kris dragged her opponent toward the corner. The two women jockeyed for position. Julia got hung up on the top turnbuckle, managing to toss Kris off the top turnbuckle. Julia got in position and delivered a perfect Moonsault for a cover and near fall – Statlander just managed to get her foot on the bottom rope. Julia tried to apply the Hartless submission. Statlander briefly blocked it, but Hart managed to get it locked in. Statlander looked ready to tap, but she used her strength to roll it over into a cover. Julia put her whole body weight into rolling through it, back into the hold. Statlander stood up with Julia still on her back. She pulled her into a Tombstone, but held on and delivered a second one with the leg tucked for a cover and three count.
WINNER: Kris Statlander in 8:56 to retain the TBS Championship
(LeClair's Analysis: Solid match with a disappointing end. AEW's women's division has drawn a lot of deserved criticism for shoddy booking, poor character building, and lack of focus. I think it's crucial to take a win when you have it, and, to me, Julia Hart was a pretty clear win. Kris Statlander got the rub for being the one to end Jade Cargill's historic run, but since doing so, she's wrestled a series of nondescript matches and opponents and has yet to be featured in any meaningful or memorable way. The crowd has grown largely disinterested in her, evidenced by the lack of reaction to her entrance tonight and the clear favoritism shown for a heel Julia Hart. Hart, for her part, has seen interest in her grow organically thanks to a run of strong matches and victories, coupled with well-produced vignettes and involvement with the oft-cheered House of Black. This felt like a perfect opportunity to cash in on some natural momentum and put the title on a character that's received an actual sustained push over the last couple of months. Instead, Hart's run of dominance was squandered and the title remains in relative obscurity. Truly nothing against Statlander, who at one time had a real genuine connection with the audience and has an impressive in-ring repertoire. Again, I think this is a failure of AEW's booking of women.)
-The announce team quickly transitioned to the 4-way tag team match to determine number one contenders.
(4) THE GUNNS (Austin & Colten) vs. THE LUCHA BROS (Penta El Zero Miedo & Ray Fenix) vs. HOOK & ORANGE CASSIDY vs. THE YOUNG BUCKS (Matt & Nick Jackson) – 4-Way #1 Contender's match for the AEW World Team Championship
Ray Fenix began the match with Nick Jackson. They traded quick standing switches. Fenix caught Jackson with a slap to the chest, but Nick overpowered Fenix, not allowing him to get a run going. The two began trading quick kicks. They both kipped up. Fenix started grabbing at his shoulder awkwardly. Nick Jackson backed into a blind tag from Orange Cassidy. Orange began to stick his hands in his pockets, but Fenix stepped right up to his face. Cassidy caught him with a punch.
Fenix tried to hoist Cassidy onto his shoulders, but the arm gave out and he dropped him. Fenix quickly rolled to his own corner to tag in Penta. The Gunns pounced, immediately beating down Fenix at ringside and tossing him shoulder-first into the barrier. The Gunns took down Penta, too, and tagged him out. The Gunns wound up alone in the ring, pinning each other and trying to pull one over on referee Paul Turner. He just waved them off.
Chaos ensued as both the Bucks entered the fray. They took down the Gunns, then Orange Cassidy, and finally, Penta El Zero Miedo. Matt Jackson wound up legal. He tossed Colten Gunn to the outside. Nick Jackson kicked Colten in the head. Orange Cassidy, still legal, met Matt in the center. Hook asked for a tag. The crowd cheered. Cassidy obliged at 4:15. Hook stepped to Matt Jackson and quickly worked him into the corner with a flurry of punches. The crowd booed Matt Jackson. Matt caught Hook with a Northern Lights Suplex. He hung on for a second one, but Hook blocked it. He delivered one of his own. Both men tried to block, they wound up locking legs. This led to a series of Northern Lights Suplexes back and forth between both men.
After the stalemate, Hook gave Matt a reverse capture Suplex. Matt got tagged out by Austin Gunn. The Gunns worked over Hook, trying to give him a double Suplex. Orange Cassidy returned, helping Hook turn the tide for a double Suplex of their own. The Gunns regained control before long, dropping Hook. Penta entered the ring. He pulled Colten Gunn in, but Austin attacked him from behind and tossed him to the outside. The announcers noted that Ray Fenix had been taken to the back.
Austin Gunn gave Hook a number of quick right jabs. He covered him for a two count, then tagged in his brother. Orange Cassidy looked on, helpless. Gunn continued to work Hook over, applying a grounded side headlock. Hook tried to reach for a tag, but Austin Gunn pulled Cassidy from the apron. The Gunns tried to isolate Hook some more, but Hook dove into Penta to get himself out. Penta came in with a flurry of offense – first a DDT, then a Backstabber out of the corner. He dropped both Gunns with Superkicks. He gave Colten the Made in Japan driver for a cover and near fall, just broken up by Austin.
The Gunns tried to tag control back, but Matt Jackson returned and Cassidy followed shortly thereafter. The Bucks tossed Cassidy to the outside and dropped him. Penta hit the ropes and Hook tagged himself in off his back. Penta dove over the top rope onto a cavalcade of wrestlers below. Hook tried to apply Redrum on Austin Gunn. Austin blocked it, but Cassidy hit him with the Orange Punch. Hook got the hold locked in. Austin stumbled, allowing Matt Jackson to tag himself in. Hook fell into the hold. Austin tapped, but was no longer legal. Matt covered after a 450 Splash for a near fall, broken up by Cassidy.
Matt and Nick Jackson took control off a Tower of Doom-style spot featuring virtually everyone left in the match. They were left alone in the ring with Penta. Nick and Matt caught him with the BTE Trigger for a cover and three count.
WINNERS: The Young Bucks in 12:14
(LeClair's Analysis: Fast-paced, multi-man tag fodder. It was enjoyable enough, and, at just over 12 minutes, didn't go long enough to feel bloated or unnecessary. The way Fenix's injury played out made me question multiple times whether or not it was legitimate, or a set up for a big comeback at the end. Most notably, I thought the averse reactions to the Young Bucks were a sign of a growing divide within the AEW fan base. Clearly, there is an anti-Bucks sentiment that may be extending beyond just the staunch CM Punk supporters. Given that another match with FTR is in order, I'd like to see them lean more heavily in that direction. To me, the Bucks personalities have always worked better as heels and, given that we've seen them face FTR a number of times now, I think a clearly defined face/heel dynamic between the two – with the Bucks as the baddies – could be a lot of fun.)
-The camera turned to ringside, where Excalibur talked to Nigel and Tony about the upcoming AEW World Tag Team title match. Excalibur tossed to a video package for Swerve Strickland vs. Adam Page.
Hangman Adam Page headed to the ring first, to a modest reaction. The Mogul Embassy stood atop the stage and parted in the center for Swerve Strickland to enter. Prince Nana followed him to the ring. The announcers acted as though Swerve would enjoy a significant advantage in popularity from the crowd, but it didn't really come off that way at the start.
(5) SWERVE STRICKLAND (w/ Prince Nana) vs. "HANGMAN" ADAM PAGE
The crowd started to grow a little louder as the bell rang. Hangman Adam Page and Swerve Strickland circled one another for a moment or two, then locked up for a brief exchange before separating to feel each other out. Swerve grabbed a side headlock, but Page quickly broke it. Swerve hit the ropes and delivered a shoulder tackle. Page popped to his feet and delivered a quick big boot. The boos came out big, then. They were just waiting for the action.
Hangman Page downed Swerve in the corner and stomped him. He climbed the turnbuckles and played to the crowd's extremely negative reaction. "Who's house?" he asked, precipitating big boos. Strickland recovered and caught Page with a kick to the head. Strickland covered for a quick two count. Page checked his face for blood, but found none. Swerve punched Page toward the corner. He gave him a quick Snapmare, then a nice elbow to the back of the neck from the middle rope. Swerve played to the crowd, dancing. He followed up with a delayed Neckbreaker. Swerve held on, rolled to his feet, and went for another one. Page blocked it. Swerve slid free. He went for a German Suplex, but Hangman landed on his feet.
Strickland took Page down, but Adam kipped up. He hit a springboard lariat off the middle rope, sending Strickland to the outside. He went to join him. Strickland leapt into Page's waiting arms. Hangman delivered a brutal sounding Powerbomb on the edge of the ring, then tossed him right into the barricade. Hangman hit a moonsault off the middle turnbuckle to the outside, toppling Swerve again. Herolled Swerve into the ring and gave him a pop-up Liger Bomb for a cover and two count. Strickland rolled to the outside to recover.
The boos from the crowd became overwhelming. Page dove through the middle rope onto Strickland. The announcers noted that Page's nose was beginning to swell, necessitating that he breathe through his mouth. It didn't slow him down, though. Hangman continued to dominate on the outside, much to the chagrin of the crowd. They alternated profanity-laced chants hurled in his direction. Page dropped Strickland with a clothesline off the top rope for a cover and two count.
Page looked around at the crowd. Strickland rose to meet him. They traded quick forearms. Swerve managed to pull off a dead-lift German Suplex, then rolled right into a Flatliner. He followed up with a Brainbuster for a cover and near fall as the match crossed 9:00. Hangman tried to retaliate with a big boot, but Swerve caught his leg and connected with a modified back breaker to regain control. He climbed the southwest turnbuckle. Page rose to met him. He hooked Swerve for a Superplex, but the leader of the Mogul Embassy fought free. Page got tangled up in the ropes, but held on to put Swerve in position for the double stomp. He gave Page a dropkick to the back of the head for a near fall.
Adam Page rolled to the apron. Swerve climbed to the top turnbuckle, looking for a stomp to put him away. Page moved. He set up for a Deadeye on the apron, but Swerve slid free. He shoved Hangman into the ring post. Page laid draped on the steel steps. Swerve struggled to get him into position. Page countered and delivered a Deadeye on the steps. Strickland collapsed to the floor in a heap. Page struggled to stand, too. Both men writhed at ringside as the match crossed 12:30. Page eventually rolled Strickland into the ring.
A chorus of boos rained down on the ring as Hangman Page called for the Buckshot Lariat. Swerve tried to step to him, but Page kicked him back into position. Hangman set up again, but Swerve charged him a second time. The two traded shots. Page bit Swerve to create the separation he needed. Hangman flipped in the ring for the lariat, but Swerve tripped him. He twisted Hangman's arm across his back and kicked it hard. Page rolled to the apron and doctors went to him immediately.
Swerve was undeterred by the doctors attending to Hangman. He climbed to the top turnbuckle and delivered a double stomp to Page on the apron. Page rolled into the ring. Swerve climbed the turnbuckle again, this time delivering a 450 onto the injured arm of Hangman Page. Swerve covered for a believable near fall. Smartly, Strickland immediately applied an arm bar. Page screamed in agony, just managing to get his foot on the bottom rope at 16:00.
Both men struggled to stand. Swerve set up for a driver, but Page fought free. He caught Strickland with a massive lariat. Hangman looked to deliver a Deadeye, but Swerve slid free. He pulled Page into a hold. Strickland broke free, but wound up with Adam Page on top of him. Hangman teed off of Strickland's exposed face. Swerve eventually covered up and broke free. Page headed to the apron. He flew in and delivered the Buckshot Lariat, but immediately clutched his arm in agony. It took him several moments to make the cover. Prince Nana put Swerve's foot on the bottom rope. The referee caught him and tossed him out. The crowd booed.
Hangman left the ring and stalked Nana, ensuring he left. Page set up for another Buckshot Lariat. Meanwhile, Nana distracted referee Paul Turner, who continued to shout for him to leave. Page leapt into the ring, but Swerve caught him with Nana's crown. He covered for a near fall. Strickland hit Page with two House Calls. He followed it up with the JML Driver for a cover and three count.
WINNER: Swerve Strickland in 20:12
Swerve Strickland celebrated on the ramp with the Mogul Embassy behind him. The camera showed Shawn Kemp at ringside.
(LeClair's Analysis: I've long been a proponent of moving Swerve Strickland up the card and into a prominent singles role. I especially advocated for him moving away from the Mogul Embassy. While the latter hasn't happened quite yet, the former seems to be coming to fruition. Reactions for both men seemed a little muted at the onset, so much so that I wondered if the announcers had made a mistake leading viewers to believe the crowd would be firmly behind the heel Strickland in his hometown. It wasn't long before they were proven right, though. The crowd got on Hangman in a big way and never let up. It created a fun dynamic. Strickland more or less leaned fully into the babyface role, while Page seemed a little rougher around the edges for the sake of provoking all the heat. I thought these two had excellent chemistry and built to a fun crescendo of a finish. Ultimately, I would've liked to have seen a clean win for Swerve, but, I suspect that they were being cognizant of the return to each character's defined role outside of Seattle. Regardless, a big, and much needed win for Swerve.)
-Excalibur tossed to a video package for Ricky Starks vs. Wheeler Yuta. Jim Ross and Jon Moxley joined the announcers desk.
Wheeler Yuta was out first. Jon Moxley talked him up, saying that he hopes to see the BCC undefeated by night's end. Nigel said that Starks' momentum should make him a favorite. He asked Mox what he told Yuta to prepare him. Mox told him that he was already fined for some of what he said on Zero Hour, so he couldn't say everything.
(6) WHEELER YUTA vs. RICKY STARKS
Ricky Starks and Wheeler Yuta engaged in some quick chain wrestling out of the gate. Starks wrestled Yuta to his feet, but the latter turned the arm into a hold. Starks worked Yuta to the ropes and the referee called for a break. The two men traded two quick slaps to the face. Starks took control briefly, but Yuta worked him toward the corner. The two began firing wildly, neither able to gain the upper hand. They fought free of the corner. Yuta dropped Starks with a right, but it only kept him down for a moment.
Starks managed to dump Yuta over the top rope. Moxley noted that that likely knocked the wind out of his cohort. Starks hit another quick hand to the face. Yuta checked his mouth for blood. Starks hammed it up, dancing around the ring while Yuta used the ropes to stand. Ricky worked Yuta back into the corner and continued to pepper him with punches as the match crossed 3:20. Mox said that, like him, Yuta doesn't really wake up until he gets hit a few times. Starks twisted Starks' arm, climbed to the top turnbuckle and danced across the top rope. He took Wheeler down by the arm and covered him for a quick two.
Yuta caught Starks by surprise with a couple of quick roll ups for two counts. He charged at Ricky, but got flipped with an arm drag. Starks posed, then kicked Wheeler in the head. He dove from the middle rope, but Yuta countered with a Manhattan Drop. Yuta gave Starks a big elbow strike for a cover and two count. Mox noted that Yuta's cover was strong – using all his weight and hooking both legs. Starks caught Yuta with an elbow, but Wheeler shrugged it off and took Starks down. He applied a double wrist-lock. The camera cut to Big Bill walking down the ramp. Yuta was distracted by him, allowing Starks to roll Yuta up for a two count.
Wheeler tried to regain control, but Starks floated up into a Tornado DDT. He covered for a two count, then set Yuta up for Roshambo. Yuta countered with an arm drag. Starks popped up and gave Yuta a beautiful Powerbomb for a cover and near fall at 7:20. Yuta looked rocked. Starks delivered a series of hard elbows to the open chest and neck of a seated Wheeler Yuta. This seemed to excite Wheeler. He rose to his feet, still eating elbows. Starks took a bigger shot, flattening Yuta with a short-arm clothesline. Starks headed to the apron. He looped to leap onto Yuta, but Wheeler shoved him to the outside. Starks landed on Big Bill, mostly breaking his fall.
Big Bill grabbed Yuta by the throat, just out of view of the referee. Yuta broke free and shoved Bill into the ring post. Mox said he was glad he didn't have to get up on his day off. Back in the ring, Yuta looked for a German Suplex, but Ricky blocked it. He caught Yuta with a Spear instead. Starks immediately followed up with Roshambo for a cover and three count.
WINNER: Ricky Starks in 9:53
(LeClair's Analysis: A good match that got lost on a card full of them. Starks and Yuta worked hard. I liked that this was presented as a way for Starks to get back to his real beef with Bryan Danielson. Moxley was comical on commentary and mostly effective in both cheering for Yuta was acknowledging Starks as a worthy opponent. More interference here, which seemed par for the course with much of the latter part of this card. I enjoyed Mox's quip about not having to get up when Yuta thwarted Big Bill's attempt to interfere. Like Kingston vs. Shibata, this would've been better served in a high profile position on Dynamite or Collision, not only to shave a little time off tonight's show, but to give it some breathing room.)
Moxley put over Ricky Starks, despite his disappointment. Excalibur noted that Moxley and J.R. would be sticking around for the next match. He tossed to a promo package for Bryan Danielson vs. Zack Sabre Jr.
Zack Sabre Jr. headed to the ring first. Bryan Danielson followed to a strong reaction. Jon Moxley gave him a standing ovation from ringside. Danielson was wearing hometown Seahawk colors. Nigel called it a shortcut.
(7) ZACK SABRE JR. vs. BRYAN DANIELSON
Both men leaned in, hands on knees, to begin. Zack Sabre Jr. shook out his legs and stepped timidly toward Bryan Danielson. Bryan already had a smile plastered on his face. Danielson ducked some quick lock-up attempts. He slid masterfully around the mat. "Jesus, I'm pumped up," Moxley surmised. The two looked to engage in a test of strength, but both thought better of it. Moxley poignantly discussed the differences between the two men's styles.
Danielson managed to catch Sabre Jr. with a release Northern Lights Suplex. He let Sabre Jr. compose himself and the jockeying continued. Sabre Jr. looked for an abdominal stretch. Bryan quickly countered into one of his own. They continued to trade standing switches. Danielson rolled Sabre Jr. onto the mat, trapping Zack's arm with his legs. Sabre Jr. slipped free, transitioning into an arm bar of his own. Bryan screamed out in pain, but managed to turn out of it quickly. Danielson got Sabre Jr.'s legs twisted. Zack shoved Bryan's arm out from underneath him to gain leverage. Both men wound up flat on their stomachs with legs locked up.
The two rolled through another series of counters before returning to opposite corners. "Bryan likes to walk on all fours. Bryan's into weird movement stuff," Mox concluded after Nigel gave the advantage to Sabre Jr. for ending the exchange on his feet.The two locked up again. Sabre Jr. took Danielson to the mat and worked him into the Romero Special. Danielson broke free and applied the hold himself. Sabre Jr. wasn't in it long. He attempted to work Bryan into a Bow and Arrow hold, but Bryan flailed at the mid-section and broke out of it with ease.
Zack and Bryan tussled toward the ropes as the match crossed 7:00. Sabre Jr. threw the first strike of the match. Bryan shook it off and delivered a left uppercut. Zack wasn't phased, so Bryan hit him with a right. He went for another left, but Sabre Jr. walked right through it. He challenged Bryan to use his right arm. Danielson did, and it staggered Zack. Bryan went for another, but Sabre Jr. blocked it with his shoulder. Bryan tried to shake it out. Sabre Jr. worked Danielson to the mat and twisted his arm between his calves. Sabre Jr. stepped on Bryan's recently broken arm and began manipulating the fingers. He cranked the fingers apart. The crowd booed.
Feeling the weight of his advantage, Sabre Jr. cockily kicked the downed Bryan Danielson. He kneed him in the face. Bryan was hardly able to protect himself. Sabre Jr. tossed Bryan toward the ropes, but Danielson leapt to top and flipped over his opponent. He went for a single leg crab, but didn't have the strength in the arm to hold on. Instead, he stomped on the back of Zack's thighs. He followed up with targeted kicks to both. He gave Sabre Jr. a Dragon Screw. He delivered another one, this one giving the illusion of turning Zack's leg all the way around. Sabre Jr. screamed in agony. Bryan went for a third, but Zack blocked it and caught Bryan with the ankle twist around the neck.
Danielson and Sabre Jr. worked to their feet slowly. They fought to the corner. Danielson hoisted Zack onto the top turnbuckle. He began driving his elbow and forearm into the neck and chest of Sabre Jr. Zack grabbed the wrist and tried to manipulate the fingers again to break free. Danielson fought out of it and gave Sabre Jr. a Butterfly Suplex off the top rope. He looked to transition into a Labell Lock. Sabre. Jr. blocked it. Bryan turned himself over and applied a single leg crab. Sabre Jr. just managed to reach the bottom rope with his free leg.
Bryan shook out the hand on his injured arm, searching for feeling. Sabre Jr. rose to his knees and ate a trio of hard kicks to the chest from Bryan. He ducked the final wind up, but Danielson was ready for it and connected on the second swing. "It's time to kick his f—ing head in!" Danielson yelled. He grabbed Zack's arms and stomped violently at his head. Bryan went for the running knee, but Sabre Jr. countered it into a roll up for two. The two exchanged multiple roll up attempts for twos.
Each man took refuse in an opposing corner. Danielson exploded out of his, looking for a kick. Sabre Jr. blocked it. Danielson rolled him to the mat, looking for Cattle Mutilation. Sabre Jr. blocked that. He caught Bryan's arm and torqued the injured arm. He worked over Bryan's fingers. Bryan screamed in pain, reaching for the legs with his free hand. He managed to pull himself into control, twisting Sabre Jr's leg in the process. Danielson and Sabre Jr. had their legs locked as the match crossed 18:00. They sat up, coming face to face and sharing words. Danielson spit in Zack's face. Sabre Jr. slapped Danielson across the face. Bryan returned the favor.
Brutal face kicks followed. The stiff shots caused both men to release the grip of their legs. They worked to their feet and continued trading kicks. Bryan initially got the better of the exchange by targeting Sabre Jr.'s thighs. Zach caught a kick to the injured arm. The two were locked into backslide position. They traded hard elbows to the back of the head to gain position. Sabre Jr. won the battle, then kicked Bryan hard on the arm. He caught Danielson with a driver, then locked his arms behind his back.
Danielson was stuck in the middle of the ring. Sabre Jr. wrenched at Bryan's arms. Bryan managed to roll his hips and get the tip of his boot on the bottom rope. Danielson could barely rise to his knees. Sabre Jr. began teeing off on his chest with hard kicks. Danielson collapsed in a heap. Sabre Jr. stomped on his arm. "Zack Sabre Jr. is basically kicking a heavy bag right now," Moxley noted. In a desperate explosion, Bryan caught Sabre Jr. with a hard kick to the head. He sized Zack up, but the technician pulled Danielson back into the Arm Bar. Bryan would not unclench his hands. He rolled through the hold and gave Sabre Jr. a Regal Plex. He followed up with the running knee for a folding cover and near fall. Danielson retreated to the corner, calling for it again. He hit a second knee for a cover and three count.
WINNER: Bryan Danielson in 23:21
Zack Sabre Jr. refused a handshake from Danielson after the match. Bryan posed on the turnbuckle, then slapped hands with fans at ringside. "I love being in Seattle," he told the camera.
(LeClair's Analysis: An excellent match. Though I was excited about this one on paper, I was a little disappointed at the lack of traditional build. Good, sound story-telling both before and during a match is my favorite part of pro wrestling, and though I knew they'd nail it during the match itself, I couldn't help but wish there was more in the lead up. Ultimately, "dream match" ended up being enough for these two, even if I do think a fun story could've elevated it even higher. Moxley on commentary alternated between providing genuinely thought-provoking, astute comments to throwing Excalibur and company off the mark with weird one-off tangents about Danielson's quirky nature. The in-ring action was sublime – the two traded holds and counters for several minutes before opening things up with more traditional moves, punches, and kicks. I love the creativity that Bryan's big matches usual include, and it was obvious from the outset that he was like a kid in a candy store. Sabre Jr.'s excellent work on Danielson's arm built to a great series of close calls at the end. Just masterful stuff all around. Easily the match of the night.)
-Excalibur tossed to a video package for the upcoming trios match.
Taz rejoined the commentary table. Excalibur said that Jon Moxley went to the bank to take out a small loan for all the fines he accrued from swearing. The crowd sang Chris Jericho to the ring. Kenny Omega followed to a strong ovation. Excalibur noted that he never thought he'd see Jericho and Omega team up. Kota Ibushi was out next. The Don Callis family entered together, with a new "Last Supper" entrance graphic. A "f— you Callis" chant rang out over the foreboding entrance music.
The two teams spent a few moments discussing who would open things up.
(8) KENNY OMEGA & KOTA IBUSHI & CHRIS JERICHO vs. KINOSUKE TAKESHITA & WILL OSPREAY & SAMMY GUEVARA (w/ Don Callis)
When the bell rang, it was Kenny Omega and Will Ospreay left kick it off for their respective teams. They locked up quickly, trading wrist locks. Kenny quickly delivered a side slam into a side wrist lock. Ospreay rolled free and went for a penalty kick, but Omega ducked it. Ospreay tagged in Sammy Guevara. Sammy threw his arms out and spun around for the crowd. He laid in the corner and soaked in the boos from the crowd. Ospreay instructed him to get on with it.
Guevara danced into a lock up with Omega. Kenny took control into a side headlock. Sammy broke free, but Kenny dropped him with a shoulder tackle. He flipped over Kenny's back as the latter hit the ropes. Guevara posed for the crowd again, then turned to look at Chris Jericho. The showboating allowed Omega to regain control. He dragged Guevara to the corner and tagged in Chris Jericho. Jericho hit Sammy with a trio of chops, then shot him to the ropes. Sammy gave Jericho double middle fingers, then tagged in Will Ospreay as the match approached 3:30.
Jericho gave Ospreay a high angle back body drop. Guevara grabbed Taz's headset and talked down Jericho. He told Taz to put him over. Taz asked for security instead. In the ring, Kenny Omega tagged back in. Kenny hit the ropes, but Kinosuke Takeshita hit him in the back. Jericho stepped in the ring, followed by Kota Ibushi. That brought in Takeshita and Guevara. The faces tossed the heels to the outside and hit trios dives onto their opponents on the floor.
Omega tossed Ospreay back in the ring. Guevara distracted Omega long enough for Ospreay to trip Kenny up and toss him to the corner. Ospreay tagged Kinosuke Takeshita. He and Ospreay stomped away at Kenny in the corner. Omega quickly recovered, he hit Takeshita with a stiff punch. Takeshita hit the ropes, and, on the ricochet, caught Kenny with a leaping rolling clothesline. Kinosuke grabbed at Kenny's face. Kota Ibushi took exception to this, entering the ring and getting in Takeshita's face. Excalibur explained that Takeshita has spent most of his career chasing Ibushi in some way.
Takeshita tagged Will Ospreay back in. Will doubled over Omega with a kick to the stomach. He grabbed an abdominal stretch and sank deeply into it. He walked Kenny toward the heel corner and joined hands with Guevara, who grabbed onto Takeshita, who grabbed onto Don Callis, providing optimum leverage out of the sight of Aubrey Edwards. She finally noticed, kicking the arm of Guevara away from Ospreay and breaking the chain. Omega made a diving attempt to his corner to tag out, but Will cut him off. Omega nearly nearly reached Ibushi, but Sammy ripped him from the apron.
Kinosuke Takeshita tagged in. He gave Omega a Blue Thunder Bomb for a very nearl fall. Guevara tagged in and delivered a Swanton Bomb for a cover of his own. Kota Ibushi just managed to break up the pin before the 10:00 mark. Omega had a surge of adrenaline, managing to drop Guevara and Ospreay with clotheslines. He stumbled to his corner and tagged in Jericho. Chris caught Sammy with a double axe handle from the middle rope, then followed it up with a running bulldog. Jericho applied the abdominal stretch and his partners helped him leverage, just as the heels had done moments earlier. Aubrey forced the break.
Kota Ibushi finally got the tag from Jericho. They dropped Sammy. Jericho spun on the mat and Kota leaned on him, the same way Guevara used to. The crowd loved it. Kota gave Sammy a stiff roundhouse kick. He tagged in Omega. The Golden Lovers leapfrogged Guevara, then hit him with tandem kicks. Ibushi and Omega headed to opposite corners, ran past each other, then hit synchronized dives off the turnbuckle onto their opponents on the floor. Jericho followed up with a Lionsault on Guevara for a cover and two count in the ring.
The Golden Lovers returned to the ring and hit a double-team Powerbomb/German Suplex combo on Guevara. Jericho set him up for the Walls, but Takeshita cut him off with a big German Suplex. Ospreay caught Kota with a kick to the face from the apron. Takeshita delivered Chaos Theory to Ibushi. Jericho was left alone with Takeshita and Ospreay. The duo sized him up, looking for sandwich knees. Jericho ducked and they cracked bone on bone. Jericho kicked Takeshita to the outside. He gave Ospreay a 'rana. Will rolled to the floor. Omega returned, slapping the mat for a Terminator clap. He dove onto Ospreay and Takeshita on the outside. Sammy Guevara leapt off the top rope with a Shooting Star Press onto Omega.
"You still suck!" the crowd told Guevara. Sammy leapt onto the apron and went for a springboard dive on Jericho. Chris picked him out of the air with a Codebreaker. He covered, but Ospreay broke it up. Omega joined Ospreay in the center of the ring and the two traded rapid punches and kicks as the match crossed 16:45. Omega ducked a punch and delivered a Snap Dragon Suplex. Sammy flew back into view with a flying cutter on Omega. Ospreay gave Ibushi a massive Powerbomb. Takeshita gave Omega a massive knee to the face. Ospreay and Takeshita hit Jericho with tandem big boots out of the corner.
Sammy Guevara finished the run by giving Jericho a Codebreaker. He covered, but Jericho kicked out at one. He shot to his feet with a burst of energy, but was quickly overwhelmed by the Callis Family. Kota Ibushi returned to the ring, head down. The crowd began to swell. He dropped Ospreay with a strike to the face. Guevara tried to meet him, but he got dropped as well. Takeshita removed his elbow pad and stepped to Ibushi. He rocked him with a forearm. Takeshita went for a backdrop, but Ibushi rolled out of it. Kinosuke caught him with a huge Clothesline. Ibushi popped up and hit one of his own.
Will Ospreay returned and kicked Ibushi in the face. Omega kicked Ospreay. Omega and Ibushi double-kicked Ospreay. Omega hit Ospreay with a jumping knee, then hoisted him up for the One-Winged Angel. Ospreay tumbled over the top rope instead. Jericho and Guevara were left in the ring. Ospreay jumped back in and ate a Judas Effect. Ospreay grabbed awkwardly at his neck, calling for Aubrey Edwards. In the meantime, Jericho gave Guevara a top rope 'rana and covered Sammy for the visible pin. Ospreay retrieved his title and brought it in the ring, again distracting Aubrey. Guevara went for the GTH, but Jericho countered it into the Walls of Jericho. He turned Guevara over, but Callis entered the ring and cracked Jericho in the head with his own bat. Guevara pinned Jericho for a three count.
WINNERS: Will Ospreay, Kinosuke Takeshita & Sammy Guevara in 22:10
(LeClair's Analysis: A very good trios match that balanced the individual stories being told quite well. If anything, I'd have shaved a few minutes out of the middle. Otherwise, though, I thought the action was strong throughout. Kenny Omega working the bulk of the early minutes set the stage nicely for Jericho to get some great moments and pave the way for Ibushi's big triple knockout spot deep in the match. Each of the six guys got multiple stand out moments and near falls. Ospreay continues to sizzle every time he's in an AEW ring. Ultimately, it was the right move for Jericho to take the fall, giving Sammy a bit of revenge for his loss to Chris one-on-one. I do struggle to concoct a viable payoff here, though. Ultimately, those Omega and Jericho certainly have their plights with Ospreay, Takeshita, and Guevara, the real beef is with Don Callis. Short of Callis getting in the ring, it's hard to imagine the faces just beating his cohorts seeming like a happy enough ending.)
-The announce desk quickly pivoted to the AEW World Tag Team Championship match. Aussie Open was out first. Excalibur noted that, whichever team survives this match will have a date with the Young Bucks coming. FTR followed to a decent reaction.
(9) FTR (c, Dax Harwood & Cash Wheeler) vs. AUSSIE OPEN (Mark Davis & Kyle Fletcher) – AEW World Tag Team Championship match
Cash Wheeler and Dax Harwood shared a quick hug, then Dax stepped to Kyle Fletcher in the center of the ring. The challenger worked the champion to the corner in a collar and elbow before adhering to the referee's count. The two locked up again. Dax worked Fletcher to a knee with a headlock, but Kyle managed to work free with ease. Fletcher hit a nice shoulder tackle and played to the crowd, eliciting some boos. Dax Harwood shook it out and went back on the attack. He and Fletcher continued to trade some quick chain holds and shoulder tackles.
Dax walked Fletcher to the corner and tagged in Cash Wheeler. Fearing a double team move, Fletcher stumbled back to his corner to create space. He stepped around Cash Wheeler and gave Dax a cheap-shot off the apron. Cash gave him an Atomic Drop and back body drop. Harwood returned to the apron to receive a tag. He dropped Fletcher and covered him for a quick two count at 3:20. Fletcher managed to reach his corner and tag in Mark Davis. Davis immediately worked Dax toward the corner, reddening his chest with massive chops. Harwood would not go quietly, firing back with several hard chops of his own. Still, Davis dropped him and delivered a standing Senton for a cover and two count.
Davis sent Dax to the corner and knocked the wind out of him with a chop/lariat combo. He walked Dax to the heel corner and tagged Fletcher back in. Cash regained control quickly, giving Fletcher a Snapmare. He tagged in Cash, which brought Davis in as well. The four exchanged chops. FTR got their challengers into the corner to begin mounted punches. Aussie Open carried Dax and Cash to center and slammed them together by their backs. FTR rolled to the outside. The challengers followed. Davis and Fletcher scooped up Dax and Cash and slammed them into each other spine-first a second time, this time even getting a running start.
Back in the ring, Wheeler tried chopping Davis to no avail. The big man shrugged it off, game Wheeler a slam and swift stomp to the chest. He choked Wheeler over the bottom rope with his knee, then tagged in Fletcher at 7:30. Cash fought valiantly out of the corner, elbowing both Fletcher and Davis. He worked himself back to the center, looking for a tag. Fletcher cut him off. Cash tripped Kyle up and gave him a slingshot to the outside. Wheeler looked poised to reach his partner, but Mark Davis tagged himself in to thwart the attempt. Davis scoop Wheeler into back drop position, then Fletcher ran in underneath to deliver a sit-out Powerbomb. Davis covered for a near fall.
Fletcher and Davis knocked Harwood off the apron. Wheeler managed to get Davis to the outside, then work Fletcher to the corner. The two teetered on the top turnbuckle. Cash managed to deliver a Super Back Drop. Dax Harwood returned to the apron. Cash dove for a tag, but Mark Davis returned to pull him down at the last moment. Davis and Fletcher continued to beat down Cash as the match crossed 11:00. A dueling chant broke out. Wheeler caught Davis with a desperation uppercut. Fletcher tagged himself in and grabbed Cash's leg. Wheeler managed to catch him with a back drop, then dove into the waiting hand of Dax Harwood.
Off the hot tag, Dax knocked Davis out of the ring and dropped Fletcher with a big clothesline. Davis returned and got dropped again. Fletcher retreated to the corner. Dax hit him with a flurry of punches. Fletcher tried for a clothesline, but Dax shrugged it off. Davis got involved again. Dax gave him a couple of short arm clotheslines, but Mark didn't budge. A third one finally took him down temporarily. Harwood gave Fletcher a German Suplex. Fletcher rolled aimlessly around the ring. Harwood gave him a second German Suplex, then ascended the turnbuckle. He went for a diving headbutt, but Fletcher moved. He rolled to his corner and tagged Mark Davis.
Aussie Open caught Harwood with the Aussie Arrow for a cover and very close near fall at 14:30. Cash pulled Mark Davis to the outside. Dax and Kyle traded counters, winding up in a sit-out Powerbomb from Harwood. He covered for a near fall. Dax worked Fletcher to the corner and up onto the turnbuckle. Davis returned to break it up. He tossed Harwood to the outside. He hoisted Wheeler onto his shoulders and Fletcher flew off the top with a well-placed kick. They covered Wheeler for a two count.
Dax Harwood returned to cut Mark Davis off on the top turnbuckle. He delivered a Superplex. Cash immediately followed it up with a top rope splash. Kyle Fletcher dove onto Dax, who fell on top of the cover, breaking it up. All four men rose to their feet slowly, trading punches. Aussie Open gained control. They hit tandem forearms on FTR. Dax spilled to the outside. They gave Cash double lariats. Dax returned breifly, but was taken out. Aussie Open tossed Wheeler up and delivered their own version of Shatter Machine. They covered, but Harwood broke it up just in time.
Harwood was left alone on his knees. Aussie Open dropped him with tandem kicks to the face. They sized up Cash Wheeler on the apron. Dax managed to make a save, shoving Fletcher off the top rope. He and Cash gave Davis a spike Piledriver on the apron. Fletcher returned, throwing his body onto FTR. He climbed to the top rope, but outsmarted him. Harwood shot to the top rope, tossing Fletcher up. Wheeler completed Shatter Machine. FTR covered for the three count.
WINNERS: FTR in 20:26 to retain the AEW World Tag Team Championships
(LeClair's Analysis: Another good match that stood in contrast to the earlier 4-way to determine the number one contenders. Aussie Open's full isolation Wheeler, and later Harwood, worked effectively to build to tension. Unfortunately, the crowd didn't come on particularly strong for any of the hot tags, which hurt things just a little bit. FTR continue to put out an impressive body of work that has restored a great deal of prestige to the AEW Tag Team titles. It's unfortunate that there's so many other title belts being carried around muddying the waters. Aussie Open looked like credible challengers and foils for the champions with an impressive contrast between Davis and Fletcher. Very strong finishing sequence and great Super Shatter Machine to end it.)
-Excalibur tossed to a video package for the 2-out-of-3 falls match for the TNT Championship.
Christian Cage was out first. Excalibur called it a "power move" for the champion to enter first. Taz and Nigel agreed. Luchasaurus initially accompanied Cage, but he waved him to the back before descending the ramp toward the ring. Darby Allin emerged from a cloud of smoke, skateboard in hand. Nick Wayne stood behind him. He gave Allin a hug, then retreated. Allin rode his skateboard to ringside, then slammed it repeatedly over the ring steps. After championship match introductions, Darby gave his skateboard to a young fan at ringside who had his face painted like Allin.
(10) CHRISTIAN CAGE (c) vs. DARBY ALLIN – 2-out-of-3 Falls match for the TNT Championship
Christian Cage stood arrogantly in the corner as the bell rang. He looked unimpressed as Darby Allin shuffled his way toward center, jogging place and gearing up. Cage left the corner lackadaisically and circled his challenger. Eventually, they locked up. Cage overpowered Allin into the corner and utilized the referee's count. He took a step back, wiped his hands dramatically, and went for another lock up. Darby Allin got the better of this one. He worked Christian to the opposing corner. Allin faked Cage out with a big open hand chop. Cage cowered and covered his face.
Champion and challenger returned to center. Allin worked Cage to the corner again. Christian spit in his face. He charged at Allin, but Darby took him down with an arm drag. Excalibur noted that Allin didn't take the bait. Nigel praised Allin for maintaining his composure. Allin and Cage trade wrist locks. Christian went for a kip up, but Darby collapsed onto his abdomen and grabbed a side headlock. Christian worked his way to his feet quickly. Cage used his size advantage to lift Darby up, but Allin used all his weight to force Cage back down the mat. Christian broke the old with an elbow to the face.
Cage draped Darby against the ropes and gave him big, open handed chops as the match hit 4:00. He shoved Allin to the bottom rope and stepped on the back of his head. Cage flexed his arms, then flipped off the crowd. Cage shot Darby off the ropes, but Allin flipped over looking for a sunset roll up. Cage stood firm. Allin pulled Christian's shirt up over his head, then rolled him into another cover for a surprise three count at 5:00, going up 1-0.
Excalibur mentioned that Darby has pinned Christian three times in the lead up to the match, and now only has to do it once more. The camera cut to ringside, where Nick Wayne's mother was staring down Christian Cage. The champion, still reeling from losing the first fall, circled the ring slowly, giving her a glance as he got back in the ring. He quickly overpowered Allin, slamming him first into the corner, then the mat. He clawed at Darby's face, trying to pull his jaw apart. The referee forced him to break. Cage began choking Allin against the bottom rope again. A dueling chant broke out. Cage looked surprised. He walked into a gut punch from Allin. He cut off the comeback with a club to the back and a rake of the eyes. Cage twisted Allin's head mercilessly.
Darby got hold of a single finger of Cage and bent it to break the grip. He tossed Cage to the apron, but Christian pulled him in and guillotined the back of his neck over the top rope. Christian climbed back in the ring, but Allin surprised him with a Code Red for a very close near fall. He immediately went to a springboard Senton off the middle rope for another two count. Sensing, danger, Cage smartly tossed Allin to the outside to catch his breath. He eventually joined Allin on the floor, tossing him into the barricade. Christian walked Allin back toward the ring, then tossed him into the barricade a second time. Cage tossed Allin in the ring, but caught the eye of Nick Wayne's mother again.
Wayne's mother seemed intrigued. She lured Cage toward her, then tossed a drink in his face. Cage stumbled back into the ring. Darby dropped him and shot to the top turnbuckle, looking for Coffin Drop. Cage slid out of the ring. Allin saw his opening, he retrieved Cage immediately and tossed him back in. Allin set up for a second time. Cage got his knees up. He quickly tossed Allin to the apron, then drove his shoulder into Darby. Allin went flying into the announcers desk.
The TNT Champion rolled to the outside, tossing another cursory glance to Wayne's mother before rearranging the steel steps. He went to retrieve Allin, hoisting him onto his shoulders and walking him toward the steps. Allin slid down his back. The two leapt onto the apron and teetered over the steps. Allin got caught with a thumb to the eye from Cage. Christian Suplexed Darby over the ropes and dropped him just short of the steel steps.
Displeased with the miss, Cage leapt to the floor and gave Darby another Suplex, this time onto the steps. He dragged Allin's body back onto the apron and gave him a body slam off the apron and onto the edge of the steel steps. Allin bounced violently off of the steps as his head and neck crunched into the mat. Christian demanded a count-out. Referee Bryce Remsburg counted to ten, tying the match for Christian Cage at 1-1 at 15:35.
Remsburg and Doc Sampson checked on Darby while Cage began undoing the canvas around the ring. Remsburg called to the back for a stretcher. The slow motion replay of the slam on the steps showed that Darby's arm got crushed between his own body and the steps. Trainers lifted Darby onto a stretcher. Meanwhile, Cage was deep into the process of tearing apart the ring. He'd untied the canvas and peeled it, and the padding below, all the way back, revealing the wooden planks underneath.
Satisfied with his destruction, Cage climbed to the top turnbuckle. He delivered a frog splash onto Allin, who was strapped in to a stretcher. Allin rolled lifelessly off the stretcher. Cage tossed his limp body into the fully exposed, hardwood ring. Allin waved off medical help, telling Remsburg he wants to continue. Cage gave Darby a Killswitch on the wood. He covered, for Allin got a shoulder up just in time at 19:50. The crowd came to life. Christian went for a Spear, but Darby side-stepped. Cage still tripped Darby up and applied a Sharpshooter. Nigel noted that this is a direct insult to Darby's mentor, Sting.
Allin was bleeding from his elbow. He crawled desperately, managing to reach the bottom rope. Darby's exasperated breaths were audible on the broadcast. He gave Christian some desperation punches, then jumped on his back. Allin gouged at Cage's eyes. He managed to hit a Scorpion Death Drop. Allin climbed to the top rope and finally delivered a Coffin Drop for a cover and believable near fall at 22:00. Allin climbed to attempt another one. Cage cut him off. He climbed out onto the apron and waved the camera man away. Christian was setting up for another drop onto the steps. Allin fought him off, so he settled for a sunset bomb onto the exposed wood.
Cage set up for a Spear. Darby ducked him again. Christian speared Remsburg. Cage dropped Darby with a low blow. He rolled out of the ring, retrieving the TNT title. Cage held it up to a chorus of boos. He sized up Allin. Nick Wayne appeared, grabbing the title from Cage. Wayne and Darby stood together with Cage on his knees, begging off. Allin gave Wayne permission to hit Cage with the title belt. Wayne reared back and hit Darby Allin instead. Cage stepped back into frame and covered Allin for a slow three count.
WINNER: Christian Cage in 25:17 to retain the TNT Championship
Nick Wayne returned to the ring and embraced Christian Cage. Christian lifted the lifeless body of Darby Allin and held him out for Nick Wayne. Nick pounced, beating down Darby. Cage joined in with stomps of his own. The crowd showered them in boos.
Sting marched to the ring, sans music. He dropped Nick Wayne, then Christian. Luchasaurus came out. He climbed onto the apron. Sting grabbed him by the throat. Cage and Nick Wayne returned to overwhelm Sting. They took him down. Cage left the ring to retrieve steel chairs. Wayne and Luchasaurus continued to stomp away at Sting. Cage paid a chair under Sting's head. He began to raise another. The lights went out.
"Our Feature Presentation" displayed on the stage. After a vignette with an unidentified man driving down the streets of Seattle aired, "you think you know him" rang out. "Metalingus" by Alter Bridge hit the speakers, and a very familiar face exploded onto the stage. Edge headed to the ring. Christian looked like he'd seen a ghost. Edge asked for the steel chair. Christian obliged. He raised it above his head, then spun to crack it across the back of Nick Wayne. He tossed the chair at Christian. He gave Luchasaurus a Spear. He gave Nick Wayne a Spear. Christian rushed up the ramp, clasping his title tightly.
"Adam Copeland has arrived!" Excalibur declared. "This is nuts," Taz surmised. Cage held up the title as Copeland looked on from the ring. Darby Allin and Sting returned to their feet to greet the newcomer. Darby offered his hand. Copeland took it. Sting did the same. Copeland looked around at the crowd as the show faded to black.
(LeClair's Analysis: Christian and Darby had an unenviable task of closing this show, knowing full well that everyone in attendance and watching at home had an inclining that *something* was up. They did their absolute best to overcome the anticipation of "what's next?" and delivered a strong, story-driven match. Allin was restrained in his usual bumping patterns, playing heavily into Cage's more nuanced, methodical style. They saved the big car crash bump for a pivotal moment in the match – one that set the stage for everything that was to come. Had Darby gone all out prior to the stair slam, I think it would've lost some of its effect. They were also aided greatly by the fact that this show was, by AEW standards, incredibly tame. That meant Cage peeling back the canvas and padding was the first time things got "hardcore" all night. I thought the interplay between Christian and Nick Wayne's mother was cheeky but fun, and Wayne showing up to get his comeuppance felt like a logical conclusion to this part of the story. Then, of course, came the swerve. I'd have been fine with it here had they not planned to do it again just a few minutes later.
The post-match beat down all started to feel a little deflating. The crowd seemed to sense that something was afoot, but AEW dragged it out just long enough that it seemed they'd reach the point of disillusion. Sting's run-in was met with little more than respectful applause. He's simply not the hero they wanted tonight. Just when it all started to feel a little like a misfire, the lights cut out. Again, this spot is way overdone and was entirely unnecessary for this moment. The little vignette in the car around the city felt underwhelming and a little over-indulgent.
All they needed was for "Metalingus" to hit. Thankfully, the moment was big enough to be unmarred by the aforementioned miss. Adam Copeland's official debut felt just about as big as one could imagine. The first true, born and bred, can't-imagine-him-anywhere-else, WWE-lifer to make the jump. The tease of joining Christian felt untimely, given they'd just done the swerve with Nick Wayne moments ago. But ultimately, the moment hit. The crowd ate it up. Commentary sold it as the win that it was, and the show went off the air on a high note.)
FINAL THOUGHTS: Tony Khan touted this as the end of an era, or the start of a new one for AEW. It didn't feel like that to me. Instead, it was more a continuation of what I've come to expect – excellent wrestling with some fairly common and predictable pitfalls. I was impressed with the varied styles up and down the card, a clear and obvious pullback on the indulgence in hyper-violent matches, and a continued commitment to providing strong value for the money. Adam Copeland's debut is obviously a huge win for the company, and undoubtedly their biggest shot across the bow to WWE. CM Punk, Bryan Danielson, Chris Jericho, and Jon Moxley were all huge acquisitions for AEW, but Edge is the first homegrown WWE-lifer to jump. Punk, Danielson and Mox came up on the indies. Jericho worked for years in WCW. Edge has only ever worked in one place in any meaningful position. To me, it felt akin to seeing A.J. Styles in a WWE ring for the first time – foreign, and incredibly exciting. Edge's best days are undoubtedly behind him, but I'm incredibly intrigued to see what an AEW run has in store for him. Still, his debut doesn't seem like a new era or a turning of a page. Just an exciting addition. Despite a lackluster build, like most AEW PPVs, Wrestledream was a great showcase for what this company does best. Thumbs up.