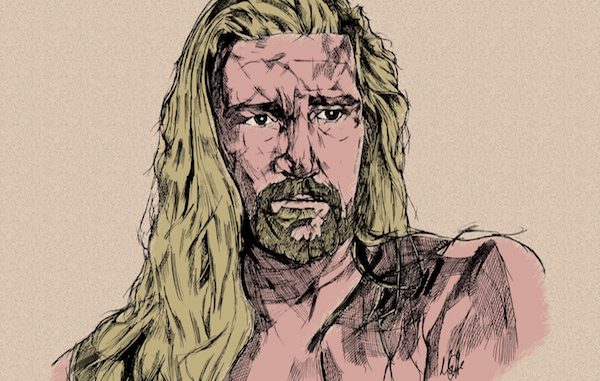 ---
SPOTLIGHTED PODCAST ALERT (YOUR ARTICLE BEGINS A FEW INCHES DOWN)...
---
For over a decade, there was nobody on the independent wrestling scene as prolific as Chris Hero. From going everywhere he could in North America, not only to get match-time but to learn from whichever grappler of the past he could in a time when seminars were in their infancy. Hero put in the miles like nobody else. Driven by a love for wrestling a thirst for knowledge, by his mid-20s he was already passing on both of those attributes to a generation of young indy wrestlers coming up alongside and behind him.
Midwest standouts such as Alex Shelley, Trik Davis, Arik Cannon, and Jimmy Jacobs soaked up Hero's infectious tendencies when he was based out of Indiana as an IWA Mid-South regular. A generation of Chikara graduates who went on to major success were beneficiaries of Hero's enthusiastic training and famous VHS collection when he moved to the East Coast in 2005.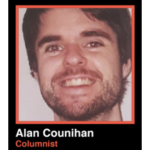 Chris would leave his mark internationally as well, serving as a mentor for several young Japanese wrestlers who came to the U.S. to learn their trade and even more amazingly getting booked for long stays in Germany by WXW not just to wrestle on the shows but to stay and pass on his knowledge to the first wave of European independent wrestlers who had been essentially self-trained to that point. He even picked one up and brought him back to the U.S. in his suitcase; you may have heard of Claudio Castagnoli.
In 2006, Ring of Honor and Chris Hero finally came together after years of fan pressure. The man's schedule only got busier and more high profile from that point onward. At 32 years old with that decade of immense wrestling experience under his belt (including several tours of Pro Wrestling Noah in Japan), Hero put pen to paper on a WWE deal which saw him cut his teeth (some may say unnecessarily so) in Steve Keirn's Florida Championship Wrestling and then NXT as the developmental system became an in-house operation based out of the Performance Center.
Two years as Kassius Ohno produced some highlights (check out his work with William Regal), but the main roster call never came and Chris Hero returned to the indies. If we thought he was prolific before, we hadn't seen anything yet. "The Knockout Artist" would go hard just over three years with one of the most insane schedules of any wrestler in the world. His 2016 in particular was outrageous as he racked up a Wrestler Of The Year case while criss-crossing the globe on a near weekly basis.
In many ways that was potentially a last hurrah for Chris Hero, as Kassius Ohno emerged once again in 2017 rejoining the NXT brand, taking on a training role and becoming a key part of NXT-UK. He was once again kept busy, but in different ways.
Then, like with so many others, March 2020 saw 21 years of a foot to the pedal pro wrestling lifestyle come to a screeching halt. During the pandemic Hero was also one of many who were released from their WWE contracts. A free man, but a free man with no wrestling on the horizon for the first time in his career.
"If the pandemic had not happened, and I had just been released, I'm guessing I would have hit the ground running like I did before," Chris Hero told PWTorch. "I do not believe I would have taken a hiatus without the pandemic. I just didn't want to f—ing travel; everybody was so nonchalant, so flippant about everything and I just thought, 'F— it, I'm not going to risk myself, I'm not going to risk Rachel (Ellering), I can't do it. Just because other people are being careless, it's not for me.'"
I asked Chris if perhaps the pandemic and the associated time off was a blessing in disguise given the miles on his tires. "I don't know if I'd use (that phrase), but it has been nice to rest my body from bumping regularly for three and a half years," he said. "My body still has aches and creaks and what not, but I feel pretty good."
Hero added that he has been doing stuff in the ring for the last while as he helped out in a behind the scenes role with Ring of Honor, IWC in Pittsburgh, AEW, and West Coast Pro. "I never shied away from using my body to illustrate a point."
With U.S. wrestling, particularly on the independent scene, wasting no time emerging from the pandemic, it wasn't long before Chris Hero was met with the obvious. Be it from fans, media, or his peers, "When are you coming back?" was a question he had to address routinely. After a while, with no return in sight, the question evolved into "Are you retired?" In public, Hero was defiant and consistent with his answer – he was absolutely not retired. But as for a comeback, the time wasn't right.
We asked Chris if his private mindset was at odds in any way with his public stance. "I never, for even the slightest second, thought that I was done. Never," he said. Despite that, Hero had reservations. "There were times when I couldn't see myself coming back, in that I had no clue what (a comeback) was going to look like and that was a big, big issue there. There's all these possibilities but what can I actually see myself doing? So that was a struggle. But never did I have any moment where I thought maybe this is it."
When Hero joined AEW during the summer as a backstage coach, primarily on Saturdays for Collision, he had a very clear stipulation for coming on board. Most people who get a significant role in a national company tend to step away from any other work they were doing in wrestling, be it gradually or with immediacy. However, Hero made sure that his work with West Coast Pro, based out of San Francisco, would not be affected by his new gig. In doing this we saw the extent of the connection and investment he had in what had become one of the best independent promotions in the country. That in turn told us that San Francisco, in front of the WCP faithful, would be the most likely place to stage the return.
Hero has spent most of 2022 and all of 2023 working behind the scenes with WCP, and on screen as the promotion's matchmaker. He travels out West several days before their shows and works with excellent young wrestlers such as Titus Alexander and Starboy Charlie, in addition to the students currently learning in the West Coast Pro dojo. His connections across the wrestling world have been to WCP's benefit too, as they now have a talent exchange relationship with Chigusa Nagayo's "Marvelous" promotion, and recently legends like Kenta Kobashi and Masato Tanaka (both of whom know Hero well) have taken part in WCP shows.
As Chris has talked about publicly, he has a conflicting relationship sometimes with the directions of independent wrestling and the mindset that is evident in a lot of the new generation of wrestlers that he's come across in NXT and on the indies. However he's a notorious optimist and tries to help in any way he can, with his eagerness to learn and teach just as strong as it was 20 years ago.
He wants to be like his great friend, the late Tracy Smothers or a Sean Waltman and cast aside any frustrations he has with modern wrestling in order to be a force of positivity, a fountain of information, and a wealth of knowledge. Hero has found the right place for this in West Coast Pro with like-minded veterans such as Vinnie Massaro there to help cultivate an eager and talented crop of youngsters. The shows are built well, focus on local talent, and use outsider stars primarily to benefit the regulars. It's as well run an indy as you'll find in 2023 and one of the most rewarding to follow as a fan.
Fittingly, it's also the scene of one of Hero's most legendary battles. At WrestleMania weekend 2015, Chris was a busy man and put forth several excellent bouts. But it was his match in Santa Clara on the WWN Supershow which had all the buzz coming out of the weekend and fared extremely well in Match Of The Year voting at the year's end.
His opponent was then an unknown entity by and large. A veteran of the relatively unexplored Northern California scene, Timothy Thatcher had not been noticed much as he quietly plied his trade in the business. This was his breakout weekend, and specifically his breakout match. After an unforgettable stand-off before locking horns, Hero and Thatcher went on to produce a gripping technical masterclass dripping with intensity. On that day, Thatcher got the win, countering a Hero pin attempt into a Fujiwara Armbar for the subsequent tap-out which blew the roof off the Santa Clara County Fairgrounds.
The pair would do battle in the years that followed in Evolve, PWG, Progress, and IWA, always producing a top class bout. Both have been through the Performance Center, both have coached up and coming wrestlers, and Thatcher has recently been a GHC Tag Team Champion in Hero's old Japanese stomping grounds of Noah. When Tim was booked against WCP student J.T. Thorne on the October WCP show, we should have seen what was coming.
Timothy Thatcher is never one who is lacking in aggression, but on this night in the United Irish Cultural Center, he went a bit further on that front. Aggression turned to malice as he kept the beating going after the bell. It was almost as if he was trying to get someone's attention. After a bevy of students were efficiently dealt with as they attempted to save Thorne, Thatcher got the attention of the man he wanted.
Hero hit the ring with gusto and broke up the beating. In classic pro wrestling fashion, he took his eyes off the threat so he could check on his fallen young student; in a heartbeat, Thatcher took things to another level. With a perfectly executed Saito suplex, fans saw Chris Hero dumped on his head for the first time in three-and-a-half years. The locker room emptied, with WCP owner Scott Bregante and Hero's partner Rachel Ellering both present to add a dose of realism to proceedings. It was a perfect angle, made even better when Hero fired up on the microphone and challenged Thatcher for Nov. 17. Tim's facial expressions in reacting were classic. The crowd ate it up.
"He's like pushing a boulder up a hill," Hero told me when asked why Thatcher was the ideal comeback opponent. "It's a very good test for me. Grappling and wrestling around with him, fighting for holds… It is more tiring than one would expect. It's hard. But at the same time, our strengths compliment each other. It's a way to get people into the story of the match – the aggression, the physicality, the emotion, his face, my face. It's a good test for me to see how I could do coming back and working more."
In terms of working more and what the future holds, Hero simply noted "how the match goes will determine that."
West Coast Pro's Whiplash featuring Chris Hero vs. Timothy Thatcher and Starboy Charlie's first defence of the West Coast Pro title against Chris Bey, takes place this Friday at the United Irish Cultural Center in San Francisco. It can be seen live and on VOD at www,Independentwrestling.tv.
---
(Ever since getting the life scared out of him on TV by Earthquake in 1991, Alan has been a passionate wrestling fan, expanding his interests into the independent and international scenes during the early 2000s. Whether you want to know about the rising stars in Japan, or get nostalgic and talk ROH vs. CZW, Alan is your man, and he's been podcasting and writing about wrestling for over ten years as well as working as a commentator for wXw in Germany on their big events. Check out Alan4L's ProWres Paradise!, a PWTorch VIP-exclusive podcast. Listen with a PWTorch VIP membership.) ###