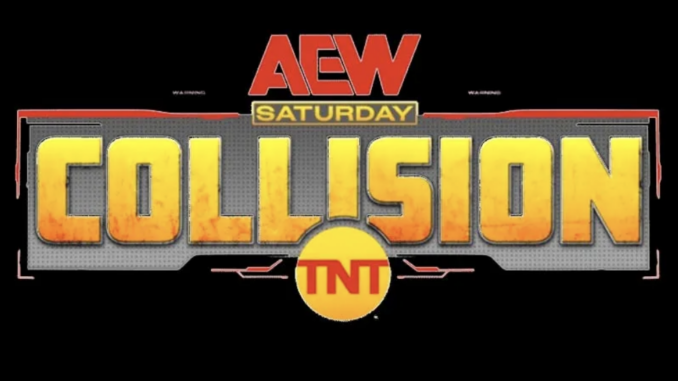 ---
SPOTLIGHTED PODCAST ALERT (YOUR ARTICLE BEGINS A FEW INCHES DOWN)...
---
AEW COLLISION TV REPORT
NOVEMBER 17, 2023
INGLEWOOD, CALIF. AT KIA FORUM ARENA
AIRED LIVE ON TNT
REPORT BY PATRICK MOYNAHAN, PWTORCH CONTRIBUTOR
Announcers: Kevin Kelly, Tony Schiavone, Nigel McGuinness
Ring announcer: Justin Roberts
---
– The opening of Collision aired as Kevin Kelly welcomed us to the show. He was joined by Tony Schiavone and Nigel McGuinness. Kelly threw it to the ring and Tony Schiavone.
– Tony Schiavone introduced the TNT Champion, Christian Cage, who came out alongside Luchasaurus and Nick Wayne. Schiavone asked Cage and his crew about their six-man tag team match on tomorrow's Full Gear PPV. He then announced a 4-way title match on tonight's show, with the winner facing Cage on Rampage later in the evening. Cage called L.A. a town full of "plastic, phony people" and said he would speak the truth. Cage guaranteed that Sting would have his last match on tomorrow's PPV. Cage said he was sick of people calling Sting an "icon." Cage then directed his attention to Ric Flair, who would be ringside at the PPV.
Lastly, Cage said Adam Copeland would regret signing a contract with AEW after tomorrow night as the crowd chanted Copeland's name. Cage told Copeland that he was not the same person that he used to be. Cage said he was the patriarch of AEW. Cage ended by telling Copeland that he would break his neck. Cage then addressed the 4-way TNT contender's title match later in the evening. Cage then referenced James Harden and called himself "the system."
– Lexy Nair was with Ricky Starks and Big Bill. They weren't happy about the 4-way tag title match on tomorrow's PPV so they decided to change things up. They talked to Tony Khan and made tomorrow's tag team title match a ladder match.
(1) MIRO vs. DANIEL GARCIA
Garcia missed a quick dropkick attempt then went for Miro's legs. Miro picked up Garcia without issue and threw him across the ring. Miro threw Garcia into the corner then nailed him with a series of kicks to the face. Miro hit a suplex then took Garcia down again with a short clothesline. Miro threw Garcia down once again with a suplex. Garcia fought his way out of the corner and kicked Miro across the face, but was caught in a crossbody attempt and slammed down by Miro. [c]
Miro still had control as he stalked Garcia from behind and synched in a headlock. Garcia fought his way out of it but Miro cut him off. Garcia hit a chop block to the leg of Miro, then nailed him with a dropkick to the leg. Garcia had some momentum with Miro caught in the corner. Garcia hit a running dropkick that Miro couldn't swat away. Garcia hit a few running knees that barely moved Miro. Garcia tried again but Miro hit Garcia with a pump kick. Miro called for Game Over but Garcia grabbed Miro's leg as a c counter. Garcia chopped away at Miro before hitting a belly to back suplex.
Garcia was about to dance before Daddy Magic ran down to stop Garcia from doing so. Miro ran up front behind Garcia but Garcia moved as Miro hit Daddy Magic. Garcia locked in a submission in the center of the ring. Garcia locked in his Sharpshooter as Miro was close to tapping. Miro grabbed Garcia's head from behind and rammed it into the mat to break the hold. Miro hit a thrust kick, then locked in Game Over for the win.
WINNER: Miro in 11:00
(Moynahan's Take: Some nice offense from Garcia, but the outcome was never in doubt. Daddy Magic running down to the ring was unnecessary and felt like the same old nonsense the AEW has suffered from as of late.)
– Lexy was backstage with C.J. Perry and Andrade El Idolo. Andrade said he was so happy with C.J. as his new manager. C.J. called Andrade the best wrestler who is born to do this. C.J. said she had entered Andrade into the Continental Classic, which threw off Andrade. C.J. told Andrade he would get an extra bonus if he won, then C.J. whispered something into his ear which seemed to assuage his concerns. [c]
(2) KINGS OF THE BLACK THRONE (Brody King & Malakai Black) vs. THE BOYS
Black kicked things off with one of the Boys, which Kelly noted was Brent. The two traded arm holds until Black nailed Brent with a huge back elbow. King tagged in, as did the other members of the Boys. Broidy was hit with a series of shots that had no effect. King slammed him down but the other Boys member tried grabbing King's leg from the outside. King took both out, then threw one back into the ring for Black. King hit Dante's Inferno for the win.
WINNERS: Kings of the Black Throne in 1:30
(Moynahan's Take: Nothing much here but a fine primer for KOTBT before tomorrow's tag title ladder match.)
– A video package aired hyping up the 3-way TBS Championship match at Full Gear.
(3) TRENT vs. BRIAN CAGE (w/Prince Nana) vs. PENTA EL ZERO MIEDO vs. KOMANDER – No. 1 Contender's Match for the TNT Championship
Penta got caught by a kick by Cage, who then threw Komander up into the air. All three opponents then teamed up on Cage to take him to the outside. Penta launched Komander over the ropes onto Cage. Penta went to follow up but Trent took him down. Trent and Penta battled back and forth inside the ring as Trent hit a big jumping knee. Komander hit a springboard off the ropes into a dropkick to take Trent down. Komander then took to the ropes but Cage shook them enough to knock Komander off. Cage then hit a suplex on Komander off the ropes and onto Penta on the outside. Cage took control as he focused on Komander. [c]
Cage threw Trent hard into the corner, then face planted him to the mat. Penta ran in and kicked away at Cage's legs. Komander helped out Penta double team Cage until Trent broke things up. Komander got caught in a series of German suplexes by Trent, who then hit Penta with a few. Trent tried for one on Cage but couldn't budge him. Trent hit a poison rana on Cage who fired right back with a discuss lariat. All four men laid on the mat until Komander popped up and tried for a DDT on Cage. Cage stopped Komander and hit another facebuster for a cover that Penta broke up.
Penta hit Trent with a backstabber that didn't hit fully. Penta hit a destroyer on Komander, then a slingblade on Cage, and finally a Made in Japan on Trent for a two count. Penta went for Fear Factor on Trent that Cage broke up. Penta then focused on Komander and used him to catapult over the ropes onto Cage. Komander flew through the ropes and hit Penta, then walked the ropes and missed a moonsault that Trent turned into his finish for the win.
WINNER: Trent in 11:30
(Moynahan's Take: Fast-paced action from the get-go. A nice win for Trent but I don't foresee him going on to take the TNT Title, but I appreciate the show-to-show thread here.)
– Clips from this week's Dynamite aired showing Paul Wight getting slammed by Powerhouse Hobbs. Hobbs and Don Callis were shown backstage with Lexy. Callis said Wight was out and wouldn't come back. Hobbs said moving forward, anyone can get it. He said he took out a living legend giant and multi time champion. Hobbs told Wight to stay away. [c]
(4) WARDLOW vs. EVAN DANIELS
Wardlow attacked his opponent before the bell and immediately hit a powerbomb Wardlow went to the top and hit a swanton on Evan Daniels. Wardlow hit a Powerbomb Symphony for the squash win.
WINNER: Wardlow in 1:00
(Moynahan's Take: YOUR COLLISION SQUASH OF THE WEEK.)
– The commentary team ran down the Full Gear PPV card.
(5) DAX HARWOOD (w/Cash Wheeler) vs. RUSH (w/LFI)
Ricky Starks and Big Bill came down to watch the match as Starks joined commentary. Rush and Dax traded chops early in the match. Rush took Dax down with a shoulder tackle, but missed a follow up move. Dax and Rush collided in mid-air as Rush rolled to the outside. Dax followed and laid in a few chops before Rush reversed a piledriver attempt. Rush threw Dax into the barricade along each side of the ring before climbing the barricade and playing to the crowd.
Both men were back inside the ring as Rush continued his onslaught. Dax fought back by chopping Rush hard across the chest. Rush rammed Dax shoulder-first into the post before stomping away in the corner. Rush faked out Dax before kicking him across the face then laying in the center of the ring as the crowd chanted his name. [c]
Rush hit a suplex then covered for two. Dax hit Rush with two German suplexed before Rush fired back with a huge chop across Dax's chest. Dax was perched on the top rope and tried fighting his way off before he pushed Rush back to the mat. Dax's legs were pushed out from under him by Rush who climbed back up to the top and hit Dax with a superplex for another two count. Dax and Rush chopped away at one another which got the crowd to their feet. Both men caught one another with a knockout blow which sent both to the mat.
Both men ran across the ring and met one another with a number of lariats. Rush slammed Dax down for a two count. Dax and Rush traded reversals until Dax hit a piledriver for yet another close count. Both men rolled to the outside as Rush hit a jumping knee before throwing Dax into the post. Rush turned his attention to Starks on commentary, then hit him across the face. Starks held back as Rush went back inside the ring and went for his finish until Starks hit the ring and hit Rush with a spear.
WINNER: No Contest in 14:00
– After the match, the remaining members of tomorrow's tag title match hit the ring for a huge brawl. Brody King and Big Bill faced off on the outside, then went under the ring and grabbed a ladder at the same time. Dralistico kicked the ladder away from both men as Cash and Dralistico both flew through the ropes to take out the big men. Security hit the ring to try and break things up. [c]
(Moynahan's Take: A rare no contest but still a fun and brutal match with two guys that have become solid fan favorites. The crowd was all in on this match, and Dax and Rush certainly deserved their praise. The post-match brawl was fun and made tomorrow's match feel bigger than it has thus far. As an aside, Starks was great on commentary, even calling Dax "Bald FTR." )
– Lexy was backstage with Action Andretti. Andretti was about to speak about Darius Martin until Roddy Strong and The Kingdom interrupted. Andretti told them to shut up but Strong cut him off and said that Andretti would be his next victim.
(6) BUDDY MATTHEWS vs. WHEELER YUTA
Yuta and Matthews traded holds in the early going. Matthews took Yuta to the mat with a headlock. Yuta got out of the hold then mocked Matthews by offering his leg. Yuta hit a dropkick which took Matthews to the outside. Yuta followed Matthews to the outside but was thrown into the barricade. Yuta fired back by charging Matthews into the barricade but Matthews reversed things and hit a running kick across Yuta's face. Both men fought on the apron until Matthews threw Yuta off and directly into the announce table. [c]
Matthews kicked Yuta in multiple places to bring him to the mat. Yuta continued to fight back with a few hard forearm strikes. Matthews cut Yuta off with a kick to the stomach but Yuta kept coming back. Yuta rolled up Matthews for a two count, then hit a snap German suplex for two. Yuta followed up with a thrust kick that Matthews initially caught but was then met with another. Yuta flew through the ropes to take out Matthews on the outside. Both men went back inside the ring as Yuta hit a back suplex for two.
Both men fought on the apron again and Matthews perched Yuta across the turnbuckle as the crowd had dueling chants going for each man. Yuta kicked Matthews across the face multiple times, then hit a splash across the back of Matthews. Yuta covered for two. Yuta missed a kick to the face as Matthews rolled him up for two. Matthews was on the top rope and baited Yuta in before kicking him across the face and hitting a running powerbomb for two. Matthews followed up with a face stomp to the mat for the win.
WINNER: Buddy Matthews in 14:00
– After the match, Matthews grabbed a chair as Claudio Castagnoli's music hit and he ran down to the ring to back Matthews off. Claudio took the mic and told Matthews he had been pissing him off as of late. Claudio then challenged Matthews to a match at Full Gear.
(Moynahan's Take: For an unadvertised match without a true feud between the two, both men over delivered here. The crowd took a bit of time getting into this one after the last match delivered so well. That said, Yuta and Matthews worked hard here and got the crowd into things throughout. On paper, tomorrow's match between Claudio and Matthews should be great if given time.)
– A video package aired hyping Jon Moxley vs. Orange Cassidy 2 at Full Gear. [c]
(7) RUBY SOHO & SARAYA vs. HIKARU SHIDA & KRIS STATLANDER
Soho and Shida kicked things off, with Shida hitting a dropkick to take Soho to the corner. Shida followed up with an elbow strike before dropping Soho to the mat. Statlander tagged in as she and Shida double teamed Soho as Saraya looked on. Soho rolled Statlander up for two, then crawled to her corner to tag in Saraya. Statlander took Saraya down with a shoulder tackle before covering for two. Julia Hart was shown watching backstage. Statlander double suplexed Saraya and Soho before tagging Shida in. Shida came off the ropes with a crossbody as Skye Blue was also shown watching backstage. Shida had both members of the Outcasts in the corner as she wailed away with a series of right hands. [c]
Angelo Parker was shown looking on at ringside as Shida and Saraya battled in the ring. Shida hit Saraya with an enziguri then tagged in Statlander. Soho also tagged in as Statlander took her down with a discuss lariat. Statlander nailed Soho in the corner with a running knee, then dropped her with a Blue Thunder Bomb for two. Soho and Statlander went outside as Soho threw Statlander into the barricade, right in front of Parker.
Soho hit a poison rana on Statlander back inside the ring, but was quickly met off the top rope by Shida. Shida and Saraya battled toe-to-toe as both men hit a double crossbody on one another. Soho nailed Shida from behind but Shida fired back on both Soho and Saraya with a running knee for each. Parker came to Soho's aid as Shida came off the top and into a kick by Saraya. Saraya went for the pin for two as Parker was helping Soho on the outside as Saraya was not pleased as Shida nailed Saraya with her finish and the win.
WINNERS: Shida and Statlander in 12:00
(Moynahan's Take: This was just fine with too many outside the ring things going on for my taste.)
– An interview between Tony Schiavone and MJF was shown. MJF immediately made fun of Schiavone before telling him he was just having fun. MJF talked about both of his title matches at Full Gear. He said he will defend the ROH Tag Titles without Cole because he made a promise to him. He said he would do whatever it takes to defend those titles to make sure they were still there when Cole got back. MJF then talked about the frustration he's had with Jay White stealing his world title. MJF said he and White are alike, and White is in many ways the parts MJF despises about himself. MJF said White stole the title trying to prove to himself that he was world title material. MJF told White he would lose at Full Gear because no one was on his level. Schiavone said Full Gear would be a year to the day that he won the world title.
MJF talked about the likelihood of his success being slim to none, but he liked those odds at tomorrow's Full Gear when he will defend both the ROH Tag Titles and AEW World Title.
FINAL THOUGHTS: As my first time officially covering Collision, this one was over delivered. Although Rampage airs live after this show, tonight's episode served as a solid go-home show for tomorrow's Full Gear PPV. Go out of your way to see Dax and Rush, and if you have time, check out Yuta and Matthews for dessert. MJF delivered a good, and serious, promo at the end of the show, which led nicely into the start of Rampage. And while tonight's show clearly focused on tomorrow's PPV, we did get a few nuggets on the Continental Classic, with Andrade officially named. Until next week, stay safe everyone!