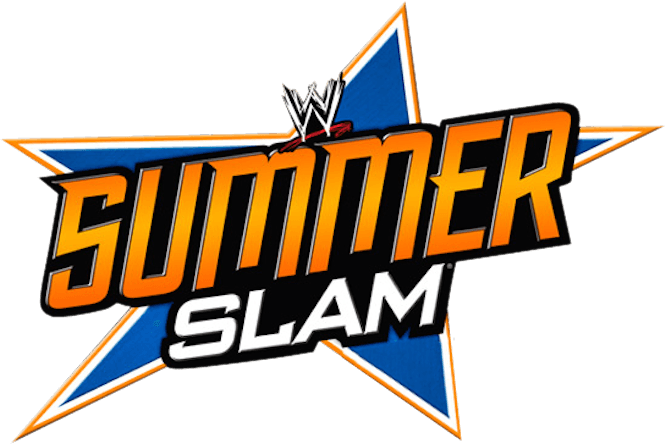 ---
SPOTLIGHTED PODCAST ALERT (YOUR ARTICLE BEGINS A FEW INCHES DOWN)...
---
WWE Summerslam PPV Report
August 23, 2015
Brooklyn, N.Y. at the Barclays Center
Report by James Caldwell, PWTorch assistant editor
Live PPV on WWE Network
Summerslam opened with a hobo-looking individual in the ring. Lillian Garcia introduced him as retired "Daily Show" talk show host Jon Stewart, the host of Summerslam. Stewart said he spent the past 16 years talking about politics, so it's nice to be in reality. He smiled. Stewart said WWE "performers" respect their audience. Stewart did a roll-call of the PPV roster for WWE to measure the crowd response early in the show. Big reactions for both Brock Lesnar and The Undertaker. Stewart said he's still upset about Lesnar breaking The Streak. He even wants to tell Lesnar how he feels, but he's a small man. So, he needs someone to help him out – "The hardcore legend, Mick Foley."
Foley came out to a strong reaction in his home market. Foley and Stewart hugged in the ring, then paused for a "Foley, Foley" chant. Foley said when they had a pre-show conversation, he thought Stewart said "Rock," not Brock. So, he's not quite on-board with this because he's terrified of Brock Lesnar. Foley noted he's wrestled all over the world, but he's never visited Suplex City. And he doesn't want to start today. Foley wished Stewart good luck. Foley's music played and they kind of wrapped up the segment.
So, the main takeaway was a subtle Rock-Brock teaser.
A video intro played on Summerslam in New York. Then, a standard PPV intro video package.
Michael Cole, JBL, and Jerry Lawler were ringside for commentary. Randy Orton's music then played for the opening match. Sheamus was out next to face Orton.
1 — RANDY ORTON vs. SHEAMUS
Orton teased an early RKO, so Sheamus left the ring, grabbed the mic, and told the crowd that he does not look stupid. "You look stupid!" he shouted. Sheamus turned his back to the ring, allowing Orton to attack him from behind. Orton then dragged Sheamus into the ring to begin the fight. Sheamus took control and dominated for a few minutes. The crowd started chanting for whatever was on their mind while the announcers talked about the Brooklyn Dodgers, who left for Los Angeles decades ago. The reverse happened for this year's Summerslam.
Orton delivered an exploder suplex sending Sheamus crashing to the floor. Back in the ring, Orton messed up Sheamus's mohawk, which angered Sheamus to deliver a powerslam for a nearfall. Somewhere during this sequence, Orton came up bleeding from the forehead. Referee Mike Chioda put on the gloves to check on Orton, who escaped a submission hold. Orton responded with a powerslam for a nearfall, then checked on the cut above his left eye.
Orton stalked Sheamus, drove him to the top rope, and delivered a signature DDT with Sheamus hanging from the top rope. The crowd popped for that, then chanted for an RKO. Orton dropped down to the mat looking for the RKO, but Sheamus rolled to the ring apron to avoid. Sheamus landed a few punches from the 10 Punch sequence, then tried to launch himself like a battering ram, but Orton caught him with a surprise mid-air RKO. But, Sheamus rolled out of the ring selling that he was a lifeless body to avoid being pinned.
Orton rolled Sheamus back into the ring, then contemplated his next move. Orton wiggled his fingers, then backed up to the opposite corner selling The Punt. Orton went for the big kick, but Sheamus avoided and hit White Noise for a two count. Sheamus followed with the Brogue Kick and he covered Orton for the pin and the win.
WINNER: Sheamus at 12:28. And Sheamus is out of the losing column after a run of losses. The middle of the match was a bit of a struggle, but they had some interesting and unique sequences to engage a tough crowd. It led to a nice heat transfer of excitement for Orton's Punt to Sheamus's groan-inducing victory. Well done, overall.
Announcers: Cole, Lawler, and JBL hyped Draft Kings's Summerslam giveaway. Two dudes were shown getting the VIP treatment during Summerslam Weekend after winning the Draft Kings contest. Back live, Josh and Jake were shown sitting ringside.
In-ring: New Day's music played to bring out Big E., Xavier Woods, and Kofi Kingston. Xavier talked about how clean they are compared to Brooklyn's dirt. Kofi said they are going to teach Brooklyn about "hip … hop," which he said originated in the South. Kofi said Jay-Z tried this, but failed. The trio then pulled out harmonicas to turn "New York, New York" into "New Day, New Day." The crowd applauded their song and dance, then kind of joined in the "New … Day Rocks" routine.
Lucha Dragons were out next as the second team in the Tag Title match. Los Matadores, along with El Torito, were out next. Out last were the tag champs, Prime Time Players.
2 — WWE tag champions PRIME TIME PLAYERS (TITUS O'NEIL & DARREN YOUNG) vs. NEW DAY (BIG E. & KOFI KINGSTON w/Xavier Woods) vs. LUCHA DRAGONS (KALISTO & SIN CARA) vs. LOS MATADORES (DIEGO y FERNANDO w/El Torito) — four-team WWE Tag Title match
Both New Day members tried to be legal at the same time to win and lose the match, winning the Tag Titles, but Titus broke it up. Lucha Dragons answered with a nice 450 splash combination, then Kalisto kicked Big E. in the head. D-Young tagged in for Big E., then had a stalemate with Kalisto, drawing applause. Chaos broke out, then Big E. managed to deliver a big splash to D-Young as Young was draped across the ring apron. That produced a slow-motion replay.
Rapid-fire tags back in the ring working over D-Young, who sold losing his breath after taking the big splash. New Day "put a hurting" on Young, as described by Xavier with repeated shouts and yelling at ringside. Young finally broke free against Kofi and tagged in Titus. Titus destroyed folks, firing up the crowd, then delivered a double-stack of splashes. Bodies started flying out of the ring, then Titus and un Matador were legal in the ring. In the chaos, Kofi lightly tagged himself in, Titus hit the Clash of Titus on un Matador, Kofi snuck in the ring, cleared Titus, and pinned un Matador for the pin and the win.
WINNERS: New Day at 11:20 to capture the WWE Tag Titles. Another chaotic mess involving the tag division. Heat on New Day for the win, but they're starting to get some of the double-ironic cheering for owning the gimmick.
Edge promo commercial.
Backstage: Jon Stewart, Neville, and Stephen Amell had a random conversation about The Undertaker. Suddenly, the lights went down, fog filled the space, and a silhouette of Taker walked by in the foreground. Stewart freaked out, then asked for a t-shirt to be signed.
Announcers: Cole said the next feud has it all – greed, romance, money, and, oh yeah, competition. This led to a video package on the Dolph Ziggler/Lana versus Rusev/Summer Rae situation leading to Rusev-Ziggler tonight.
In-ring: Dolph Ziggler and Lana, now in casual wear after dropping the business suits, were introduced first. They looked like Zach & Kelly or Jessie from "Saved by the Bell." Rusev and Summer Rae were out next. Summer was in formal wear, looking like the adult in this situation.
3 — DOLPH ZIGGLER (w/Lana) vs. RUSEV (w/Summer Rae)
Rusev dominated early on. The crowd got restless and started chanting for Lana. It didn't last long. Cole played this up as Ziggler struggling in his first match back from "throat injury." Rusev went for a big press slam, but Ziggler countered in mid-air with a DDT. Rusev responded with a spinning heel kick for a two count. He followed with a running splash to the mid-section for another nearfall.
Ziggler suddenly responded with the Fameasser for a two count. Ziggler tried to follow with the Zig-Zag, but Rusev chucked him into the air and nailed a thrust kick. "Rusev Crush!" he declared. Rusev went for The Accolade, drawing over Lana to try to encourage Ziggler to fight the hold. Summer then came over and tried to slap Lana, but Lana slapped her. That caused Rusev to release the hold to yell at Lana.
On the outside, Rusev taunted Lana, then Summer smashed Lana from behind. Rusev smiled, then Ziggler suddenly stood up and superkicked Rusev onto the announce table. The ref was at an eight count, Ziggler grabbed the apron at nine, he fell down, and the ref hit 10 before Ziggler made it back into the ring. The bell sounded for a double count-out.
Post-match, Ziggler angrily tried to attack Rusev, but Rusev fought him back into the ring. Summer then joined the fight, which drew in Lana to make it a four-person pile in the ring. Lana and Summer paired off for a fight until their men intervened to create some separation.
WINNER: Double count-out at 11:50. And the fight between Bayside and the Evil Foreign Exchange High School will continue another time.
In-ring: Next up was the comic book match. First out were the heels, King Barrett and "Stardust" Cody Rhodes, who was in a sleeveless get-up. Neville's music then brought out the first babyface. Out next was Stephen Amell wearing part of his Arrow TV costume. But, he was dressed to wrestle in basic black shorts and boots. Is this a set-up for something else costume-wise?
4 — NEVILLE & STEPHEN AMELL vs. KING BARRETT & STARDUST
Barett and Neville warmed things up, then Stardust tagged in and called for Amell. Amell springboarded into the ring, stunning Stardust. Amell then pump-kicked Stardust across the ring, stunning Stardust again. Amell busted out some more wrestling holds, stunning Stardust, who decided to bail out of the ring. Barrett tagged in and cut off Amell with a kick to the gut. Stardust took advantage by working on Amell in the heel corner.
The crowd decided to play along and try a rally clap for Amell, who continued to take a beating in the heel corner. Barrett then kicked Amell out of the ring, allowing Stardust to kick him while he was down. Back in the ring, Amell suddenly snapped off a kick to Stardust. Amell then crawled across the desert to tag in Neville, who cleaned house. Neville then nailed a big corner splash for a two count when Barrett broke up the pin.
Neville cleared the heels to the outside, then Amell got a little over-zealous and asked to hit a big splash on the outside. Amell wiped out the heels with a cross-body splash, then Neville dragged Barrett into the ring to nail a top-rope Red Arrow. It was good for the win. Post-match, Amell and Stardust stared each other down from a distance, leaving the feud open to continue since Stardust was not vanquished.
WINNERS: Neville & Amell at 7:35. Basic feel-good match and Amell was fine in his role. Not positioned high on the card to be an important match, so it served its purpose breaking up the mid-card.
Ringside: The finalists from Tough Enough were shown ringside.
Announcers: Cole and Co. hyped Summerslam Week. Cole fed to a video package on what happened in New York City this week.
In-ring: Big Show was out first for the IC Title match. The Miz was out next, followed by the defending champion Ryback. Ryback was sporting all of John Cena's color schemes through the years with blue, red, black, yellow, green, and white covering him with various articles of clothing.
5 — IC champion RYBACK vs. BIG SHOW vs. THE MIZ — three-way Intercontinental Title match
As soon as the bell sounded, Miz bailed from the ring to force Show and Ryback to fight. Miz tried to sneak in for a pin when Show bodyslammed Ryback, but Ryback kicked out. Show took exception and started running folks over until Ryback cut him off with a chopblock. Ryback then nailed a top-rope splash on Miz, but Show grabbed Ryback to chokeslam him for a two count.
With Miz out of the ring, Ryback suddenly caught Show with Shell-Shock that looked like a Samoan Drop. Miz tried to grab Ryback from behind for a Skullcrushing Finale, but Ryback kicked out. So, he tried to pin Show, but Show kicked out. He went back and forth trying to pin each one, but the count went from nearfall to two to one. Miz then realized what he had done and took a KO Punch from Show. Ryback clotheslined Show out of the ring, then Ryback covered Miz for the win. Heelish move at the end based on historical context of heels winning that way.
WINNER: Ryback at 5:33 to retain the IC Title. Pretty good for five minutes. Everyone played their roles well in this setting. Odd way for Ryback to win, though, especially when New Day won similarly earlier in the show.
Backstage: The hobo Jon Stewart was shown walking down the hallway to approach Brock Lesnar's locker room. Instead, Paul Heyman walked out. Heyman, who was sweating, told Stewart that now is not a good time to talk to Lesnar. Stewart tried to reason with Heyman that he's been rubbing salt in the wounds of wrestling fans for 16 months after Lesnar ended perfection and Christmas. Heyman heard him out, was unmoved by the speech, and started singing, "Glory, Glory, Brock Lesnar." Heyman offered a final jab: "I guess we couldn't get David Letterman to host the show." Heyman returned to the locker room and slammed the door in Stewart's face. So many mixed signals with the storytelling involving Stewart tonight.
Arena: Bray Wyatt's music played to bring out Wyatt and Luke Harper for the next match of the show. After a pause to review the Wyatts vs. Shield feud the past two months, Dean Ambrose's music played to bring out the first babyface. The Shield's music then played to boos since it meant the arrival of Roman Reigns.
6 — DEAN AMBROSE & ROMAN REIGNS vs. BRAY WYATT & LUKE HARPER
The match quickly moved to the floor, where Ambrose ran off the Spanish, French, and U.S. announce table to land a big running clothesline on Wyatt, sending him into the barricade. Back in the ring, Ambrose and Reigns took turns working over Harper. Chaos then broke out ringside with bodies flying from the ring to the floor. The Wyatts stood tall after Harper smashed Reigns into the announce table.
Back in the ring, Wyatt and Harper took turns working over Ambrose, including stripping him of his shirt. Reigns was nowhere to be found throughout this beat down, then ringside fans found Reigns and chanted at him: "Roman's sleeping." Reigns suddenly "woke up" and hit the ring apron to take a tag from Ambrose. Boos for Reigns, who landed offense until walking into a sit-down powerbomb from Harper for a two count.
Wyatt and Harper tried a double-team combination on Reigns, but Reigns escaped and hit Superman punches to both Wyatts. Ambrose then tagged in to deliver a bit of a Doomsday Device. "LOD" chants from the crowd as a pin was broken up by Wyatt. Wyatt suddenly snatched Ambrose for Sister Abigail, but Ambrose broke free and hit Dirty Deeds. Reigns wanted the tag, so Ambrose obliged. Reigns did the big set-up as Ambrose stood next to him. No turn either way, then Reigns nailed Wyatt with the spear for the win.
WINNERS: Reigns & Ambrose at 10:55. And the Wyatts have been conquered … for now. It didn't feel like a monumental result, so now what for all four after Summerslam? Overall, another basic TV-level match, which was dominated by the Roman Reigns Crowd Angst resurfacing.
Video Package: WWE Title match going on now. Interesting. They still have Kevin Owens vs. Cesaro and the Divas Revolution match before Brock-Taker.
In-ring: U.S. champion John Cena was introduced first for the title vs. title match. Cena came out on-stage to loud "John Cena Suuuuucks" sing-song. Cena played to the crowd through the on-stage camera, then stormed the ring to be greeted by loud boos and cheers. After the Cena Pause, Seth Rollins's music played to bring out the WWE World Hvt. champion … in stunning new gear – a very bright all-white uniform with slight yellow trim. The crowd popped for the new look. WrestleMania-level fashion here. Once both men were in the ring, Lilian Garcia handled formal ring introductions. Seth got a big reaction and soaked it up like a heel, almost gloating in Cena's face that this is what it sounds like to have fan support.
7 — WWE World Hvt. champion SETH ROLLINS vs. U.S. champion JOHN CENA — WWE Title vs. U.S. Title winner-take-all match
Rollins looked big-time wrestling in clean white pants and white boots opposite Cena in his standard ring gear. Rollins wrestled more confidently, heeling on Cena with a You Can't See Me until Cena surprised him with a headlock. Cena got distracted by a "Cee-na Sucks" chant to the New Day beat, then walked into a neckbreaker. Cena rolled to the outside, so Seth landed a suicide dive, then another suicide dive, then a flip dive to the outside. The crowd saluted Seth's triple-play.
Back in the ring, Seth hit the Slingblade on Cena for a two count. Seth tried a springboard move, but Cena yanked him down to the mat by the ankle. Seth escaped an STF, then answered the You Can't See Me with a kick to the face. Cena tried to respond with a springboard Stunner, but he pretty much missed Seth, drawing boos. Cena tried to own it, but lost focus and then lost control. Seth nailed a running Shooting Star Press, but Cena kicked out of a pin.
Seth took Cena to the corner at 7:30 as the announcers talked about Cena only being a few weeks removed from nose surgery after their last match. Still in the corner, Seth hung up Cena in the turnbuckles, then nailed a leaping double-foot stomp to Cena's chest for a two count. Seth took a long time to argue with the ref, though, allowing Cena to recover. Seth then talked trash to Cena, who suddenly popped to his feet and nailed an AA for a two count.
Reset at 10:00 with boo/yay punches traded. Cena won the exchange with a wheelbarrow slam, then both men sold on the mat. Cena was the first man to his feet and climbed to the top rope for a guillotine leg drop resulting in a two count. Cena then put Seth on the top turnbuckle, but Seth kind of blocked before gathering himself and delivering a running Bucklebomb to the opposite corner. Seth followed up with a top-rope frog splash, but Cena rolled through into a big powerlift. Rollins slipped out of the AA, though, and flipped things around by rolling through a cross-body into Cena's own AA. Rollins covered, but Cena kicked out. Big sequence that wowed the crowd.
Everyone caught their breath at 14:00. Seth came to his feet and climbed to the top rope looking for a Phoenix Splash, but Cena avoided, then slapped on the STF. Seth broke free, then tried the Pedigree, but Cena blocked and slapped on the figure-four leglock, trying to use Ric Flair's finisher to tie the record. Seth fought the hold and refused to tap out, then he tried to reverse the pressure and he did. Cena, now in trouble, couldn't reach the bottom rope. But, one final lunge gave him access to the bottom rope for a break. Everyone caught their breath again after the sequence.
At 17:00, Cena slowly, slowly climbed to the top rope, giving Seth time to nail a superplex, which he smoothly transitioned into a suplex driver for a close two count. Seth then climbed to the top, but missed the Phoenix Splash. Cena picked up Seth, put him in position for the AA, and the ref was bumped. Cena nailed the AA, then got the visual three count as the ref disappeared out of the ring. Cena got up and asked for another referee.
Back in the ring, Cena slowly picked up Seth, who suddenly nailed Cena with a knee to the face. Cena covered his face, then Jon Stewart ran down to the ring with a chair in-hand. Stewart, who had issues with Seth in the past, went back and forth between Cena and Seth, then suddenly jabbed Cena in the gut with the chair. Stewart then put the chair down, Seth hit the Pedigree on the chair, they waited for the ref to return to the ring, and Seth scored a three count for the pin to win the U.S. Title.
Post-match, the announcers freaked out, wondering why Jon Stewart did what he did. Cole said Stewart has gone from Summerslam host to Summerslam criminal. Seth posed with both title belts as the crowd cheered the result – for Cena being one-upped by the heels.
WINNER: Rollins at 19:44 to capture the U.S. Title and retain the WWE Title. Heck of a match until the finish, going for the "SportsCenter moment." Seth looked really good here. As for the finish, it's bad enough that Jon Stewart is all over the show in this strange role feeling like a Raw guest host not fitting in well with ongoing storylines, now he's involved in the WWE Title match result. It remains to be seen if Stewart becomes a regular part of WWE TV, or just the means to advance The Authority's issue with Cena after the heels presumably compensated Stewart to help Seth. Or offered him a lifetime supply of razors and Barbasol.
Network hype: "Stone Cold" Steve Austin's next Network podcast guests will be Edge & Christian. Also, the MSG house show on October 3 featuring Brock Lesnar will be on the Network.
In-ring: The Divas were introduced for the three-team, nine-Divas elimination match. Sasha Banks came out without her NXT Women's Title after losing the title to Bayley last night on "NXT: Takeover."
8 — CHARLOTTE & BECKY LYNCH & PAIGE vs. TEAM B.A.D. (NAOMI & SASHA BANKS & TAMINA) vs. BELLA TWINS (Divas champion NIKKI BELLA & BRIE BELLA & ALICIA FOX) — three-team, nine-Divas elimination match
The announcers took the opportunity to argue amongst themselves as the bell sounded. The crowd called for Sasha early on, but the match broke down instead. The Bellas then decided to go for stereo suicide dives, nearly breaking their necks. Paige then wiped out everyone on the outside. Back in the ring, Tamina was pinned, so Team B.A.D. was eliminated from the match. The crowd booed since it meant Sasha was gone from the match.
The match continued with Team Bellas isolating Paige. Brie busted out Daniel Bryan's "Yes!" kicks, which drew some "Nos!" from the crowd. The Bellas continued to work over Paige as Charlotte and Becky tried to get rally claps going. Paige finally made it to Charlotte, who came in to "Wooos" from the crowd. Charlotte was eventually cut off, then tags were made to Brie and Becky. Brie airballed a top-rope dropkick after comically yelling "Brie Mode!," then Becky hit a uranage for the pin and the win.
WINNERS: Team Becky at 15:20. Now Becky, Charlotte, and Paige should be in-line for some sort of Divas Title shot. Overall, this ordeal was not the NXT Women's Title match last night. It wasn't supposed to be, nor was it set up to be Sasha-Bayley, but it captured how night & day the divisions are within WWE. A lack of focused character development on the main roster is hurting.
A video on "WWE 2K16" featuring Arnold Schwarzenegger aired.
In-ring: Cesaro's music played to bring out one-half of the semi-main event. Kevin Owens was out next selling the effects of last night's NXT Title ladder match against Finn Balor. Balor got some PPV time in the highlight video package. Cole hyped Nash, Hall, and Waltman sitting on the front row for the match last night before the bell sounded here.
9 — CESARO vs. KEVIN OWENS
Cesaro quickly dropped Owens to the mat looking for the Big Swing, but Owens blocked and smashed Cesaro to the outside. Owens then nailed a flip-dive over the top rope onto Cesaro. Owens tossed Cesaro back into the ring, then turned around to yell at Cole. Meanwhile, Cesaro warmed up a big corkscrew press for when Owens turned around. Cesaro tried to follow up on the other side of the ring, but Owens whipped Cesaro into the barricade. Owens followed with a running cannonball splash into the barricade.
Back in the ring, Owens covered Cesaro for a two count. Owens then worked a headlock and continued to work the head/neck with a flipping leg drop. JBL said it looked like a shout-out to Booker T's move. Owens lost focus when he heard "Ole! Ole!" chants, then Cesaro smashed him with corner jabs and uppercuts. A giant lift-up slam then resulted in a two count. "He's On Fire" chant from the crowd. "Yeah, I am on fire!" Owens shouted, owning the chant aimed at Cesaro.
At 9:30, Owens went for a springboard moonsault, but Cesaro moved out of the way. Owens recovered and nailed a superkick for a close two count. Owens wanted the pop-up powerbomb, but Cesaro blocked and nailed a spinning uppercut off the ropes. Nearfall. Cesaro then put Owens in the Big Swing, which he turned into the Sharpshooter, tributing Tyson Kidd. Owens made it to the bottom rope, though, for a break.
Cesaro tried to take Owens to the top rope, but he lost control of the move. So, Owens crotched Cesaro, then nailed his top-rope suplex driver. Owens followed right up with the pop-up powerbomb and it was good for the pin and the win.
WINNER: Owens at 14:18. Nice recovery win for Owens after losing his feud to Cena and NXT Title match to Balor last night. Solid semi-main event.
Next Month: Night of Champions in Houston. Back to the announcers, where Cole hyped Night of Champions while JBL looked down at his format shot scribbling notes.
Video Package: Brock Lesnar vs. The Undertaker. The main event is next.
In-ring: Brock Lesnar was introduced first for the PPV main event. Joined by Paul Heyman, Lesnar bounced down to the ring ready to fight. "Suplex City / Under-taker" chants before the bell tolled. A light show filled the entrance stage as Lesnar continued to warm up in the ring. Flames shot up on the stage, then Taker emerged through the blue fog to loud cheers. Yeah, toss out the heel/face dynamic from the TV build-up with the live crowd. Taker did his slow entrance to the ring, walking with a noticeable limp. Cole noted that Taker has never beaten Lesnar.
10 — THE UNDERTAKER vs. BROCK LESNAR (w/Paul Heyman) — WrestleMania 31 re-match
As soon as Taker hit the ring, Lesnar attacked him. No bell from referee Charles Robinson. Lesnar blasted Taker, who fought back with right hands that knocked Lesnar out of the ring. Lesnar circled the outside, then slowly returned to the ring for the bell to sound to officially begin the match.
Lesnar immediately tackled Taker, who fought back with right hands. Another loud "Suplex City / Under-Taker" dueling chant broke out. Taker wanted an early Old-School walk-of-the-ropes, but Lesnar caught him on his shoulders to tease an F5. But, Taker slipped out. Lesnar and Taker went back-and-forth, then Lesnar caught him with a belly-to-belly suplex. Suplex #1. And the Network feed froze.
The feed resumed with both men on the outside selling the effects of an apparent war. Lesnar had a big ol' cut on his forehead. He smiled as Taker returned to the ring to beat a 10-count, meaning the fight would continue. Taker struggled to recover to his feet as Lesnar talked trash. "I'll kill you!" he shouted. Taker slowly got up, giving Lesnar a false sense of security, then he snapped off a chokeslam in the middle of the ring.
Taker came to his feet and stalked Lesnar for the Tombstone, which he connected with in the middle of the ring. Taker slowly made a cover, but Lesnar rolled his left shoulder to escape the pin. Both men sold on the mat as WWE replayed the chokeslam and Tombstone combination.
Lesnar sat up first and laughed. Taker did his classic sit-up, Lesnar kept laughing, Taker mocked his laughter, and he went to town on Lesnar with right hand blows. Big moment. Taker missed a corner punch, though, and Lesnar went for the kimura lock. Lesnar tried to break his arm, but eventually let go, giving Taker an opening to hit the Last Ride powerbomb out of the corner, but only for a two count.
Reset at 13:00 as Cole tried to hype the big moment. Lesnar scooped up Taker for an F5, which he connected with. That was #2, according to Cole. Lesnar covered, but Taker kicked out. Lesnar waited for Taker to get up again, so he nailed another F5. The third one, unlike WrestleMania 30, was not good enough for the pin. Lesnar contemplated his next move, then walked into a trap with Taker looking for Hell's Gate. Lesnar fought the hold, then escaped and slapped on the kimura lock.
Suddenly, the bell sounded out of nowhere. Referee Charles Robinson yelled at the timekeeper, saying there was no decision. Lesnar stood up and celebrated, thinking he won. But, with the ref's back turned to yell at the timekeeper, Taker low-blowed Lesnar from behind. Taker then slapped on Hell's Gate. Taker squeezed hard, Lesnar threw up the middle finger in Taker's face, and Lesnar faded out. This time, ref Robinson called for the bell. Taker won.
Post-match, Cole said obviously there is controversy here at Summerslam tonight. Taker then left the ring as Heyman argued with the referee in the ring. The crowd was subdued after seeing another big match end with a "controversial" finish. WWE then found a replay of Taker actually quietly tapping to Lesnar's kimura lock, out of sight of the referee, but in plain sight of the timekeeper. The replay was shown on the big screen, then Heyman yelled at the timekeeper. Heyman rang the bell over and over to express his frustration. Heyman then declared Lesnar the winner by tap-out submission. Lesnar's music played and he walked out of the ring convinced in his mind that he won. The PPV signed off 13 minutes before the top of the hour.
WINNER: Taker at 17:50. Now it's clear why WWE spaced out the WWE Title match and Brock-Taker since the headline matches had unpleasant finishes that ended up getting heat on a non-wrestler former TV host and a timekeeper. WWE has the benefit of time to cleanse the palette before the next Taker-Brock match (assuming it's not at Night of Champions in Taker's hometown next month), but this finish will stick with the audience for a while. Like the WWE Title match, the match was really good until they got cute trying to get out of a real finish in the name of trying to get heat on Taker as the heel in this situation. The crowd just doesn't want to dislike Taker, though, with only so many matches left in Taker's storied career, so what's the end game in trying to get over Taker as a heel this late in the game?