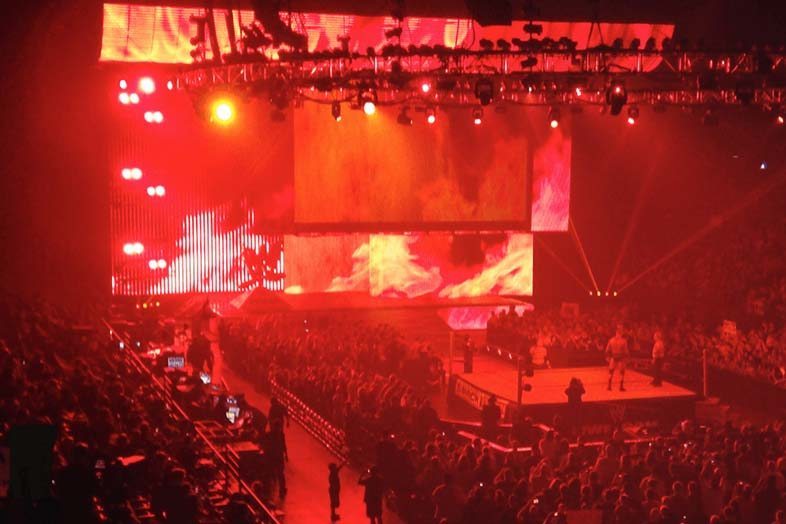 ---
SPOTLIGHTED PODCAST ALERT (YOUR ARTICLE BEGINS A FEW INCHES DOWN)...
---
As if the Raw TV ratings picture could not get any worse, Monday's show fell to an historical low 2.21 rating despite the abundance of star power on the show.
WWE Raw TV Ratings Report
— October 19: Monday's Raw scored a 2.21 rating, down from a mid-2.3 rating from the previous three weeks.
This was the same rating as a holiday episode on Christmas Eve 2012 to tie for the lowest rating in the past 18 years.
In the key demographic ratings, Raw was down slightly in males 18-49 to a one-month low. Raw remained flat in adults 18-49 and males 18-34.
WWE did not do as much as expected to promote the return of big names "Stone Cold" Steve Austin, Shawn Michaels, Ric Flair, The Undertaker, and Brock Lesnar on the show. Plus, Monday Night Football featured the New York and Philadelphia TV markets and a "Star Wars" trailer release, bumping up the football audience by about 13 percent.
– The bright spot is Raw's overall audience increased by two percent. But, the third hour continues to be a problem.
Raw averaged 3.356 million viewers, up from last week's year-low audience of 3.284 million viewers. However, the audience was smaller than two weeks ago.
Hourly Break Down: 3.600 million first hour viewers, 3.347 million second hour viewers, and a sharp decline to 3.123 million third hour viewers.
The drop-0ff from the First to Third Hour has increased each of the past five weeks.
9/21 – 4.7% drop from H1 to H3.
9/28 – 8.3% drop from H1 to H3.
10/5 – 8.8% drop from H1 to H3.
10/12 – 12.4% drop from H1 to H3.
10/19 – 13.3% drop from H1 to H3.
– One year ago this week, Raw drew a 2.75 rating, five-tenths of a rating higher than this week's episode.
Caldwell's Analysis: There are some big conclusions here. One is the Lag Effect kicked in from last week's dismal show centered on Corporate Kane and whether The Authority's plane would make the show. And, a longer-term Lag Effect of similar Creative leading to viewers dropping off over time. … Two is the lack of promotion for the big-name stars returning on Raw. It was stunning how little advanced promotion went into their appearances…  Three is there seems to be no difference-makers available. Sting, Taker, and Lesnar did not make a difference in the ratings over the summer. Now, WWE is probably looking to The Rock to pull off his movie stunt of propping up a struggling franchise. But, it might not matter if he's dropped in the current TV environment. … Four is there no quick fix. This will take a complete rebuilding effort, especially if WWE and USA Network stick with the three-hour format. They've simply lost too much of the audience with three years of the current Creative approach to three-hour Raws.