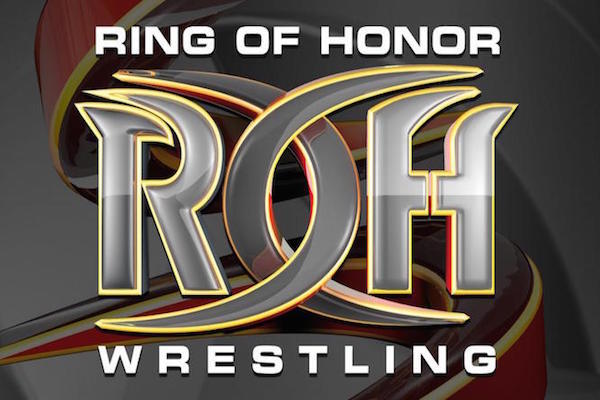 ---
SPOTLIGHTED PODCAST ALERT (YOUR ARTICLE BEGINS A FEW INCHES DOWN)...
---
PWTorch specialist Mike Metzger covers this week's penultimate episode of ROH TV airing on Destination America. Included was an ROH Tag Title match, Steve Corino injury angle, and more building to Final Battle in December.
ROH TV Report
Aired November 15, 2015 in syndication
To air November 18, 2015 on Dest. America
Taped 10/23 in Kalamazoo, Mich.
Report by Mike Metzger (@md0uble), PWTorch contributor
Backstage: Silas Young snuck up on "the boys" as they looked into a dressing room mirror. Young told them it was time to be "men" and demanded they go outside to change his tire. They followed Silas outside, as he let them "have at" the tire. Wearing safety goggles and looking lost, "the boys" were about to use a sledgehammer on the tire until Silas ran over to correct them. They comically fumbled with the spare, as Silas verbally berated them throughout the process. He was particularly upset when one of "the boys" started washing his hands. Silas offered some "man-itizer" and spit in the boy's hand. The hilarity concluded when Silas chased after "the boys" as they were learning how to drive a stick shift.
The ROH TV opening aired.
Ringside: Kevin Kelly and ROH matchmaker Nigel McGuinness hyped tonight's main event between The Kingdom and The Addiction for the ROH World Tag Team Titles. Also, McGuinness would address Steve Corino's future after assaulting B.J. Whitmer several weeks ago.
1 – SILAS YOUNG & BEER CITY BRUISER (w/"the boys") vs. WAR MACHINE (RAYMOND ROWE & HANSON)
Young and Bruiser yelled at "the boys" as they struggled to carry a ladder with them to the ring. War Machine donned some new viking-style shoulder pads to go with their gear. There was a brief "free the boys" chant before the bell. The heels refused to shake hands. Instead, Bruiser started the match against Hanson. They did the "irresistible force meets the immovable object" shoulder tackles to no avail. After running the ropes, Hanson eventually hit a shoulder block that took the Bruiser off his feet. Silas ran in, but Hanson tossed him to the outside. Bruiser reappeared, but Rowe came in and nailed him with Shotgun Knees, followed by a Bronco Buster by Hanson!
War Machine stood tall, as Silas tried to run in again. Hanson and Rowe slammed him to the mat, as "the boys" struggled to lift Bruiser back into the ring. In the meantime, War Machine hit Silas with a barrage of running boots in the corner. Hanson officially tagged Rowe into the match, but he immediately walked into a knee to the gut from Silas. Rowe fought right back with an impressive series of gutwrench slams. Silas wriggled free, but Rowe came right back with a Superman Punch! Rowe went to follow up, but Bruiser appeared out of nowhere and collided with Rowe!
Bruiser and Silas hit a backbreaker/lariat combo on Rowe. Silas went for the cover, but Rowe kicked out at two. Bruiser tagged back in, as Rowe tried to fight his way out of the corner. The crowd got behind him as he nailed both heels with fists. The numbers game was too much for him, though, as Bruiser hit a huge frog splash from the top rope! Rowe kicked out of the pin attempt, as the show went to its first break at the 4:02 point in the match.
[Commercial Break]
Back at 6:32. Rowe and Bruiser were trading blows in the corner. Bruiser knocked Rowe down and then hit him with an Umaga-like charge in the corner. Bruiser went for another, but Rowe reversed into a uranage and then made the hot tag to Hanson at the 7:00 mark! Hanson came in and hit a backdrop on Young and then a side suplex on Bruiser. Silas tried to fight back, but was on the receiving end of a Black Hole Slam from Hanson! Bruiser ran in, but Hanson nailed him with a cartwheel clothesline!
Hanson went for a dive, but one of "the boys" grabbed his leg. The other boy grabbed Hanson's other leg, but Hanson comically, yet impressively dragged them both into the ring! Hanson stacked the boys on top of each other in the corner. Silas tried to break it up when he got in Hanson's face and declared that only he was allowed to hit "the boys." Hanson responded by slamming Silas on top of both boys and then he proceeded to take turns pounding all three in the chest! Fun spot.
Hanson called for another Bronco Buster, but Bruiser re-entered the ring and cut him off. Bruiser hit a belly-to-back suplex, but Rowe ran in and hit an exploder on Brusier! Silas grabbed Rowe and hit a springboard lariat that sent him to the floor. On the outside, "the boys" held Rowe in place for a huge flip dive from Bruiser, but Rowe moved and Bruiser collided with "the boys!" Back in the ring, Hanson nailed Silas with the Spin Kick of Doom and then War Machine hit Fallout on Bruiser for the victory.
WINNERS: War Machine via pinfall in 10:02.
After the match, Silas and Bruiser manhandled "the boys" as they made their way to the back.
ANALYSIS: Clunky start, but things came together in the end. Despite being two of the largest men on ROH's roster, War Machine created most of the movement for this match. SIlas and Bruiser were kept somewhat strong, although I think War Machine should have been put over much stronger as it was announced that they would receive an ROH World Tag Team Title match at Final Battle in December. (**1/4)
Clips then aired from a few weeks ago on ROH TV when Steve Corino punched B.J. Whitmer at the conclusion of the No Holds Barred match between Jay Briscoe-Adam Page.Tragic music played in the background as Corino hugged Kevin Kelly and then looked out at the crowd perhaps for the final time. Corino's fate will be decided later tonight.
[Commercial Break]
Steve Corino's Fate Revealed
Steve Corino made his way to the ring as the old S.C.U.M. theme music played in the background. The crowd attempted a "Free Corino" chant, as ROH matchmaker Nigel McGuinness confronted him in the ring. McGuinness set the stage by recapping how Corino was already working under a "zero tolerance policy" for previously putting his hands on Whitmer. Nigel reminded Corino that he had agreed to the policy. He went on to say he understood why Corino did what he did a few weeks ago, but he couldn't condone it.
Nigel said it was perhaps the hardest thing he ever had to do, but he could not reinstate Corino as a color commentator. There was only one option- he could reinstate Corino as an active wrestler! Nigel excitedly referenced that B.J. Whitmer had been cleared by his doctor, so at Final Battle it would be Corino vs. Whitmer in a Fight Without Honor! The fans cheered, as Corino took the mic.
Corino said that he got the rush of being a professional wrestler again when he punched Whitmer in the mouth. He said all he ever wanted to do since being a kid was to be a pro wrestler. He's been able to live his dream for 21 years. He never thought he'd be able to be cheered by the best wrestling fans in the world once more. Corino then cited various injuries over his career. In particular, he's had a real pain in the neck recently that led to numbness in his hands. His wife convinced him to go to the doctor. Corino thought it was just 21 years of wrestling catching up to him. But, in fact, he needed major neck surgery to fuse three vertebrae in his neck.
Corino said it didn't mean goodbye because "wrestlers don't retire until our last breath." But if this was goodbye, Corino wanted to thank ROH, Cary Silkin, Sinclair Broadcasting, Hunter Johnston, Kevin Kelly, Bobby Crusie, Nigel, Adam Pearce, Jimmy Jacobs, Colt Cabana and Kevin Steen. Corino went on to thank all the boys and staff members who bust their backs and necks for the ROH fans. The fans chanted "Thank you, Steve!" Corino thanked them instead and then said his his name will always be Steve Corino and he will "always be an evil man." Corino thanked the fans and then hugged McGuinness and Kelly. He took a bow and then left the arena.
ANALYSIS: Strong promo work from Corino, albeit odd storytelling. My guess is that The Decade will eventually goad Corino into a match with Whitmer. That's fine if that's where this is headed, but I don't think it was necessary. This feud has been built for well over a year now and doesn't really need any additional twists or turns. Not a major critique, I just feel the TV time could be better utilized by some younger talent.
[Commercial Break]
Backstage: Silas Young cut off "the boys" from entering the women's bathroom and led them to the proper restroom. He was going to teach them "how to use a urinal like a man." One of "the boys" turned around and crouched over the urinal like it was a toilet, much to the dismay of Silas.
Inside ROH: Adam Cole welcomed viewers to another edition of "Story Time with Adam Cole." Cole wanted to talk about his "baby," the ROH World Title. Cole addressed ROH matchmaker Nigel McGuinness's list of contenders. Cole was incensed that his name was not on it. He criticized Nigel for granting Roderick Strong an ROH TV Title shot and wondered if he would have to "whine, scream and complain" like Strong did to get what he wants. Clips then aired of Nigel making Strong the #1 contender.
Cole announced that Jay Lethal will defend the ROH TV Title against Roderick Strong on next week's episode. Cole then reminded viewers that Lethal would defend the ROH World Title against A.J. Styles at Final Battle. Cole wondered how he could fit into that match, but quickly changed the subject to Kyle O'Reilly. Cole said he was focusing 100 percent of his energy on ridding ROH of O'Reilly. He ended the promo by saying Nigel would be to blame after he ends O'Reilly's career once and for all.
ANALYSIS: Solid promo from Cole. At first it seemed a little hokey that Cole was introducing video clips for feuds not involving him, but he masterfully tied it all together in the end. It was actually one of the most efficient segments in recent history, as Cole hyped three different matches while weaving in his world title aspirations and his feud with Kyle O'Reilly in the process. It seems very likely that Cole-O'Reilly will be the semi-main event of Final Battle, as the card continues to shape up.
Backstage: Silas Young walked out of a bathroom stall. He handed "the boys" a plunger and said, "It's all yours, boys!"
[Commercial Break]
2 – MICHAEL ELGIN vs. KEVIN LEE DAVIDSON
On commentary, a soft-spoken Kevin Kelly talked to Nigel about what had just transpired with Steve Corino. Elgin and Davidson shook hands and then the bell rang. Davidson immediately kicked Elgin in the gut, but Elgin came right back with a stiff clothesline for the victory!
WINNER: Michael Elgin via pinfall in 0:09.
After the match, Elgin took the mic and talked about participating in NJPW's G1 Climax tournament over the summer. He said the experience opened his eyes and made him realize what's important – the ROH World Title. Elgin addressed Jay Lethal, saying it wasn't a matter of if, it was a matter of when they would step foot in the ring together and when they did, "the gold will be coming back home to me."
ANALYSIS: Nice win for Elgin. Hopefully, Ring of Honor can find him a meaningful spot (and victory) on the Final Battle card. (n/a)
Clips aired from All-Star Extravaganza when Matt Taven snuck up and pinned Matt Jackson in a three-way match to become the ROH World Tag Team Champions with Michael Bennett.
[Commercial Break]
3 – ROH World Tag Team champions THE KINGDOM (MICHAEL BENNETT & MATT TAVEN w/Maria Kanellis) vs. THE ADDICTION (CHRISTOPHER DANIELS & FRANKIE KAZARIAN w/ Chris Sabin) – ROH World Tag Team Title match
Kevin Kelly wondered which team would "break more rules" tonight. Taven and Daniels started the match. Daniels ran the ropes and was hit by Bennett from the apron. Taven was then sent to the ropes and he was similarly attacked from the apron by Kaz. Kaz then entered the ring to square off with the other illegal man, Bennett. There was brief truce until both Kaz and Bennett threw fists at each other. There was then a stalemate at the 1:15 mark and then the show cut to a break shortly after at 1:25.
[Commercial Break]
Back at 2:45, Daniels was stomping Taven in the corner. Taven came back with an armdrag and then a heel kick. He followed up with a brainbuster/facebuster combo move, but Daniels escaped and tagged Kaz. They double-teamed Taven, but he drove Kaz back to his own corner and tagged Bennett. Taven hit a drop-kick and then Bennett covered Kaz for a two count. Kaz tagged Daniels back in. Daniels rammed Bennett in the corner, but Bennett reversed and attacked Daniel's mid-section with shoulder tackles. Bennett slapped Daniels, who took offense and slapped Bennett back! They traded blows until both men tumbled over the top rope to the outside.
They brawled on the outside until they clotheslined each other to the floor. Back in the ring, Taven grabbed one of the title belts and then Kaz grabbed the other. They saw the ref was distracted and then they both dropped to the mat, Eddie Guerrero-style. The confused referee counted as both Taven and Kaz accused each other of using the belts. Oh, the hilarity. Both men got to their feet and traded blows and then raked each other's eyes. They ran the ropes and then Maria tripped Kaz while Sabin tripped Taven at the same time. Unfortunately for Maria and Sabin, they were caught by the referee and ejected as the show cut to another break at the 7:20 point in the match.
[Commercial Break]
Back at 8:31, a miscommunication by The Addiction allowed Taven to tag his partner. Bennett tossed Kaz out of the ring and hit a springboard plancha, but Daniels was right there with a springboard moonsault to Bennett. Then, out of nowhere, Taven hit a crazy flip dive onto the other three men at ringside! Taven went up top for the Twist of Fate/Swanton combo, but it was broken up by Daniels. The Addiction hit Taven with their power bomb/neckbreaker combo, but Taven kicked out at two!
Taven was able to hold The Addiction at bay and then Bennett reappeared to hit a sloppy-looking Proton Pack on Kaz, which was good for a nearfall. Daniels hit a sloppy holding-hands foot stomp on Bennett, but immediately ate a superkick from Taven! Taven came at Kaz, who got out of the way and nailed a springboard DDT. Bennett charged at Kaz, but he side-stepped it and Bennett speared referee Paul Turner by accident! Frankie hit a modified Olympic Slam on Bennett and then collided with Taven mid-ring.
Maria Kanellis ran back out. Daniels grabbed her by the hair. He went for Angel's Wings, but Bennett tried to break it up. Daniels nailed him with an STO, but Maria kicked Daniels low and then followed up with a superkick! She stood tall for a moment, until Kaz grabbed her by the hair. Taven was right there with a jumping kick for the save! Taven went for a springboard moonsault, but Kaz got the knees up. The man in the red mask appeared and superkicked Kaz, which allowed Bennett to hit the spear for the victory.
WINNERS: The Kingdom via pinfall in 13:20.
ANALYSIS: While I appreciated what they were going for, the whole "who will break more rules" dynamic just felt overly hokey. Granted, both teams have been known to cheat, but this was just overkill. There was some good action, especially the big dives toward the end. It all came down to the finish, though, and that was just an over-booked mess. I worry that the screwy finish will cause The Addiction (and perhaps other teams) to be added to the tag title match at Final Battle. (**1/2)
After the match, War Machine appeared on the ramp and stared down The Kingdom, their opponents at Final Battle!
FINAL REAX: ROH really shifted to Final Battle hype, which makes total sense as it is about a month away. It is also great timing considering that next week will be the last episode to air on Destination America. The card is coming together quite nicely, although I hope ROH will hype the Lethal-Styles main event much more than they have already. Ring of Honor can put together great cards, but in order to generate buzz they'll need to properly promote A.J. Styles in the money position he's in at this PPV.