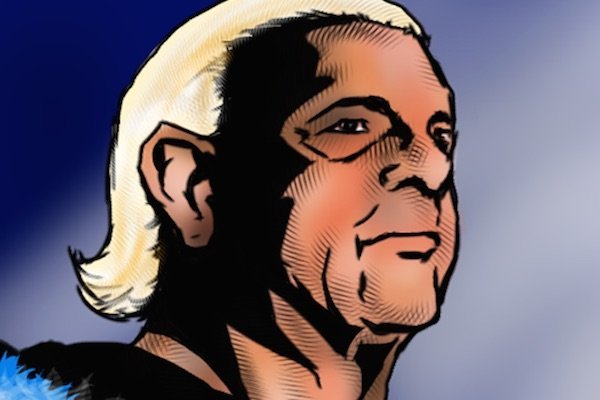 ---
SPOTLIGHTED PODCAST ALERT (YOUR ARTICLE BEGINS A FEW INCHES DOWN)...
---
Ric Flair said on the latest episode of his "Whoo! Nation" podcast that he was not contacted in advance about the Reid Flair angle Monday on Raw, nor was he pleased by it. However, he finds himself in a tough position of not being able to voice his opinion for fear of affecting his daughter, Divas champion Charlotte.
"I never heard a word about it. I started crying when I was watching it," Flair said before pausing. "Nobody called me. No one's called me today (Tuesday when recording the podcast). That would indicate they would assume that's good. I don't have an answer for that."
In the show-closing Divas Title contract signing involving Paige, Charlotte was scripted to introduce her deceased brother, Reid Flair, who died of a drug overdose in March 2013, into the storyline. Paige retorted by saying he didn't have much fight in him, setting off Charlotte for a show-closing brawl.
Flair, sounding despondent about the whole situation, offered his overall view on the players involved in the situation.
"Here's the problem. Obviously I have an opinion, but I'm afraid to voice it. I would just say that I know that Hunter and Stephanie and Michael Hayes have her back. And, I think if anything that could be considered a negative is I don't think she feels like she's comfortable enough to say 'no' to anything yet. She's only been up there (on the main roster) for three months. And it's a pressure-cooker and it's a tough spot to be in. Even though she's the champion, doesn't mean that she goes, 'Hey, this is what I want to do and what I'm not going to do.' I think if you're asked to do something, that's pretty much the way things operate up there," Flair said.
Flair shifted to evaluating the overall Creative process and person in-charge (Vince McMahon): "Just because you're the champion doesn't mean you have the right to say 'no.' And if somebody writes it down, you know, one person approves everything – doest that make sense?"
"So, I really don't want to have an opinion. I was very sensitive to it, obviously, because it's a very sensitive issue. It's still very new. I know her mom is on fire. But, I can't go out on a limb and say what I think."
Flair endorsed the pull-apart brawl between Charlotte and Paige, saying he felt like the intensity and physicality was as good as any in WWE from males or females.
Asked how he would view the content if removing himself from the situation as an outsider or a fan, Flair replied, "I wouldn't like it. I got mad when Jerry Lawler was verbally abusing Bret Hart's parents, much less touching on something as sensitive as that. It's still new. It's not even three years old. It's something we deal with as a family on a daily basis. I'm doing '30 for 30′ for ESPN and that's one of the things they wanted to talked about, so it's a very emotional part of the interview. If I were a fan, I would not have liked it. No."
"I'm personally attached to this, but let me re-say that I know Hunter, Stephanie, and Michael Hayes have her back. And, they wouldn't go out of their way to hurt her or put her in a position to be hurt."
Asked if WWE giving him a heads-up would have changed anything, Flair replied, "No, because I don't think it would have made any difference. If they ask you to do something, what is she going to say, 'No. I quit?' They've written down stuff for me that I wasn't comfortable with, and I can go ask and they will change it. Nothing sensitive like that, but they've brought stuff to me and I've told Hunter, 'Well, this doesn't make sense.' But, it's never been anything of this level of sensitivity."
Flair was told the reaction from fans ranged from disrespectful to out-of-place, drawing the comparison to WWE's post-Eddie Guerrero death angle involving Rey Mysterio and Randy Orton ten years ago.
"I do know that she would not be comfortable rocking the boat right now. She's in a very unique and really great position with them. And, she will be there as long as she wants to be there. Not only because of who she is, but because of her skill set, work rate, and work ethic, but I don't think she feels comfortable saying 'no' to anybody yet about anything. It's not like talking to me. She can say 'no' to me all day long," Flair said.
Flair said that despite how he felt about the angle, he doesn't hold resentment toward anyone involved and he's looking forward to being at Survivor Series Sunday in Atlanta when Charlotte defends the Divas Title against Paige.
"I'll be at Survivor Series and I can't wait to be there. By the time we get there, it will be old news," Flair optimistically closed the discussion.