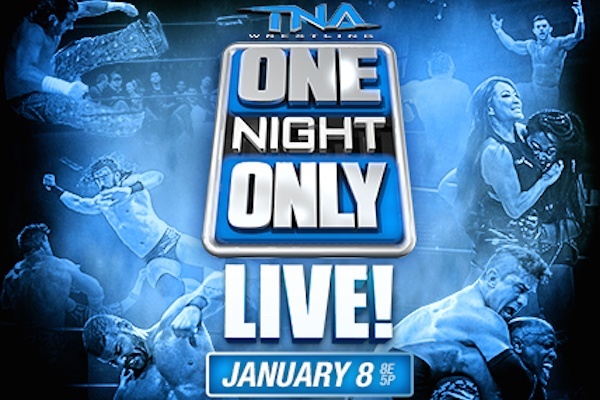 ---
SPOTLIGHTED PODCAST ALERT (YOUR ARTICLE BEGINS A FEW INCHES DOWN)...
---
PWTorch specialist Nathan Kyght (@NathanKyght) is back with the PPV Evaluation column breaking down each major U.S. wrestling PPV. First up is TNA's One Night Only PPV.
PPV Evaluation
TNA One Night Only
January 8, 2016

Happy New Year! And what a start we're off to: John Cena is out, The Rock is at Mania, Roman Reigns is Champ, TNA is on POP, New Japan stars are apparently WWE bound… I turn my back for one second, and all hell breaks loose. But, fear not, as we're about to start my sixth(!) year here talking all of the pro wrestling PPV excitement. As always, thanks very much for taking the time to stop by. Let's go…
BEST MATCH – EDDIE EDWARDS/DAVEY RICHARDS vs. KURT ANGLE/DREW GALLOWAY vs. ELI DRAKE/JESSIE GODDERZ
At best, this show felt like a last-minute throwaway pay-per-view, but you certainly can't fault the effort in this match, which I assumed would be presented as the main event. Kurt Angle officially got his "farewell tour" underway with an entertaining three-way tag match, and looked great as usual. Godderz is really coming into his own as well, and definitely managed to hang with the much more experienced guys in the ring. I thought that TNA would put the belts on Angle and Galloway to add something to Angle's apparent last run, but I was glad they didn't. At this stage, Angle doesn't really need a title on him for the fans to know he's special, and The Wolves are presumably around for a longer haul. A really nice effort here.
WORST MATCH – DIVAS GAUNTLET
This was dreadful. Like, unreal bad. Almost nothing worked, moves for botched constantly, the crowd stared in apathy, and then Awesome Kong pinned Madison Rayne after a spinning fist that blatantly missed. Just a total misfire from bell to bell. I have the benefit of having read the Impact taping results, so here's hoping that the apparent Gail Kim vs. Maria Kanellis feud adds some fire to the once red-hot Knockouts division.
BIGGEST SURPRISE – NONE
It could be argued that the return of James Storm to lead to an impromptu main event would have added some heat to this show, but I see why TNA would opt to have his return on the first Impact on their new network. That said, that left an already out of the blue show to be surprise-free. It was basically just an episode of Impact that cost money.
BIGGEST LETDOWN – TNA STRUGGLES
I thought that the move to Pop might give TNA (another) fresh start, but the difference between this product and what was presented last year is negligible. The company has, unfortunately, got a major stigma of being an afterthought, and despite some amazing talent on the roster the company can't seem to shake it and make the product seem 'must see.' As always, it's just a matter of some changes and some things clicking, but right now the company feels like it's the same old. I'm hoping that 2016 is the year they finally establish a more clear cut identity.
BEST QUOTE – FANS CHANT 'THREE COUNT' AT SHANE HELMS
Because sometimes fans are mean.
BEST MOVE – SKATEBOARD HURACANRANA! SKATEBOARD HURACANRANA!
Yep, you read that right. In the opening X Division match, Mandrews rode a skateboard down the ramp and turned it into a huracanrana. A great spot in a match full of them.
BEST MATCH FINISH – THREE-WAY TAG MATCH
Having Eddie Edwards force Eli Drake to tap out with Angle's ankle lock was a nice touch. Here's hoping to a series of singles matches with Angle and the members of the Wolves.
Do something with Lashley. Anything. This guy should be TNA's Brock Lesnar.
I'm interested to see what happens with Mike Bennnett. He's certainly coming across like a big deal, although he should have won on this show much more easily. TNA needs to book him like a major contender to the title.
OTHER THOUGHTS
Abyss and Grado had a pointless but brutal match. Why on earth you would tangle yourself in barbed wire in 2016 is disconcerting. Is anyone going to remember this in a week?
I like Beer Money, but hopefully this is just a quick nostalgia run. I think TNA could use both men much more effectively as singles stars.
WHAT IT WILL BE REMEMBERED FOR
Not much. The show came out of nowhere as a pay-per-view event, and then basically just maintained a holding pattern for the next episode of Impact. You can't fault the in-ring effort of a lot of the roster, but the company as a whole seems to always feel directionless. Here's hoping that the next pay-per-view outing is the blow-away show that TNA is easily capable of. By default, though, this show sits on top of 2016. For now.
KYGHT'S 2016 PPV RANKINGS
1 – TNA ONE NIGHT ONLY LIVE! (01-08-16)