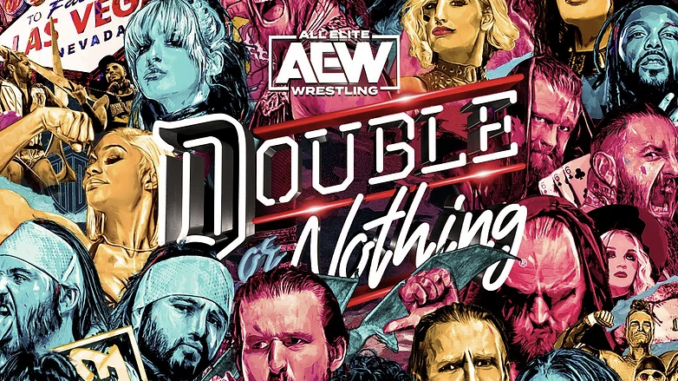 ---
SPOTLIGHTED PODCAST ALERT (YOUR ARTICLE BEGINS A FEW INCHES DOWN)...
---
Hey, y'all! It's me again. I really appreciate the positive feedback I received on my predictions article, and now, I'm here to eat crow!
Without further ado, here are the matches I got right, the matches I got wrong, and my star ratings for each.
---
THE PRE-SHOW
Match 1: THE HARDY BOYS (Matt Hardy & Jeff Hardy) & HOOK vs. ETHAN PAGE & THE GUNNS (Colten Gunn & Austin Gunn)
Stipulation: If Team Hardy Wins, Matt Hardy Will Own Ethan Page's Contract
The first thing I noticed about this match was that the announcers were at ringside, and I loved seeing them there. Having the announcers at ringside made them feel more present, more important, and their reactions felt more immediate and visceral. Please keep this setup going forward!
(Also, please keep J.R. on commentary for the entire night. He is like the grumpy old man from Pixar's "Up!" but if he also commented on wrestling, and I am here for it.)
Another thing I noticed about this match is that Hook wore his win-loss record (73 wins and 0 losses) on the back of his shorts. Yet, somehow, despite this glaring fact, Hook has been once again relegated to the pre-show. This is beyond ridiculous. Hook has an unmistakable "it" factor, an unmistakable jawline, and he was incredibly over once upon a time until the powers that be decided to de-push him because, unlike Jade Cargill, he "wasn't ready."
Watching this match, I can't find anything about Hook that is less than "ready." For those who worry Hook can't sell, stop. He did a great job selling in this match. He even played the role of "teammate-in-peril" for the match's eventual, if not formulaic, hot tag. Please use this man like the star he was clearly born to be.
While Hook was a standout in this match, Jeff Hardy was a fall down. Specifically, he crashed off of the top rope in a spot that had me more than a little concerned for his life. I hope those spots were planned and that Jeff is uninjured because the last thing he needs right now is an injury. (Does anyone ever need an injury? Other than lawyers?)
Despite Jeff's recent troubles, I believe he still has a lot left to contribute, and I would hate to see yet another injury cut his time any shorter than it already has been. Every time I see a Jeff Hardy match, I feel endlessly aware that he might not have many left. I hope I'm wrong, though.
All that said, I was ultimately pleased by the outcome of this match, and I look forward to watching the super-dastardly Ethan Page grovel at the feet of Matt Hardy's every whim!
David's Predicted Winner: Team Hook
WINNER: TEAM HARDY (a/k/a Team Hook but with the wrong name.)
Star Rating: **1/2
---
MAIN SHOW
Match 2: ORANGE CASSIDY vs. THE BUTCHER & THE BLADE & TONY NESE & ARI DIAVARI & LEE MORIARTY & KOMANDER & BANDIDO & JUICE ROBINSON & BIG BILL & CHUCK TAYLOR & TRENT BERETTA & REY FENIX & PENTA EL ZERO M & BRIAN CAGE & KIP SABIAN & DUSTIN RHODES & KEITH LEE & SWERVE STRICKLAND & JAY WHITE & RICKY STARKS
Stipulation: A 21-Man Blackjack Battle Royal for the International Championship (which, in hindsight, is what I should have written instead of typing out every athlete's name…)
This match took a little while to get off the ground, but once it did, it exploded, and the crowd went along for the ride. There was at least one "This is Awesome!" chant and, at the very end of the battle royal, Strickland and Cassidy delivered a showdown good enough to be viewed as a mini-match in its own right.
My only gripe is that half the competitors stood outside the ring and waited for ages to enter the match… as a "strategy." (Seriously?) If this "strategy" is allowed to stand, I see a future in which battle royals are just paranoid wrestlers camping outside the ring, waiting to see which of their colleagues is dumb enough to risk getting thrown out first.
An easy fix to this quagmire would be to specify that the referee will not ring the bell until all 21 men are inside of the ring, AND once they are all inside the ring, any man who ducks out of the ring will be subject to a traditional 10-count.
David's Predicted Winner: Not Cassidy. (But probably Cassidy.)
WINNER: Cassidy (To be clear, this means my prediction was incorrect because parentheticals don't count.)
Star Rating: ***
---
Match 3: ADAM COLE vs. "THE OCHO" CHRIS JERICHO
Special Enforcer: Sabu
Stipulation: An Unsanctioned Match
Jericho and Cole are stars, and they looked like stars in that ring. However, I think some of their stardust might have gotten in their eyes halfway through this match because, while beginning was nice, the ending was WTF?
Just as I was very unclear as to why a Hell In A Cell match would be stopped because a wrestler was going to (maybe; possibly; who knows) put his opponent through too much hell, I am equally unclear as to why an unsanctioned match would be stopped because a company feared they might be liable for a match in which the wrestlers signed contracts saying they weren't liable.
If this was going to be the ending of the match, they should have called it a "Street Fight." At least then they could claim the "street fight" went too far and it would be (maybe; possibly; who knows) believable.
David's Predicted Winner: Cole
WINNER: Cole
Star Rating: **3/4
---
Match 4: FTR (Dax Harwood & Cash Wheeler) vs. JAY LETHAL & JEFF JARRETT (For some reason) (w/Karen Jarrett (Sure, why not) & Sonjay Dutt, & Satnam Singh)
Special Guest Referee: Mark Briscoe
Stipulation: AEW Tag Team Championship Match
I predicted this match would be a lot, and it was a lot. Team TNA came out with two guitars that literally had the names of their opponents spray painted on them, and the referee didn't say anything because it was all so subtle.
However, I did nearly jump out of my seat when Karen Jarrett (Queen of the Karens) nailed Aubrey Edwards (Queen of the Awesomes) with a guitar. You'd think this would cause the company to punish Karen Jarrett for having assaulted an AEW official with a weapon, but like I said, it was all so subtle.
David's Predicted Winner: FTR
WINNER: FTR
Star Rating: **1/2
---
Match 5: WARDLOW vs. CHRISTIAN CAGE
Stipulation: A Ladder Match for the TNT Championship
I loved this match.
I've heard a lot of people who were not a fan of certain things that happened during this match, but I am not one of them. (Except for Arn Anderson biting off Luchasaurus's thumb. Like, WTF was that? That was dumb.)
Granted, I'm a fan of both Christian Cage and Wardlow, so I am more than a little biased, but I think I would have enjoyed this match regardless of its competitors. That said, I understand why the people criticizing this match feel the way they do. I don't agree with them, but I understand where they are coming from because they have articulated their opinions well. (To hear those opinions, please check out PWTorch's Post-PPV Roundtable Podcast, which is exclusive to VIP members. If you are not a VIP member, please consider going VIP!)
The highlights of this match include Wardlow blowing straight through a running clothesline from Christian, falling balls first onto a ladder rung, and executing a flawless senton bomb off the top of a ladder. (The man looked like Jeff Hardy if Jeff Hardy swallowed a bull.)
Christian also contributed memorable (but less dangerous) moments to this match. My favorite Christian moment was watching him slowly rise up from the floor at ringside while peering over the top of the apron like the bond villain he definitely is.
There was one moment near the end of this match that kept it from being a solid four stars (for me, obviously; others may disagree). During the match's riveting climax, Wardlow jumped from the ropes onto a ladder in the middle of the ring. Because Wardlow had recently swallowed a bull, the ladder's left leg snapped, and for a split second, I thought Wardlow was going to die.
This unfortunate incident held up the ending of the match because Wardlow was unable to climb the ladder that his sheer might had broken, and a new one had to be fetched for him. This incident wasn't the fault of any of the wrestlers involved, but it did cause the ending to feel anticlimactic because it inadvertently made it clear to us who the winner would be about two minutes before the belt was retrieved.
In my opinion (and please don't throw tomatoes at me), this was my second favorite match of the night after the AEW World Championship match. My star ratings may not reflect that because I'm grading these matches on a slightly more objective curve than "loved it," but I did love this.
David's Predicted Winner: Wardlow
WINNER: Wardlow
Star Rating: ***3/4
---
Match 6: JAMIE HAYTER vs. TONI STORM
Stipulation: AEW Women's Championship Match
After publishing this article, I had a gentleman on Twitter tell me that I was mistaken in calling this match for Hayter and that Storm would be the one to win. (He also guessed the Anarchy in the Arena match correctly.) So, before I begin talking about this match, I wanted to take a moment to give that man his kudos. He was right, and I was wrong!
I'd also like to say that I'm happy to be wrong in this particular instance. I adore Toni Storm, and I think she has an intangible "it" factor that money can't buy. If they are willing to run with Storm from now until (what I assume will be) her inevitable faceoff against Hayter at Wembley Stadium, I think this could be an incredible summer for the AEW Women's Division. If AEW chooses to treat Storm like the star she is, Storm will deliver because she IS a star.
(Fun Fact: I did an unreleased "demo" podcast for the Torch where I accidentally ranted about the virtues of Toni Storm for 40 straight minutes. If I can get permission, I MIGHT post a heavily edited version of that rant on Twitter so everyone can laugh at me for it. We'll see. Maybe not.)
As for the match itself… well, it wasn't so much a match as a beatdown, and that is understandable. Hayter is injured, and I hate this for Hayter. As much as I am thrilled to see Toni Storm hold this championship again, I am sad that this is how Hayter's title reign ended. Hayter is talented, hardworking, and passionate. She deserves better, and hopefully, she will receive better in the future.
David's Predicted Winner: Hayter
WINNER: Storm
Star Rating: *1/4 (This wasn't really a match, so this star rating is meaningless.)
---
Match 7: HOUSE OF BLACK vs. THE ACCLAIMED & BILLY GUNN
Stipulation: An Open House Rules Match for the AEW Trios Championship
I love The Acclaimed because everybody loves The Acclaimed; however, I did not love The Acclaimed's decision to "not pick a rule" for their Open House Rules match. That made it feel like they didn't even want to win!
There are so many options they could have picked:
– No black mist.
– No kicks.
– If any member of The House of Black uses their finisher, they lose the match.
– The titles change hands upon ringing the ring bell.
– Anything, really!
Anyway, this match was a decent trios tag match that would not have been out of place in the main event slot of an episode of Dynamite. That said, I was put off by just HOW LONG Anthony Bowens was beaten down before getting his hot tag. That extended beatdown gave me a lot of time to think about all the potential stipulations they could have picked for this match but didn't.
David's Predicted Winner: (This match was not announced when I wrote my predictions article, which is frankly a discussion so long it would derail this entire conversation…)
WINNER: House of Black
Star Rating: **1/2
---
Match 8: JADE CARGILL vs. TAYA VALKYRIE
Stipulation: TBS Championship Match
Jade Cargill was good.
That is not a sentence I ever imagined I would write, but there it is.
I remember writing my retrospective for Revolution 2022, and I barely even acknowledged Cargill's match because it was so full of cringe it hurt to write about it. Oh, how things have changed. Cargill has gone from being greener than her greenest hair dye to being a compelling performer worthy of being on pay-per-view.
Is Cargill the next Charlotte Flair? No, of course not. The only person who is Charlotte Flair is Charlotte Flair, but is Cargill good? Yes. Yes, she is.
In fact, near the end of Cargill's title reign, I began to actually look forward to seeing her on my TV screen. That is a big achievement. It is rare for someone to go from "OMG. She has zero experience!" to "This should be fun!" in a matter of two years. I know I couldn't accomplish something like that, and I didn't think Cargill could, either. I am happy to say that I was wrong. I was very wrong, and I hope my wrongness continues.
David's Predicted Winner: Cargill
WINNER: Cargill
Star Rating: **3/4 (Yes, that is a higher star rating than the trios match.)
---
Match 9: JADE CARGILL vs. KRIS STATLANDER
Stipulation: TBS Championship Match
After the match, Mark Sterling grabbed the microphone and boasted that Jade Cargill was out of challengers and there was no one left who could possibly beat her because he has apparently never watched a wrestling show before.
Right on cue (actually, it wasn't right on cue, and AEW needs to work on that.), Kris Statlander returned with the gimmick she had just started to try on before her ACL derailed it last year. Statlander looked like a star and walked to the ring like a star.
With Cargill having been worn down from her match with Valkyrie, Statlander was able to take a shortcut and steal Cargill's title in a matter of seconds because that is what babyfaces do.
The crowd was exceptionally loud for Statlander's return, and it is my sincerest hope that AEW chooses to run with her the same way they chose to run with Jade Cargill 500 days ago. In my opinion, the best way to make an audience believe someone is a star is for the promoter to believe they are, too.
David's Predicted Winner: (This match was not announced when I wrote my predictions article, but that is understandable.)
WINNER: Statlander
Star Rating: * (This wasn't really a match, so this star rating is meaningless.)
---
Match 10: MJF vs. "Jungle Boy" Jack Perry vs. Darby Allin vs. Sammy Guevara
Stipulation: A Four-Way Match for the AEW World Heavyweight Championship
Up until this match, I was worried that Double or Nothing 2023 might be the first AEW pay-per-view I would consider unworthy of my $50. However, this match saved the day!
There are so many things I could praise about this match (and none of them involve Darby Allin's entrance video). There was a ton of fantastic imagery throughout the entire thing. This match also included each pillar doing their mentor's respective finishers, a four-man human-submission-chain, three different men doing Canadian destroyers in unison, a Spanish fly off the top rope to the floor, a triple dropkick onto a bewildered MJF, a Tree of Woe turned into a two-man German suplex that landed on a bewildered MJF, and a bewildered MJF screaming, "What the fuck!" right before taking Darby Allin's stunner. (MJF does "bewildered" very well. He knows how to troll the audience like the meanest of heels, but he also knows how to get his comeuppance in a way that makes watching it happen feel great!)
This match got two "This is awesome!" chants, one "Holy shit!" chant, and a standing ovation mid-match. Say what you want about the build-up to this match (and I have), but the match itself delivered in every way possible.
All four of these men deserved to be in the spots they are in, and at Double or Nothing 2023, it showed. There was so much talent in that ring that I'm surprised it didn't buckle under the weight of its occupant's aptitude.
David's Predicted Winner: MJF
WINNER: MJF
Star Rating: ****1/2
---
Match 11: BLACKPOOL COMBAT CLUB (Bryan Danielson & Claudio Castagnoli & Moxley & Yuta) vs. THE ELITE ("Hangman" Adam Page & Matt Jackson & Nick Jackson & Kenny Omega)
Stipulation: An Anarchy in the Arena Match.
I'm not a fan of Anarchy in the Arena matches. I much prefer the old Stadium Stampede formula because, as off the wall as those were, they had the virtue of being edited to showcase their most important moments, and nothing felt wasted. However, in this match, the director missed showing a referee getting busted open, Adam Page getting busted open, and when Moxley took a bump onto barbwire and broken glass, and the announcers didn't even seem sure if broken glass had been involved or not.
That said, I can put my personal opinions aside enough to acknowledge that the vast majority of fans seem to love these matches, and therefore, I will defer to them.
I do feel compelled to admit that this match contained several cool moments that are still burned into my retinas whenever I close my eyes. Moxley took an exploding sneaker to the head, Matt Jackson took thumbtacks to his feet, and Konosuke Takeshita joined forces with Don Callis to cost The Elite a potential victory.
However, I wish they hadn't tried so hard to conceal Takeshita's identity during his run-in due to the fact that many people were unrealistically expecting a possible CM Punk run-in. I think Takeshita would have gotten more heat (and he got a lot of heat) had he simply interfered without masking his identity.
David's Predicted Winner: The Elite
WINNER: The Blackpool Combat Club
Star Rating: ****
---
FINAL THOUGHTS
This pay-per-view was not bad, but it had a fatal flaw that existed before the lights were ever turned on. AEW neglected to tell compelling stories leading up to this event, and no amount of great wrestling can overcome poor storytelling. As a result, this event felt less like AEW's usual A+++ pay-per-views and more like a C+.
Hopefully, AEW will learn from their recent mistakes and correct course over the summer. Nobody does wrestling like AEW does wrestling, and if they could just figure out how to tell stories that are as compelling as the matches they put on, AEW could be the HBO of wrestling (but without Zaslav hovering in the background, ruining everything he touches.)
SHOW GRADE: C+
---
(David Bryant's totally normal amount of selfies can be found on his Instagram account @IamDavidBryant, and even more can be found on his Twitter account, which is also @IamDavidBryant because David Bryant is not good at naming things.)